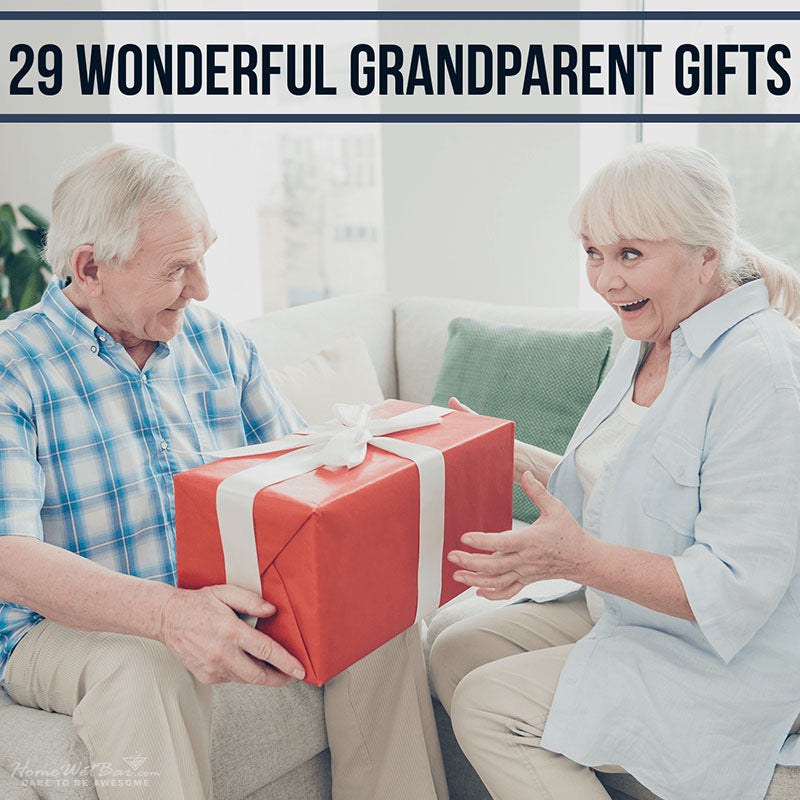 29 Wonderful Grandparent Gifts
Now that you're all grown up, you can finally treat grandma and grandpa to the best gifts! Whether it's grandpa's birthday, their wedding anniversary, or you want to get grandma something sweet for Mother's Day, we've got all kinds of great gift ideas for them. Grandparent gifts are something related to a special memory you have of when you were a kid or a gift that's all about grandma and grandpa's interests. In their age, they don't want much and prefer the simpler things, but they will love whatever you get them. The best gifts for grandparents are those that are personalized, make their daily lives a little easier and more enjoyable, and especially if they are something special that they can treasure forever.
The Perfect Anniversary Grandparent Gifts
Want to get your grandparents something special to celebrate their upcoming wedding anniversary? These unique wine tumblers will become their new favorite way to toast to special occasions! This beautifully personalized wine gift set has a fun design that they will chuckle at every time they use their tumblers for a glass of wine together after dinner. They won't ever have to worry about dropping the unbreakable tumblers, which are also great for traveling if they enjoy road trips in a camper or renting out a cabin every summer!
The Best Gifts for Grandparents Who Like Whiskey
Growing up, you always admired your grandparents for being cool and drinking whiskey. Now that you're an adult, you can finally enjoy a glass of whiskey with them instead of the usual glass of juice! In fact, you should get grandpa and grandma this awesome personalized whiskey decanter set for Christmas so that they can serve their favorite drink to their friends and family in style. These impressive grandparent gifts will be proudly displayed on their home bar for years to come!
Time to Upgrade Their Kitchen
Your grandparents probably have a cutting board already, but do they have an engraved hardwood cutting board? No? Then this beautiful custom board is one of the most thoughtful grandparent gifts to surprise them with! They will be so touched at your surprise gift and will love having such a beautiful new kitchen accessory on display. In fact, they will want to make you dinner with it as a thank you!
A Cute Piece of Decor to Freshen Up Their Home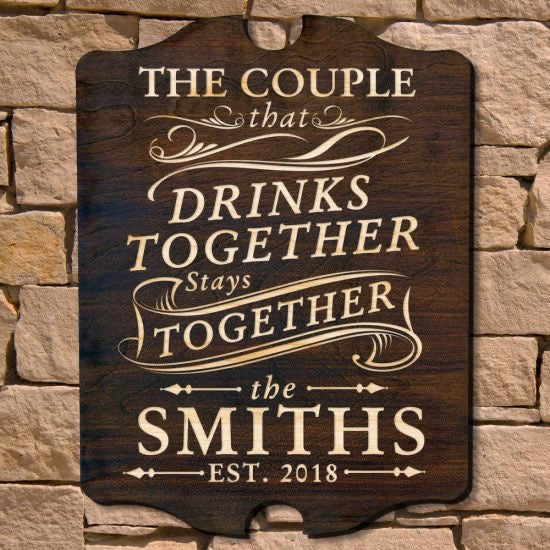 How cute is this personalized sign? Your grandparents have probably said this exact anecdote before, and now they can have it as a unique piece of decor in their home! Grandma and grandpa will love having a new work of art to freshen up their house, and this particular sign will look great in the dining room or on their home bar.
A Gorgeous Addition to Their Antique Glassware
Everyone's grandparents have a couple of nice antique pieces or a collection of depression glass, but they don't have a personalized crystal decanter set! This gorgeous monogrammed decanter set is by far one of the best gifts for grandparents you can possibly get. From the elegant engraving of grandma and grandpa's initials to the convenience and elegance of the whole set, you just can't beat it!
599+ WHISKEY GIFTS YOUR GRANDPARENTS NEED>
These Cute Comfy Slippers Make Great Grandparent Gifts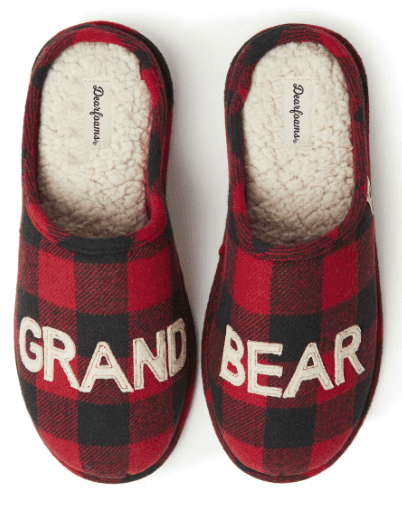 Christmas is the perfect time to get grandma and grandpa these adorable slippers! One of the best gifts for grandparents, these "Grandbear" slippers are sure to be their go-to shoes all throughout winter. In fact, they might need new ones by next Christmas because they'll wear them so much, so you'd better bookmark them for next year!
For the Well-Traveled Grandparents
Do your grandparents love to travel? Retired or not, your adventurous grandparents always have plenty of stories to tell of their many trips across the globe. For their anniversary or Christmas, no gift is more perfect than this gorgeous globe decanter set! As they tell the whole family about their latest vacation, custom glasses in hand, they will love spinning the globe decanter and pointing out where they were on the etched map.
The Best Grandparent Gifts are Those They Can Share with the Whole Family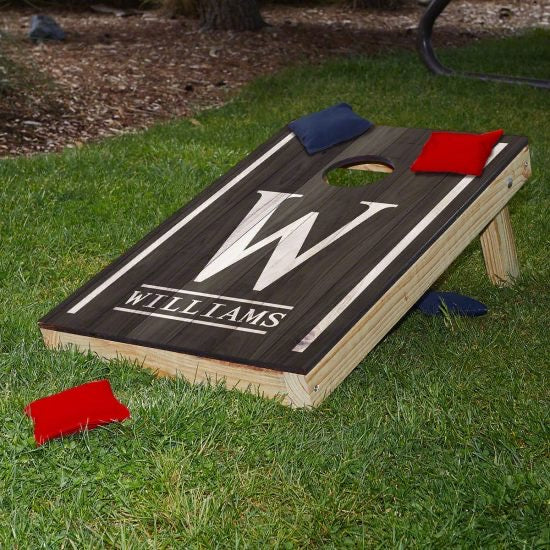 There's nothing like a family reunion at your grandparents' house, your entire family is there and there is more than enough home-cooked food to go around. You can make every gathering even more fun with this custom bean bag toss game! Your grandparents will love playing this with the grandkids and watching your aunts and uncles play against each other. Proudly displaying the family name, this fun game is sure to become a staple at every holiday gathering and reunion and is one of the best gifts for grandparents you can possibly give.
Something Special for Grandpa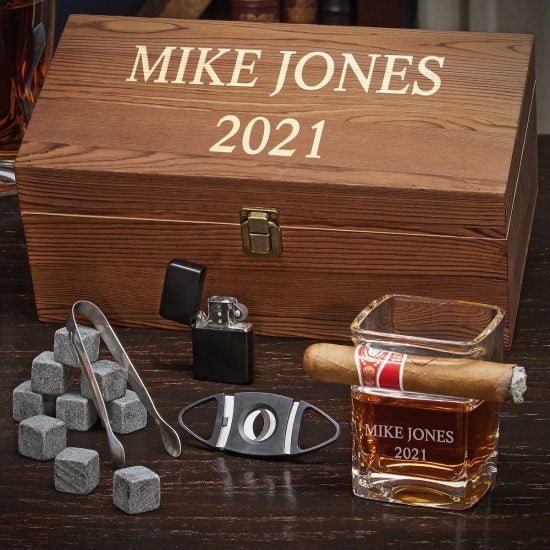 Wanting to get your grandpa something cool for his birthday or Father's Day? Nothing is more badass than this sophisticated cigar and whiskey gift set! Grandpa will marvel at the unique cigar-holding rocks glass and will love using it to treat himself to a fresh stogie and a refreshing glass of his favorite scotch. Make sure you get him a couple of cigars and a bottle of nice whiskey to go with the set so that he can enjoy it all right away!
Make Sure Grandma and Grandpa Always Have Chilled Wine
You've always admired how romantic and lovey-dovey your grandparents are, and you want to give them a gift that they can both enjoy together on their famous date nights and their anniversary. This lovely engraved marble wine chiller, especially when paired with a nice bottle of wine, is one of the best gifts for grandparents! They will love being able to use the chiller to instantly bring a bottle of wine to the perfect temperature instead of having to wait for it to cool down in the fridge in time for their anniversary dinner.
One of the Most Thoughtful Grandparent Gifts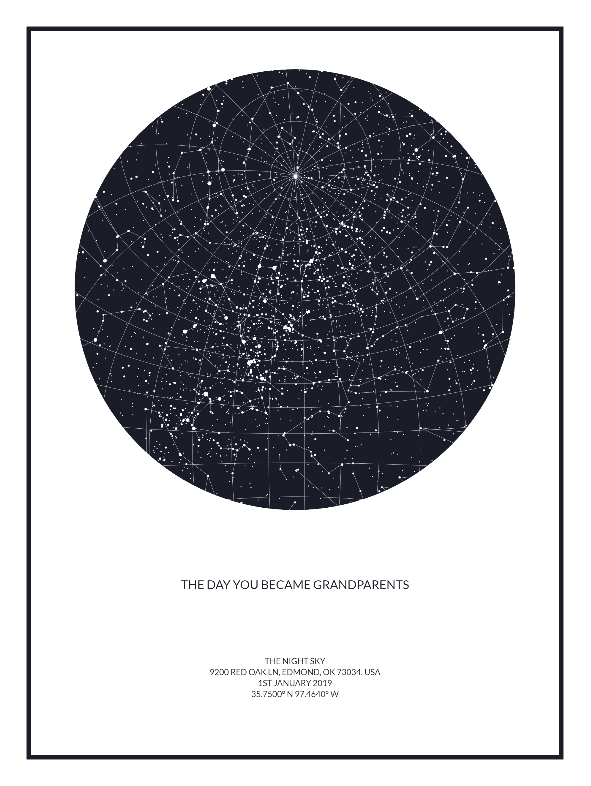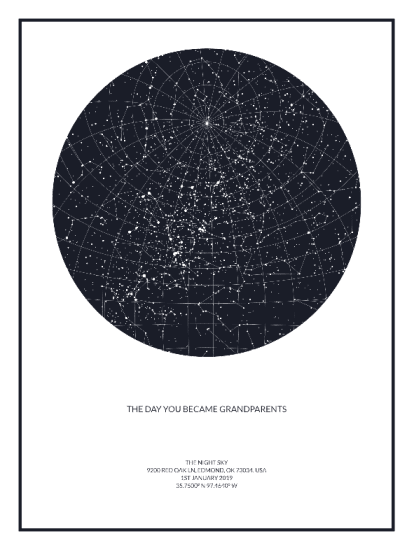 Looking for really special gifts for your grandparents that are so sweet, they might make them cry? This is it! A custom map of the night sky on a special moment in your grandma and grandpa's lives, such as the day they became grandparents for the first time or their wedding date, is such a unique and thoughtful gift. They will treasure this beautiful art print of that special day for the rest of their lives, and one day you might inherit it to keep for the rest of your life too!
Romantic Wine Set to Enjoy On Their Anniversary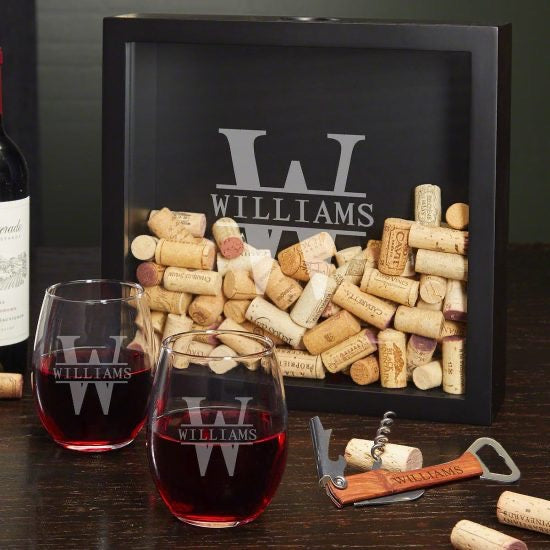 Do your grandparents have an upcoming anniversary? Help them celebrate in style with this romantic wine glass gift set! The large stemless wine glasses hold plenty of wine for them to enjoy over dinner, and they will love that they can keep a collection of wine corks in the adorable shadow box. This set will become part of their annual anniversary celebration for sure!
One of the Best Gifts for Grandparents
Surprise your grandma and grandpa with a custom family name sign for Christmas! They will love having this handsome wood sign on display in their home, showing off the family name that all of their children and grandchildren inherited. It will look lovely anywhere they display it, and they will enjoy showing it off their friends and neighbors when they visit because you got it for them.
Make Them Feel Like Newlyweds Again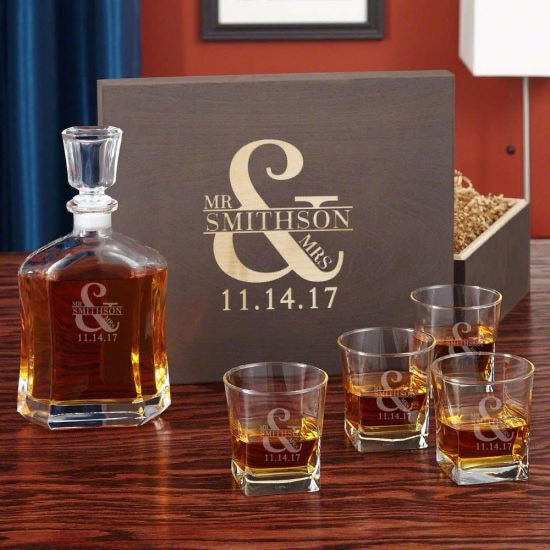 Do your grandparents have a milestone anniversary coming up? Get them a special gift that they can enjoy on their special day! This beautiful decanter set will make them feel like newlyweds all over again whether they're celebrating their 40th, 50th, or even 60th anniversary! They will certainly want to use this decanter set for every anniversary afterward, and will definitely keep it on display as a reminder of their wedding day and their everlasting marriage.
465+ BOXED SETS FOR YOUR GRANDPARENTS>
Interactive Decor You Can Enjoy with Grandma and Grandpa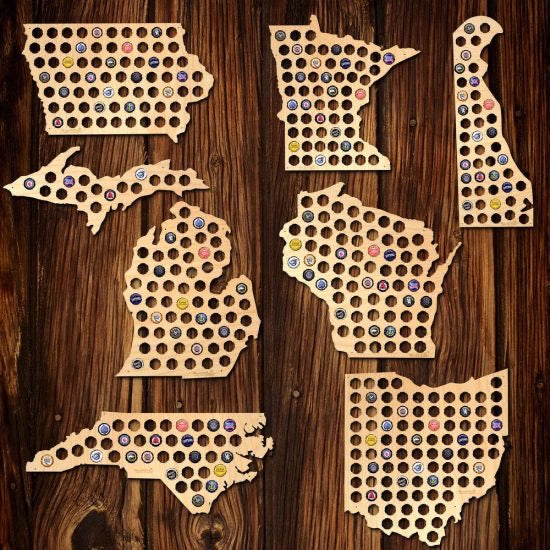 Do you enjoy the occasional beer with your grandparents? Start a collection of bottle caps every time you visit with this fun piece of decor! Once it's all filled up with the bottle caps of beers your grandparents have drunk with their grandkids, it'll be a one-of-a-kind collection they'll want to keep forever. By far one of the most unique grandparent gifts, simply pick out your grandparents' home state and bring along a six-pack when you give it to them on Christmas or their birthdays!
The Perfect Gift for Grandma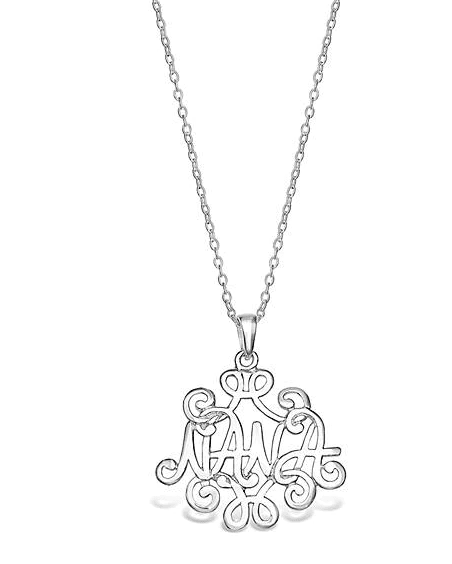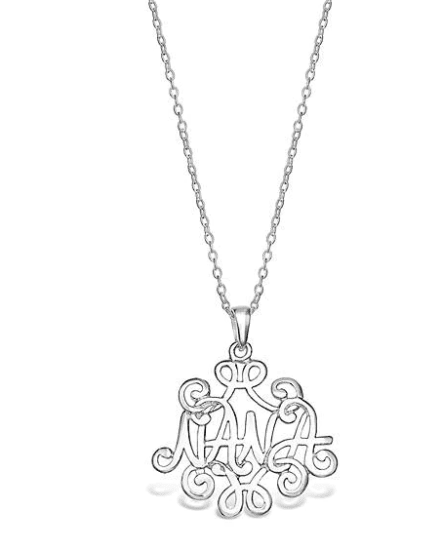 Do you call your grandmother "nana?" For her birthday, Mother's Day, or even Grandparents Day, she would love to get this beautiful sterling silver nana necklace as a gift! As soon as you give it to her, she'll put it on and she will make sure that she's wearing it every time she sees you, even years from now!
Awesome Gifts for Grandpa
As for grandpa, he would love nothing more than this awesome monogrammed cigar gift set. From the multi-tasking rocks glass to the handy cigar case, everything about this set is perfect for helping your grandpa unwind after a long day, and is certainly one of the best gifts for Grandparents Day!
Unique Sign for Their Kitchen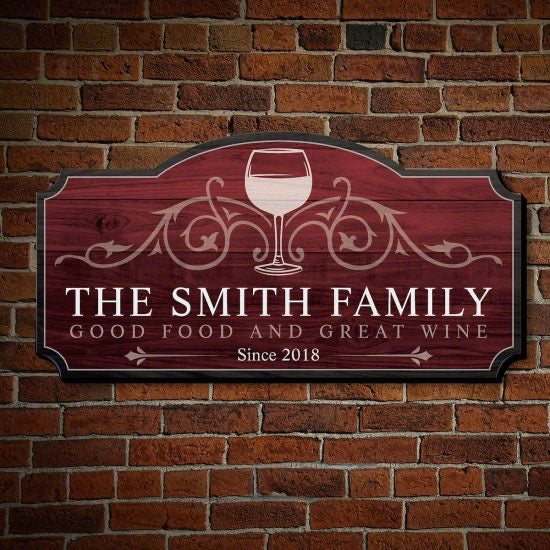 It doesn't matter if your grandparents are winos or not, you just have to know that they like wine for this lovely sign to be one of the coolest gifts they have ever received! They've been known for their excellent food, like most grandparents, and for always having good wine available too. Decorate their kitchen, dining room, or wine cellar with this lovely personalized sign so that even new visitors will know they're all about good food and good wine!
For the Grandpa Who Likes Cognac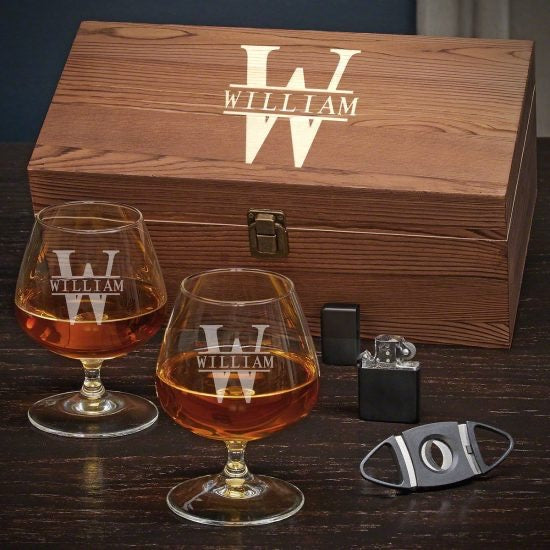 Does your grandpa appreciate the occasional glass of warm brandy? Make sure he has everything he needs to properly enjoy his favorite liquor to the fullest with this personalized cognac glass gift set! He will definitely offer you one of the two custom glasses and teach you all about the nuances of the fine liquor as soon as you give it to him on his birthday or for Christmas.
The Ideal Diamond Anniversary Gift for Grandparents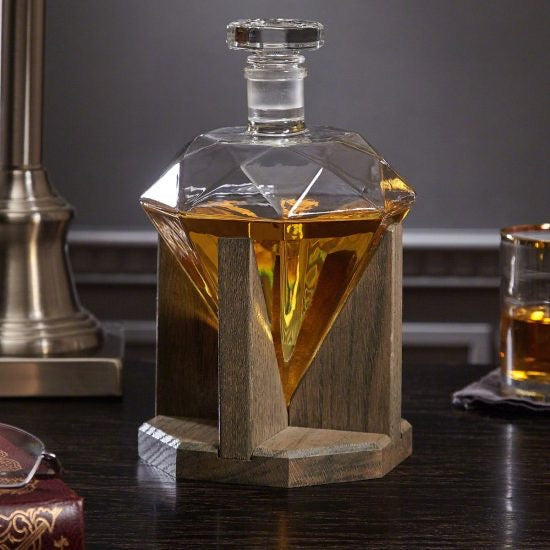 Are your grandparents about to celebrate their 60th anniversary? Also known as the diamond anniversary, this special milestone is definitely cause for a big celebration and an extra special gift! One of the best gifts for grandparents celebrating 60 years together is this beautiful diamond decanter, which is perfect for enjoying drinks from and keeping it on display as a unique piece of decor.
Make Cooking Easier Than Ever
The best kinds of gifts are those that can make your grandma and grandpa's lives a little easier, even if it's something as simple as a new kitchen gadget that prepares their meals for them in a flash! The Instant Pot Ultra can whip up breakfast, lunch, dinner, and even dessert simply by tossing in the ingredients and pressing a button. Your grandparents will be amazed at how easy and quick this revolutionary gadget is, and thanks to your thoughtful gift, they will never want to mess with the Crockpot ever again!
The Most Impressive and Best Gifts for Grandparents
Give your grandparents a gift they will never forget, like this custom crystal decanter set! From the stunning decanter to the impressive glasses and even the matching engraved gift box, every single piece in this set is too beautiful to keep hidden away in a cabinet. Your grandpa and grandma will want to offer every visitor a drink with this beautiful set!
Grandpa Can Teach You How to Play Poker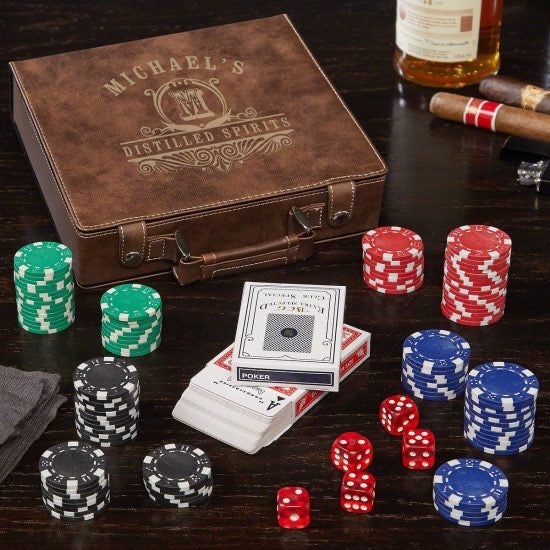 Do you remember when your grandpa would play poker with your dad and uncles while you and your cousins would go off and play elsewhere as a kid? Now that you're old enough, you can join in on the family poker game! Surprise your grandpa with this handsome new leather poker set to upgrade their old set so that he can teach you the ins and outs of Seven Card Stud and Blackjack!
A Fun Decanter Set Grandma and Grandpa Can Enjoy Together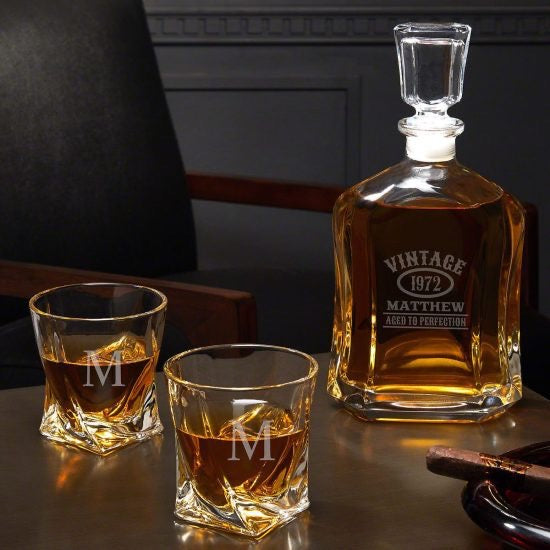 Looking for great grandparent gifts that are both fun and practical? This cool decanter set is ideal for the grandparents with a sense of humor, especially if they also enjoy drinking liquor! Whatever their spirit of choice, your grandma and grandpa will enjoy using the beautiful rocks glasses with the decanter that they can't help but chuckle at every time they use it.
For the Grandparents Who Still Drink Beer
Are grandma and grandpa more into beer than liquor? They would love this set of engraved pint glasses! This set even includes an insulated copper growler that they can use to bring their favorite brew to the lake or take to the brewery and fill it up with a unique craft beer to take home and enjoy. There are plenty of glasses for you, grandma, grandpa, and another family member to kick back with a couple of cold beers together!
Nothing is Better Than Pictures of Their Grandkids
Struggling to find the perfect grandparent gifts for a grandma and grandpa who have everything? You can't go wrong with a large picture frame filled with pictures of their favorite people: the grandkids! Perfect for Christmas or one of their birthdays, this lovely and thoughtful gift will proudly hang in their living room or entryway for everyone to see so that they can point out each grandchild and brag about them to visitors.
Unique Way to Show Off Their Keepsakes or Collections
Do either of your grandparents have a collection of items? Some grandparents collect glassware, bells, spoons, or souvenir pennies, but they don't usually have a dedicated place to display them in! With a custom shadow box, your grandma and grandpa can show off their many prized possessions and add to their collection with ease.
New Grilling Tools for Grandpa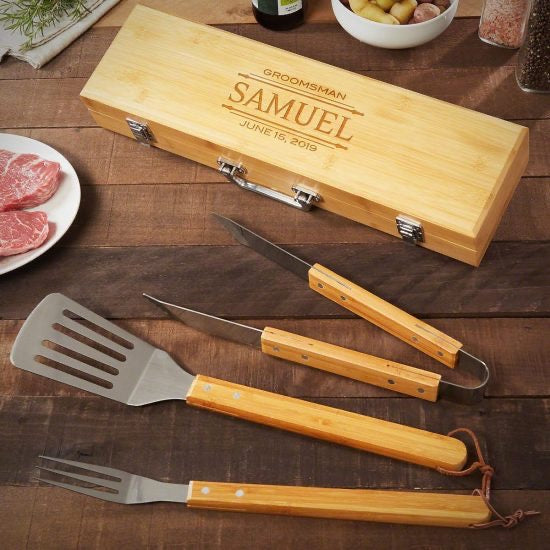 Your grandpa's steaks and burgers are famous in the family, and you've noticed that his trusty grilling tools are starting to look a little worn. For his birthday or Father's Day, get him this custom set of bamboo grilling tools! Lightweight, heat-resistant, and compact, these grilling tools will become his new favorites to use at every reunion and holiday gathering!
Remind Them of Movie Nights When You Were a Kid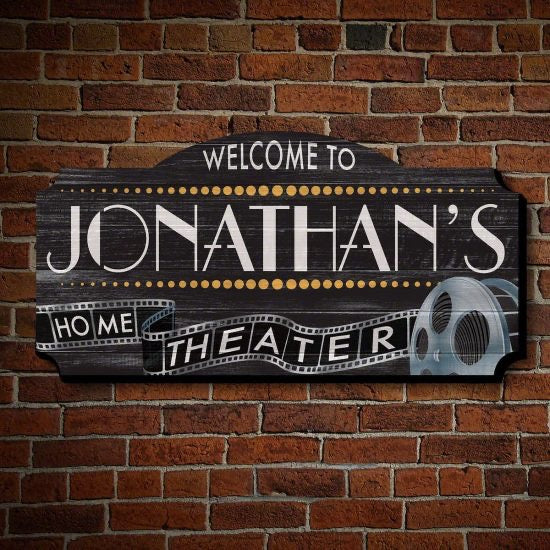 Remember when you would stay with your grandparents and watch old black and white movies with them? This awesome personalized movie theater sign will keep the tradition alive and remind your grandpa and grandma of those fun times! One of the best gifts for grandparents for Christmas, this sign would go great with a new DVD player or a BluRay of one of their favorite classics.
269+ WONDERFUL GRANDPARENT GIFTS>