19 Curated Wine Sets Every Home Needs
Be the envy of all your friends and family by taking your wine game from the casual enthusiast to something of a full-blown wine aficionado. Sure, there are plenty of great glasses you've seen in other people's homes but you are going to go above and beyond by finally getting a complete wine set. Now, you'll have the unique, custom wine glasses, tools, box sets, and more than let you elevate each and every aspect of your wine game! Be the one out of your friends who they'll always want to call up when they have a vintage bottle because they know you have the right tools and wine glasses set to enjoy it right!
A Classy Set for Aspiring Aficionados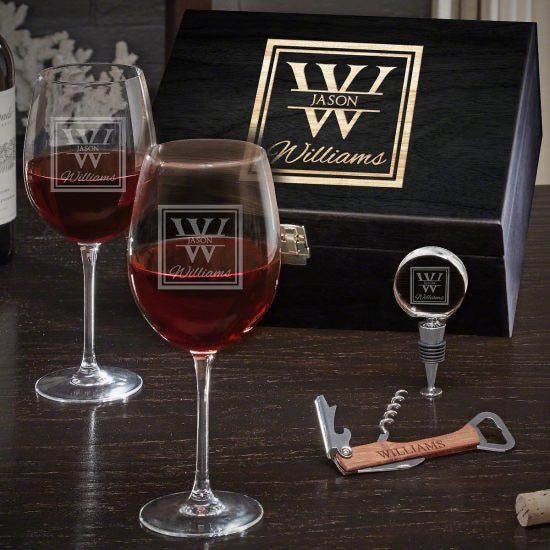 Feel like the classiest wine aficionado on the planet when you bring this gorgeous black box and engraved wine glass gift set into your home. Not only does it have glasses, but the box set even comes with a matching bottle opener and stopper. Now, you can rest easy opening that fancy bottle of wine and knowing you'll be enjoying it properly! While this set may look like it is only reserved for special occasions, don't resist your desires. Use it for every bottle of wine you enjoy to feel like the classy wine aficionado you are!
Initialed Copper Wine Set
Truly update your glassware for the classy to the modern with not only a set of engraved stemless glasses but ones that have a new look with these copper and stainless steel tumblers! Perfect for chilled drinks, these insulated tumblers are the best way for you and a few friends or family members to have drinks over hours as you talk, hang out, enjoy different cheeses, and still have a cool red wine!
Marble at the Epicness of this Wine Gift
The next time you have guests over at your house they're gonna wonder when you got your Ph.D. in wine because this wine set is taking them straight to the school of class! The marble base not only acts as a coaster but also doubles as a chiller while you have one of the coolest looking wine stoppers ever. Don't ever settle for anything less than the most sophisticated sets when you are a true wine lover!
Presenting an Awesome Wine Gift Box
While this set doesn't help hook you up with a new set of glasses, literally everything else you could ever want for a bottle of wine is inside this presentation box. Considering this box set comes with an aerator, corkscrew, foil cutter, a stopper, and it has room for a bottle of wine, it makes it a perfect gift! Now, if you want to make someone else's home even better, you can simply add a fancy bottle of wine inside so they're ready to dive into the world of winos!
The Most Badass Wine Glasses Set
A lot of people see winos as people who enjoy the finer things in life: fancy cheeses, art, turtle necks, etc. While you still can love those things, you don't have to be into all of that to love a good glass of Bordeaux. For the rebel wine lover, you simply can't go wrong with this sophisticated custom black box set that has a bit of a wild side to it. From the cool stainless steel glasses to the badass blackout theme, this is a fantastic gift for the wine lover who doesn't want to be typical.
A Classy Caddy
Check out this awesome set for displaying not only your wine and glassware but for making snacking on hors d'oeuvres easier than ever! You can take your food from the kitchen to the table with ease thanks to the classy but easy-to-use handle. This is a fantastic centerpiece for entertaining, nights with your spouse, or even for fun hang-out nights!
Custom Decanter Set
Be the fanciest of fancy wine aficionados by hooking yourself up with a custom wine decanter gift set. These are the best, easiest, and coolest way to enjoy any wine. Not only do the wide-mouth stemless glasses enhance the flavor and aroma but the large decanter you fill-up beforehand will too! This is the perfect wine set to always have out when you're getting a date night dinner together or even when you're just looking to impress a friend with your amazing glassware!
For Your White Wines
There is nothing wrong with a classy white wine glasses set, but you should spice it up from the standard store-bought ones. This personalized set is sure to stand out from the boring blank glasses. Now, every drink will feel like you're at your own wine vineyard thanks to the design and the fact that your name is on each glass!
The Coolest Glassware Set
What in the world is this glass set, you may be asking yourself? These are some of the most unique glasses that are actually a two-in-one! The glass sphere works as an ice bath for the cone which means you get a chilled Riesling super easy without watering down your drink. Plus, you get a classy cone to make each drink feel like you're at an exclusive, members-only wine bar!
A Wine Set for the Memories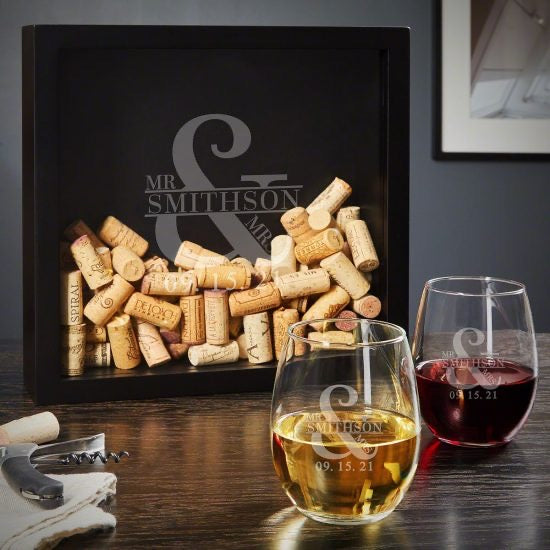 True fans of wine always like to keep a memory of some of their favorite bottles or of things that have happened while enjoying wine. While some may have photos, others may have memories, thanks to this engraved shadow box and wine glass gift set, you can easily collect whatever you want! From photos to tickets from a show that night to even the wine cork itself, you can collect and show off all your favorite wine memories thanks to this awesome set! Just make sure to grab a Riesling or cabernet so you can note when you got yourself this must-have set!
Sophisticated Wine Sippers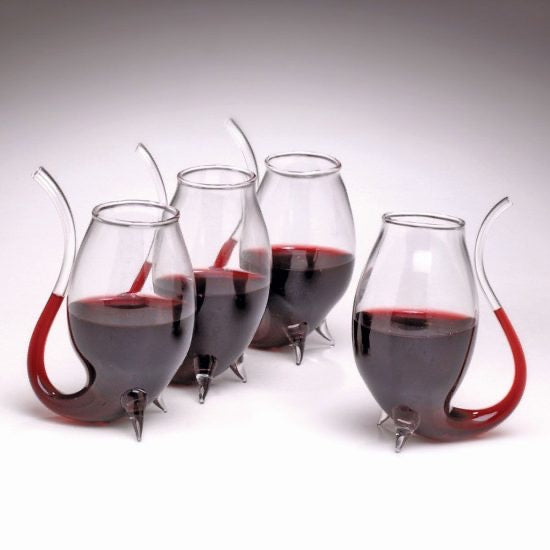 How cool are these wine sippers? These are a true set that every home needs. The unique design will make them stand apart from every other glass you or any of your friends have ever had. But add in that they help make your drinks even better and these are a set you simply must-have! The shape makes you hold the bulb so your hands warm the wine, making it an even more delicious and delectable flavor by the time it makes it through the glass straw.
Take Your Wine on a Picnic
Take your wine everywhere you go with this awesome picnic travel set. Never again will you have to hear glasses clinking or over-focus on wrapping them in small towels to keep them from breaking when you are on your way to your destination. From now on, when you want to enjoy a glass of wine with a view, simply pack up this travel bag and you'll be off before you know it!
Engraved Wine Glasses Set for Winos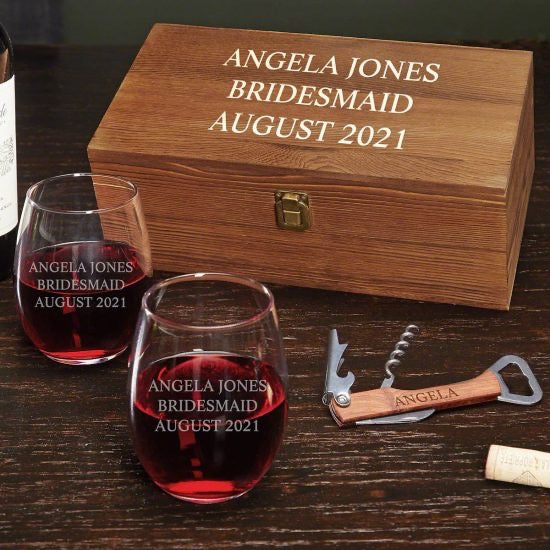 Make life as simple as uncorking a bottle of wine with this all-in-one wine glasses set! With everything you need all in one place, you can easily pop the cork of that bottle you've been saving for a special occasion because when you get this personalized wine box set at your house, you are going to immediately want to throw your feet up and test out just how much better it is enjoying your drink from a set of matching custom glasses.
Personalized Balloon Wine Glass Set
Give yourself a throwback set of glasses that make you feel super classy with an old-school wine gift. Although everyone loves stemless glasses, bring things back a hundred years to the 1920s and start rocking this balloon wine glasses set! The wide mouth makes aerating your merlot or Bordeaux as easy as simply pouring and enjoying your glass. However, you know the real added benefit is feeling as classy as Gatsby in The Great Gatsby each time you reach for a drink.
The Most Sophisticated Wine Gift
Take your wine game to the next level with this top-shelf Coravin wine product. From their fast pour mechanism to their phone app that monitors your wine, this truly has everything possible going for it! Although wine is seen as a classic institution, adding some modern tech into it is a fantastic way to take your favorite drink to the next level!
Unique Wine Tumbler Tool Set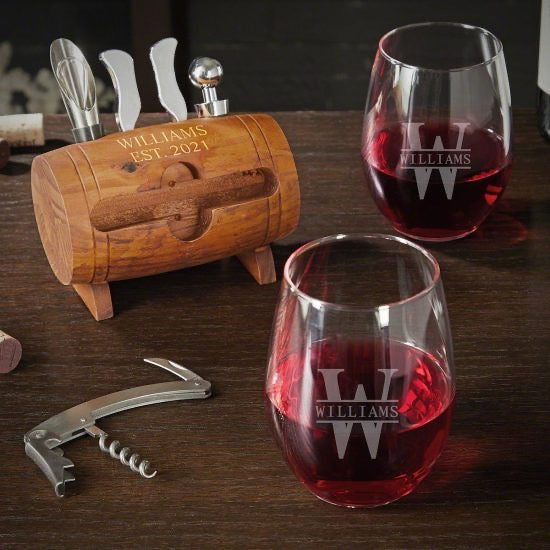 Put all your friends in a state of awe with a wine set that not only is functional but makes for a fantastic centerpiece too! This personalized wine tool set with stemless glasses may be the same as a giant whiskey decanter, but it is just so cool-looking you won't be able to but want to put it right out on the home bar or coffee table. Everything is right there when a bottle is bought out. So every time you have this set, you know it'll be wine time in no time!
A Fun Spin on Glass Sets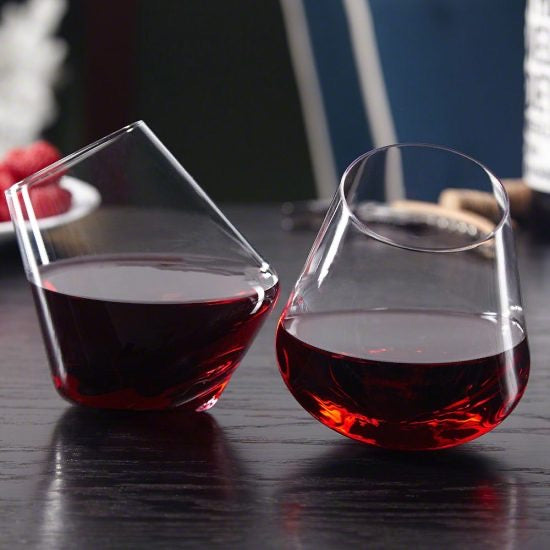 Keep the drinks rolling with these rolling wine glasses! Sure, they're fun and novel since you can spin them on your table even when they're topped off with your go-to wine, but did you know rolling glasses serve an actual purpose? Aside from being fun, they help aerate your wine which brings even more flavor in. So while you're having a blast spinning your drink, you actually get to make it taste better too!
Colorful, Creative Wine Glassware
Bring some color into your world! No one said that glassware has to be clear. You can do a lot of fun things with glassware, and this decanter set looks like a party exploded inside your wine. To stand out from every set you've ever seen, you know nothing will look better in your home than this confetti wine decanter set.
The Classiest Boxed Wine Set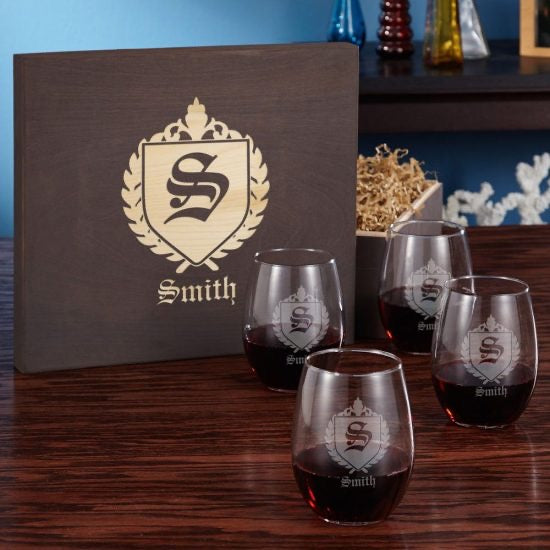 Spice things up around your place by taking those old wine glasses you've had for years and shove them to the back of your cupboards. Thanks to these engraved wine glasses in the matching box set, you'll finally have the modern yet classy-looking glasses you've always been after! With your name and initial on each piece, this will be the personalized touch that will put your set over the top each time a guest has a pinot noir or merlot from your awesome set!