17 Wonderful Wine Gift Basket Ideas
Wine gifts are always good go-to present ideas. After all, who doesn't love wine? However, you want to go above and beyond a simple bottle of wine as a present. That's why a wine gift basket is a fantastic idea! The best wine gift basket ideas are gifts that will help them enjoy wine to the fullest extent with the right wine tools, always giving them something to look forward to! Whether your wine gift set is for your spouse, close friends, a helpful coworker, or anybody else in your life, they're sure to be incredibly appreciative of the best wine gift baskets ever and use their amazing gift often!
Stainless Steel Tumblers Make Awesome Wine Gift Basket Ideas
The best wine gift baskets aren't always super complicated. In fact, this stainless steel tumbler set is simple yet phenomenal! Anyone will love these unique, customized tumblers and the way they keep their favorite chilled wine cold until the last drop, which glass wine glasses can't do. Serious wine aficionados also know that the proper wine tools make the wine-drinking experience better, and they'll really appreciate having such a handsome box to keep their tools safe in. The classiness and functionality of this gift makes it a must-have for any wine drinker, and they'll be so appreciative of such an extraordinary gift basket.
All the Wine Tools They'll Ever Need
Give them all the necessities for enjoying wine with this wine gift box set! The handsome stainless steel tools inside the lid will come in handy time and time again when all they want is some wine and they're unable to find a corkscrew or any other necessary tool. You can even give them a bottle of their favorite wine to make this gift even more spectacular.
Monogrammed Wine Glassware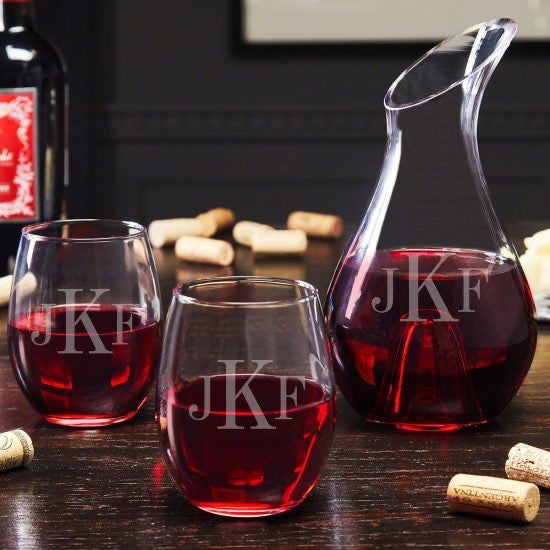 The most beautiful wine glassware ever is sure to be included as one of the most wonderful wine gift basket ideas! This monogrammed wine decanter set is absolutely stunning, with their favorite red or white slowly aerating in this decanter before being poured and enjoyed from the tumblers. They'll definitely want to use this set all the time, from times they're celebrating a holiday or birthday to when they're relaxing on a midweek evening. Add a bottle of wine in the basket with this stunning glassware, and they won't be able to believe how much they love this wine gift!
Best Wine Gifts Baskets with Scrumptious Chocolate
When someone really wants to indulge, sometimes wine isn't quite enough, and they'd love some chocolate to pair alongside it! This gourmet chocolate basket is a perfect present idea for wine lovers because it comes with a guide to chocolate and wine pairing! They'll think it's so fun (and delicious!) to experiment with different chocolate and wine pairings.
Handsome Wine Sign Set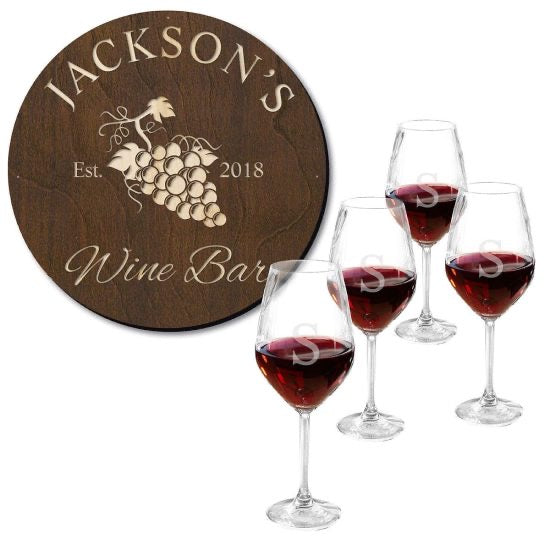 There are no wine lovers who wouldn't want a handsome wine sign hanging up in their home. That's what makes this wine sign gift set one of the greatest wine gift basket ideas! They'll absolutely love how magnificent and classy it looks hanging in their home wine bar, vineyard, or kitchen. They'll love admiring it while sipping on their favorite wine from these custom, stemmed wine glasses. They'll feel like they're at a fancy wine tasting!
These Wine Gift Basket Ideas are a Barrel of Fun
A unique wine gift set that is more amazing than anything they've ever seen before and lets them enjoy wine to the fullest extent? What could be better? This set even comes with custom wine glasses too. This wine barrel tool set is perfect because not only are the classy glasses customized just for them, but the wine barrel has all the tools they'll need to enjoy their favorite wine. They'll definitely appreciate the convenience of having all their tools in the same spot on the home bar or kitchen counter!
For the Wine Lover Who Can't Get Enough
For the true wine lover, there is no other drink than wine! Well, that was until now! Instead of having to have regular coffee, now they can have their day start off with a coffee and wine infused brew from this Merlot-infused coffee gift basket! It is a fantastic gif that they can enjoy every morning in the form of grounds or K-cups, making it easy for them to be awake, energetic, and ready to tackle the day, all while sipping on their unique wine and coffee blend!

Most Unique Wine Basket
The best wine gift baskets have everything you need and more! This wine aerator set is awesome because their wine will taste delicious after they pop open the bottle with this custom corkscrew and pour it into the aerator. After they pour the wine into these unique aerating glasses, their wine will be fully oxidized and delicious. They'll really appreciate that all of these amazing wine gifts can go inside this handsome walnut gift box!
Making Memories with Wine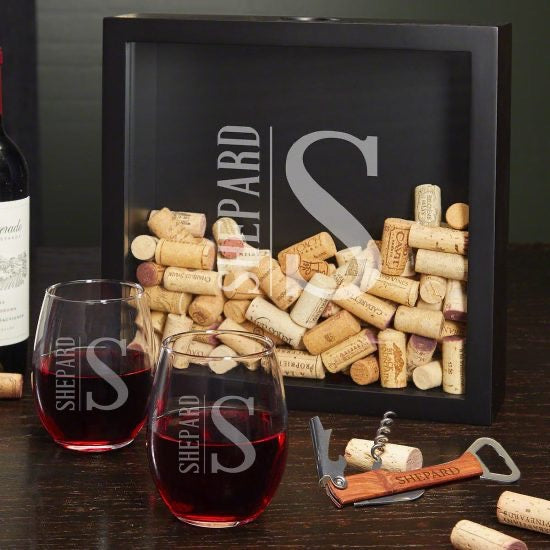 For many people, drinking wine is more than just enjoying a beverage. It's a way to spend time with loved ones, whether that be their spouse, close friends, or with their family. That's what makes this custom shadow box set an incredible wine gift basket. After they enjoy some wine with those closest to them, using these personalized glasses of course, they'll save the cork and keep it in this box as a physical representation of some of their best memories.
Become a Sommelier
They're so passionate about wine that you know they'd be a sommelier if they could! Give them one of the most incredible wine gift basket ideas for the wino who is eager to hone their skills—this deluxe wine essences collection! With 40 vials of different wine aromas and an informational booklet, they'll have a blast smelling the various aromas and trying to detect which is which. They'll be a professional sommelier in no time!
Classy Gift Baskets are the Best Wine Gift Baskets
Wine is one of the most elegant, classy beverages out there, so when they're drinking it, they want to feel fancy, too! With this monogram wine gift basket, they'll definitely feel sophisticated. As they sip their favorite red or white from these long-stemmed glasses, they'll feel practically like royalty!
Test Their Wine Knowledge
Test the knowledge of yourself and even the person who likes to think they are a true wine expert over a glass of Merlot or Riesling with this incredible brain busting Wine IQ trivia game! They'll be so grateful for this fun, unique game and be so excited to host game nights with their fellow wine-loving friends and family. When they win, they'll love having bragging rights!
Personalized Stemless Glasses Box Set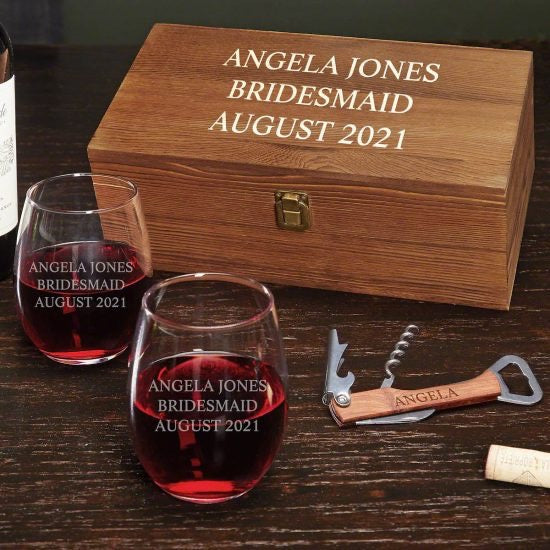 When you give them their wine gift basket, you want them to know that it was picked out for them in mind. That's what makes this personalized wine gift set so terrific. They'll feel so special seeing the personalization on this set, especially on the glasses, which they'll greatly enjoy using to sip on their favorite wine. Whether it's a special occasion or just a random Tuesday, nothing will make them happier than using this customized set.
Wine and Picnic Backpack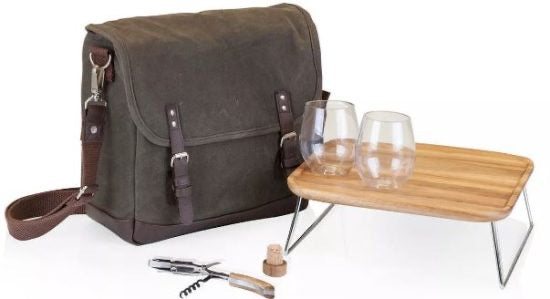 Few experiences are more picturesque than wine and a picnic in the park. This portable wine cooler and picnic set is one of the best wine gift baskets because it can be used time and time again for unforgettable afternoons. They'll love packing up this bag with some delicious food and a bottle of wine and heading to their favorite picnic spot with their significant other or close friend.
Make Every Day Special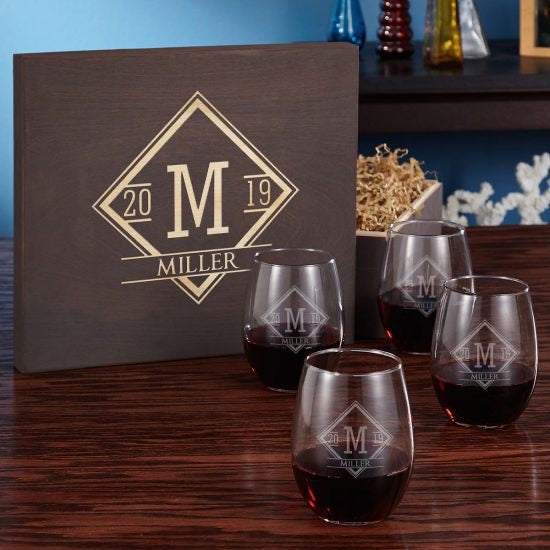 They want their wine drinking experiences to feel like special events every time. When they use this wine glass gift box set, each time they enjoy a glass of wine will feel like the most important day of the year! They'll love taking these handsome, customized glasses out of their walnut box and filling them up with their favorite wine. They'll definitely replace their old wine glasses as their new favorites, with the customization setting these glasses apart from any others. Even a nice quiet weekend will feel like a holiday!
Cheesy Wine Gift Basket Ideas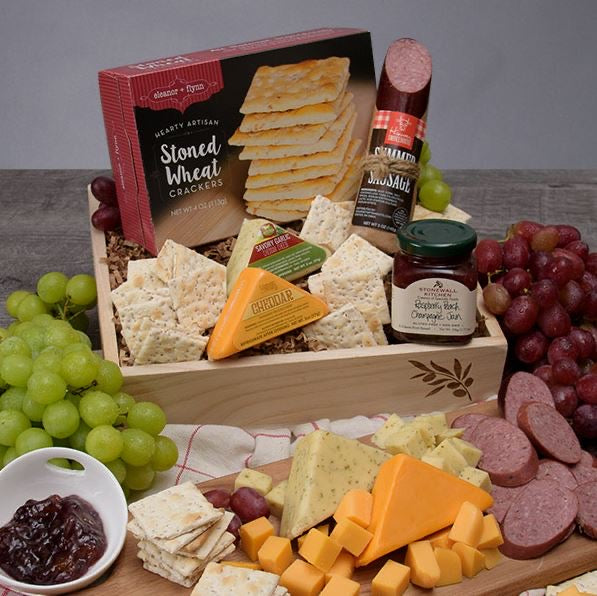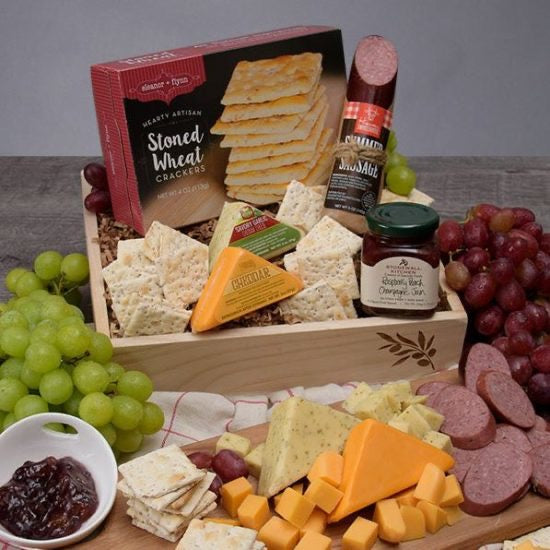 Is there any better pair than wine and cheese? This gourmet meat and cheese sampler is a phenomenal wine gift basket idea because it contains the perfect snacks to enjoy wine with. This gift will make their mouth water as soon as they see it, and they'll be beyond excited to pop open their Cabernet Sauvignon or Bordeaux blend and spread this meat and cheese out on a board to enjoy.
Timeless Wine Gift Set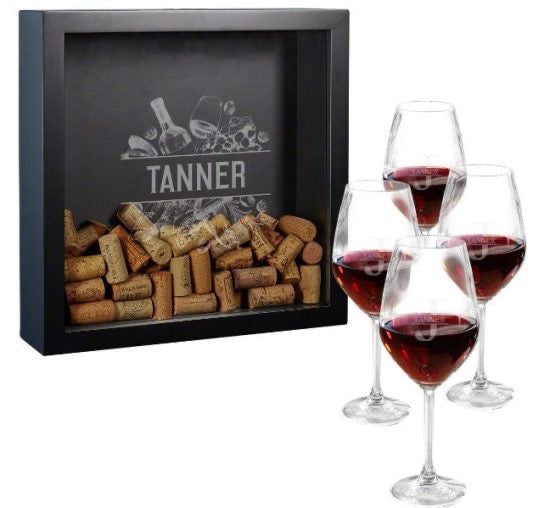 Everybody knows that the best wine gift baskets are timeless. In the case of this shadow box gift set, both the shadow box and handsome glasses will be used for the rest of their life! They'll love seeing their personalization on the glasses as they sip their favorite wine with a few friends, and afterward, they'll put the cork inside this attractive shadow box to store the memory forever. They'll greatly enjoy watching their collection of wine corks (and memories) build over time!
171+ WONDERFUL WINE GIFT BASKET IDEAS>