What is a Stock the Bar Party? A unique kind of party where you bring the hosts supplies for their home bar! You've probably seen it as a couple of different themes, such as a bridal shower, housewarming, or even an engagement party. Typically, it's for a couple who just bought a house or built a home bar. But what do you bring to a stock the bar party? Besides bottles of liquor, your hosts will need plenty of different supplies so that they have a fully-stocked home bar ready for entertaining. You're probably wondering, is a set of glasses a good home bar gift? How much should you spend? Should you get them a gift centered around their favorite alcohol? Don't worry, we've thought of everything. Whichever one you choose, the hosts will be incredibly impressed by your gift!
1. A Set with a Little Bit of Everything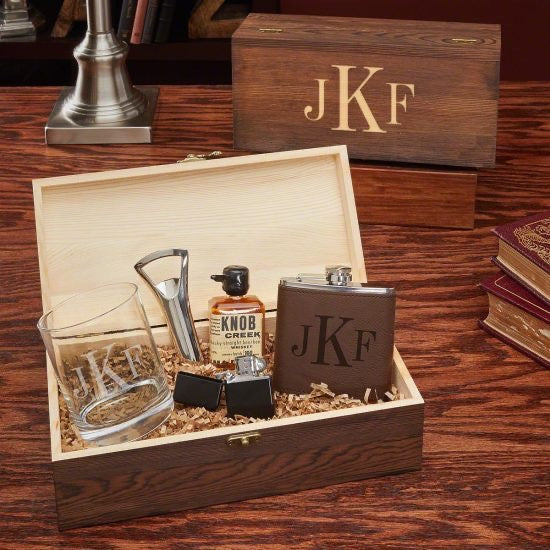 First things first: what do you bring to this type of party? Surely they don't just want liquor and beer, they need the essentials for their new home bar! Whether they're newlyweds or a couple who just built a home bar by hand, they're going to need quite a few different things to help them stock up their bar. Why don't you get them a variety gift set that has a little bit of everything? This set comes with a classic rocks glass for straight liquor and cocktails, a nickel-plated bottle opener for opening beers, a lighter for creating flaming Dr. Peppers and lighting up guests' cigars or cigarettes, and a flask for on-the-go drinks. Even the wooden gift box is useful as it can store their bar tending tools, mixer bottles, or ingredients! The hosts will be overjoyed with this classic gift set as it gives them a couple of unique items they'll have endless uses for. As soon as they open your gift, they'll want to try out each piece at the party.
2. Classic Engraved Pint Glass
The classics never go out of style. People still read Shakespeare, listen to the Beatles, and, perhaps most importantly, drink from pint glasses. This engraved pint glass will let your hosts enjoy the rich amber color from their favorite ale or the dark tones of a nice, winter stout. Of course, the way it looks will only make them want to drink it more. So they'll be going back for another.
3. Glencairn Serving Tray Set – A Gift for Scotch Connoisseurs
If the hosts of the party are having a housewarming and are the type that want people to appreciate every note and aroma of scotch then this is the gift for them. This Glencairn set comes with 4 glasses and a sharp serving tray so the hosts can easily share their favorite bottle of scotch. Your hosts will love any chance they get to teach people how to properly sniff from the classic Glencairn shape so they get every fragrant aroma. This is an awesome set for hosts that want a chance to share something they love with the closest people in their life.
4. Engraved Whiskey Set – A Gift for Whiskey Lovers
Whiskey lovers should be treated right at a stock the bar party. While everyone else is enjoying cool beers in sharp pint glasses or sharing wine from a decanter, whiskey lover shouldn't feel left out. Luckily, this whiskey set not only includes the proper glassware needed, but a handsome box, and whiskey stones that your host will love in their new home so there spirts remain undiluted. This is perfect for hosts that like to enjoy a quality glass of whiskey in the comfort of their home.
431+ WHISKEY AND ROCKS GLASSES GIFTS >
5. An Ultimate Beer Lover Set
Are your hosts a pair of beer lovers? They love trying all kinds of beer, frequent breweries, and have even dabbled in making their own beer? Then this personalized ammo can gift set is one of the best ways to stock their home bar! From the pint glasses for classic brews to the beer nuts and jerky sticks for a tasty snack, they'll have everything they need to enjoy their beers to the fullest! They can even set the snacks out with a few beers for their guests too!
6. Stemless Champagne Flutes
No celebration should be without champagne and champagne shouldn't be without the right kind of glassware. You can show the hosts, especially if they're newlyweds, that they're going to have many reasons to celebrate in the future with these stemless champagne flutes. Not only do the bubbles look great rising to the top, but you can also have their initial engraved on each glass.
7. Custom Decanter Gift Box Set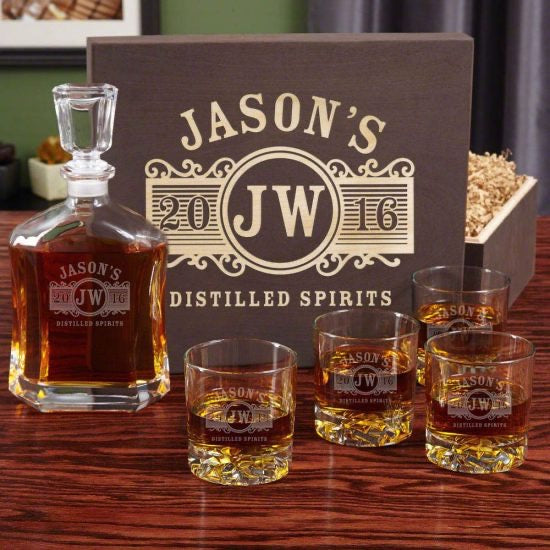 If you're still thinking about what to bring to a stock the bar party, this custom decanter gift box is great for many reasons. Not only does it come with 4 beautifully engraved glasses and decanter, but it also has a handsomely etched wood box that your hosts can use to house several things. It's a welcome addition to any housewarming.
8. Revolving Liquor Bottle Dispenser
Not only does this device clear up cluttered space on a home bar, table, or bar cart, but it looks incredibly enticing for guests and hosts at the party. As they load it with vodka, whiskey, and rum, watch as it becomes a de facto water cooler at the party, but a lot more fun than the one at the office. You can never go wrong with cool liquor dispensers as stock the bar party ideas.
9. Carefully Crafted Beer Flight Set
It's no shock that there is going to be a wide variety of beer at this party. Not only does this beer flight let whoever carefully sample four varieties of beer at the party, but it also comes with cool custom engraving for a gift that deserves a premium place in the home.
10. Mighty Magnetic Bottle Opener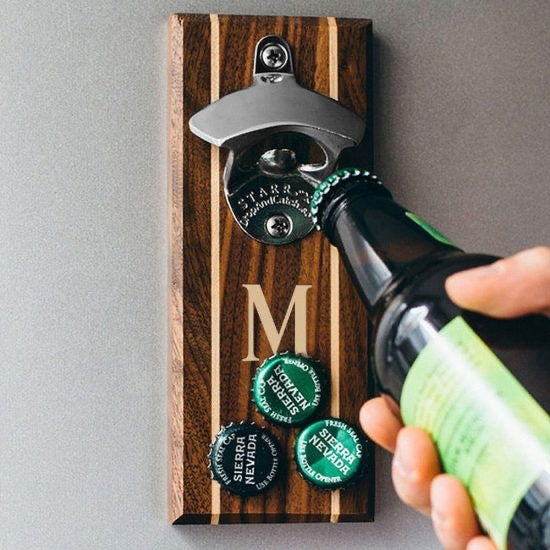 A truly unforgettable tragedy would be having the beer flight set mentioned above and no way to open the beers. We all have a relative that still tells horror stories of the time they went to a housewarming party with a case of celebratory beer without any way to open any of the beers. Thankfully, this magnetic bottle opener will open thousands of bottles and look no worse for wear after its done. It's a great gift for a new home that will be around for years.
11. Must-Have Wine Gift Set
There's nothing like a good old-fashioned glass of red wine with the one you love. You know that the newlyweds hosting this unique party love to have a glass of wine after dinner fairly often, which makes this wine gift set the best possible gift for their stock the bar party! It comes with two large stemmed wine glasses, a gorgeous acrylic bottle stopper, a nifty corkscrew multi-tool, and a large wooden gift box. Everything in this set ensures that the happy couple can enjoy a fantastic bottle of wine like true wine sommeliers. After all, having the right wine glass really does matter! They'll love the simple but elegant monogram on the set, just don't forget to include a bottle of their favorite wine to go with it. This gorgeous set is perfect for pouring the hosts a drink and proposing a toast to their new-and-improved home bar at the party.
12. Gold-Rimmed Beer Mug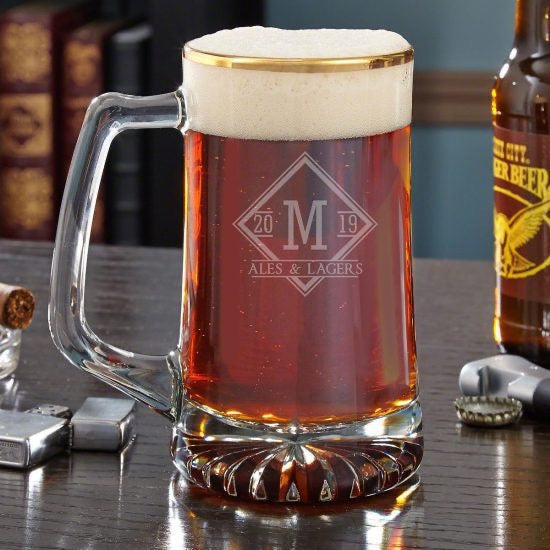 Sometimes a question like "What to bring to a stock the bar party" feels like it will never be answered, even if you've seen countless suggestions. Well, this gold-rimmed beer mug should change your mind. There is not a single person who doesn't enjoy hoisting a mug full of beer into the air in celebration. When you see this gift airborne in the new home at the party then you'll know the party is one to be remembered.
13. A Wine Decanter That's Also a Work of Art
Be the hero of every wine connoisseur with this Modena wine decanter. A quality wine needs to breathe to bring out its full flavor. The hosts will love this aerator because the wine can also be served directly from it. It's a stylish addition for a new home that newlyweds are long-wedded couples will love.
14. Personalized Liquor Decanter
Every home should have a stylish way to display their favorite liquor. This personalized liquor decanter will make your hosts want to use it immediately. They'll clear a space on the bar set-up, open a liquor bottle, and marvel at how great it looks in the decanter. If they prefer whiskey, rum, or even tequila your hosts will appreciate being able to serve their guests directly from a quality decanter.
169+ DECANTERS FOR STOCK THE BAR PARTIES>
15. Custom Hurricane Cocktail Glasses
Not all cocktail glasses are created equal. Some cocktails require a mighty thirst and these custom hurricane glasses quench the mightiest of thirst. With a set of 2 and customization of your choice, this is a gift that will put other guests to shame and the newlyweds will think is super rad.
16. Cocktail Mixing Kit – Every Party Needs the Right Tools
It's an all too familiar scene. Someone's requested a mojito. The host gets a panicked look on their face. They desperately try and strain it by poking holes in an empty water bottle. They break a stick off a nearby tree in a desperate attempt at a muddler. Don't let that happen. This hammered-steel bar tool set has everything needed so your hosts can pretend they're Tom Cruise in Cocktail.
17. Nothing is Better than Whiskey and Cigars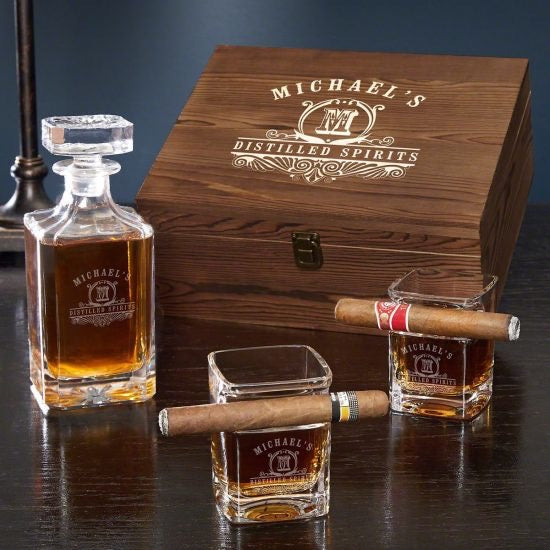 For the classy couple who enjoys a top-shelf scotch and a luxurious Carillo, look no further than this exquisite decanter set. They will marvel at the unique whiskey glasses that have built-in lips to hold their stogies as they mingle with the rest of the guests at the party. They'll want to try out these incredibly cool glasses right away, so make sure you come prepared with a pack of cigars! As for the decanter, the delicate details on the crystal are so beautiful that the decanter will become the new centerpiece of their home bar. Everyone else's gifts will pale in comparison to your spectacular whiskey decanter set!
18. Uniquely Sculpted Wine Glasses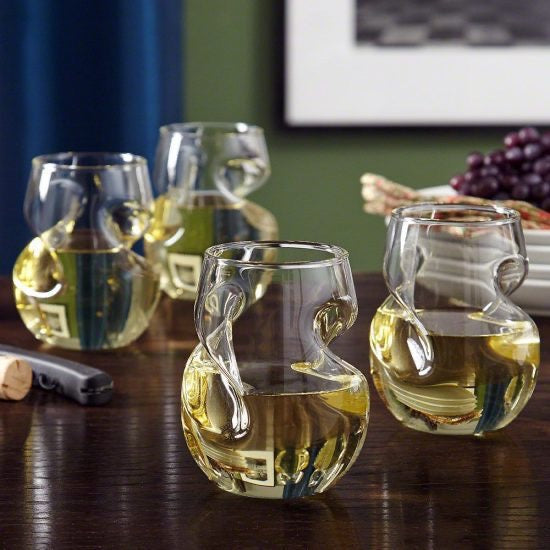 Anyone at the party would look absolutely ridiculous drinking wine straight from the bottle. Thankfully, you brought the remedy with these really cool sculpted wine glasses. Not only were they designed to enhance the aromas of red and white wine, they'll also give the architect and letters professor at the party an excuse to debate post-modernism.
19. The Perfect Set for Beer Lovers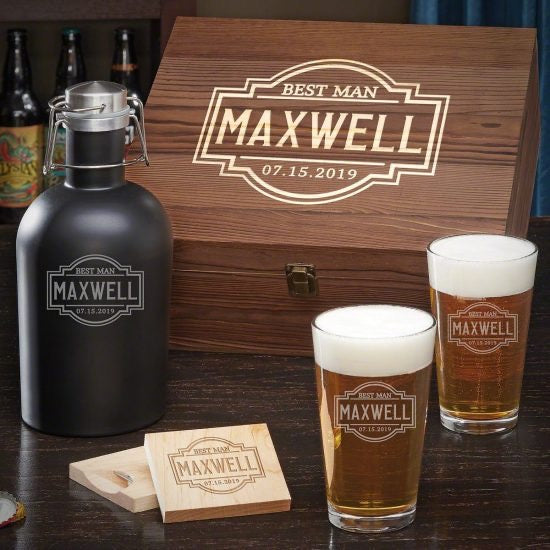 Looking for the perfect gift for a pair of newlyweds who love craft beer? This is it. The happy couple will enjoy every piece in this beer growler gift set from the bottle-opener coasters to the custom pint glasses. They'll want to host their own tasting of the latest seasonal brew they've brought home in the insulated growler and discuss every nuanced flavor within. Plus, they can use the wooden gift box to store anything from a bottle cap collection to their soon-to-be vast amounts of bottle openers they'll get as gifts at the party. Pour them a couple of beers in their new custom pint glasses and propose a toast to the happy couple!
20. Cool Custom Whiskey Glasses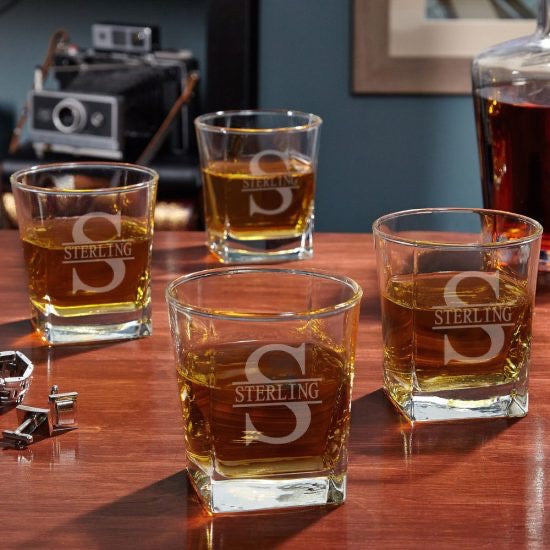 If the hosts are the kind of people that love to share their favorite spirits then they will appreciate these 4 custom whiskey glasses. They're great for bourbon, rum, or whatever spirit they prefer. With a set of 4, everyone at the housewarming can enjoy their liquor of choice and the custom design will make the hosts want to find a special place in the home to display this handsome set.
21. One-Touch Electric Corkscrew
A stock the bar party shouldn't be ruined because someone shoved the cork down bottle trying to free some delicious wine. This stainless-steel electric corkscrew ensures that won't ever happen. The hosts will love that they're just a single button press away from enjoying their favorite wines.
22. Canadian Whisky Glencairn Glass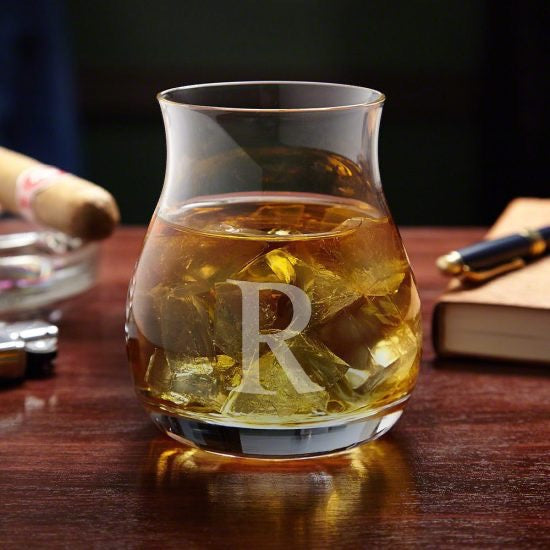 Some gifts at a stock the bar party are meant to stand out. Your hosts will be amazed at this striking Canadian whiskey Glencairn glass. If your hosts are fond of Crown Royal, Fireball, or any other smooth whisky, scotch, or bourbon then they will appreciate this glass. It still retains the rounded shape so your hosts can appreciate each note, but also has a wider bulb so they can easily put the drink on ice or with some whiskey stones.
23. Stainless Steel Martini Glasses
Not every guest is going to want to beer. Some guests and some hosts thirst for the classic martini. Well, these stainless-steel martini glasses are great because they'll keep James Bond's favorite drink cooler for longer. This will also give your guests an excuse to host a Great Gatsby party in their new home and invite you.
24. Bring the Sophisticated Cognac
Looking for a home bar party gift for a sophisticated pair who prefers XO over a cheaper scotch or wine? Cognac drinkers need a pair of snifters! Stock their bar with this essential cognac gift set which comes with two cognac snifters, a lighter, cigar cutter, and wooden gift box. Why the cigar accessories? Well, cognac and cigars are often enjoyed together. Your hosts might even say that having cognac without a cigar is taboo! Of course, this means you should also include a pack of cigars in the set so that the couple can enjoy the entire gift right away. They will absolutely love having a pair of proper glasses to fully enjoy a glass of warm brandy or cognac and handy cigar accessories to prepare a smoke alongside their drink. They might even light up a stogie for you to thank you for your incredibly classy gift!
25. Jager Bomb Shot Glasses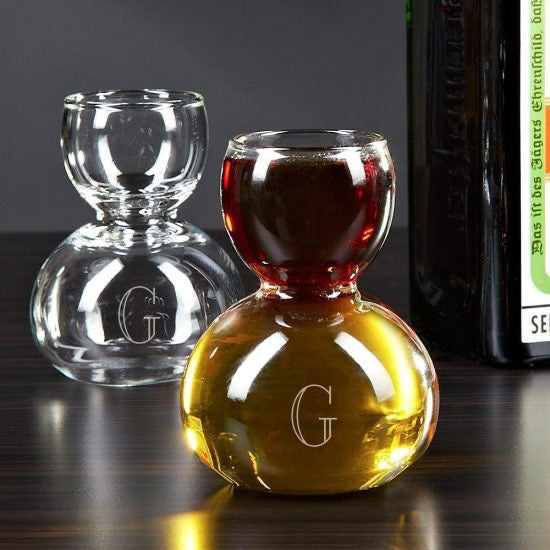 Put away the plastic cup politics. It's a party. Have everyone grab their favorite liquor and chaser as you show them the absolute wonder of these Jager Bomb shot glasses. They even include custom engraving, so the newlyweds always have a reason to get the party started well after this one has ended.
26. Classic Set of Beer Mugs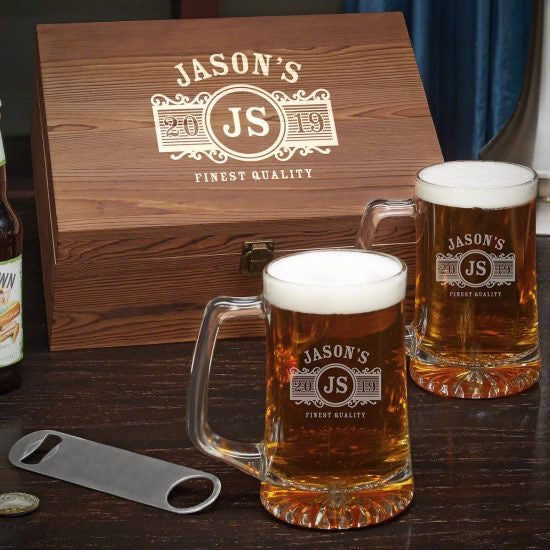 Beer drinkers know that most beers are best enjoyed in their proper glass. For those who prefer ales and lagers, beer mugs are essential to have in a home bar! Give your hosts a set of hefty beer mugs that they can use to toss back plenty of ale. They're sure to get plenty of pint glasses at the party, so these personalized mugs will surely stand out among the rest of the gifts. Their thick glass helps insulate the beer, and the cut crystal details are beautiful and eye-catching. The couple will certainly reach for these mugs over regular pint glasses, even at their own party! Also included in this set is a large bottle opener that they can hang on the wall from a nail to ensure that it never gets lost back behind the bar. Seriously, can a home bar gift get any better than this?