With the immense popularity of personalized gifts, it's no wonder that classic monogrammed initials are one of the most popular choices. Even with the seemingly limitless possibilities of laser engravers, computerized embroidery machines, and permanent inks, the personalized monogram continues to be an impressive way to add sophistication and ownership to home accessories. So, what is a monogram? Where did it come from, and why is it so popular? These answers date back over two thousand years.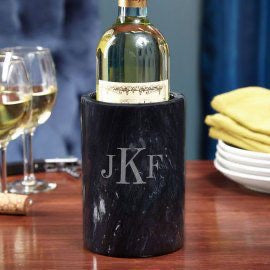 Technically speaking, a monogram is a design that incorporates two or more letters that have been connected in some way. The letters might be interlocked, surrounded by a border or unique artwork, or simply arranged in a striking way. A monogram might also refer to a single, decorative letter that appears on an object to add style, and mark ownership.
What is My Monogram?
Although you can create a monogram out of any set of words, it's most often made from an individuals initials. Custom monograms might appear on glassware, home decor, luggage, personal accessories, or anything, really. The classic three letter monogram places the initial of the person's last name, or surname, in the center, in a size larger than the other two letters. The first name initial appears on the left, while the middle initial appears on the right. Below is an example using the famous name, John Fitzgerald Kennedy.
The three letter monogram can also be used by engaged and married couples. Although the arrangement of the letters may vary, depending on preference, the standard format is the couple's shared surname in the center, with the first letter from each of the couple's first names appearing to either side. Traditionally, items made for use in the kitchen or dining room, such as table linens, are monogrammed with the wife's first initial on the left. Accessories such as bar glasses, bed linens, and ash trays, put the husband's initial on the left instead. As a point of etiquette, the Emily Post institute states that brides should never put to use anything with their new, married monogram until after the wedding.
History of the Monogram
Monogrammed initials date back to the 6th century B.C., according to Cynthia Brumback, author of The Art of the Monogram. During this era, coins were stamped with the rulers initials to add authenticity. King Charlemagne is credited with establishing the monogram as we know it today. His military conquests were publicly marked with Charlemagne's initials to communicate his power to everyone in the land. Other royalty and military leaders then adopted monogram letters as a symbol of wealth and power. According to Brumback, in the Middle Ages, artists and merchants began adopting the monogram initials to identify their works, and distinguish them from others.
The Victorian Era ushered in the use of monograms as a symbol of ownership and social status, which continues to this day. According to Linda Dannenberg in, "The Artful Monogram," families that had acquired new wealth, but lacked the family coat of arms associated with historically rich families, adopted the monogram for their estates and personal properties. Even families attempting to appear wealthy would hand stitch family initials into their clothing and linens as a sign of sophistication and class.
Today, custom monograms continue to be hallmarks of style. The "LV" logo that appears on leather goods from the Louis Vuitton design house is technically a monogram. Coco Chanel's uniquely coupled "CC" logo is internationally known, and a staple of high style.
This rich history fuels what is monogram mania today. Whether you design your own monogram, or prefer a classic version, monogrammed gifts continue to provide the best way to impress a loved one on their special occasion. Whether it's monogrammed whiskey glasses on the wet bar, or engraved cuff links that you wear every year on your anniversary, when you make your own monogram known to those around you, remember that you are following in the footsteps of kings.