Gone are the days when sloe gin was the most far-out flavored liquor on store shelves. For a variety of reasons, flavored vodka now takes up major real estate in bars, nightclubs, and party buses across the globe. First, it's easy to make a tasty mixed drink with flavored liquors simply by adding club soda. If you are watching your waistline, you also eliminate a hundred or more calories per cocktail by leaving out sugary mixers. The shelf life of liquor extends far longer than that of fresh ingredients, so adding unique flavors cocktails is much more cost effective, since they are already infused in the spirits.
Fruit and citrus notes seem to make the best flavored vodka, evidenced by the prominence of lemon, orange, and strawberry vodka options. However, there's a long list of weird vodka flavors that may or may not be suitable for everyone's taste buds. Some are sweet, and some are savory, but all of them might solicit a raised eye-brow or two. We rounded up a list of eleven mixed drinks with flavored vodka that tickled our curiosity, but not enough to actually try them (yet). These crazy alcoholic drinks are packed with two parts wild imagination, and a dash of WTF.
Pink Sharks Attack

A great way to come up with a crazy cocktail is to incorporate unusual ingredients. Watermelon vodka isn't weird in-and-of itself. I've been making drunken watermelons since I was old enough to walk into a liquor store. This cocktail embraces the crazy by mixing in watermelon flavored gummy sharks. Again, a delicious sounding candy treat, but once you bring it all together with a dash of grenadine, it looks like something left behind on the set of Sharknado 3. It also incorporates sour schnapps and lemon-lime soda, so if the sharks don't kill you, the sweetness will. Brought to us by a really fun cocktail website called Tipsy Bartender, this recipe definitely leaves room for customization.
Smokin' Hottie Shooter
Sometimes "flavors" aren't necessarily something you would eat. Thus is the case for tobacco vodka. It's common knowledge, though, that taste buds are heavily paired with the sense of smell, so in a strange world, these weird drinks make sense. The Smokin' Hottie Shooter cocktails, courtesy of the manufacturer's website, calls for tobacco vodka, Fireball whiskey, and a dash of Tabasco. With all those flavors strong flavors added, part of me wonders if it's to cover up the tobacco flavoring, but who's to say? Taking this shot would likely make your breath smell like George Burns on Christmas morning.
Japanese Garden
If you've ever over-wasabi'd your sushi or sashimi, and and tried to wash it down with a little sake, then you might recognize the flavor of this wasabi vodka. I rarely dive into a California roll without a side of wasabi, and even dab a little of his sister, horseradish, onto my roast beef most of the time, but this is a weird alcohol flavor, even to me. The Japanese Garden cocktail is rather complicated in terms of drink recipes, and includes several floral liqueurs and flavors. My guess is that it comes out much like eating a spicy flower, but that is probably their intention.
Spicy BLT Green Bloody Mary
Full disclosure: I've never enjoyed a Bloody Mary. Something about the tomato juice I guess. Bacon vodka, though, peaks my interest. This cocktail recipe, by Heather Cristo, incorporates homemade green tomato juice, red wine vinegar, romaine hearts, cucumbers, bacon vodka, and actual crispy bacon. Although this cocktail is definitely not for me, I know plenty of my friends who would order this in a heartbeat. I might even sneak a sip. It's certainly an eye-catching concoction.
Peanut Butter & Jelly Shots
Peanut butter and jelly is my jam (pun both intended and un-intended). These shot recipe uses homemade peanut butter vodka and real jelly. It's sure to make a sweet and salty vodka shot like you've never tried before. The cream topping is a nice touch, although here's another example of trying to offset crazy flavored vodka by adding more traditional flavors. I should create a peanut butter, banana, and bacon shot in tribute to Elvis. Now there's something you wont' see everyday!
The Pink Panther
Of all the strange alcoholic drinks in this round-up, the Pink Panther would be first on my personal list of things to try. Made with grapefruit vodka, it's also made with rosemary, a notoriously potent herb. During the summer, my go-to choice of hydration is pamplemousse (French for "grapefruit") seltzer water, and potatoes just aren't potatoes without a little rosemary. Therefore this weird drink is right up my alley.
Odd Garden
Ah, I love the smell of freshly cut grass in the summertime. Let's put it in a cocktail!
This is a fictional quote I made up from whoever at Oddka came up with cut grass flavored vodka. Earthy flavors can be nice, and part of me understands the appeal of infusing a refreshing summertime smell into a libation. The aptly named Odd Garden drink recipe brings together a number of floral flavors, including coriander leaves a/k/a cilantro. Have you ever gone to a farm-to-table restaurant, and the "house salad" looks like it was pulled out of the lawn, and squirted with lemon juice, dirt and all? I have, and it was mysteriously delicious. I bet this drink tastes a lot like that.
Diet Pickle
The world can be divided into two groups: those who love Diet Coke, and those who detest it. If you fall into the former, let's get together and try the Diet Pickle. Made with Chilled Dills brand pickle vodka, the recipe couldn't be simpler. Just make a rum and Coke, but use pickle flavored vodka and Diet. It sounds ridiculously intriguing. I remember the first time anybody told be about pineapple vodka and Dr. Pepper, I hastily refuted the idea. Now, it's my go-to beverage when I'm having a grunge day. I would also like to try this pickle flavor in a salty vodka shot, like you shoot tequila. Just don't lean in to close to your friends to talk.
Absolut Chicago Mary
You might imagine that the list of flavored liquors inspired by the city of Chicago might include hot dog vodka, or pizza flavored vodka. This might be true somewhere, but for the people at Absolut, their regionally inspired Chicago flavor is infused with the taste olive and rosemary. When visiting The Windy City, I've never had an olive outside the constraints of a pizza or gyro, and don't recall having had Chicago-style rosemary at all. The Absolut Chicago Mary probably tastes a lot like a pizza. It's ingredients are similar to that of a traditional Mary, so it wouldn't be hard to make. If you added a shot of that pickle vodka, then you've got your hot dog.
Second Helpings Cocktail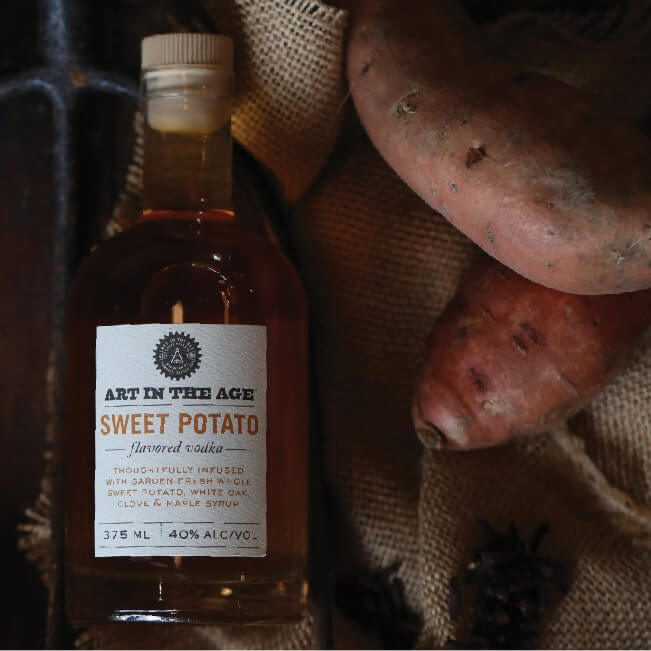 The Second Helpings cocktail is an intriguing idea. You bring together all the flavors of a traditional American holiday meal, but skip the food, and go straight to boozing. Made with sweet potato flavored vodka, the distillery actually infuses clove and maple syrup into the spirit. Some alcohols are already made from potatoes, so this new flavored vodka isn't actually a stretch.
Vodka Gummy Bear Jungle Juice Jacuzzi
We couldn't create a tribute to unusual vodka without including something so over-the-top, it makes you do a double-take. The Vodka Gummy Bear Jungle Juice Jacuzzi is by far the weirdest, most outrageous mixed drink we could find. Not only does it incorporate two low-budget classics: the vodka soaked gummy bear and jungle juice, but it throws them all into a fish bowl with one of those "how could anyone possibly eat this?" novelty gummy bears. Major props to Tipsy Bartender for this!
Main article image courtesy Heather Cristo.