There are a lot of little things that will happen at your wedding, or even when you're planning your big day, that will become important moments you'll want to savor forever. These are things that you will want to preserve, store, and see every day as a fantastic memory of that great day. The best way to keep these mementos is in a wedding shadow box! These boxes are perfect at keeping your most important items on display, while also having a custom engraving on the glass that is special to you. Don't let the little things that remind you of your big day fall through the cracks, keep them in one of these awesome wedding shadow box ideas!
Put a Cork in Your Collection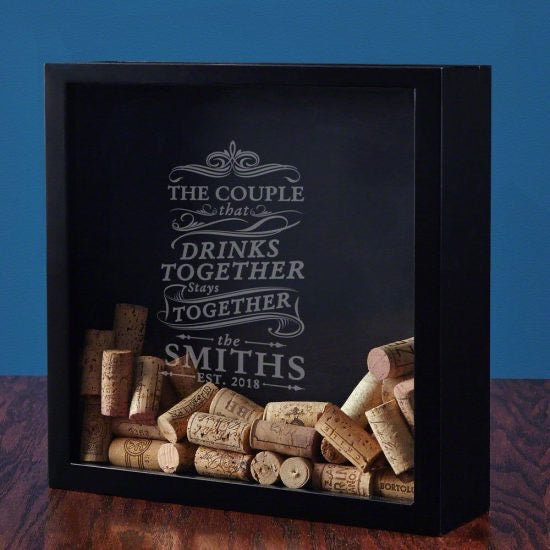 Forever mark the joining of your union with a wedding shadow box that is packed full of the wine corks popped on the day of your wedding. Wine is often used to celebrate at weddings, making a cork from your reception a fantastic start to your collection! What makes these a great collectible is there is very little work, simply drop them in the top and you have a great display of how many bottles were popped to celebrate your wedding!
For Her Flowers
There are plenty of wedding shadow box ideas out there, but a favorite among many is to put the dried bouquet inside! Have the traditional marker of a new beginning forever on display in your home as a reminder of why the two of you got married! This is a perfect gift for the bride as a way for her to preserve the moment she held the memorable flowers she'll ever have.
The Best Beer Wedding Shadow Box Idea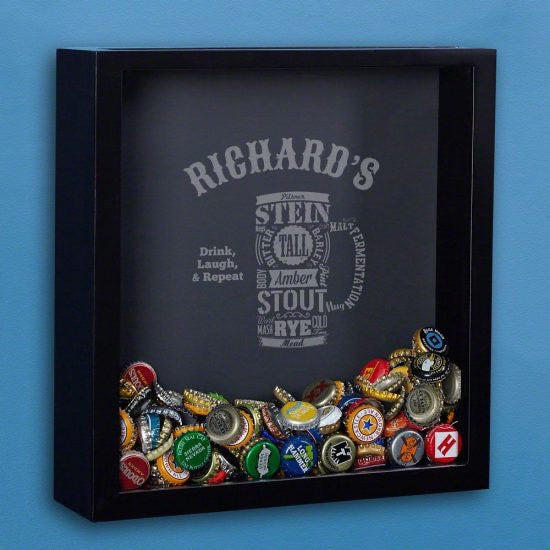 Shadow boxes are great because they are left open to the owners as to what goes in there. However, this one is perfect to fill with the beer caps from the wedding! The engraved beer mug is the perfect way to represent the enormous amount of beer caps that were snapped off to celebrate when the two of you had your big day!
You'll Vow This is the Most Sentimental Display
Take a unique approach to the wedding shadow box that is perfect for both the bride and groom by having them put their vows inside! How cool will it be to see the reason the two of them decided to spend their lives together every day? Engraved with their names and wedding date, this will be the most sentimental display in their entire home!
His Own Smoke Box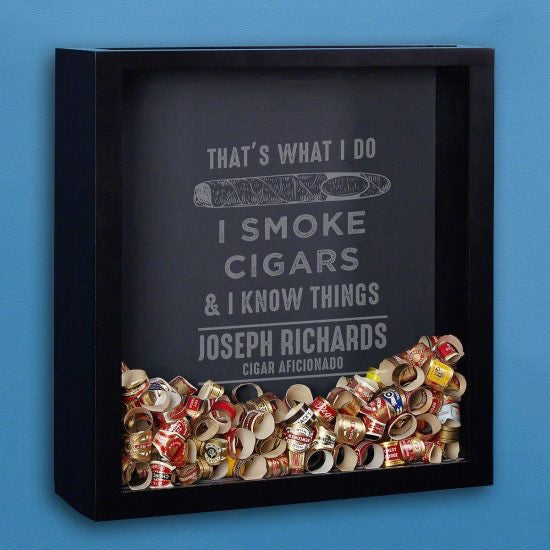 A great gift for husbands and grooms alike is a wedding shadow box that is filled with cigar bands from his own personal collection or even from his bachelor party. This great gift is sure to create a sense of nostalgia for him. He'll be able to look back at each band and remember the reason every cigar deserved to be smoked in celebration or for relaxation.
Classy Wedding Display Case
Use a glass shadow box to make your keepsake look as elegant as your tux or wedding dress. The gold frame and clear glass allow you to take anything from your wedding and make it a gorgeous display piece for your mantle, coffee table, or even in your office as a sentimental piece of art!
For the Joining of Unions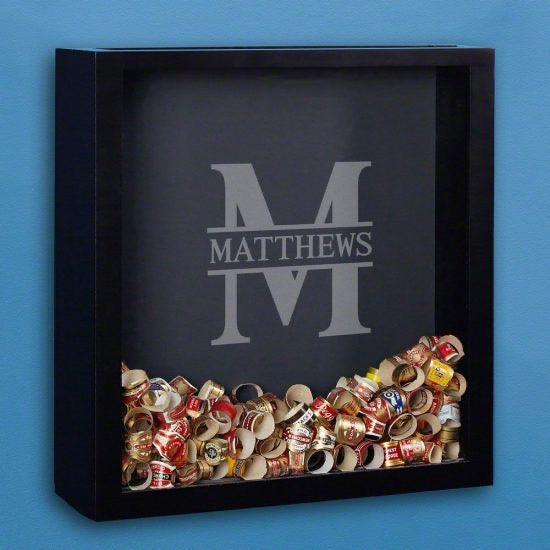 Celebrate the joining of your union with a display case that has your combined last name and last initial engraved. This box is ideal for displaying your unity sand that the two of you will have poured inside, not only does the box show how two became one, but the sand does too! If you're scared the box may be too heavy to display on a wall, don't fret! It'll look fantastic on display on your mantle too!
Show off Her Wine Collection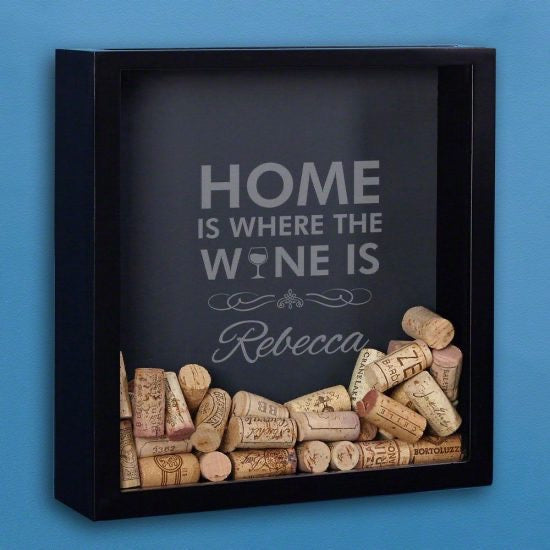 Brides are often thought of as the star of the show with weddings, so get her a gift that makes her feel like the center of your world with this glass display box! Before the wedding, save some corks from your date nights and give her a gift that shows all the bottles you've shared together. Plus, thanks to the opening on top, she's got plenty of room to add to her display over the years with you!
A Fancy Wedding Shadow Box for Him
Make your husband feel as classy as he did the day you married him with a shadow box that reminds him of his fancy tux! You could even fill the box with all the boutonnieres from the wedding, this way it really feels like a gift for him. Plus, since it'll be his and his groomsmen's boutonnieres, this gift will have him loving flowers more than you ever thought possible!
Picture This Shadow Box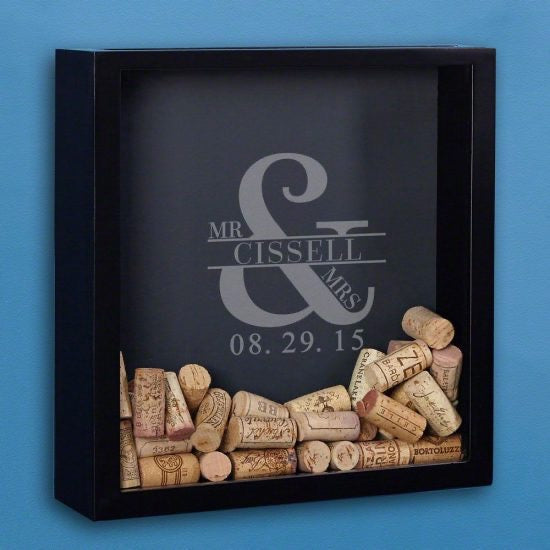 Wedding shadow box ideas are not solely for unwieldy mementos that you want to save, they also work great for photos as well! This box, which is engraved with your anniversary, is the perfect way to show off the best photos from your wedding you have! You are sure to keep this somewhere in your home where you see it every day like in your living room, a hallway, or even in your bedroom.
For Invitations Only
Preserve and show off your wedding invitations for an eternity with a wedding shadow box custom built to your specifications. You spent a lot of time on the exact fonts, card weight, colors, and more on these invitations, so why not keep them? Plus, you could have each guest sign theirs, which will make this a fantastic custom display case collection that no one else has.
A Perfect Patriotic Display
Whether it is for a patriotic couple, or one of them is a member of the military, this American themed shadow box is fantastic for displaying important memorabilia from their wedding. They can place their wine corks, beer caps, or invitations inside as a great filler for their new gorgeous display of their big day!
Display Your Wedding Program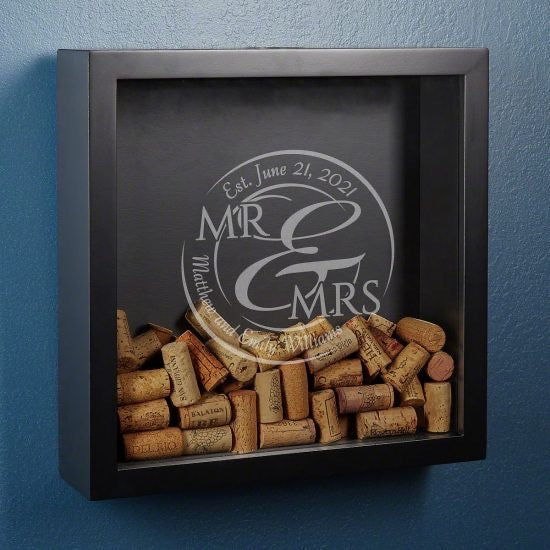 People often like to keep their wedding program, so instead of leaving it in a folder, put it inside this fantastic display case! You spent months planning every detail of the wedding, down to a minute level. Have the whole program on display so you can remember just how smoothly the whole event went. Or, it serves as a great way to laugh and smile at all the fantastic memories you made on your wedding day!
A Box Filled with Their Passions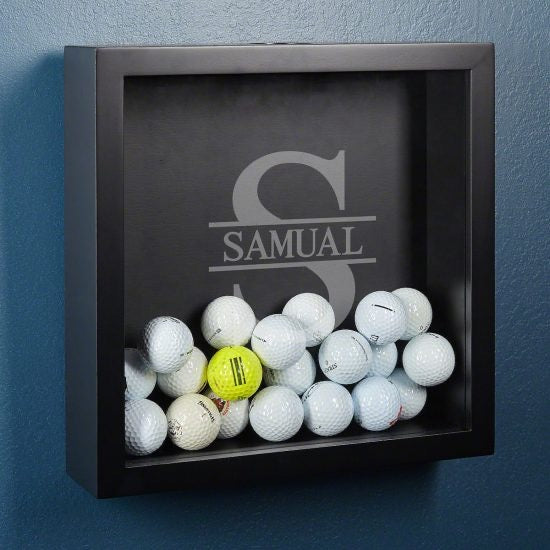 Wedding shadow boxes can be filled with something that the bride and groom have a shared passion for. When they fill their box with items from a hobby, sport, or other passion, it creates a brilliant piece of home decor that they can both love. Top this box off with anything from golf balls to movie tickets, as long as it is what the two of them share a passion for.
A Calm and Cool Display Box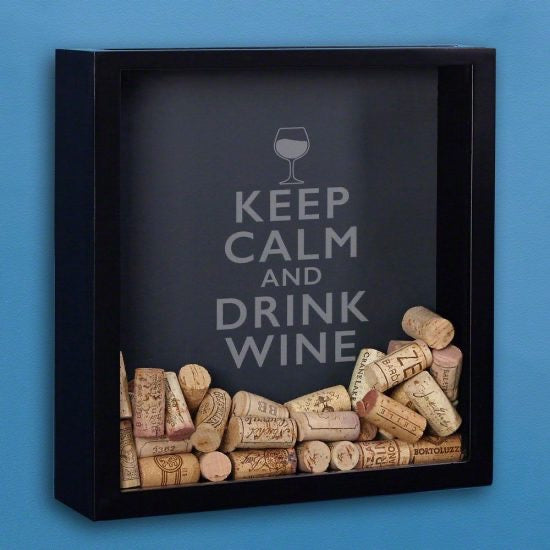 Throughout the wedding planning process, things can get stressful; however, the two of you know you'll just have to pop the cork off a bottle of wine and everything will be good. Use that sort of calm and cool mentality when you're putting together this wedding shadow box. Fill your display case with all the corks from the countless bottles of wine the two of you shared planning the wedding. Some in celebration, some in frustration, no matter why you needed a sip, the two of you will look back fondly on sharing a drink and planning your future together!
For a HUGE Display
Use this huge display case when you just can't put anything less on display. Perfect for large items like table runners or even a wedding dress, this shadow box can have anything you want stored and hung on your wall as art. Or, if you want a little bit of everything, you can fill it with vows, invitations, flowers, and more!
A Wedding Shadow Box to Tie it all Together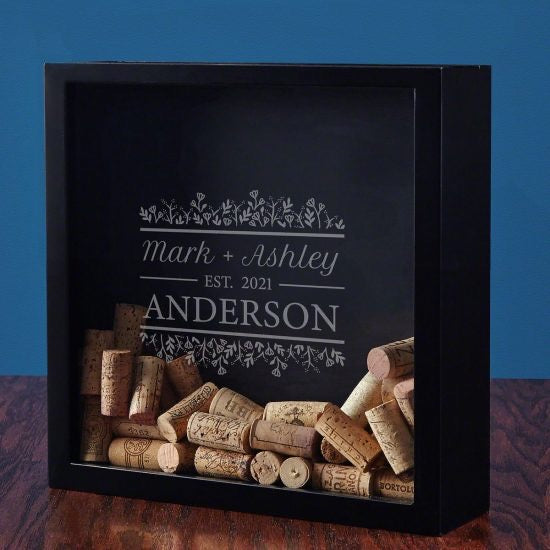 A great way to remember your wedding is with the clothes the two of you were wearing, so why not save them forever with this great wedding shadow box idea? Place his tie and her veil inside the box alongside some other mementos from the wedding to have the perfect recreation of the two of you walking down the aisle!
Cap Off Your Celebration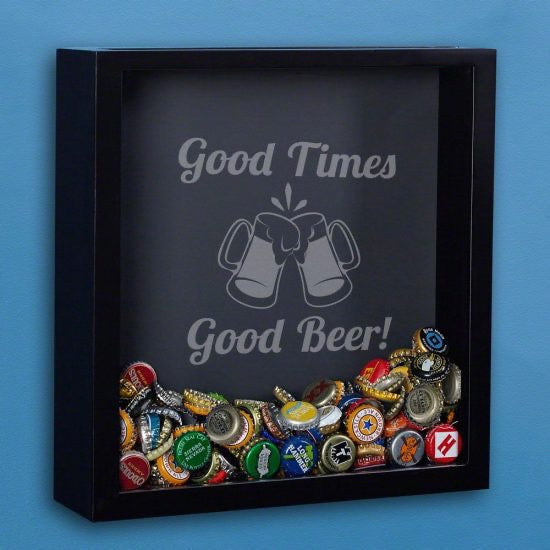 Whether you celebrated the wedding with a toast of beer or that is simply how you and your spouse love to end the day, this display case will fit the two of you perfectly. Keep the good times going with ease each time you add a memento to your case. You may start your collection with wedding beer caps, but it'll soon grow with all the beers the two of you will share in marriage!
A Display for All Your Wedding Shadow Box Ideas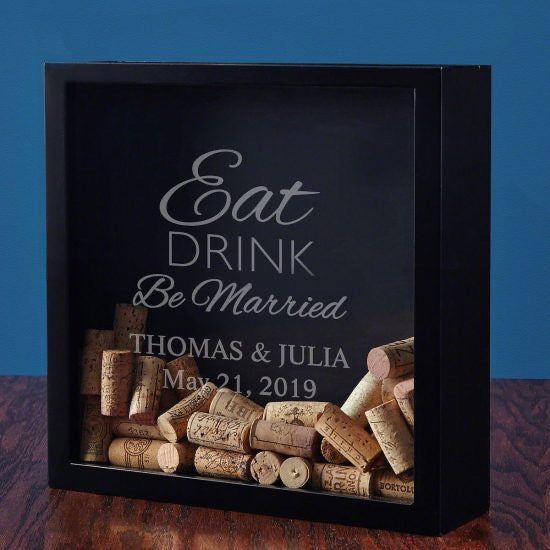 Use this shadow box as a way to remember all of those who made your big day possible. Save present wrappings, cards, or congratulations notes and store them all inside your own personalized display case! Every day you look at your awesome display it'll be like relieving your big day where all of your friends and family were super excited and wished you the best, happiest life possible!