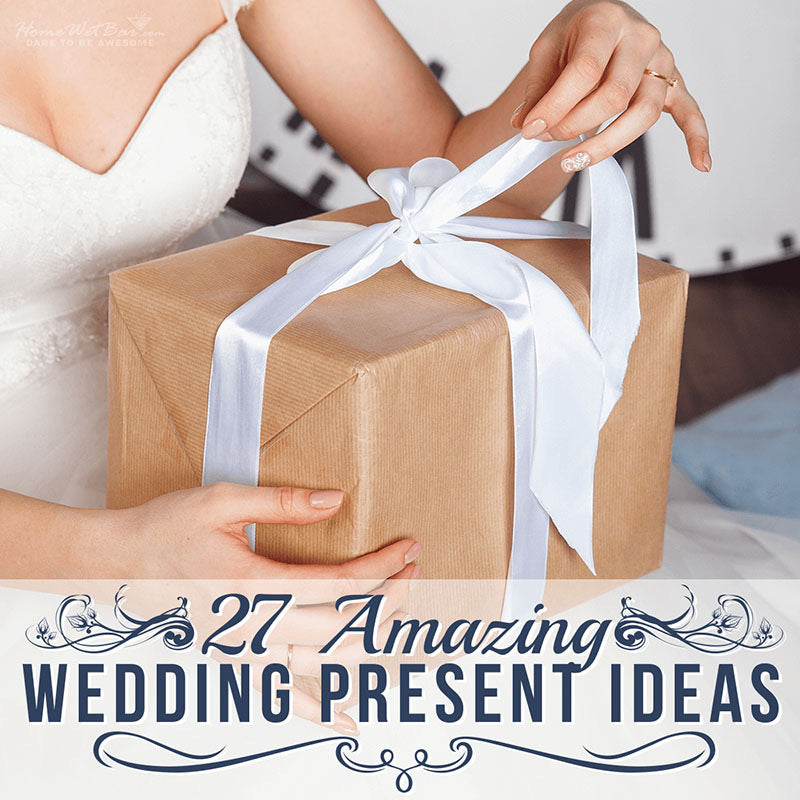 27 Amazing Wedding Present Ideas
Weddings are a beautiful time in people's lives. It is a time for the couple to embrace their love for one another, celebrate with friends and family, and for them to start their lives together. To help them start living their best lives, to congratulate them on their wedding, or even just because you feel like it, you want to get them top-tier wedding present ideas! You want to get them gifts that will make their home better, a honeymoon more enjoyable, or will be the sentimental gift they will look back upon fondly. If you're still struggling to find these kinds of wedding presents, look no further! We've found amazing wedding gifts that are sure to be perfect for any wedding couple!
Presenting the Classiest Set of Wedding Present Ideas
For a wedding, there is simply no way you can top getting a custom presentation set as a gift, which is exactly why it is at the top of this list! Whether they want to break it out right away when they see it at the reception or they decide to top off their glasses while writing thank you cards to everyone who is able to attend, they will love getting to use this classy gift. The six-piece set is even fully engraved with their name. You can be sure these wedding present ideas will be some of the most gorgeous ones they'll receive!
A Celebratory Gift to Remember
Make sure they remember every moment of their wedding with a gift that is perfect for every bride and groom. This engraved shadow box and champagne glasses gift set that ensures that her wedding bouquet, their flowers, or maybe even cards from the wedding will be preserved and remembered forever! Nothing will beat breaking out the bubbly on their anniversary while they look at their shadow box and talk about all the great memories from their special day!
For the Traditional Bottle of Wine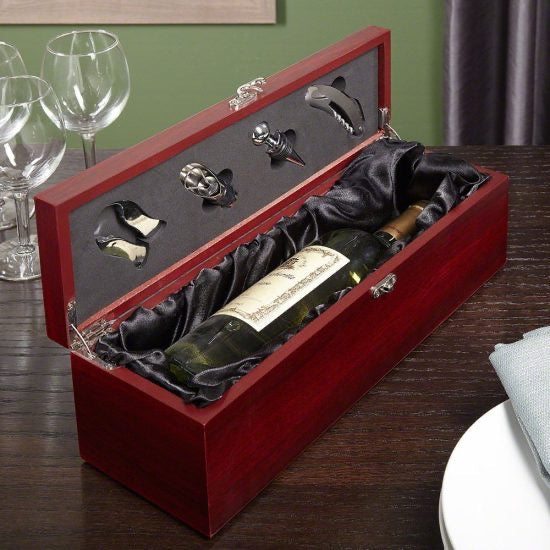 Giving a bottle of wine is a classic gift at a wedding, so why try to beat the classics? However, that isn't to say that you can't upgrade them a little bit. Instead of a bottle of wine with a card or a bow attached, take things a step further by placing this elegant and custom wine gift box on the reception table! They can even keep the bottle safely kept inside in case they want to save it for celebrating their first or fifth wedding anniversary with this unique wedding gift!
A Cool Twist on Classic Wedding Presents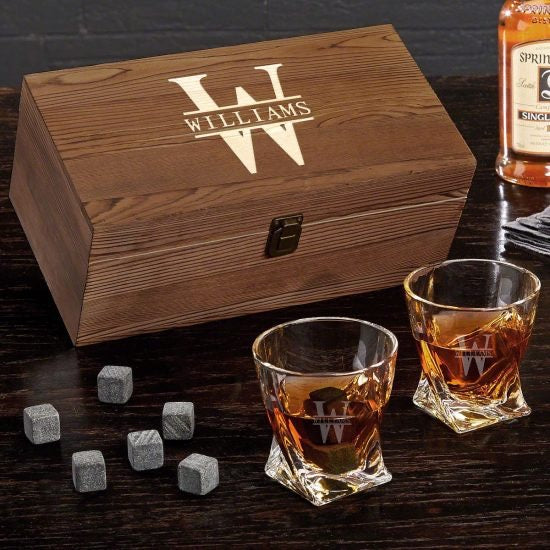 Help them say cheers with this unique twist on wedding presents, a personalized twist whiskey glass set! The elegantly twisted glasses will be nearly as gorgeous as the bride's dress but you can be sure that both the bride and groom will feel extraordinarily classy while they're clinking glasses in a toast to celebrate making it through the wedding while looking forward to many happy years together ahead!
Put This Gift Upon the Chopping Block
Is there a home that doesn't need its own personalized cutting board? Sure, they may have a thin plastic one, but they'll feel like true chefs each time they're creating a special meal on their unique bamboo board. Bamboo cutting boards are perfect wedding presents because you know every couple can use them! They can prepare anything from shallots to steaks on this board, and it looks so good, they can even serve hors d'oeuvres on it if they want to, too!
301+ MUST-HAVE HOUSEWARMING GIFTS >
Catchall Their Wedding Dreams
Never have them search for their keys, phone, or rings again. Instead, only have them searching for the special message embossed inside this personalized leather catchall tray! The days of losing their things are long gone thanks to this unique wedding gift! Be a life-saver as well as a sentimental gift giver with this catchall they are guaranteed to use every day.
A Cart Full of the Best Wedding Present Ideas
Ensure they feel as classy and sophisticated as they've always wanted to with a globe bar cart that is perfect for any home! This is a great gift for the couple who has always wanted a home bar, loves to entertain, or even just because you know they'll love looking at the sophisticated globe! Fitted with wheels, this cart is able to fulfill every drink desire in any room of the house!
Portable Speakers are Great Wedding Present Ideas
Whether they rock out at the reception with your speaker or take it home to jam out while writing thank you cards, you can be sure they'll use this Bose portable speaker for years! It is perfect for outdoor parties, working around the house, or even for playing relaxing tunes when they're on a picnic together!
An Engraved Wine Set
There is nothing like a cute gift that is also practical to make a set of wedding presents feel incredibly special. This engraved wine barrel toolset with matching stemless glasses is sure to be a hit when given to the newlywed couple. Not only will it help them to enjoy the countless bottles of wine they're gifted at their wedding but with their names and anniversary date on the glasses and wine barrel, it'll also be one of the most sentimental gifts you could ever think of getting them!
A Sign You May Have Found One of the Top Wedding Presents
A wedding gift with two purposes? Say no more! This personalized wedding sign is the perfect custom touch to helping direct all wedding guests on where to go as well as preparing them for just how gorgeous the wedding and/or reception will be. Better yet, once the wedding day is over, this sign that worked so well for guiding guests on where to go also makes a fantastic sign for decorating their living room or bedroom with!
Put a Pin in It
What comes after the wedding and reception? The honeymoon, of course! However, not every couple has theirs planned out or some, after traveling, decide they want to travel the world together even more. So instead of using Google Maps or that old rolled up world map, give them a piece of decoration that makes it a breeze to mark where they've been and where they plan on going with this push pin travel map.
A Custom Decanter Set for the Classy Couple
A wine decanter set has to be one of the most classic wedding present ideas, they're simply one of the most practical while also being incredibly classy gifts. Every couple wants to celebrate their marriage together, and few ways are better than a drink of wine from a set that has been engraved with their names and wedding date! Make each anniversary or special occasion memorable with a personalized decanter set for the newlyweds!
For the Beer-Loving Newlyweds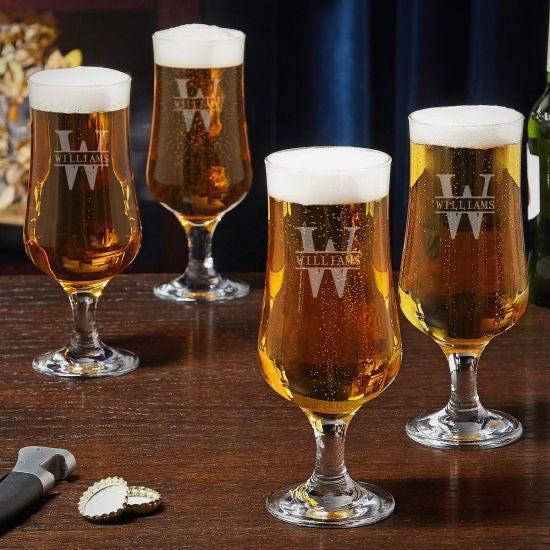 Not every couple is obsessed with wine for their wedding, some prefer the golden-liquid, beer! For all those beer lovers out there, make their wedding table at the reception as unique as possible by gifting them these engraved tulip glasses before the wedding that bear their newly shared last name and initial! Now, they can have the classiest glasses for their brews that also help to highlight and enhance all the natural flavors from their IPAs, stouts, or pilsners.
A Sign for a Strongly Brewed Marriage
Part of getting married for many couples is finally moving in together, which is both cool and a bit scary. A lot of wedding presents are there to help with this transition though. Break free from typical registry requests with a custom coffee sign that is sure to help them get going in the morning. For the newlyweds who love coffee (and be real, who doesn't like coffee?), this coffee bar sign is perfect! They can easily hang it in their favorite spot to enjoy a fresh brew or prop it up on a sign by the espresso machine or coffee pot!
The Elegant Gift Seen Round the World
When a couple gets married, they never know exactly where the world will take them. While you can't predict where they will live or where work will take them, you can help them out by getting them an incredibly classy globe decanter to make the world not seem so big after all. Ideal for their home bar or end table, this is an ideal wedding gift for them to enjoy while talking about big moving plans, trips, or anything else!
Getting Warmer
Few things in the world are more jarring than leaving a hot shower and getting into the cold air. Help them stay warm for as long as possible with a towel warmer! Also functioning as a towel rack, they can put this rack up anywhere in their bathroom and it'll keep all of their towels at a comfortable warm temperature!
A Cute, Compact Set of Wedding Present Ideas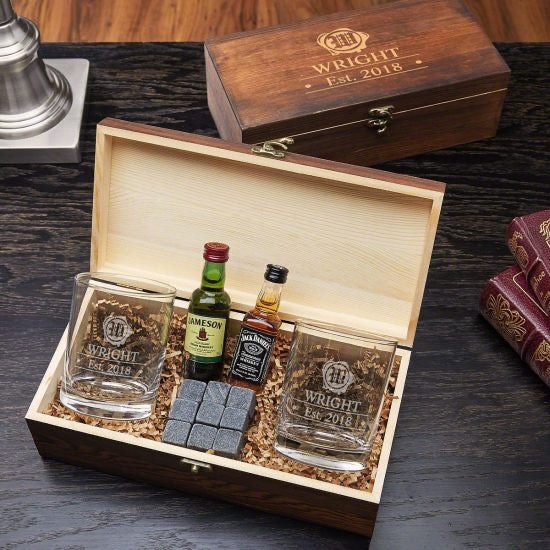 Not every set of wedding present ideas needs to be a large gift set. Sometimes, the smaller box sets will pack just as much of a punch! This engraved whiskey stone box set is sure to become one of the most sentimental gifts from their wedding. Engraved with their name, initial, and date, it's a great set for sharing a drink after the wedding and for anniversaries and special occasions. You can even add in a wedding card, hand-written notes, or a few small bottles of booze inside the box when you gift it to them.
Decanter Sets are Must-Have Wedding Gifts
In the complete opposite direction of the small box set of wedding present ideas, this magnificent box set is a great gift for them to be able to feel like their wedding came straight from a fairy tale! The customized decanter, glasses, and box set will feel like the classiest gift they've ever gotten. This set makes it a breeze for them to class up any room with this decanter on display while it will be just as easy to pour and share a drink from this gorgeous gift set.
A Print They'll Never Forget
Give them a gift that is perfect for their wedding, that you may need to actually give slightly ahead of time, this unique canvas chalkboard! This is the ideal way for them to have guests check-in, simply have them sign the bottom of the sign with chalk, how neat is that? A custom present like this is a surefire way to make their wedding even more memorable.
Remember Every Moment
Not many wedding gifts will help them remember their big day quite as well as this engraved wine shadow box gift set. Help them start their collection off right by gathering corks from bottles of wine at the tables during their reception, and from then on, each bottle of wine the couple shares while drinking from their matching glasses will be added to their collection!
These Gifts are Cookin'
A classic wedding gift is a new set of pots and pans, and this is a gift that never gets old! Everyone can always use an update with cookware. After all, everyone has to eat, so you know they'll get tons of use from your gift. From eggs in the morning to a carbonara at night, they'll be using your wedding present to make each one!
Creative Wedding Presents for the Bride and Groom
Tantalize their palate with a gift that looks just as sophisticated as it is. This set of wedding present ideas will have the whiskey-loving couple over the moon when they open the engraved box set to find matching sculpted whiskey glasses inside. Now, they can finally get the full experience of their whiskey, bourbon, or scotch thanks to their unique glasses and decanter!
A Chill Wine Gift
Breakaway from traditional glassware as a wedding present idea, and instead get them an insulated tumbler set like these initiated, stemless copper glasses! The only thing cooler than this gift set will be the drinks they have inside. As a modern gift, they'll want to immediately shove their old glasses to the back of the cupboard to make room for a set of wine tumblers they'll be using weekly, if not nightly! The couple will always be able to indulge in their favorite drink together and will even have two glasses left for when company is over.
An Elegant Decanter for their Wedding
Want to give the classiest set of wedding presents out of everyone? Look no further than this elegant, custom twist whiskey decanter gift set! The gorgeous glassware and engraving make this stand apart from everything else they'll be getting while also being a timeless gift. This set is perfect for any newlywed couple and it can be enjoyed for decades while still being as good-looking and classy as the first day they got it!
Home is Where Their New Sign Is
As a couple, they may have come from very different areas in the world or it is possible they are high school sweethearts who grew up just a few houses away from one another, and although home will always feel like the place they met and fell in love together; now, home will always be wherever they are with one another, and this sign is the perfect reminder of that. They'll love getting this unique home sign that can easily go on their mantle or be mounted anywhere in their house. This is a wedding gift that will keep on giving.
Keep Them Lazy
Few things are better than gifts that allow them to be lazy which is what makes a lazy Susan an ideal gift for weddings. Whether they put it on their table for sharing salt and pepper or in a cupboard to make organizing spices, cans, or dried goods easier, you can be sure that this granite lazy Susan will be one of the best looking and most practical wedding presents they got!
For Their Jewelry
When a couple gets married and has been living together, space is used differently. Before, what they could easily keep spread out or keep track of without a box can now be lost. So, instead of having dressing woes with jewelry or watches, get them this gorgeous valet box that is perfect for both of their watches and accessories. No more will they be getting ready in the morning and look for their favorite watch or bracelet, now everything will be in one convenient and easy to get to spot!
193+ AMAZING WEDDING PRESENTS IDEAS>