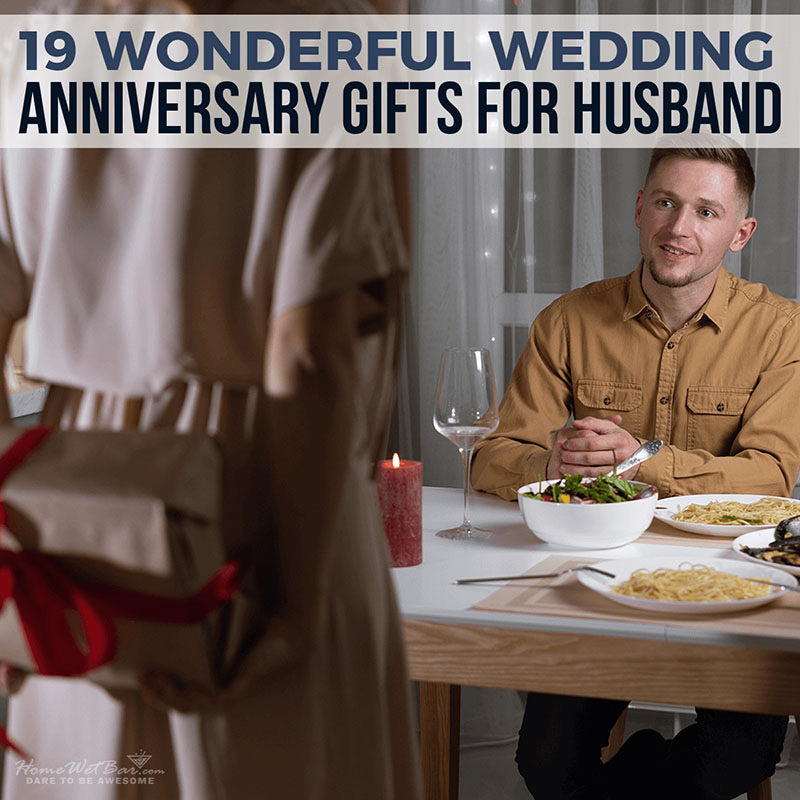 19 Wonderful Wedding Anniversary Gifts for Husband
Check Out Our Best Wedding Anniversary Gifts for Husband:
It doesn't matter if you've been married for just a single year or you are going onto your twentieth anniversary, you're an anniversary gift for your husband to make his jaw drop! Make sure that he is as awe-struck as the day he saw you walking down the aisle with one of these perfect wedding anniversary gifts for husband. These are custom anniversary gifts for him that make his favorite hobbies better, lounging around the house easier, or introduce him to new passions! Your gifts this year will be as great as the one wedding gift he still uses to this day when you get the best anniversary gift for husband from our hand-selected curation!
The Classiest Wedding Anniversary Gifts for Husband
Start things off with one of the best anniversary gift for husband possible with this engraved decanter set that comes with two matching cigar whiskey glasses. This is the perfect way to get your anniversary off on the right foot. However, because this set is so spectacular, make sure you give it to him at the end of the night because a gift this good will be extremely hard to top. This will be the cherry-on-top of his anniversary that actually keeps giving and getting sweeter each time he enjoys his set. Thanks to the cigar whiskey glass, even with only one hand he will be able to enjoy his J.P. Wiser's rye whiskey and a Churchill cigar.
A Set of Tough Tools for His Anniversary
Got a real tough guy you need to get a gift for? Lucky for you, your search has ended super early in this blog! This personalized pint glass ammo can gift set is the ideal present for the real man's man. Aside from matching pint glasses, a survival knife, lighter, and cigar cutter (which is already an awesome gift) you can easily fill the inside with some of his favorite things too! Whether it is pictures and hand-written cards from you or ammo for him to go to the range, he is sure to love this fully customizable anniversary gift set!
Vintage Globe Bar Cart
Make his dreams of owning his own home bar come true right before his very eyes with this classy, vintage-style globe bar cart. This is a great gift that can either be the ultimate accessory to a full-sized home bar or for those without the room, this allows the home bar to be in any room of the house. Now, he can make Old Fashioneds or Mojitos in any room thanks to all the tools and glassware he can store in the cart!
An Engraved Cutting Board
Every guy likes to eat. That is a statement that you simply cannot debate. However, some who are truly into food love cooking too, which means they get a lot of use out of their kitchen tools. Keep him ready to use his favorite knife on whatever meats and produce he has with this engraved acacia wood cutting board. He'll love having a stylish place to slice, dice, and mince. It'll make him feel like he is cooking in the home of a 5-star chef. Plus, this is so good-looking that the cutting board even doubles as a charcuterie board for when he wants to present some tasty snacks, talk about an awesome anniversary gift!
Best Anniversary Gift for Husband Who Loves Whiskey & Cigars
Keep things simple and sweet with a sophisticated but no-frills gift box when searching for one of the best anniversary gift for husband on the market! This custom cigar and whiskey gift box is perfect for every wedding anniversary, from the first to the twentieth, you can't go wrong with this classy set! You can even add a bottle of Powers John's Lane and a few La Palina cigars so he can enjoy his gift right away!
531+ CUSTOM GIFT BOX SETS FOR HUSBANDS>
The Sound of a Bentley
Almost everyone has seen some kind of portable speaker. There are tons of brands but a rare few whose products really standout. Make sure your husband has a gift so good and so rare that it seems one-of-a-kind with this portable Bentley speaker. Yeah, the car company—that Bentley. Not only is the sound quality top-notch for when he needs a Bluetooth speaker, but he simply won't be able to help but show off his amazing anniversary gift. Now, whether he is working in the garage or yard, he'll be able to have his tunes with him everywhere!
Elegant Cigar and Whiskey Wedding Gifts for Husband
Make him feel like the fanciest husband in the world this year on your anniversary with an engraved cigar whiskey gift set that is sure to blow him away! From the fancy twist glasses to the gorgeous leather cigar case, he won't know which piece he loves the most! All he knows now is that this set of wedding anniversary gifts for husband will be his go-to way to celebrate any occasion from now on. However, don't be surprised when you see him using these even just to unwind (they're just too good to save for only special occasions)!
A Badass Cigar Humidor for His Anniversary
Replace that old beginner cigar humidor he got with one that is sure to keep his precious cigars protected from anything that could ever harm them with this custom ammo can humidor! Humidity controlled and behind the steel of a United States ammo can, there is no way anything is getting in to keep him from enjoying a perfectly preserved stogie!
Custom Golf Sign is a Hole-In-One Anniversary Gift
Got a guy who can never spend enough time on the green or at the clubhouse? Have him bring some of his golfing time home with this unique, custom 19th hole golf sign. Now, when the last putt has been sunk, he can take his whole card back to his place for a round at the nineteenth hole where they can share stories about today's round or past awesome shots!
Best Anniversary Gift for Husband Who Loves Wine
A truly great anniversary gift will have him coming back to enjoy his gift again and again. Give him one of the best anniversary gift for husband with this engraved stainless steel tumbler box set. Not only does it look awesome, but since it is made of stainless steel it is sure to last him a lifetime! Now, he's got a badass anniversary gift that he can enjoy every single time he wants to have a cold, refreshing drink!
A High-Quality Bag for All His Travels
There is always a use for a badass-looking leather bag. Whether he is a guy who travels a lot, has plenty of things to bring with him to the office, or wants to have the most dapper of all gym bags, this top-quality bag has him covered. With a comfortable leather strap, this anniversary gift ensures no matter where he goes, he can easily carry everything he could possibly need with him.
The Classiest Way to Keep Him Organized
Ensure he never has to search for his lucky cufflinks or favorite watch ever again with one of the best wedding anniversary gifts for husband, an embossed leather valet tray with a watch case. This is the classiest and coolest way for him to show off his watch collection while also keeping them all in one place. Now, even in the mornings when he is still blurry-eyed, he can easily find his go-to watch to be ready for the day.
High Time for a Stein Gift
Give him a classy gift for your anniversary with his own engraved beer stein! These are such cool gifts because they've got something for everyone. Whether he loves the look of glassware, the history of beer or even just wants the coolest way to enjoy a brewski, this stein with a pewter lid has him covered! Talk about a great anniversary gift for every guy.
A Personalized Sign for the Cigar Lover
Help make your man's man cave or cigar lounge official by getting him the personalized cigar sign you know he so desperately needs. As soon as he pulls the wrapping paper off, you better be ready for him to prop this up on display right away so everyone knows that this is his man cave or cigar lounge and that if you enter, be prepared to learn a thing or two from a guy who knows "things."
A Box Full of Wedding Anniversary Gifts for Husband
Everyone loves to open a gift box and find multiple gifts inside, and your husband is no exception! On your special day together, this is the best anniversary gift for husband you can possibly think of! Not only is this whiskey box set gorgeous, but every part matches too! So, although this will become his go-to way to enjoy some Glenfiddich, on your special night with him, the two of you can easily share a toast from this matching set!
Stunning Sonic Shades
Audio is part of everyone's lives nowadays. It doesn't matter if they're on the subway, at work, or outside, almost everyone is listening to something. Instead of having to have headphones in (which blocks off all sound while he is outside), your husband will love how good he looks in these Bose headphones for audiophiles. Aside from stunning, these shades have speakers on the end, allowing him to listen to his favorite tunes or podcast! The speakers actually vibrate on the bone, meaning he doesn't have to block his ears with earbuds either. Talk about a cool anniversary gift!
An Engraved Shadow Box Set for His Anniversary
One of the most unique wedding anniversary gifts for husbands has got to be this personalized shadow box gift set that comes with two matching pint glasses. This set is an ideal way for him to capture his favorite memories. Whether he wants to fill the shadow box with beer caps, tickets from movies or photos the two of you have taken together, the box will be like a living time capsule for him! Now, all he has to do is put it in a fitting spot and the two of you can crack a cold one and start making some memories!
A Glassware Gift for the Coolest Hubbys
Keep your husband being the cool guy he is with an anniversary gift that he'll be thrilled to have with this awesome whiskey stone and rocks glass gift set. Just make sure to give it before dinner, this way, he can have time to chill his stones and enjoy a neat glass of Johnnie Walker as the two of you have your at-home anniversary meal! He'll love using this set anytime he can. From date nights with you, nightcaps, to hanging out with his buddy. You can be sure he'll get more use out of this set than any of his other gifts ever!
An Anniversary Box Set for the Manliest Man
There is no better time to boost your man's ego than on his anniversary with you, and when you get him a gift that looks this good, he'll feel like the most awesome guy in the world each time he sees it! This personalized beer mug box set is the way he's always wanted to enjoy a frosty one. Now, when the bars are closed or he only wants to drink with a buddy, he'll break this mug set out every chance he gets. This way, not only will he feel classy while enjoying an Iron Monk brew, but he'll feel like a total badass too!