21 Ways to Follow Wedding Gift Etiquette
When it comes to buying wedding gifts, there are a lot of things to consider: how much to spend, when to give the gift, whether you should stick to the registry, and more. That's where we come in! Wedding gift etiquette is essentially a set of rules that you should follow in order to make sure that the gift you want to get the happy couple is appropriate and appreciated. First, does the couple have a wedding registry? If so, check it out first for some inspiration for your wedding gift. If not, check with the couple to see if they would prefer cash or a gift card as their gift instead. Second, who is the gift for? If the bride or groom is a family member, it's typically expected of you to get something a little nicer than you would if they were just a friend. Third, when is the best time to give your gift? It really depends on when your gift is meant to be used as well as if you're planning on attending every event leading up to the ceremony, but it's generally easier on the happy couple if you give them their gift before the wedding. Fourth, are you supposed to give a wedding gift if you're in the wedding party? Of course! You're among the most important people to the bride and groom and it would mean a great deal to them if you got them an amazing gift, especially if it's something personal. Finally, what is a good wedding gift? Don't worry, that's what you're about to find out! Scroll to see what we've picked out as great wedding gifts that suit your budget, who they're for, and what makes them the best of the best.
What to Keep in Mind for Wedding Gift Etiquette If You're Not Buying From the Registry
Whether the couple has a wedding registry full of gift ideas or everything's been bought up already, you don't necessarily have to stick to it! For example, if you know the bride and groom well and you found a gift that you know they'll love that isn't on their registry, don't be afraid to get it! Another way to make sure they love their gift is by looking at the registry for inspiration, and getting them a gift that's similar but better than what they have listed, like a set of personalized wine glasses rather than a plain store-bought set. 
What Is a Good Wedding Gift? A Personalized Whiskey Decanter Set!
It doesn't matter if you know the bride and groom really well or not, they will be over the moon for this stunning personalized decanter set! This incredible decanter set is sure to be the most impressive gift they'll get! From the eye-catching curves to the elegant engraving of the happy couple's new last name and initial on the entire set, every aspect of this gorgeous decanter set is absolutely breathtaking.
Every Couple Wants a Kitchenaid Stand Mixer 
When it comes to wedding gift etiquette, you can get an item that's on their registry from somewhere else if you found a better deal for it at a different store. For example, a Kitchenaid stand mixer is definitely on their registry from Amazon, but this bundle directly on the Kitchenaid site probably isn't! You'll definitely impress the bride and groom with this must-have set that comes with an extra mixing bowl and three types of mixing attachments to fit their cooking and baking needs!
Not Your Average Wine Glasses
Chances are, the bride and groom have a set of wine glasses on their wedding registry. However, you can go the extra mile and get them a personalized version! The happy couple will be so touched that you went above and beyond to get them something unique that they really wanted. Just don't forget to mark on their registry that the wine glasses were purchased!
You Can't Go Wrong with a Monogrammed Cutting Board
Cutting boards are one of the top gifts you'll find on a wedding registry, but a monogrammed one is even better! This beautiful hardwood cutting board is made from highly durable sheesham wood and is engraved with a unique monogram of the bride and groom's initials. They will be so excited about this lovely new addition to their kitchen and will proudly display it on their counters for years to come.
What Is a Good Wedding Gift for a Friend?
You're probably wondering what type of wedding gift is ideal for a friend, such as how much to spend, whether to use their registry, or just to rely on what you think it best. For a friend you know really well, you're expected to spend anywhere between $50-$200 and to get them something that you know they want but isn't on their registry. For someone you're just kind of friends with, like someone you talk to on Facebook now and then but don't really hang out with regularly, you can spend a little less for their gift and rely on their registry for sure.
A Complete Personalized Decanter Set
As a friend of the bride or groom (or both!), you know some basic personal information like their names, wedding date, etc. This means that you should totally get them something that's personalized whether it's on their registry or not! Take this impressive monogrammed whiskey decanter set for example, it's ideal for the price range, is engraved with both their initials, and is one of the best luxury wedding gifts you can give!
Cute Shadow Box They Will Use to Start a Collection Together
If you know that the happy couple likes to enjoy a couple of drinks together now and then or regularly frequents a specific bar, this adorable shadow box would make the perfect wedding gift! Together, the bride and groom can start a collection of wine corks or bottle caps as a unique representation of fun times and drinks shared together.
The Most Comfortable Comforter Set
Another great wedding gift for friends, close or not, is a down alternative comforter set! Designed to mimic the luxurious goose feather feel, this set feels like being hugged by a cloud! The bride and groom will be excited about such a thoughtful and practical wedding gift, especially since they can get a duvet cover for it or leave it the traditional white.
Make Sure Their Red Wine is Always Perfect
One of the simplest but most thoughtful gifts you can give a friend as a wedding gift is something that makes a casual activity even more enjoyable, like drinking red wine! Everyone knows that red wine should be aerated for maximum flavor, but most people don't actually have a decanter or aerator. Surprise your friends with this gorgeous engraved wine decanter set so that they can finally enjoy their favorite bordeauxs to the fullest, but don't forget to include an actual bottle of wine to go with it so that they can try out the set on their wedding night!
What Kind of Wedding Gifts Are Best for Family Members?
Wedding gift etiquette for family members who are getting married is a little bit different. Since you're related, you're expected to spend a little more on your gift than you would if it was just a friend. Budget-wise, be prepared to spend around $75-250 for your gift, and they'll expect something personal!
A Stunning Monogrammed Presentation Set
No need for you to wonder what is a good wedding gift for a family member any longer because this is it! Your soon-to-be-married relative will finally have plenty of glasses to go around when the whole family visits. With a decanter, four glasses, and a beautiful tray to carry the whole set around on, they'll be fully prepared to serve drinks at every family gathering from now on. Plus, it has their initials and their new partner's initials engraved on the entire set! 
The Best Dinnerware Money Can Buy
Want to give a family member a really great wedding gift that will last them for years and years? Corelle dishes are designed to be beautiful, long-lasting, and virtually unbreakable! Seriously, these gorgeous dishes are built to last for decades and will survive anything. Every time they use this lovely dinnerware set, they'll think of you and how thoughtful you were for getting them a wedding gift that will last forever!
An Awesome Globe Decanter
Does your family member enjoy traveling? Before they embark on their honeymoon with their new partner, they'll want to toast to their future adventures together with this gorgeous globe decanter set! The perfect centerpiece for any home bar, living room, or office, this stunning set is sure to be part of many future celebrations and trip plannings.
163+ LOVELY WEDDING GIFTS FOR COUPLES>
Wedding Gift Etiquette on When to Give the Gift
Are you wondering about when to give your wedding gift? Perhaps you're attending the bridal shower or you're bringing something amazing to the engagement party. Guess what? It's actually never a bad time to give a wedding gift, even after the nuptials! In fact, most couples would prefer to have their gifts mailed to them at any point before or after the wedding because it's one less thing they'll have to worry about on their special day. Besides, you can always give multiple small gifts at each event leading up to the wedding or wait until the day of the ceremony is closer to give them a nicer, bigger gift.
What is a Good Wedding Gift for the Bridal Shower? A Marble Wine Chiller!
When it comes to giving gifts at bridal showers, it's all about the bride! You can give her something that's especially for her, something on her registry that you know she really wants, or even a gift that she can use before or on her wedding day. Take this lovely engraved marble wine chiller for example: this is a great bridal shower gift because you can include a bottle of wine for the bride to enjoy right away, and she'll have a lovely new kitchen accessory to make sure that she (and the groom) has perfectly chilled wine at all times.
Classic Gold Cocktail Set Is Perfect for Giving at the Rehearsal Dinner
What is a good wedding gift to give at the rehearsal dinner? Whether it's something simple or super personal, it's definitely more convenient for the bride and groom to get their wedding gift than it is on their wedding day because they can open it together that night! Take this beautiful gold bar tool set for example. If you give them this elegant gift at their rehearsal dinner, they'll be fully prepared for celebrating their nuptials with quality drinks on their wedding night and afterward thanks to your gift!
A Unique Gift to Give Before the Ceremony
When it comes to wedding gifts that are meant to be used on the day of the wedding, the sooner you give your gift to the happy couple, the better! Whether it's at the engagement party, bridal shower, the rehearsal dinner, or anytime in between, the bride and groom-to-be have a lot of work to do before their special day. By making sure they get your gift that's meant for their special day as soon as possible, the happy couple will be able to plan accordingly to make sure they use it whether it's a custom bean bag toss game that everyone can play at the reception or a priceless piece of jewelry for the bride's "something old!"
199+ WEDDING GIFTS TO GIVE IN ADVANCE>
You Know They'll Need a New Coffee Maker
Does the type of wedding gift matter when choosing when to give the gift? Nope! Kitchen appliances like coffee makers are must-haves at any point before or after the ceremony, for example, but it might be more appreciated before the day of the wedding so that the happy couple can enjoy the caffeine boost during wedding planning! When considering a wedding gift and when to give it, always think about the bride and groom's needs first.
The Coolest Groom Gift to Give at the Bachelor Party
Wondering what the wedding gift etiquette is for gifts for the groom? Whether you're part of the wedding party or a close friend to the groom, it's perfectly appropriate to give him a gift at his bachelor party! In fact, he would love to indulge in this awesome cigar and whiskey gift set on his stag night, just don't forget to load up the cigar case with stogies and bring along a bottle of scotch!
Must-Have Wedding Gift on the Day of the Wedding
You've probably noticed that most wedding gifts are home goods like decorations or appliances. These classic gifts are always best to give on the day of the wedding so that the bride and groom can enjoy them at their home together whether they're already living together or will be moving in together after their nuptials! The bride and groom will love decorating their home together with their amazing gifts after the wedding, especially with items like a personalized wooden sign that features their names and wedding date.
Do You Buy a Wedding Gift if You're In the Wedding Party?
The answer is: yes! Even though you've committed a great deal of time and effort for the bride and groom as a member of the wedding party, you are usually expected to give them a wedding gift. This is because you are considered someone very special to the happy couple, which means you probably know them best and that you don't have to get them something from the registry.
The Sweetest Gift from Bridesmaid to Bride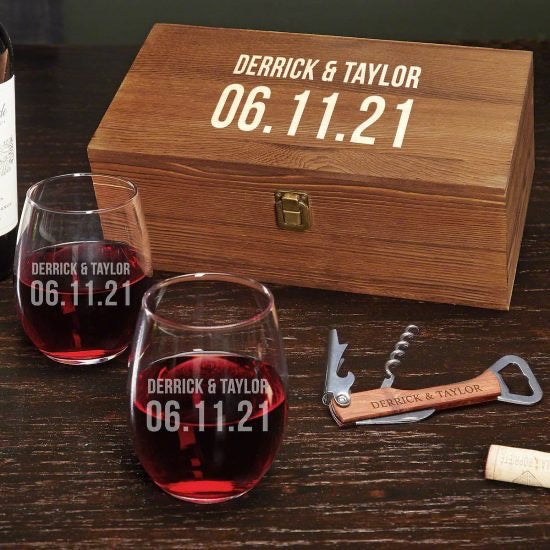 What is a good wedding gift from someone in the wedding party? Something personal, like this adorably engraved wine glass set! The bride and groom will love using this romantic wine gift set for celebrating life as newlyweds, on date nights, and even on their future anniversaries.
For the Couple Who Likes Beer
As a member of the wedding party, you know the personal tastes of the bride and groom. For the couple that loves to drink beer together, the best wedding gift is this complete custom beer growler and pint glass set! Whether you give this gift at the engagement party, rehearsal dinner, or at the ceremony, they are sure to love using it for years to come.
All New Grilling Tools to Use to Cook Together
Wedding gift etiquette for gifts from the wedding party is a lot simpler than you'd think. For example, as a groomsman or bridesmaid, you know that the happy couple love to host cookouts, BBQs, and grill up tasty food any chance they get. The perfect wedding gift for them is a brand new grilling tool set that's custom engraved! They will never get tired of bringing this thoughtful gift to the lake, their family reunions, or even your house for a party!
Gorgeous Monogrammed Crystal Decanter Set
What is a good wedding gift from the maid of honor or best man? You can't find anything more spectacular and thoughtful than this stunning monogrammed crystal decanter set! You can even pair this beautiful decanter set with a nice bottle of the couple's favorite type of liquor so that they can enjoy your amazing wedding gift right away.