Vodka Martini. Bloody Mary. Cosmopolitan. All legendary vodka cocktails that you and so many other people adore. No matter which way you enjoy your vodka, using the right vodka glasses is essential to enhancing your experience. The best glass for your cocktail will make it taste so much better, but you may not know all there is to know about the best glasses for vodka. If you have a favorite cocktail, what's the best glass for that kind of cocktail? These glasses will without a doubt enhance your cocktails to the extreme.
Copper Vodka Glasses
A popular vodka drink is the Moscow Mule and has been since it was invented in 1947. While many Moscow Mule mugs aren't made from real copper, these ones are. These Moscow Mule mugs are striking, with the bright copper staring back at you as you drink. They hold a whole 18 ounces of your Moscow Mule or any other cocktail, so refills aren't necessary for a while. The genuine copper causes your drinks to naturally oxidize as you drink, not to mention it helps your drinks stay cold for much longer than other glasses. With four of these amazing mugs, you and three friends can enjoy your favorite mixed drink together.
Sweet and Sour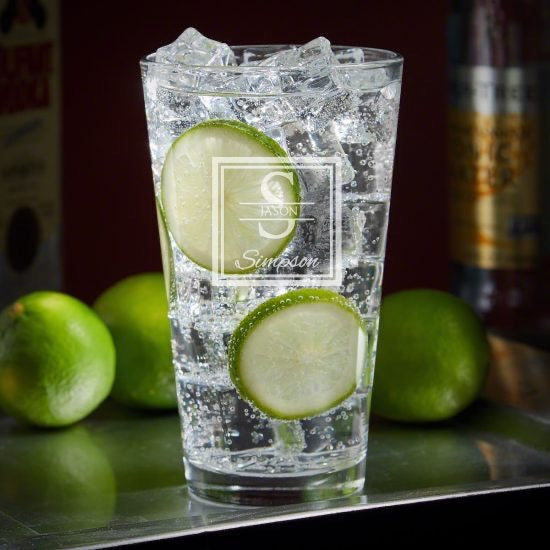 If you want the sour taste that taller vodka glasses bring but enjoy the sweeter taste of the drinks in the glasses with a wider brim, this engraved Vodka Soda cocktail glass is perfect for you. Not only is it a perfect medium size at six inches tall, but it's big enough to hold good-sized lime pieces for those of us who want Vodka Soda and Gin and Tonic with our limes.This glass is also ideal for cocktails such as Bloody Marys and Screwdrivers that mix strong tastes together with both sweet and sour or spicy flavors. Get it engraved with your first name, last initial and last name to make it your favorite glass you've ever had or give it as a gift to the vodka lover in your life.
Classic Drink, Classic Vodka Glass
A Bloody Mary is an all-time classic beverage that has many die-hard fans. You need the best Bloody Mary cocktail glass for your next brunch. This highball glass is perfect for drinks such as a Bloody Mary or a Mojito that contain a large proportion of mixer poured over ice. It's also one of the biggest glasses for vodka, which is fantastic because the bigger drink, the better. Engrave this glass with your name, and brunch will be full of all your friends asking you where you got your Bloody Mary glass.
Cocktails Every Day
If there's one factor that's always important when choosing glass for your vodka cocktail, it's how visually alluring it is. No one wants to drink from a glass that looks dingy and ancient. This set of two personalized cocktail glasses is visually appealing as well as functional. These vodka glasses have a retro design that is both classy and practical, with a smaller rim designed to keep flavor in and the slight length meant for keeping mixed drinks mixed. The thick base is perfect for muddling ingredients to create the most amazing cocktails. A lot of personalization is available too; you can engrave it to make sure that everyone knows this beautiful set belongs to you.
Unique Glass Cans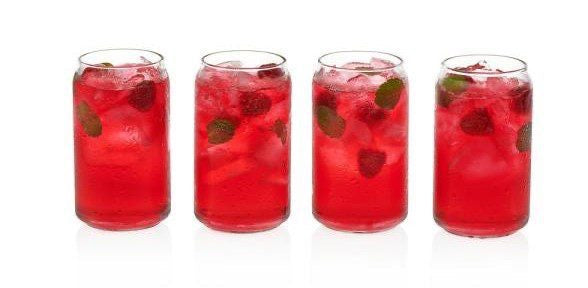 The soda can is an iconic shape and container, and something that we can all appreciate. What happens when you want to have a Vodka Sprite but there's no room to pour the vodka into your Sprite can? Don't just pour it into a boring glass – these classic can tumblers are perfect! Shaped like the iconic can but made of glass, these beautiful glasses are perfect for anything you would like to drink, especially soda-related drinks. The smaller brim traps the flavor of your drink so you can enjoy the best flavors possible. These glasses hold 16 ounces compared to the 12 ounces of a typical soda can, so you could pour a whole can of soda into these glasses and add anything else to make the perfect cocktail.
Perfect Vodka Glasses for a Sweet Tooth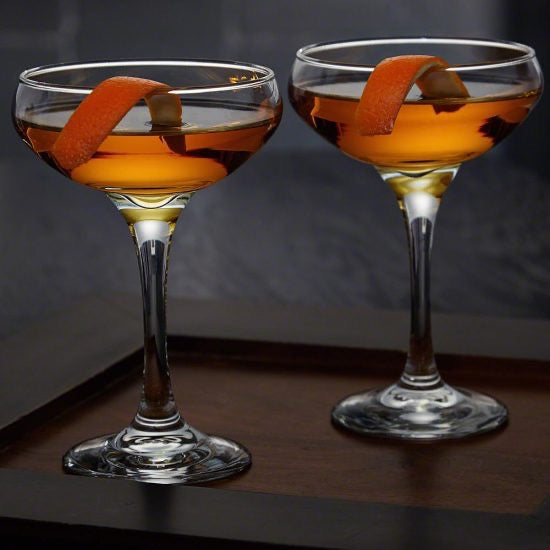 Coupe glasses have a curved rim and were originally designed to serve champagne, which now everyone realizes was a bad idea. What is a terrific idea, however, is to serve your favorite cocktails such as Gin and Tonics or Gin Campari Sours in this cocktail coupe glass set of two. Coupes have the largest surface area of any cocktail glass, allowing carbonated gas far more opportunities to leave the glass than they would have in a vodka glass that is smaller in diameter. If you prefer less of a sensation of alcohol in your mixed drinks, this is the perfect glass set for you, as the coupe shape heightens the natural sweetness of sugars.
146+ PERSONALIZED GLASSWARE ITEMS ANYONE WOULD LOVE>
Keep Your Cold Drinks Cold
It's important to you that your cocktails stay cold for a long time. Different from most other vodka glasses, this cocktail glass is crafted from stainless steel with a matte black finish. It will keep your favorite cool drink, such as a Mojito or Long Island Iced Tea, cold for hours as you slowly sip and enjoy. Another bonus to this glass is that it doesn't produce condensation, so your hands will stay moisture-free the whole time you're using this ingenious glass. Monogram it with your initials, and you'll be the hit of every party.
Stemless is Best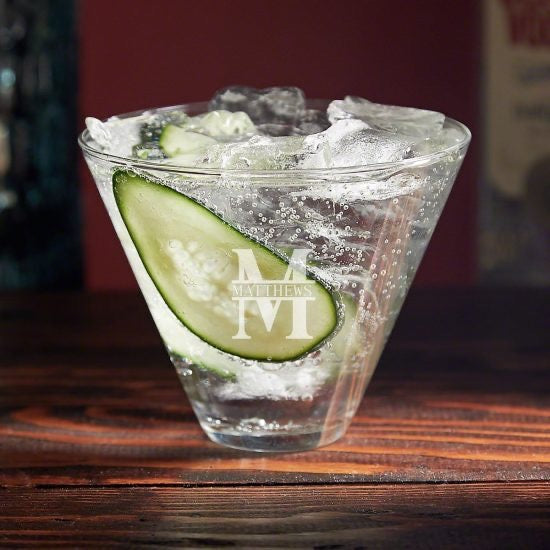 The Martini is a classic beverage with a classic, signature shape. This modern take on the famous glass is a stemless version of it, and it's just as suitable for Vodka Sodas and other vodka-based drinks. The uniqueness of the design is both aesthetically pleasing and functional; it's way less likely that someone will accidentally knock this glass over than if it had a stem. The shape of these glasses means they're optimal for stirred cocktails because it makes stirring easy. The shape also shows off the clarity of the drink. It can be engraved with a name and initial, meaning everyone will know this beautiful glass belongs to you with just a glance at it.
Rule the Drink Kingdom
You've cultivated a reputation among friends and family as the resident bartender, and it's a title you're proud of. Add the glass to your collection that will seal your role as head bartender forever: this personalized bar glass. This stylish highball glass is great for craft beer, Bloody Marys, or any other flavor-rich cocktail. With its tall, slender, and tapered build, it's good for drinks with carbonation as it captures the bubbles. Have this special vodka glass engraved with a name and initial, and you will officially be king or queen of the drinks.
Nerd Alert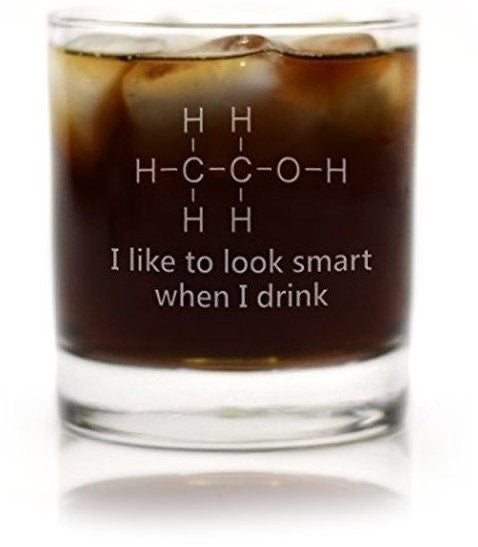 Vodka makes you smarter, right? Your friends will think so when they see you sipping your Cosmopolitan or Vodka Tonic out of this creative, hilarious vodka glass! Engraved into the side is the ethanol molecule and the phrase "I like to look smart when I drink." Not only will you be showing off your knowledge of the chemistry of alcohol with this glass, but you'll be enjoying one of the most delicious cocktails of your life. This glass has a thick, sturdy base that is perfect for muddling any ingredients to make a delicious and genius cocktail.

Life is Short – Drink Vodka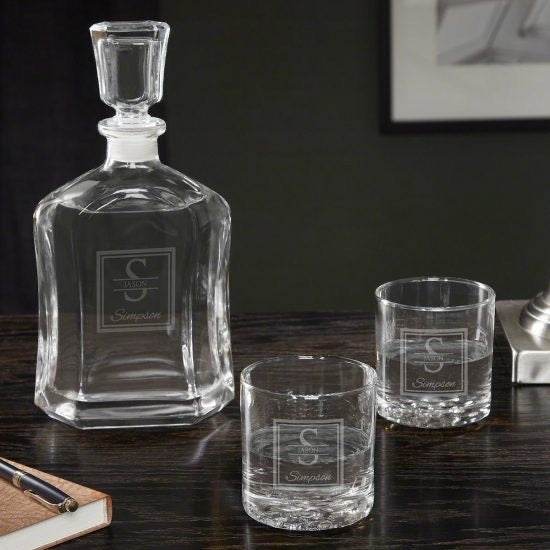 The finest spirits deserve high-quality decanters, and vodka is no exception. Not only is this vodka decanter beautiful and visually pleasing, but it will be so much easier to pour a glass of vodka or make a mixed drink for your guests. This decanter comes with two lovely vodka glasses you can use to sip on your favorite vodka or cocktail. Each item can be monogrammed with a first name, last name, and last initial, so you can personalize your amazing decanter set to the max. All of your friends will be extremely envious when they see this stunning glassware on your home bar or bar cart.
124+ BEST COCKTAIL GLASSES YOU'VE EVER SEEN>