Whiskey tumblers, they come in all sorts of shapes, sizes, and styles; many even serve a specific purpose when it comes to taste or function. However, once you start drinking from an upgraded tumbler, you'll soon find out what we're talking about. The proper glass not only makes your drinking experience better, but shows that your whiskey seriously. There a ton of different and unique whiskey glasses out there, but to be considered a whiskey tumbler, you must know, it needs to have a flat-bottom and a wide-mouth. These tumblers, or old-fashioned glasses, give you a real feeling of class when you drink from them. The weighty base, quality glass, and even personalization will make your drinking experience so much better than drinking from whatever glass is clean in the cupboard. Upgrade your glassware with these awesome whiskey tumblers!
A Classy Whiskey Tumbler
When you're in need of a classy whiskey tumbler that also commands authority as an established whiskey drinker, look no further. This rocks glass has a refined looking engraving and has a unique ice-looking feature in the base, yet it still holds the classic old-fashioned shape that shows you know exactly what a whiskey glass should be. It is simple, sleek, and it gets the job of holding your favorite whiskey done perfectly.
A Most Impressive Tumbler Upgrade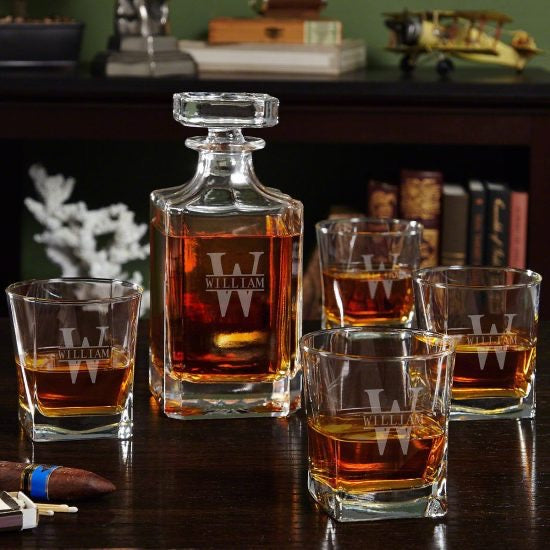 Speaking of authority, nothing shows how serious you are about upgrading your drinking set like getting a set of 4 glasses and a decanter. These classic old-fashioned glasses will hold all the liquid you could ever want to drink at once; that doesn't just include neat and on the rocks drinks either. These double old-fashioned glasses have plenty of room for mixers too! Show them how much you love your whiskey by getting a decanter set and glasses which allow you to share your liquor hobby with friends and family.
The Cigar Whiskey Glass You've Always Needed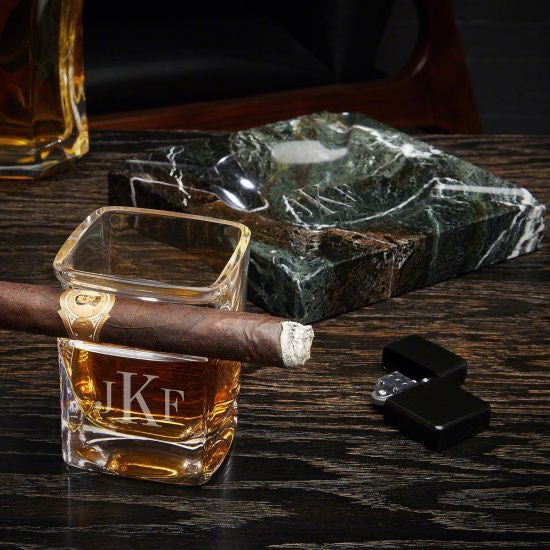 A tumbler glass can come in all different shapes and sizes, but they usually only serve one purpose—holding whiskey. However, that is not the case with this whiskey glass. It also doubles as a cigar holder. Whiskey and cigars are a classic pairing, like peanut butter and jelly, but for adults. With a whiskey glass like this, smoking and drinking at the same time has never been so convenient, you can enjoy both vices in one hand with ease!
A Tumbler Glass for All Whiskey Occasions
Now, when you upgrade, you may be tempted to buy a whole bunch of sets to see what glasses work best for you. You can save yourself a ton of trouble, and get one huge personalized glassware set with one of every glass you could ever want. You'll have your classic whiskey tumblers and even a few tasting glasses! There should be some familiar faces here from this list, and some tasting glasses you may not have seen before. If you're looking to go all in on your upgrade, this is a personalized bourbon glass set you just cannot pass up.
A New Twist on Personalized Glassware
Taking a classic old-fashioned glass and adding a twist makes something old feel new again. These whiskey glasses look incredibly elegant and even have a matching decanter set too! How cool will it be to drink a whiskey ginger twist from your twist glasses? Make your whiskey drinking look incredibly classy with a decanter set that puts a new spin on the classic glass!
809+ PERSONALIZED WHISKEY AND BOURBON GLASSES>
Crystal Tumblers for Any Occasion
Upgrade your old tumblers from plastic or standard glass, and go as classy as you can with this set of crystal glasses! These diamond pattern tumblers with have you feeling as fancy as these look. They're perfect for showing off the different hues of your bourbons, scotchs, and whiskeys. You are sure to be the only one you know that has a set of whiskey tumblers cut in crystal like these.
An Icey Tumbler Glass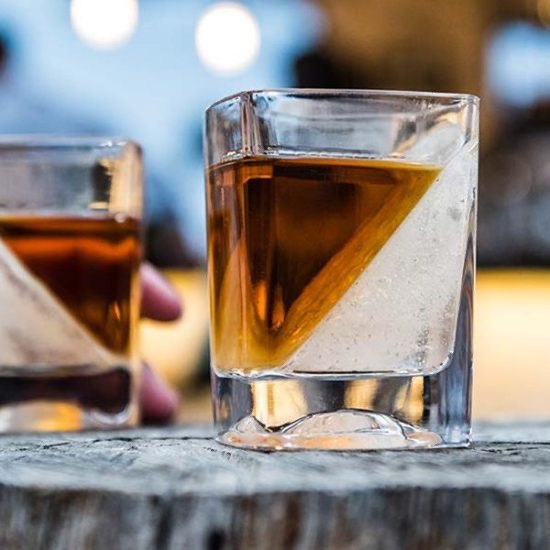 Novelty old-fashioned glasses generally come in a variety of useful shapes. This one, while still retaining the classic flat bottom and wide-mouth that makes a tumbler, has an ice insert in it. You may hate having ice float into your mouth as you drink, or hate messing with getting just the right amount of ice in your glass; well, no more! Freeze the ultimate ice-cube that is not just practical, but makes your glass look cooler than anyone else's!
A Classic Coaster Free Glass
You truly love a nice chilled glass of whiskey, but for some reason don't have or won't use coasters. It's cool, other people have been there before too. It could even be that you may simply forget to put it back on the coaster. Save yourself the headache of having rings on your table with a whiskey tumbler that doesn't need a coaster. Not only does this glass look amazing, and will have you feeling like a classic whiskey aficionado, but it protects your tables too! The bubbles in the bottom of the glass make it so even the coldest drinks struggle to form condensation, meaning you can enjoy a perfectly chilled glass of whiskey without out fear of condensation!
Old-Fashioned Glasses Are Old-School Cool
There is a reason the classic styles are classic. These old-fashioned tumblers get the job done exactly as well as you could ever hope. When you're looking for a no frills old-fashioned glass that feels classy, this is exactly what you'll get here. Drop in a few stones into your classic glass and you'll have a perfectly chilled drink. Upgrades don't always have to be the fanciest looking glass, sometimes they just need to do exactly what you want. This classic set will have all your whiskey needs covered for years to come.
 A Set of Unique Tumblers
These extreme novelty glasses may look crazy, but you won't look back once you try them. You've always enjoyed things that were a bit different in life. So why stop at your whiskey glass? These tumblers are crazy looking and the glass has been sculpted to look as unique as possible. However, they actually contour to the hand perfectly. These are going to be some of the most comfortable whiskey tumblers you'll ever hold!
Drinks Around the Horn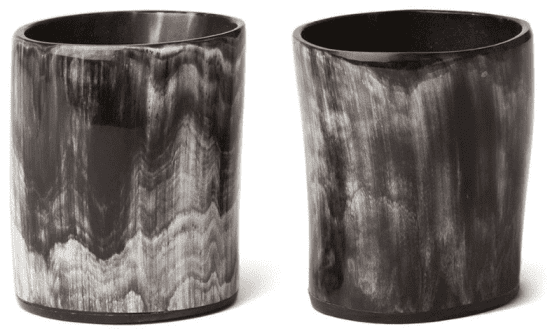 Whether you are a hunter, rancher, or enjoy some old-world styled tumbler glasses, you won't want to miss out on this set that are made from ox horn. Nothing will quite feel as manly as drinking a glass of your favorite whiskey or scotch from a horn of an animal, right? What's even better is that they come in a set, so you can share your a drink from your new favorite glasses with a friend!
The Coolest Upgraded Tumbler So Far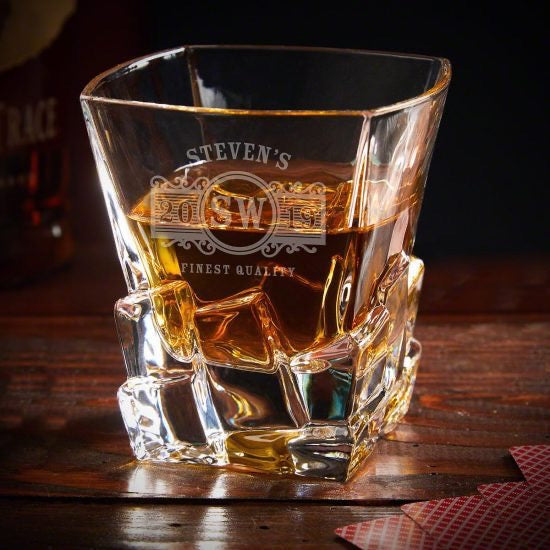 Be cooler than a polar bear's toenail with a whiskey tumbler that appears to have been removed from the wall of an igloo! This double old-fashioned is great for a person like you who loves to fill the glass with a ton of ice or mixer. Whether you want to feel like an arctic explorer or as the guy with the coolest (pun intended) whiskey glass, you are sure to have one of the most unique and upgraded tumblers out there.
Legendary Whiskey Tumblers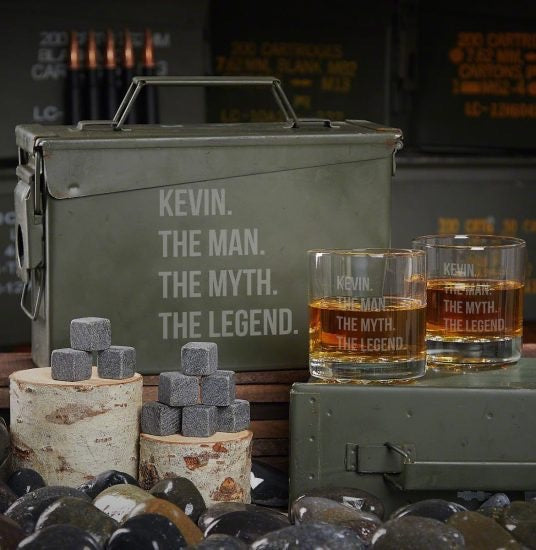 Drinking whiskey is often labeled as a legendary and manly thing to do. So why not get a tumbler set that recognizes that mythos? This set will have you sipping whiskey that has been chilled to perfection in no time. Besides, now you can store all your whiskey goodies in one place, the ammo can! What could be more manly that drinking whiskey with your mythic accessories stored inside of something that is meant to carry around bullets?
Cool Ceramic Tumblers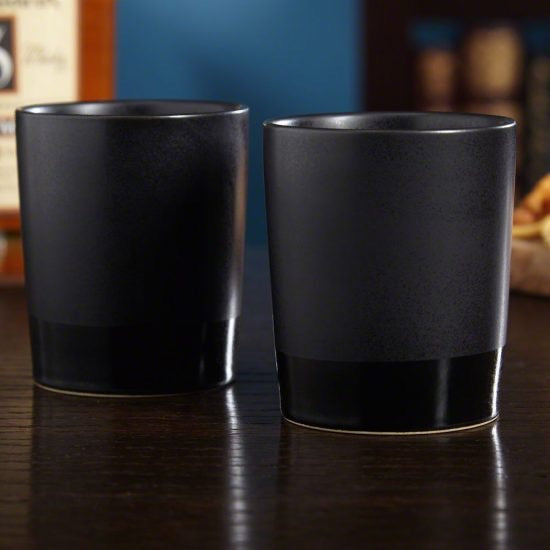 Upgrade from your old glasses and get something new! Glass, although classic, is definitely one of the oldest ways to enjoy a cocktail. However, it is definitely worth it to take the time to check out a set of ceramic tumbler glasses! These stylish glasses will put a new spin on your favorite drinks and they insulate great too! Give your whiskey a new look with a set of matte black ceramic tumblers!
Taste the Difference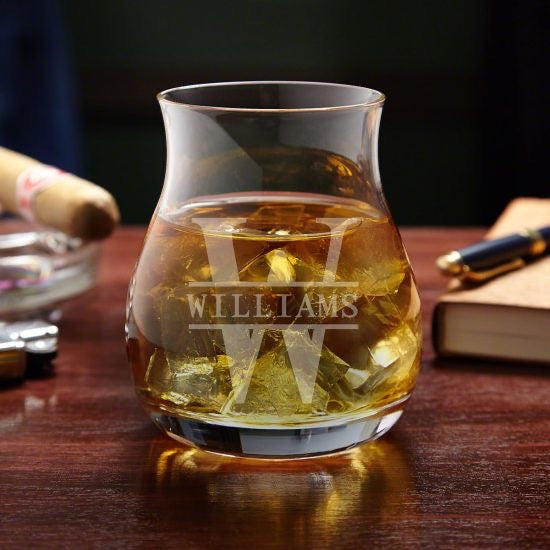 Although a bit of a stretch as a tumbler, this glass does in fact have a wide-mouth and a (relatively) flat bottom. But, it is important that you check out a tasting glass! When you upgrade your whiskey tumblers, you're going to want to know all of your options and a glass of this magnitude could change your world! The way it is designed, it funnels flavor toward your nose while getting rid of the harsher alcohol notes. As a whiskey-aficionado, this is one you must check out!
Perfect Replicant Glasses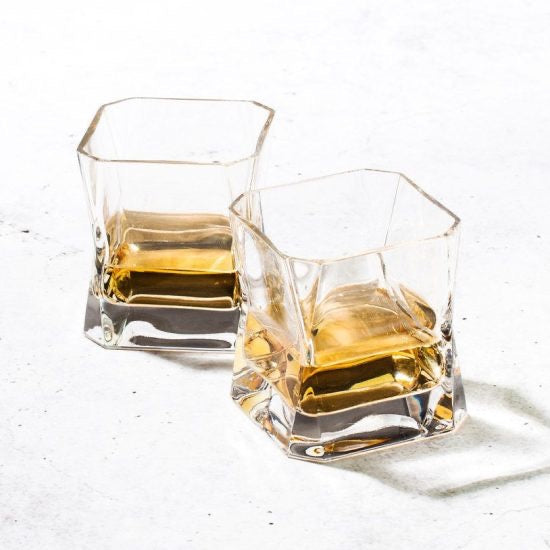 Fancy yourself a guy like Richard Deckard? It won't take a Voight-Kampff test to determine if you're human enough to enjoy these science fiction based tumblers. Even if you're not a fan of Blade Runner and don't recognize the famous glasses from the film, these unique tumblers are a fantastic futuristic looking glassware set. 
Give This Tumbler Set A Shot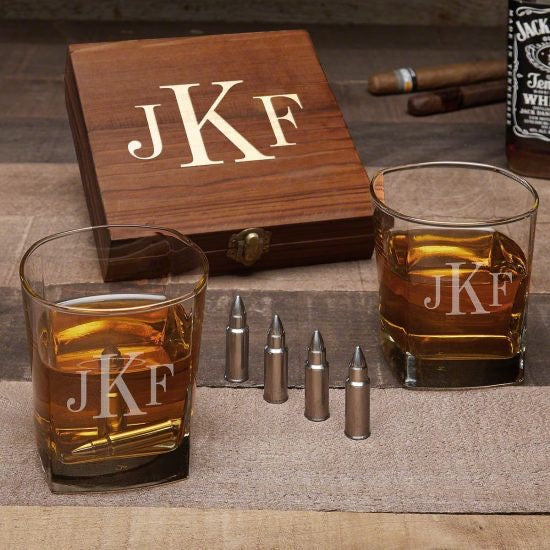 Give this classic whiskey tumbler set a shot! Not only will you be drinking from some real cool, old-school glasses, but you'll feel like a big shot when you're using novelty whiskey bullets to chill your favorite whiskey. Talk about an upgrade. No matter what glass you were using before, there is no way it is as cool as this whiskey set!
The Perfect Glass for Aged Whiskey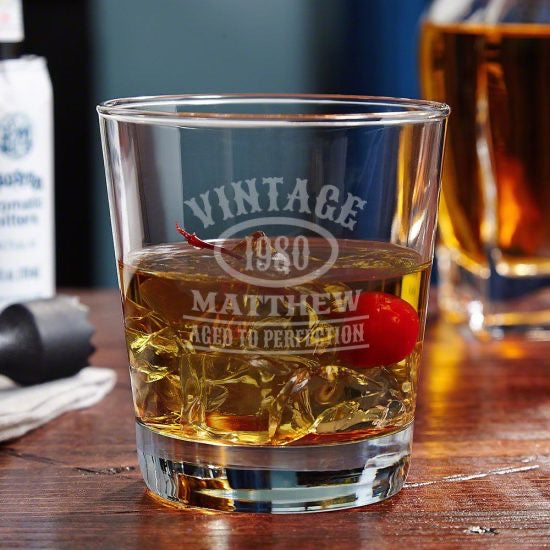 A classic tumbler glass is a fantastic way to drink you favorite whiskey on the rocks, so why not get one that represents you a bit? You feel like you've matured about as well as your whiskey; which really means, as you've gotten older, you've become pretty freaking awesome! You've been saving your aged whiskey for the right way to drink it because before you upgraded, you were drinking out of a water glass. You know that your 10, 12, or possibly even 20-year old whiskey deserves the best when you start letting it pour.
A Tumbler Even A Stormtrooper Won't Miss
Use a whiskey glass that is sure to be more accurate with your shots than any Stormtrooper has been. This tumbler and decanter set is clearly in the shape of the beloved Empire soldier who happens to be on the wrong side of the force in Star Wars; however, that doesn't mean you can enjoy taking a drink right from their helmet! Use the force, and pour yourself a drink into your new favorite novelty glass.
Just Roll With It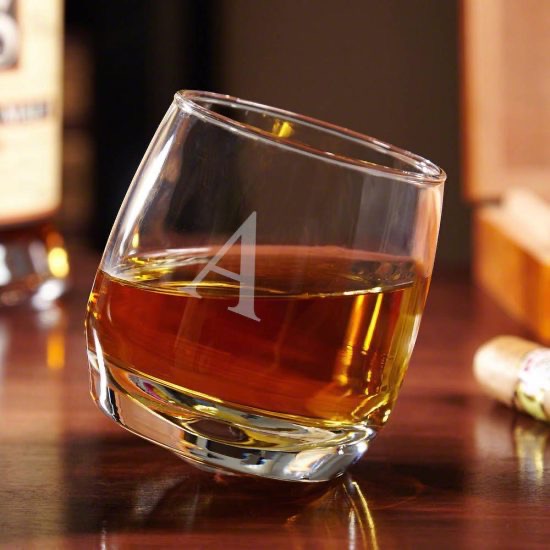 Drinking whiskey doesn't have to be all about seriousness, classiness, being refined, or even masculinity. Sometimes, you just want to have a good time. Take this glass as your prime example! When you're pouring your favorite brand or decide to have a Jack and Coke, have a little fun with your tumbler, and roll it around without ever having to worry about is spilling a drop!
A Glass with a Sure Grip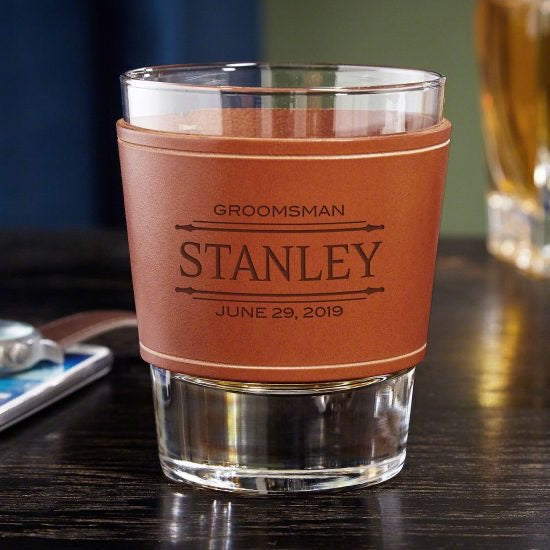 Sometimes, a small enhancement on an old classic will take things to a whole new level. This whiskey tumbler comes with a leather sleeve, meaning you never have to fear condensation again! Also, the slightly wider profile means it is even easier to grip. So, when you're making your drink extra on the rocks, and it gets heavy and sweaty, you'll know that thanks to the leather wrap, you'll always have the perfect grip for your chilled drink.
Crafty Cocktail Glasses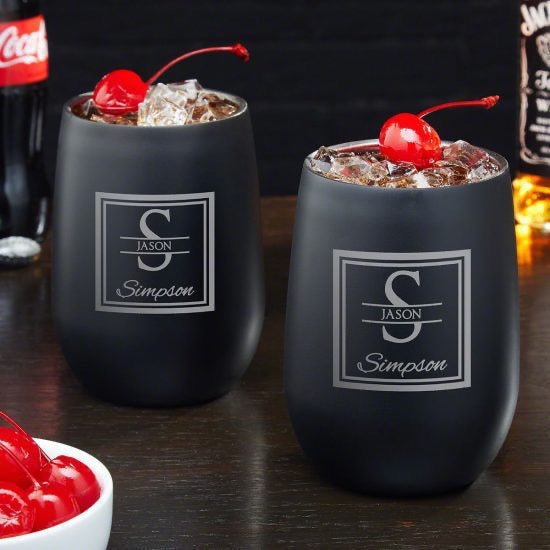 You don't like to just drink at home, a lot of times you like to have a drink on one of your many adventures. For you, the best set of whiskey glasses are these tumblers made from stainless steel. They're near indestructible! Throw them in your bag alongside a flask or bottle of your best stuff and strap in for a fantastic drink while you're out! Even better, when you drink at home with ice, they're insulated, meaning your hand won't warm your drink.
The Chillest Old-Fashioned Glass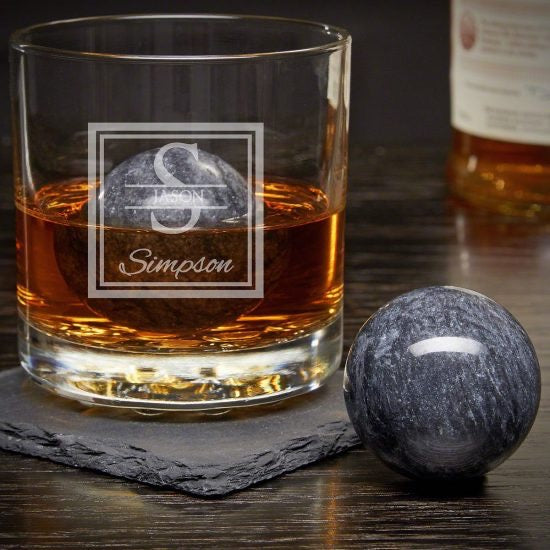 Take your upgrade to a whole different level when you get a classy old-fashioned tumbler—but wait—it comes with the coolest whiskey stone you've ever seen! You've always wanted a way to chill your drink without having to water down your beautiful brown liquor, well here is your chance! This single stone will fit perfectly into your new custom glass, and you'll feel super classy as you swirl it to chill your drink.
Perfect Prism Glasses
Take a turn from the usual with these unusual glasses! Make these geometrical whiskey tumblers your next set when you're craving a unique drinking experience. When you upgrade, you want to stand out, so why not do so with some of the coolest looking whiskey glasses you've seen so far? Make a statement by getting a set of glasses that are as unique as you are!
A Manly Decanter and Tumbler Set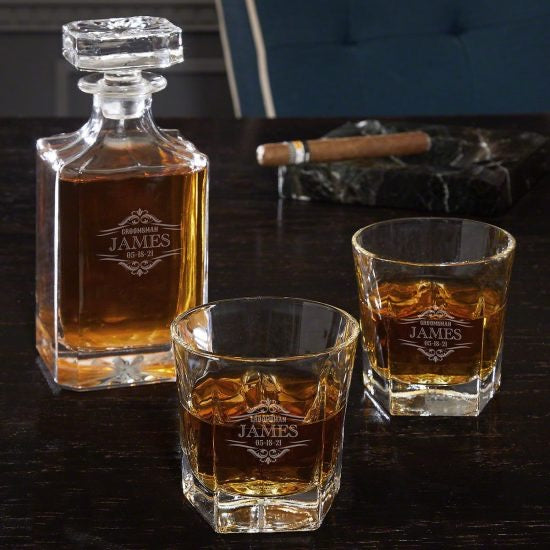 One of the best ways to drink a glass of whiskey is from something that makes you feel awesome. When you have a glass that makes you feel like the coolest guy in the room, you know you're drinking out of the right whiskey glass. Make that sensation happen every time with this whiskey set. Your double old-fashioned glasses will make you grow a beard within your first sip, even if you shaved that morning. 
The Tastiest Tumbler
Take a gander at this unique tumbler glass. This is a glass for true aficionados. The inside of the stainless steel tumbler is actually a Glencairn glass, meaning this is a perfect whiskey glass for nosing and tasting, yet it is still a tumbler! You get the best of both worlds, and not only that, but the stainless steel is guaranteed to keep your drink nice and cool.
Represent Your Favorite Brand
Make your new upgraded tumbler glass an homage to your favorite brand! This Tennessee inspired glass will have you feeling like you've got your own part of the distillery since it'll be customized to have your name on it! How cool is that? Make your brand loyalty part of your whiskey drinking experience with this unique glass!