Whatever they're celebrating, guys have come to expect the same kind of gifts for every single occasion. Throw a curveball with some unusual gifts for men that won't have seen anywhere else. Put a fun spin on one of their favorite hobbies with the incredible gift ideas on this list. It doesn't matter if you're shopping for your dad or your brother, for a birthday, the holidays, or graduation – We've got original gift ideas every guy wants in their life.
A Whiskey Set for Legends
It's not every day a guy gets to confirm he's a legend, but thanks to this unusual gift for men, they'll get to live like a legend every day. Engraved with their tale on a handsome wood box, these distinct rocks glasses are perfect for any kind of liquor. Your guy will love how quickly the stainless-steel whiskey stones will chill his drink without altering the flavor. After all, it's how legends prefer their spirits.
Grill & Golf Lovers Combo Gift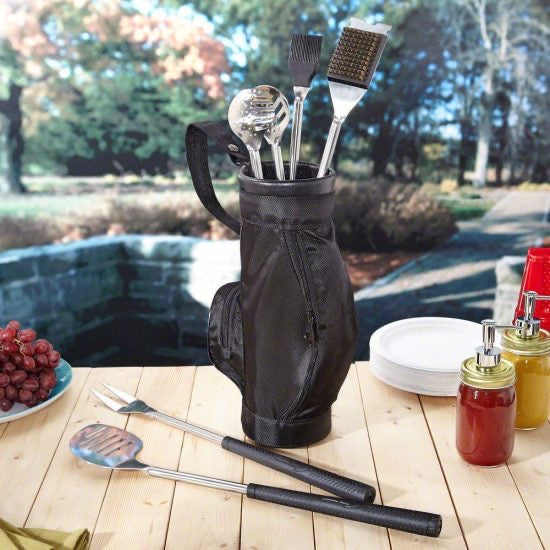 A man can't always be on the golf course. Sometimes he needs to be behind the grill as well. Thankfully, these golf grilling tools are a unique gift for men that blend his love of the course and his love of freshly grilled meat. There's a tool for every job required when making some top-notch BBQ. Any guy will appreciate searing the perfect steak with a nine iron.
Unbelievable Ceramic Beer Stein
A pint glass has become the standard way to drink a beer, but it's certainly not the best. A more unique approach to beer drinking that has been around for centuries or classic beer steins. This tankard stein pays tribute when beer drinking was done in giant wood cabins across long wooden tables. It's stood the test of time for a reason. The guy in your life will appreciate finally getting to experience the timeless way to enjoy a nice, cool beer. It doesn't matter if he's your boyfriend or your dad, any guy wants one of these in their life. Even the man who has everything will love one of these beer steins.
Unusual Globe Bar for Men
A quality unusual gift for men is going to be a sight to behold. A globe bar based on 16th-century maps is certainly something to be remembered. It's even better that your guy will be able to store all his favorite booze in glassware in this bar. This gift is perfect in any home, study, man cave, or office space. Its original design makes it work in any space. Your guy will feel like a world traveler when he pours himself a drink from his own bar. It's a major upgrade from pulling a bottle out of the cabinet or digging one out of the freezer.
Let Your Guy's Rules Reign
Every guy has their own rules for their home. You probably still remember the ones your dad tried to engrain in you. Your husband has his own set. No matter how wacky they may seem, you love them for it. Now you can take all of his fun, particular rules and have them permanently engraved on a sign just for him. He will love this fun gift. The hardest part for him will be decided where to hang it. Don't be shocked if he continually points to the sign when someone asks him a question. At least that way you'll know your gift is a hit.
253+ PERSONALIZED SIGNS FOR HIM>
Solve a Puzzle for their Gift
Guys love to solve puzzles. Even if that puzzle is finding the fastest route from point a to point b. Don't just get him a gift card for his birthday or the holidays. Make him earn it. This puzzle box houses his ultimate prize, but he'll never be able to earn it if he doesn't solve the puzzle that surrounds it. It's a clever gift that will make a gift card seem like the best present he's ever gotten.
A Unique Axe Gift for a Unique Man
Nothing screams unique like a custom axe engraved with three lines for your man. That's right. They'll have their own, personally branded hatchet to tackle yard work, the great outdoors, or even chop down a Christmas tree when the season rolls around. There isn't a man alive who wouldn't love this gift. Your brother and grandpa would probably try and invent some yardwork competitions. By the time the next Renaissance fair rolls into town, they'll be experts at the axe throwing competition.
Black Oynx Whiskey Stones
These set of black onyx whiskey stones is one of the best unique gifts for him. They marry the benefits of a chilled drink you get from standard whiskey stones, but have an added benefit with their distinct shape. They'll now chill any liquor at a much faster rate. Your guy will love being able to have his drink exactly how he wants it served almost instantaneously without having to alter any of the precisely crafted notes and aromas.
Jaw Dropping Skull Decanter Set
Not every decanter earns a second glance. However, when a decanter has a skull resting in the middle it's going to get some looks. That's what makes this such an awesome unusual gift for men. Well, that and the fact that your guy will love to watch his liquor of choice cover the skull with each refill almost as much as he'll love serving guests from the decanter. Paired with the two skull etched whiskey glasses, your guy won't be needing anything else.
Competitive Ring Toss
If you're shopping for a dad that loves darts, but doesn't trust his small children around pointy projectiles then this Hookey ring toss game is the perfect substitute for his man cave. He'll be able to play it with his kids and any of his friends will still want to test their skills. This game is also easily portable, so he can take it with him anywhere he'd like. It's a great gift idea for the guy that wants to bond with his family or show his friends he's the championship at any bar game.
Genuine U.S. Military Ammo Can
It doesn't matter why you're searching for a one-of-a-kind gift. You could be looking for a birthday present, graduation gift, or getting an early start on holiday shopping. Whatever the occasion is this personalized ammo can set is great for any of them. Imagine the look on your guy's face when he opens a gift housing a genuine U.S. military ammo can that's engraved just for him. He'll be even more excited when he sees the matching pint glasses so he can get the bar experience at home. Pair that with a .50 caliber bullet bottle opener and a razor-sharp knife and he'll want to take you on an experience right away.
Elevate How He Enjoys His Whiskey & Cigars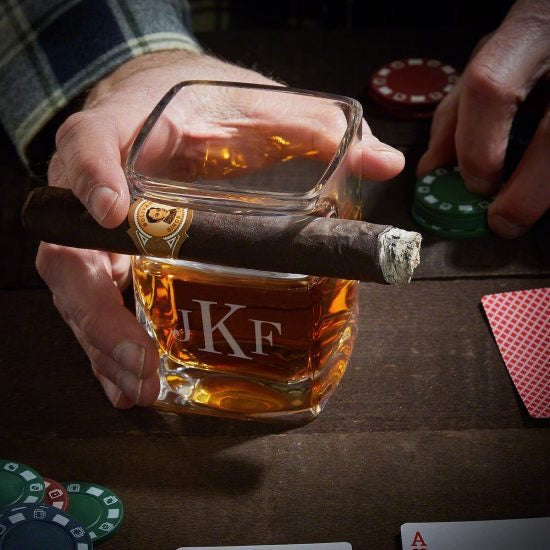 All it takes to bring a smile to guy's face is a nice glass of whiskey and a quality cigar. Now you can get him a gift that marries both of those vices in one incredible glass. This whiskey cigar glass has a unique groove designed to hold a cigar in the same hand you're holding your whiskey. Your husband or boyfriend won't ever have to suffer trying to find a place for his cigar so he can dig out his phone, writing something down, or even raise the pot when he's playing a game of poker with friends. There's no other gift like this, especially when you get it monogrammed with his initials.
Whiskey Barrel Cornhole Are Unique Gifts for any Guy
It's not every day a guy gets a custom cornhole board. Painted with a UV protected coating of a classic whiskey design this definitely qualifies as one of the most unique gifts for him available. This gift is great for men of all ages. Every guy likes to get their competitive juices flowing and now they can take this set to tailgates, at the lake, or even hold a tournament in their own backyard. Even though not all of them would admit it, there's not a guy alive that doesn't secretly think they're better at cornhole than anyone else they know. Give him the chance to prove it.
Folding Work Table for the Handyman
Have a guy that loves working with tools? Keter makes an incredible folding work table that's a great unusual gift for men this year. Your guy can get the job done anywhere with this table. It's easily portable and he can just snap it in place whenever there's work to be done. It has a 1000lb capacity and even has a bottom tray so tools will always be an easy reach. Any guy that loves to build things would love this gift for any occasion.
Life of the Party with a Backpack Drink Dispenser
Sometimes a man just needs a massive amount of liquor and the ability to share it wherever he goes. Luckily, this backpack drink dispenser will be there dispensing your man's finest cocktails with ease. This gift is far from the normal gift card they're used to receiving. It's a great gift idea for the guy that loves to tailgate, spend time outdoors, or just have a lot of fun. It even has dual tanks, so each one can be filled with a different concoction. Pretty soon, people will be seeking out your man as his legend grows with this gift strapped to his back.
Stainless Steel Unique Wine Glass Gift for Him
Everyone that enjoys wine has a way they think is the absolute best way to enjoy it, but that's only because they haven't experienced stainless steel wine glasses. They're great unusual gifts for men that love wine. If your dad or brother has an occasion worth celebrating coming up, get them a gift that will keep their wine the perfect temperature while also being presented in a sleek, modern glass. Plus, when you personalize it just for them it will give them the excuse not share it with anyone else.
Outdoor Set for an Adventurous Guy
Deep down every guy has imagined themselves as an action star. They might picture themselves as Sylvester Stallone or The Rock. Now you can make their imagination a touch more vivid, with this Spec Ops tumbler set. They can take their preferred drink on their go with the insulated tumbler. They can even spice it up the matching flask. But the real jewel of this gift is the engraved tactical knife. It has every survival tool a man needs to live in the wild or maybe just a weekend camping trip with the family. Either way, this is a gift idea your guy won't ever forget.
Cancel All The Noise
Music lovers know the importance of a good pair of headphones. Now they can experience what it's like to disappear into their headphones. These incredible Sony headphones have an unprecedented amount of noise canceling capabilities. You can completely escape to your songs while you're commuting to work, working out, or just want to experience unparallel sound quality. Now you guy can dance like nobody's watching with this awesome gift.
Smoke Box to Make His Own Cocktails
To truly qualify as a unique gift for a man, it should allow your guy to make his own unique creations. That's where this smoke box set comes in. Your man can take his favorite liquor and smoke it with his choice of spices, wood chips, or whatever he can come up with. He can make original drinks you can't get it anywhere else. This set even comes with 4 rocks glasses so everyone can nose the subtle aromas he added to each creation. This is a top of the line gift choice for the top of the line man in your life.