A bottle of wine is an always-appreciated gift for someone who drinks wine, but you can do better than that. Wine lover gifts can be items that make drinking wine more fun, something unique related to wine they can enjoy using or display, or even be a new way to indulge in their favorite spirit! As long as it's related to wine, you'll be golden, but don't just give them a new corkscrew or a cheese board. Whether they're strictly a Cabernet drinker or enjoy trying all types of wine, you will find the ideal gift for wine lover in your life below!
Must-Have Wine Decanter Set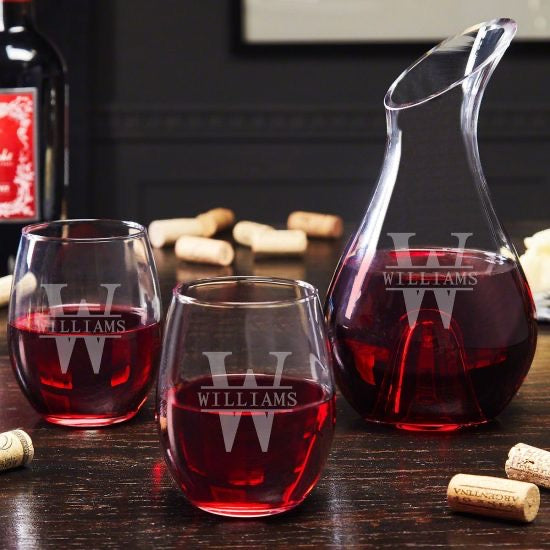 Wine decanters are absolutely essential to any wine drinker's home, and if the wine lover in your life doesn't have one (or one that's not personalized) then you need to get them this decanter set! This stunning three piece personalized set ensures that they will be able to enjoy their favorite red wines to the fullest, and they can share their sweetened and smoother wine with you or a friend. A gift for wine lover just doesn't get any more perfect than this!
Wine Lover Gifts Unlike Any Other
Does the wine lover you're shopping for already have a decanter? Then get them these self-aerating glasses instead! These gorgeous wine glasses use their unique curves to smooth the tannins and sweeten the wine with every sip and swirl. By far one of the most unique wine lover gifts, these lovely glasses even look amazing when not being used!
A Custom Sign Every Wine Lover Wants
Whether they have a wine cellar or not, this lovely wine cellar sign will look amazing in their home! You can customize the text and even the color scheme on this unique wooden sign to make it a one-of-a-kind gift for your aspiring sommelier. They can hang it in their kitchen, dining room, or even their home bar and it will make the room instantly feel like a wine cellar!
The Best Way to Give a Bottle of Wine
So, you're pretty set on giving a bottle of wine to the wine lover in your life? Don't just put a bow on it or put it in a cheap gift bag and call it good, you need to give it to them in this handsome gift box! The lid of this gift is engraved with two custom lines of text of your choosing, which means you can make your gift as sweet, funny, formal, or casual as you want. Inside, your bottle of wine is presented beautifully in satin cloth and the lid even has all of the essential tools your wine lover needs! Seriously, this incredible gift box is the best way to give a bottle of wine as a gift for wine lover.
Cool Copper Wine Glasses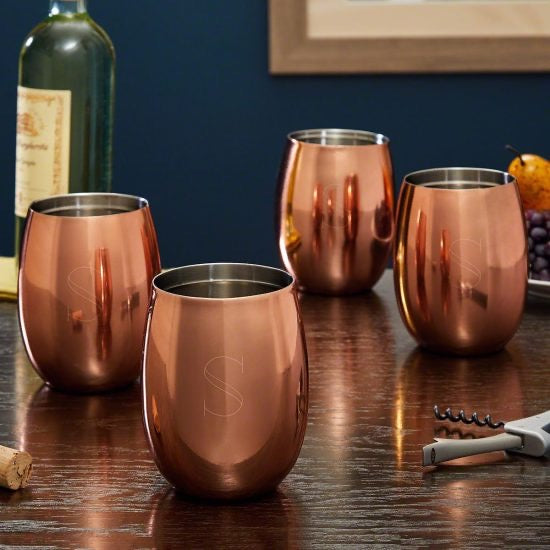 Sure, the wine lover in your life probably has a couple of wine glasses in their home already, but do they have any copper ones like this? These unique copper-plated wine glasses are made of insulated stainless steel so that their wine stays perfectly cool whether they enjoy room temperature Merlot or a nice chilled Moscato. Perfect for sharing wine with friends and family at gatherings, this set of four copper wine glasses is one of the coolest wine lover gifts!
Elegant Coaster and Stopper Set
What do you get a wine lover who has plenty of wine glasses? A unique coaster and stopper set! This elegant set is made of cast aluminum and looks like it came straight from an antique shop in France. Whether they use it for decorative purposes or use the set when they're hosting a wine tasting, this unique wine gift will look elegant in their dining room!
The Gift of Always Chilled Wine
Not everyone has a wine cooler in their home and most people don't have enough room in their regular fridge to keep their wine, which means the best gift for any wine drinker you know is a wine chiller! This beautiful chiller is made from genuine marble and is even engraved with their name and initial, making it an extra personal and practical gift. They will love that this gorgeous chiller ensures their bottle of wine stays cold all through dinner or instantly chills it as soon as they place the bottle in it.
A Wine Decanter They'll Want to Display 
Wine lover gifts don't always have to be corkscrews, wine glass charms, and cheesy decor. Instead, they can be a stunning wine decanter that looks like a work of modern art as well as perfectly aerates their favorite red wine! This beautiful decanter will expertly make even the most bitter wine taste smoother and sweeter than they thought possible.
Unique Wine Cork Sign
Does your wine fan enjoy collecting wine corks or have they always wanted to start collecting them? Then they will adore this wine cork sign! Shaped like their home state, they can fill up the unique wooden sign with the wine corks of their choice. This cool sign is one of the most unique and thoughtful wine lover gifts because it's interactive and a great way for them to show off their state pride in their home.
Every Wine Fan Needs These Tumblers
The rising trend among wine drinks is using stainless steel tumblers, and it's no wonder why because they're so awesome! Virtually indestructible, double-walled insulation, easily portable, and plenty big enough to hold a generous serving of wine, these tumblers are seriously must-haves for any wine drinker. This gift set is even custom engraved to make your gift more unique, and they'll definitely appreciate the fun design that's ideal for a birthday gift!
Chocolate Wine Truffles
Chocolate is known to be a great pairing with wine, but these mulled wine-infused chocolate truffles take that combination to a whole new level! Any wine lover would be over the moon to get these delectable treats as a gift (Hello, Valentine's Day!) and they also go well with a nice bottle of wine or a cheese tray. Who knows? These gourmet truffles might become their new favorite way to enjoy wine!
Bring Their Wine Anywhere
There's nothing more frustrating than trying to bring a cool bottle of wine to a friend's house or to the lake only to get there and it's warm! Solve this common problem for all of the wine drinkers in your life by giving them this handy portable wine cooler. They even come personalized so that everyone knows who the wine belongs to. Thanks to your thoughtful gift for wine lover, they can bring chilled wine anywhere they want and enjoy it at their destination.
Wine Lover Gifts They'll Never Expect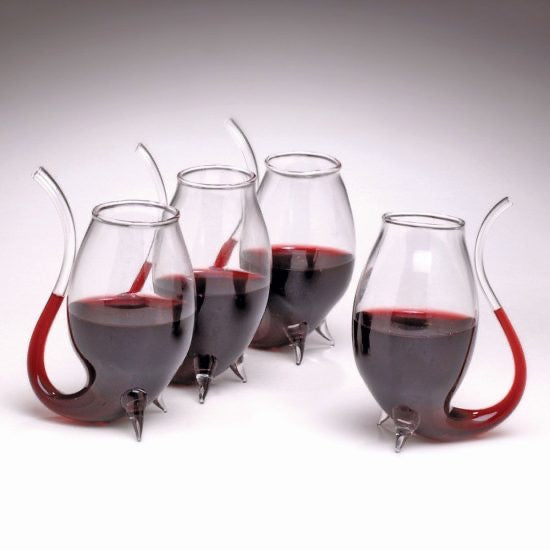 How cute are these little wine sippers? Designed to drink from the straw so that you can enjoy the full-bodied flavor of the wine from the bottom of the glass, these port sippers are must-haves for wine lovers who have everything. They're definitely fun to use, and getting to try a new way of drinking wine is always a memorable experience. Any wine drinker you know will be sure to get these out at every party and wine tasting they have from now on so they can share these cool glasses with fellow wine lovers!
Cute Wine Tool Set
Do you know a wine drinker whose wine tools are looking a little worse for wear? Surprise them with this adorable set! This little wine barrel keeps all of their essential wine tools organized and out of the cluttered kitchen drawers in the most stylish and adorable way. It looks lovely on display in the dining room or kitchen, and they will certainly never have to search the house for their aerator or foil cutter ever again thanks to your thoughtful wine lover gifts!
Complete Wine Lover Gift Set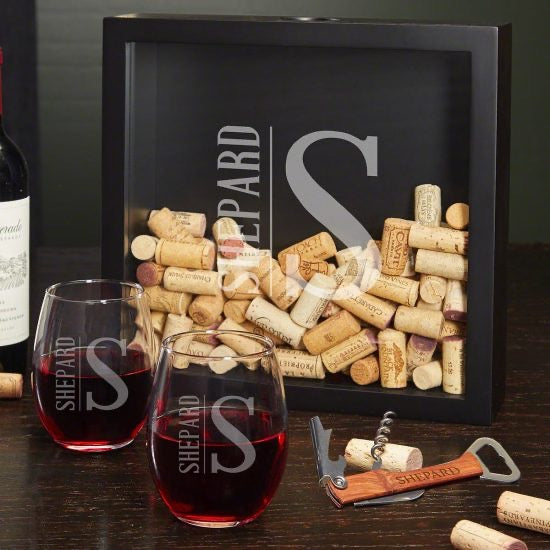 How perfect is this amazing wine gift set? It has everything a wine lover needs to enjoy a nice glass of wine with their partner or a friend: glasses, a corkscrew, and even a shadow box to store their growing collection of wine corks! Anyone who drinks wine will adore such a great wine gift set, and they will be amazed by the elegant personalization on each piece.
For Wine Drinkers Who Love to Smell Wine
There are certain wine drinkers who enjoy smelling their wine almost as much as they love drinking it because the bouquet of the aromas is so pleasant. Now, you can give them candles that smell like wine to fill their whole house with the amazing scent! This trio of wine candles is a fantastic gift for wine lover who has everything, and will surely be requested for their next birthday or Christmas once they burn through them all because they're so lovely.
Not Your Average Cheese Board
Naturally, a list of wine lover gifts isn't complete without a cheese board because everyone knows that wine and cheese are a match made in heaven! This classy slate cheese board isn't just any old board, though. In fact, its convenient rope handles and cute engraving make it stand out! Plus, the wine lovers you know can even use chalk to write on the slate in order to label cheeses on their charcuterie board. They'll be so excited to try out this incredible cheese board at their next party!
Make Their Wine Cellar Official
Did the wine drinker in your life just get through with building or renovating their wine cellar? Then they need this handsome sign to make it official! The rustic look of this beautiful sign will look fantastic hanging in their cellar, or if they don't have a wine cellar just yet it looks equally lovely on display in their kitchen. Once they hang it up, they'll feel like they have their own winery!
Wine Stoppers Are Always Great Gifts for Wine Lovers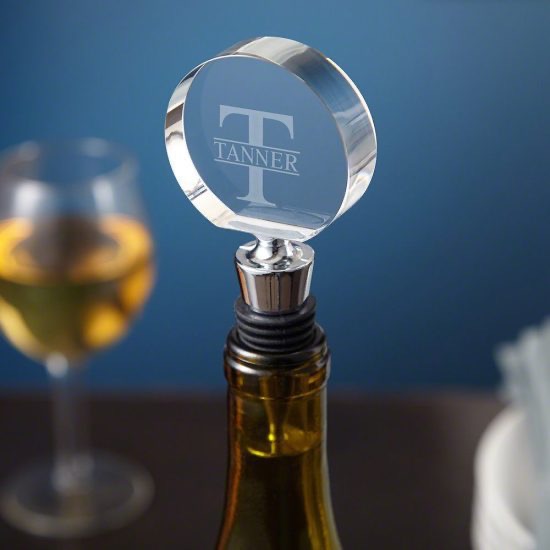 You're still not sure what gift would be best for the wine lover in your life? Get them a personalized acrylic stopper! This cute little stopper is a great way to keep their favorite wine fresh (and mark it as theirs so no one else can drink it!) or to display on an empty bottle as decoration. Naturally, a custom wine stopper is best paired with a bottle of wine, so don't forget to pick one up before you give them their gift!