Whether they're a newer wino or they've had their own cellar for years, you know that a wine gift will make them very happy. However, finding the perfect gift for a wine lover can be a little bit tricky. While a bottle of wine seems like a great idea, you want to give them a give that lasts them years to come! But what type of gift really lasts for years? What will truly elevate their wine experiences? You want to go above and beyond with your wine gift to them and choose more unique wine gifts instead. You should pick something that's one-of-a-kind that will help them enjoy their favorite wines or celebrate their love for wine in a whole new way. Luckily for you, we've already found some incredibly cool wine gifts that are perfect that any wine lover in your life will think are incredible!
Beautiful, Personalized Wine Cellar Sign
There's no chance that they don't immediately fall in love with this gorgeous personalized wine cellar sign! Whether they do actually have a wine cellar to put it in or they just want to hang it in their home bar or kitchen, it'll look absolutely fantastic. It's one of the most unique wine gifts that'll definitely be their favorite piece of decor in their entire home, and they'll love feeling like a true wine connoisseur with their own personal wine cellar with their name on the sign.
Cool Wine Gifts for Decanting and Drinking Wine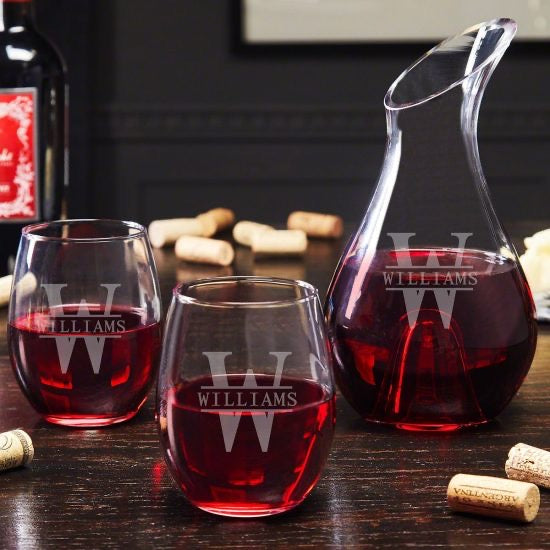 They'll definitely enjoy sipping on their favorite wine more than ever before after you surprise them with this beautiful wine decanter and glasses set! They'll absolutely love the way their wine tastes after it has aerated in this beautiful decanter, and they'll feel so fancy with this modern-looking glassware sitting on their home bar or dining room table. It'll make them feel like a wine aficionado when they pour their Merlot or Pinot Noir into the decanter and then into their glasses for a deliciously aerated glass of wine.
Chilliest Wine Gift Around
Talk about cool wine gifts! This custom portable wine cooler will make sure that their favorite wines will stay chilled for hours no matter where they go. They'll think the sleek look of this wine cooler is awesome, and they'll love how easy it makes bringing a bottle of chilled Moscato to the beach, park, or a friend's house. It'll keep their wine cold for hours, and they'll wonder how they ever lived without this super useful wine gift.
Become a Sommelier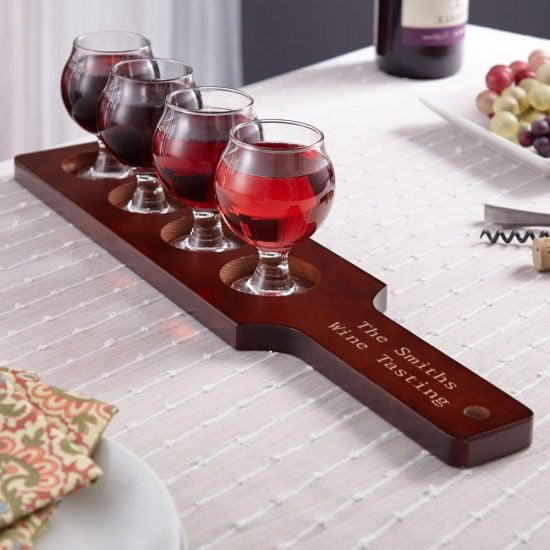 They're a big fan of wine (of course, that is why you are here!), so you know they'd love a gift that helps them experience all new flavors at once. That's why they absolutely need this wine flight set! This flight is a super sophisticated way they can sample various wines to really strengthen their sommelier skills. They'll greatly enjoy spending time with close friends tasting different wines. It'll make hosting that wine night they've always wanted an absolutely amazing event!
Funny Doormat
This hilarious doormat is one of the most unique wine gifts that they'll immediately put outside their front door! They'll absolutely love this humorous gift that shows every guest that enters into their home that they're a big fan of wine. Plus, maybe some of them will even bring wine, which is always welcome, obviously!
A Barrel of Must-Have Unique Wine Gifts
Handsome, stemless glasses to use as well as all of the tools they need? What could be better! This wine tool and glasses set is just perfect for wine lovers because they'll really appreciate the ease with which they can grab all the tools they'll need from this barrel when they want to enjoy a glass of wine. It's so rustic and unique looking that they'll feel like a wine aficionado owning it! Running around the house trying to find the necessary tools is such a pain, so they'll be very happy to never have to do that again!
155+ PERSONALIZED WINE GLASSES>
An Italy Wine Cork Map, Per Favore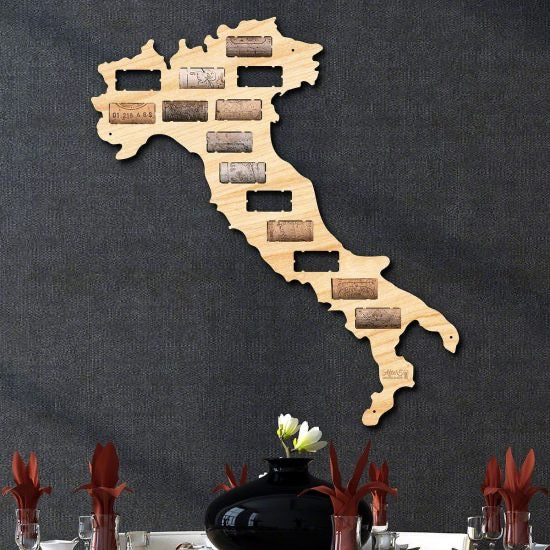 Help them pay homage to one of the most diverse wine-making countries in the world with this Italy wine cork map! This present is one of the most unique decor gifts ever that winos will think is fantastic. They'll feel so fancy with this handsome sign up on the wall, filled with wine corks from some of their favorite bottles of wine they've enjoyed. It's one of those cool wine gifts that they'll keep on the wall forever because of how different and beautiful it is.
The Most Impressive Wine Decanter Set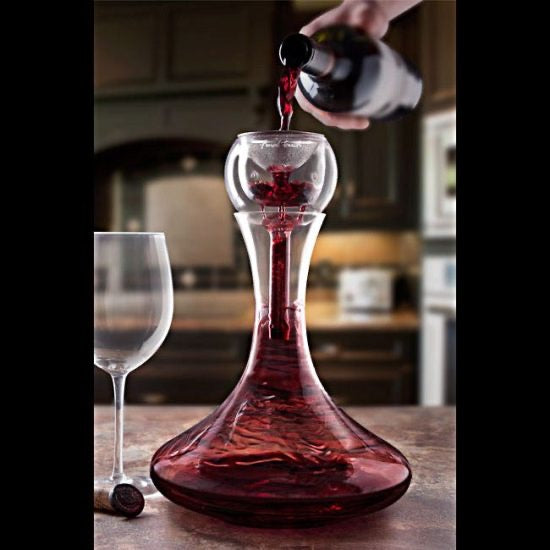 Speaking of Italy, this aerating wine decanter set is reminiscent of the Trevi Fountain in Rome, one of the city's most famous landmarks, which is why any wino in your life will immediately be obsessed with it when they see it! Aerating their Malbec or Zinfandel has never looked cooler thanks to this unique wine decanter. They'll enjoy their sediment-free wine greatly and always imagine they're in Rome, sipping on their wine while standing in front of the famous fountain!
Sleek, Sophisticated, Stemless Wine Tumblers
Surprise them with the most gorgeous wine glasses they've ever seen! This stainless steel wine glass set is one of the most unique wine gifts out there that they'll love using time and time again to enjoy their favorite drink. From these sleek and sophisticated tumblers, any fan of wine—novice or connoisseur—can enjoy endless chilled drinks. Thanks to the stainless steel design, these glasses aren't just tough but they will also keep every glass of wine cold until the last drop!
Wine Knowledge is Power
Wine is one of their absolute favorite hobbies, so you know they'd really like learning as much as possible about it! This World Atlas of Wine has so much information about wine in all different climates, financial aspects, and countries of the world. They'll love having this book on their coffee table or home bar, always ready to be read again so they can brush up on their wine knowledge. You can be sure that they will really like knowing all about their favorite wines and becoming a human encyclopedia to any of their friends who might have questions.
A Lovely Wine Sign
Cool wine gifts that double as beautiful home decor items are always phenomenal choices. That's why this stunning, personalized wine sign is such a fantastic gift idea for any wine fan! It'll look so gorgeous hanging in the kitchen, living room, or home bar, showing off their name and any other personalization that's perfect for them. They'll absolutely adore the way it looks on display in their home!
Rolling Glasses are Cool Wine Gifts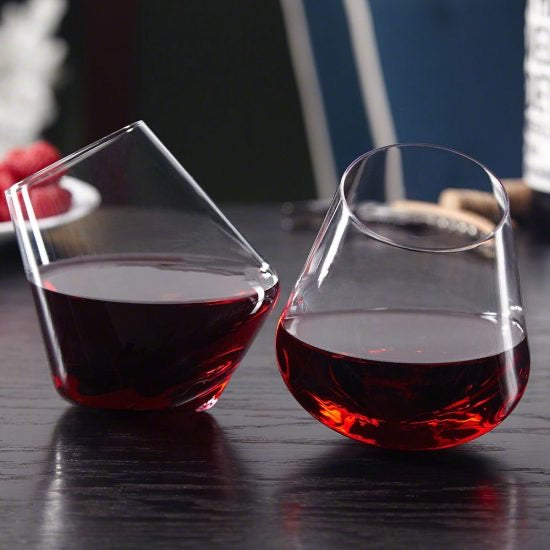 Wow them with the most fun, unique wine glasses ever! This set of rolling wine glasses is insanely awesome because they aerate their wine without them having to lift a finger! These glasses easily roll around on flat surfaces, oxygenating the wine as they move. Any wine lover will be such a big fan of these modern glasses that they'll never want to use any other glass for as long as they live!
Best Way to Gift a Bottle
You really want to give them a bottle of a wine that's super fancy that you know they love, but you also want your gift to be more impressive than just a bottle of wine. That's why you need to give them the bottle inside this gorgeous wine tool box set! It's one of the most unique wine gifts because not only is it a really impressive way to gift a wine bottle, but it includes the necessary tools for enjoying said wine! They'll be so grateful for a gift box set that helps them enjoy the wine with ease.
Beautiful Box Set of Four Etched Wine Glasses
You can never have too many top-notch, personalized wine glasses! This wine glass gift box set is one of the most unique wine gifts that your wine-loving friend or family member needs in their life. They'll think it's awesome having four classy stemless wine glasses that they can use when they have a sophisticated wine night with friends. The gorgeous walnut box is the perfect place for them to keep some of their favorite wine tools and accessories, like corkscrews and coasters, when they aren't being used.
Handsomely Personalized Wine Chiller
You can't go wrong with a gift that's just as useful as it is aesthetically pleasing. That's why this etched marble wine chiller is an incredible gift idea! They'll absolutely love the way this chiller looks as it sits on their dining room table or home bar, cold from the freezer and keeping their favorite bottle of wine cold for hours. As they enjoy a movie or talking with friends, they'll rest assured that their Pinot Noir or Sauvignon Blanc is staying nice and cold inside this wine chiller.
Most Delicious Wine Gift Set
Who wouldn't want to pair some delicious chocolates with their favorite wines? Dessert sets like this Napa Valley gourmet chocolate set make really delicious, cool wine gifts that any wino will think is phenomenal. They'll be so excited to try the chocolate truffles made from wines like Cabernet, Chardonnay, or Rosé and pair them with their favorite wines!
Making Wine-Filled Memories
Help them to both enjoy their wine more than ever before while also savoring the memories from those wine-drinking experiences with this shadow box and wine glass set! This shadow box will look fantastic hung up on the wall in their home, and they'll really enjoy filling it with wine corks each time they open a new bottle when celebrating a special occasion or sharing a glass with a loved one. It'll definitely be their favorite piece of decor they've ever owned!