From what you've seen, this couple has everything they could ever possibly want, but you still need to get them a great wedding present. Don't worry, we've got you covered with amazing stand out gifts for the happy couple. These unique wedding gifts for couples who have everything are custom and uncommon items for them to use right after their wedding, enjoy for years to come, and will be fantastic personalized mementos from their big day! These custom wedding gifts will stand out from anything else they get on their wedding day. Have your gift for the newlyweds be unique by finding the perfect wedding gift ideas they'll cherish forever right here!
A Decanter Set for Their Special Day
Glassware is often a fantastic gift for newlyweds, but you want to stand out with a one-of-a-kind present. Give them the most unique gift they've ever gotten with a decanter box set that has been fully personalized! What is more unique for a couple than a gift that has their name engraved on each piece? This set makes a fantastic gift for any couple. They can have a toast toward their marriage right away and even use this sharp-looking set to celebrate anniversaries, holidays, or even for their weekly date nights!
Signs are Perfect Custom Wedding Gifts
The only way to make a marriage feel more official than the ceremony is with a personalized sign! This custom piece of home decor makes the best unique wedding gift for the couple who has everything. They get a sign with their names and wedding date on it! The newlyweds can display it whenever they like in their home and it'll trigger memories from the happiest day in their life, each and every time they walk by it.
Wedding Wine Glass Set
Each sip of wine they take from this wine set will bring them right back to their wedding day, making it a fantastic custom wedding gift! They can use the set daily or for special occasions, and the monogram will always remind them of their names joining in union as a couple. Get this set for the couple as an impeccable wedding gift they'll remember forever.
Outdoor Custom Wedding Gift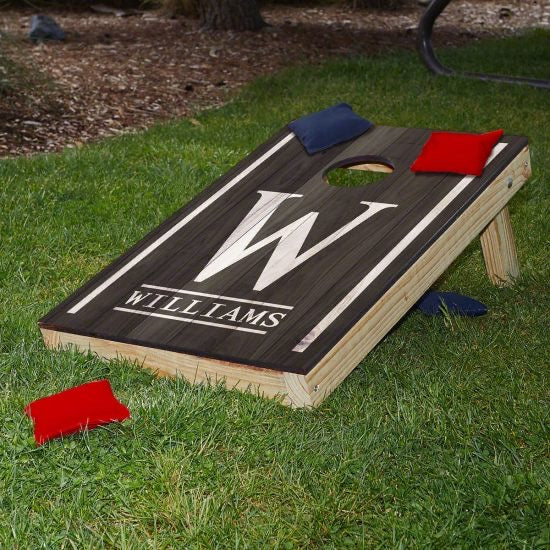 Get the newlyweds outside and have them making memories as soon as possible with a bean bag toss board set! This custom set of bags and cornhole boards are guaranteed to be unique wedding gifts for couples who have everything. Even if they have a cornhole board, they'll love having a second set that has their new shared name on it! They may even take it out at the reception as a great way to get people up and moving!
Present Them the Best Gift Set
Presentation sets are timeless gifts, especially for couples. However, you want to make yours unique. So, go above and beyond with a fully personalized presentation set! Have this gorgeous set engraved with their newly shared last name and initial, and watch as they awe over their new favorite way to enjoy a drink.
155+ WONDERFUL WEDDING GIFTS FOR COUPLES>
5-Star Sleeping Comfort
It won't be much of a stretch to assume that the happy couple will be sleeping on a bed in the foreseeable future; so, why not make their bed way more comfortable? These high-end sheets will make it feel like they're in a 5-star hotel every night of their lives. They're going to be spending at least a third of their lives sleeping, so why wouldn't they want the most comfortable experience possible? These are great for any kind of wedding, by they're especially good wedding gifts for friends when you don't know what to get off their registry!
Ammo Can Encouragement for the Aisle
Give the groom the coolest gift he is going to receive on his wedding day with this custom gift set. He likely will get a few bottles of booze and maybe even some glassware; however, he'll be blown away with a custom ammo can filled with everything he needs to have a toast toward his wedding or any other special celebrations. He'll love having a drink of his favorite liquor from his perfectly chilled glass, and will always cherish his ammo box as the coolest container he owns.
A Tasty Beer Gift
Turn beer into a true luxury experience when you get these unique wedding gifts for couples who have everything! These glasses won't just make the happy couple look and feel classy but it will make their beer taste even better! These tasting beer glasses are a fantastic custom gift that can share both the bride and groom's initials, and their shared last name too!
The Gift of Unlimited Pizza
Everyone likes pizza, especially when the pie has been freshly baked. Why not give the couple the gift of always having fresh wood-fired pizza whenever they want with this oven? This pizza oven won't just be a gorgeous piece for their backyard, it will also create a fantastic experience each time they create wonderful home-made pizzas. The bride and groom will have a blast together while having the best smelling cookouts ever!
The Best Boxes Ever
Alcohol plays a large part in both weddings and in gifts at weddings. You know they probably are getting a few bottles as gifts, and since they have everything too, they likely have a few bottles at home as well. However, booze always makes a great gift but yours is going to stand out from the crowd when it's presented in these fantastic liquor gift boxes for the bride and groom. Place their favorite liquor inside and they'll love holding onto the boxes and savoring their drinks for an occasion such as their first anniversary!
Cookware That Will Last Generations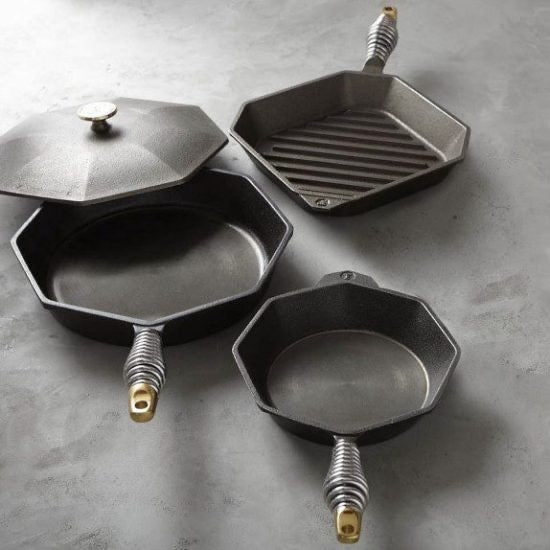 Cookware is a classic wedding gift; however, make your gift of kitchen necessities stand out with these custom wedding gifts! Give them a luxury cast iron skillet set guaranteed to last longer than anything else they own! These are the perfect gifts because they will never need a new set for their entire lives. Perfect for any kind of cooking, they'll get this set and use it every day they cook for life!
For When They Take the Tumbler
Give them the perfect gift set for any drink they could ever want with this set of stainless steel tumblers. These amazing unique wedding gifts for couples who have everything will stand out among all the other traditional glassware and gifts. The tumblers are a set of modern glasses that they just won't be able to get enough of! Do they want wine, a cocktail, even straight bourbon? Perfect, these tumblers work great with every kind of drink they could ever want. Plus, a matching set of glasses will be a great way for the couple to have their first drink together in marriage!
Custom Wedding Gifts for Tasting
Haven't found something you think they don't have yet? Well there is no way they have such a cool and novel gift as this set of tasting glasses and decanter. They'll love these custom wedding gifts that aren't just unique with their engraving, but that they will change the way they experience the flavor of their favorite drink for the rest of their lives. A couple who has everything will love seeing their name and anniversary date engraved onto their new whiskey gift set!
For Their Meal Prep
Part of wedding gifts are often housewarming items but you want to make sure they are going to love your unique gift. To do so, all you have to do is replace their old cutting board with one that brings back fond memories of their wedding and is also super useful. This personalized wedding gift is engraved with their names and their anniversary date. So, it won't just make their taste buds happy, this gift will always make them smile when they start to make lunch!
Their Finest Glassware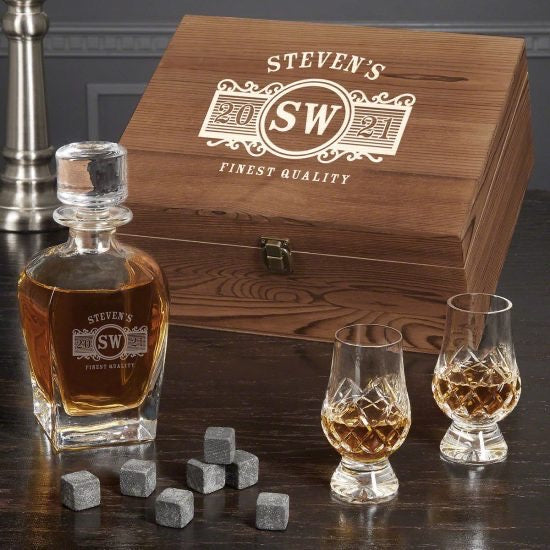 Instead of giving a gift that just looks good, give them a whole experience with this crystal cut Glencairn decanter set. At the wedding, they will be getting tons of liquor and there is no better way to experience it than with a tasting set like this! They'll love experimenting with all their new bottles of liquor to find the minute tastes and flavors, plus, thanks to this kit, they'll look super classy while they do it!
383+ WHISKEY DECANTER SETS FOR WEDDING COUPLES>
All the Places They Will Go
The coolest pieces of home decor don't just hang there, they're things that are interactive. This push-pin map is the perfect gift for newlywed couples. They may have some art in their home but nothing like this unique wedding gift. They can start personalizing their map by putting a pin in wherever they are going for their honeymoon, from there their possibilities are endless!
The Ultimate Couples Gift
Couples who have everything need something unique when it comes to gifts, especially when it comes to gifts concerning wine. An engraved gift set is the ideal way to get them a one-of-a-kind gift! This wine set and shadow box are the perfect set of custom wedding gifts for any couple! The only thing they'll need to enjoy it to the fullest will be a bottle of wine. They can sit back, have a few bottles of wine, and watch their collection of corks grow inside their shadow box.
His Perfect Beer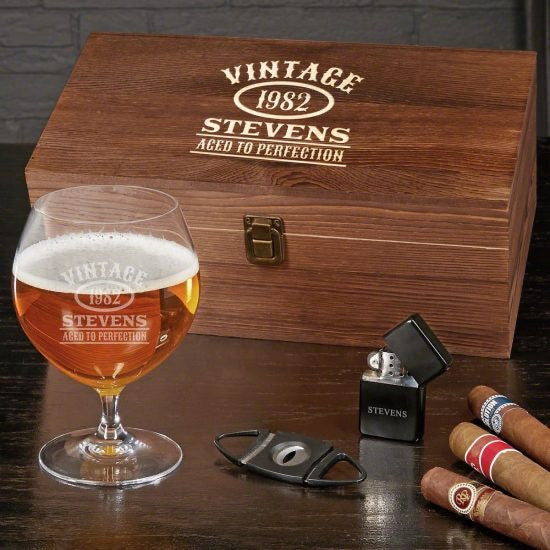 Grooms can often be overlooked in the hustle and bustle of busy wedding life. Make sure he gets the gift he deserves with a beer gift set perfect for enjoying a beer and stogie to the fullest. This fantastic gift is great for a celebration on his honeymoon, but better yet, this is a gift that he can keep on using for years to come!
Chillest Wedding Gift
A gift the bride will absolutely love will be her own wine chiller. These wine chillers make the best custom wedding gifts because no one wants to drink their wine warm when it should be chilled. She'll already have countless bottles, but won't have room for all of them in the fridge, all she will have to do is just have her pop this chiller in the freezer and a short while later she'll be enjoying a fantastic bottle of wine.
Decanter Set Full of Unique Wedding Gifts for Couples Who Have Everything
You won't find a more unique wedding gift on the market than this decanter set. This set takes finding a new angle on gift giving quite literal. Aside from their acute shape (okay, the triangle puns will stop) this whole set is customized, making it a perfect gift for the bride and groom. Put their names and wedding date, and you can be sure the shape of this set won't be the only reason they love it. Perfect for a celebratory anniversary drink or even a weekend cocktail, this custom decanter set will be their new favorite way to enjoy a drink. Don't be obtuse, get them this amazingly unique whiskey gift set!
Their Marriage Looks as Good as it Sounds
The wedding is the perfect opportunity for you to surprise the newlyweds with a unique wedding gift for the couple who has everything. A canvas that has the soundwaves of the song they chose for their first dance is a phenomenal and timeless gift. They can hang this up anywhere in their house too! This is the perfect reminder for them of just how great their wedding day was!
Custom Wedding Gifts for Beer-Loving Newly Weds
Give the groom a gift he'll never forget with an ammo can full of some of his favorite things: custom glasses, a knife, and the coolest bottle opener he's ever seen. He'll be ready for quite literally any situation he could possibly come across thanks to everything in this set. Plus, the ammo can makes a fantastic, manly keepsake for all his wedding memories.
A Coffee Congratulations
Add a little custom home decor for the couple who has everything. This unique gift will stand out as their new favorite piece of decoration that they can hang up in their favorite area for breakfast and coffee. They'll love seeing a sign at the start of their day that'll remind them of when their amazing marriage began!