Margaritas. Who doesn't love em'? The perfect cocktail for a hot summer's day. I don't think I've ever heard anyone say "Ew, a margarita? Pass." I don't know about you but I love playing around with different flavors and recipes, and the crazier the better. I've had them out of hollowed out jalapenos, played with different fruity flavors, but some places I have dared not ventured. But that's all changing, and I've reached my tequila eager hand into the depths of the internet and pulled out the most ridiculous yet delicious sounding margarita recipes I could find. So here I am, a margarita messenger if you will. All of these recipes will make you cock your head and leave your mouth watering, and yes, it's very confusing. These mixed drink recipes range from somewhat surprising to completely bizarre, but each has the potential of being a big hit at your next party.
GREEN TEA MARGARITA
Ingredients
1 1/2 oz Patron Reposado tequila
1/2 oz Zen Green Tea Liqueur
1/2 oz Sour mix
0.2 oz Triple Sec
0.1 oz Rose's Lime Juice
Directions
Shaken over ice, strain, and serve straight up in a glass of your choosing, garnish the rim of the glass with salt. Garnish with a lime wedge if desired.
First of all, I didn't know green tea liqueur was a thing. Secondly, BRB I am going to the liquor store to get green liqueur. I don't think I am the only one obsessed with a nice cold glass of green tea. Healthy and coming in many varieties, it is the ultimate feel good drink. Naturally this whole green tea margarita business is genius and I am completely on board. On one hand you can get a little sauced, and on the other you can feel good about being healthy. Not sure that's is how it all works, but a girl can dream right? All the ingredients in this margarita on the rocks recipe are easy to get a hold of so it shouldn't be too much of an obstacle to get your hands on.
SMOKY WATERMELON-JALAPENO MARGARITA
Ingredients
1 jalapeno chile pepper
2 ounces blanco tequila
1 ounce freshly squeezed lime juice
1 ounce watermelon puree
.75 ounce agave nectar/syrup
Hickory smoked salt for rimming the glass
Directions
Muddle the jalapeno.
Add the tequila, lime juice, watermelon puree and agave nectar. Shake with ice and strain into glass filled with fresh ice and rimmed with hickory smoked salt. Garnish with a slice of watermelon and lime wedge if desired.
If the word spicy is involved, I am down for whatever you have to throw at me. If growing up in a Mexican family taught me anything it is that if you can't handle the heat, get out of the kitchen (or the bar in this case). When I found this perfect pairing of watermelon (which just so happens to be my favorite summer fruit) and hot, hot, hot jalapenos (which happens to be my favorite thing period) I knew I had to feature it. The hickory smoked salt is also a unique addition which personally I have never tried but am now convinced I would use it to garnish everything. Spicy, yet sweet, yet smokey, I think the fusion of the opposing complexities makes this one of the best margarita recipes out there.
LAVENDER MARGARITA
Ingredients
2 oz. silver tequila
.5 oz. Cointreau
1 oz. lavender simple syrup
1/2 lime
sugar
dried lavender
Directions
In a shaker, combine 2 oz. silver tequila, 1/2 oz. Cointreau, 1 oz.simple syrup and the juice of half a lime and let sit.
On a plate, mix the sugar and dried lavender and use it to rim the outside of a rocks glass.
Fill the glass with ice. Shake and strain the contents of the strainer into the glass.
We are in the midst of a lavender trend my friends. Okay, I really hope it isn't a trend and that it is just here to stay forever and ever. I just really want to grow old with lavender. I have the candles, the soaps, the dried up flowers that I like to throw in lemonade and tea, HOW COME I NEVER THOUGHT TO PUT IT IN ALCOHOL? I don't know how this one slipped by me, guys, but I am so happy that I stumbled upon this delicious sounding margarita recipe. Also pretty simple to make (I honestly have all of this in my house currently) It seems to me to be the perfect cocktail for lying around in a hammock or on your porch on a warm summer day.
STRAWBERRY SRIRACHA MARGARITA
Ingredients
2 cups strawberries, hulled and chopped
1/2 cup tequilla
1/4 cup Cointreau (or other orange flavored liquor)
1 tbs agave nectar
1/2 tsp Sriracha
2 cups ice
Instructions
Add all ingredients to a blender, blend until smooth. Pour into a sugar rimmed margarita glass.
Another spicy and sweet medley, this awesome sounding margarita mixes sweet juicy strawberries with the distinct taste of Sriracha. I am a little hesitant. Yes, yes I love spicy flavors but sriracha in my margarita? This article just got real! With that said, I think that it may be just crazy enough to work. I think this margarita cocktail is the epitome of a drink that gives you that sense of adventure but that you end up ultimately falling in love with. And for that, I am giving this margarita recipe a go.
CARROT MARGARITA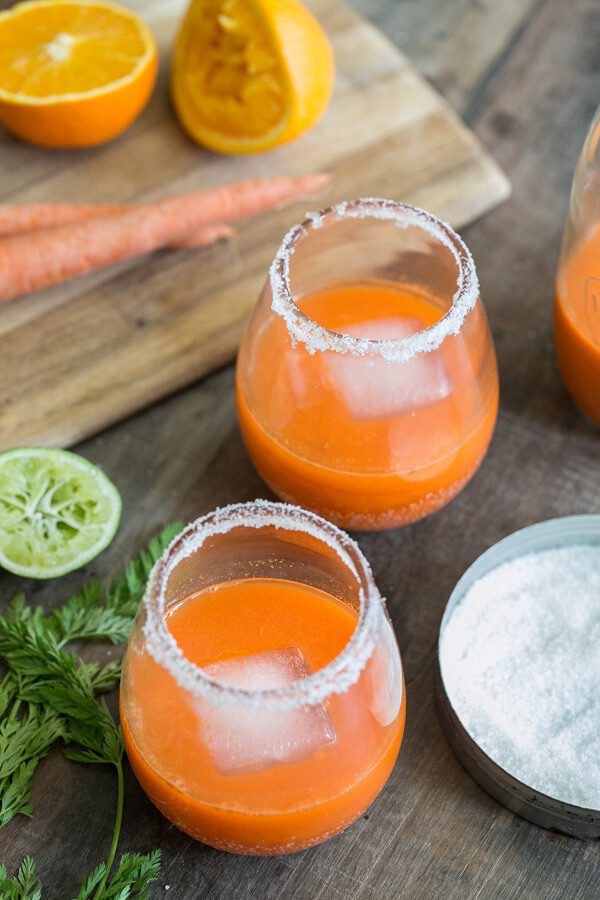 Ingredients
4 ounces fresh carrot juice
2 ounces Jalapeño Tequila
1/2 ounce Grand Marnier
1 ounce fresh juice from a lime
1/2 ounce fresh juice from an orange
Directions
If you have a juicer at home, make fresh carrot juice. If not, you can buy fresh-squeezed carrot juice from any health food store. Add all of the ingredients into cocktail shaker with ice and shake until combined. Salt the rim of a glass and add one large ice cube.
Strain the cocktail over the ice. Serve with lime if you desire.
Until a few months ago I was not aware of the magic that is a carrot cocktail. "Gross" was the word that came out of my mouth when I first even heard of the insane idea. I like carrots. I like carrots in my salad, I like carrots swimming in ranch dressing, but in a cocktail? No way. My life was forever changed when I tried a version of a whiskey smash featuring the vegetable. It was sweet, and complex, and I honestly think it may be my favorite drink. So when I reached into the internet and pulled out this rabbit, I knew that it would be just crazy enough to work.
CHOCOLATE MARGARITA
Ingredients
1 3/4 oz silver tequila
1 1/2 oz orange liqueur
1 oz Kahlua
1 oz half n half
1 1/2 TBS chocolate syrup
ice
Oreo cookies
Directions
Place Oreo cookies in a sandwich bag and crush. Place crushed Oreos aside. Combine liquid ingredients in a shaker and stir in chocolate syrup. Add ice into shaker and shake well. Moisten cocktail glass lightly and rim with crushed Oreo. Pour into rimmed glass and enjoy.
Holy Oreos, I think I've died and gone to a heaven where margaritas are my angels and I float on clouds made of chocolate. I am so glad that I found this delicious recipe. If the word chocolate somehow doesn't catch your attention then good! Just read one more word and get it at margarita. I've never tried a chocolate margarita but for some weird reason it just makes sense. But I think anything with chocolate makes sense. Chocolate makes sense. Margaritas makes sense. Now life makes sense.
KALE MARGARITA
Ingredients
1 ounce quality white tequila
3 ounces kale juice or your favorite green juice – I used a kale, celery and ginger juice from my farmers market
.75 ounce freshly squeezed lime juice
.5 ounce light agave nectar
kosher salt for the rim and fresh kale leaves, to garnish
Directions
In a large shaker, combine the tequila, kale juice, lime juice and agave nectar. Measure your ice in the glass you intend to serve it in and pour that in your shaker. Shake vigorously for a 5 count and pour into your chosen glass – rim the glass with salt if you so choose. Garnish with a small kale leaf and serve immediately.
I had to put this margarita in for good measure, especially since you probably just went out and down a whole chocolate bar after the mere mention of it in the previous recipe. Of course you know that everything green is healthy, right? It's just science. Luckily the agave nectar is enough to mix with the earthy flavor of the kale. You can also use many variations of kale juice, and swap it for any sort of green juice if you aren't completely convinced that the idea of kale in your cocktail is a great idea.
DANDELION MARGARITA
Ingredients
2 oz Patron Reposado tequila
0.5 oz Dandelion simple syrup
0.5 oz Triple Sec
.1 oz lemon juice
Dandelion to garnish
Garnish the rim with sugar
Dandelion Simple Syrup Directions
Obtain dandelion petals. You need about 1 ½ a cup which approximates to about 125 flowers. You can either forage for them yourself (c'mon they are literally everywhere) or buy some at your local health food store. Soak the petals, bring them to a boil in 3 cups of water, let steep and add 2 cups of sugar. Voila, you have dandelion simple syrup!
Margarita Recipe
Combine all ingredients into shaker mixed with ice. Shake well. Use sugar to rim the glass with. Pour contents of your shaker into rocks glass and top with a single dandelion flower.
A few weeks back a good friend of mine brewed up and gifted me some dandelion wine. I didn't know what to expect but holy guacamole, it was some of the best wine I had ever tasted. Surprisingly sweet, I never really thought about a weed tasting so delicious. Since it's summer and they are all over the place I am really tempted to just insert those little buggers into every nook and cranny of my diet, including my alcohol intake. A great pair for the aforementioned lavender marg, I think this would also be great for some outdoor summer imbibing. Incredibly easy to make, it would also be a fun afternoon date or get together with friends to gather up some dandelions to create your own simple syrup with.