Whether the whiskey drinker just indulges once in a while or is someone who likes to partake in it frequently, there's no doubt that they would love receiving an amazing whiskey gift as a present. Gifts for a whiskey drinker should be gifts that make their whiskey-drinking experiences better, whether that be glassware, accessories, personalized whiskey decanters, or anything else that simply enhances the experience. It's not always easy to come up with awesome whiskey gift ideas, but don't worry! We've found the greatest gifts for whiskey drinkers that will knock their socks off.
Glasses and Stones: The Perfect Gifts for a Whiskey Drinker
Looking for a set that has it all? This is it because it has everything they need to sit back, relax, and fully enjoy chilled, delicious whiskey. They will feel like their whiskey-drinking experiences are better than ever when they're using this phenomenal whiskey gift set!
A Gift to Make His Whiskey Better
You want to buy him the coolest gift for a whiskey drinker that will knock his socks off. Look no further than this advanced smoker system! His whiskey will taste more delicious than ever before after he uses this smoker box, infused with flavors like cedar or thyme. His whiskey will taste so good that he won't be able to stop talking about this phenomenal whiskey gift. He'll never want to drink non-smoky whiskey ever again.
Unique Whiskey Accessories
This bullet whiskey stone set is a fantastic gift for a whiskey drinker with good taste. With this fantastic gift, they'll be able to taste the richness of their whiskey in a whole new due to the unique shape of the glasses. They will feel like a true whiskey aficionado when they're using this gift!
The Ultimate Gifts for Whiskey Drinkers
When he opens up this gift box, he'll be stunned at how amazing the contents are. This ultimate whiskey box set includes two cigar whiskey glasses and a decanter that he'll love using for his go-to whiskey. This is the perfect set for any fan of both whiskey and cigar to be able to pair their two favorite vices. With a box set this good he'll quickly become a connoisseur after using this cigar and whiskey gift set!
Cigar Accessories with the Whiskey Gift
When whiskey drinkers think about one of their other favorite hobbies, smoking cigars comes to mind as one of their favorites. This ammo can gift set has all he needs to indulge in his favorite hobbies. The top-notch cigar accessories will make enjoying stogies easier than ever before, and he'll love using them while sipping his favorite whiskey from these awesome rocks glasses. He'll love storing these useful items or any other items in this super attractive ammo can.
59+ INCREDIBLY AWESOME AMMO CANS >
Try Different Recipes
True whiskey fans can't get enough whiskey, and they love discovering new cocktails they can make too. That's why this book Whiskey Cocktails it's such a fantastic gift for whiskey drinkers. This book contains 50 recipes and photographs of various whiskey cocktails. It also has tons of information about different whiskeys that the whiskey lover you're buying for will find absolutely fascinating. They will love receiving this amazing gift and making different whiskey cocktails!
Gift for the Classy Whiskey Drinker
Whiskey drinkers often like to enjoy their whiskey in a simple manner with solely a round glass and whiskey stones. When he's given this whiskey gift set, he'll immediately be extremely happy for an opportunity to enjoy whiskey in its proper way. He'll never feel classier than when he's using the items in this phenomenal whiskey gift set.
Home Bar Sign for Whiskey Drinkers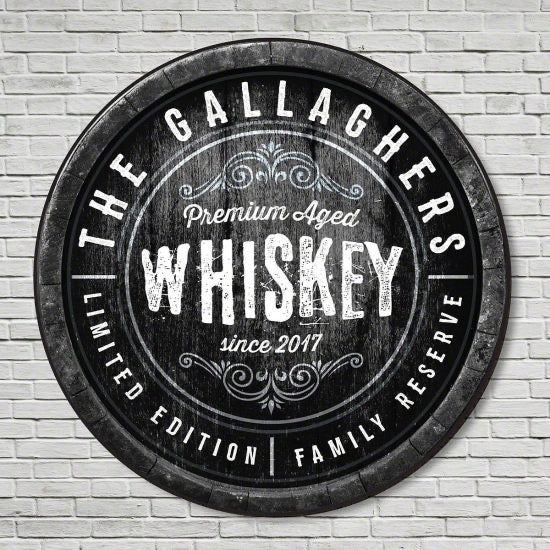 Whiskey drinkers like to show off their love of whiskey, which is why this custom sign is the perfect whiskey gift. They can hang this sign in their home bar or office, proudly displaying their love of whiskey. It's extremely rustic and attractive, adding an awesome vintage feel to any room. They will absolutely love enjoying their favorite whiskey while gazing at this stunning sign. You can't think of any better gifts for whiskey drinkers!
Super Impressive Whiskey Decanter Set
An extraordinary whiskey decanter that stands out makes a great gift. This bull decanter set is a one-of-a-kind gift that he'll adore. This gift is a great one for whiskey drinkers because the handsome bull decanter will look incredibly awesome sitting on his home bar or mantle, keeping his favorite whiskey fresh inside. Nothing will make him happier than seeing it and using it!
Cigar Glassware Gifts for Whiskey Drinkers
Life is too short to be inconvenienced, so allow the whiskey drinker in your life to be able to relax and enjoy both with ease. This whiskey gift set takes enjoying whiskey and cigars together to a whole new level! With these cigar glasses, anyone can enjoy both vices with one hand simultaneously. They will feel extremely classy holding this special glass and smoking a cigar at the same time.
Punny Hoodie
What makes better gifts for a whiskey drinker than hilarious hoodies? Absolutely nothing! This whiskey drinker hoodie features a fantastically funny pun that will make everyone from friends and family to complete strangers smile and giggle. Any whiskey lover will proudly wear this hoodie as often as is socially acceptable, and they'll always remember that you bought them their favorite gift ever.
Manliest Whiskey Gift Set Ever
The manliest of whiskey drinkers want a whiskey gift that will help them show off their manliness. This whiskey gift set is a fantastic gift because he'll feel even more manly when he's using the items in the set. In fact, it will be the manliest and happiest he's ever felt because of how awesome this gift is!
Set with Unparalleled Gifts for Whiskey Drinker
Sometimes, whiskey lovers just want to receive a super unique gift that no one has ever seen before. This diamond decanter and glass set is unparalleled. The decanter and glasses are the shape of diamonds and come on a beautiful stand that they can display on their home bar, mantle, or dining room table. Wherever it's displayed, guests will "ooh" and "ahh" over this gift and beg to have a glass of whiskey from one of these diamond glasses.
All-Encompassing Gifts for Whiskey Drinkers
This whiskey gift set contains several parts for enjoying whiskey in different ways. When he's at home, relaxing on the couch after a long day, he can pop open a bottle of his favorite whiskey and pour it into this classic lowball glass. If he wants to indulge in a stogie with this whiskey, this lighter is an absolute necessity for enjoying cigars. Sometimes, he'll want to take a drink of his favorite whiskey on the road with him, so he can use this sleek flask to enjoy whiskey away from home.
Sharing is Caring
Sharing is caring, right? Big whiskey drinkers love pouring glasses of their favorite whiskey for their friends and family members. With this whiskey box set, they'll be able to share whiskey with up to four people. There's even whiskey stones if they want to chill their guests' whiskey. They will be extremely grateful to receive this awesome gift because it provides them an easy way to share their whiskey with the world.
535+ AWESOME PERSONALIZED WHISKEY GLASSES>
Delicious Whiskey-Flavored Foods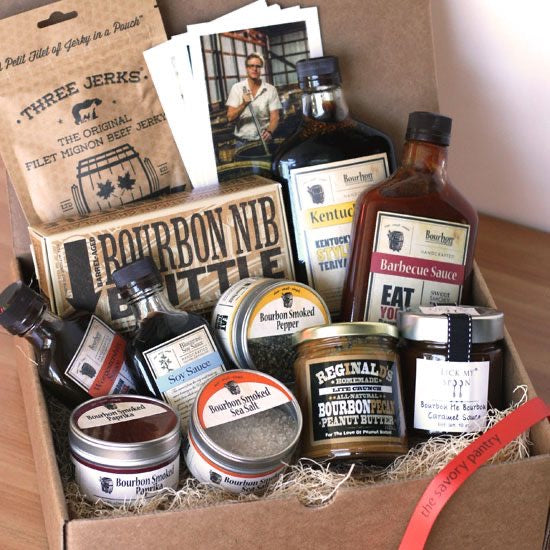 He absolutely adores not only whiskey itself, but whiskey-related food items. To make him extremely happy, buy him this bourbon bonanza gift box! There are several delicious bourbon-flavored food items in this set, some of which are barrel-aged barbecue sauce, filet mignon maple bourbon churro jerky, bourbon pecan peanut butter, and more. It's filled to the brim with delicious, amazing gifts for whiskey drinkers. He'll be very grateful to receive this delicious gift box, and he'll want to immediately eat everything in it.
Insanely Beautiful Whiskey Glassware Set
Whiskey tasting and refined glassware are two things he's a big fan of. This set of whiskey tasting accessories is a phenomenal gift for him or anyone who loves drinking whiskey out of only the finest of glassware. These crystal Glencairn glasses will let him taste all the richness of different whiskeys, and the decanter will do an excellent job of ensuring that his whiskey stays fresh and delicious before it's consumed. He'll be absolutely stunned by the beautiful craftsmanship of this gift set.
Most Fun Whiskey Gift
One of his favorite occasions for enjoying whiskey is at a tailgate or a backyard barbecue. He's the life of the party and loves to play games and have fun. This cornhole set is the perfect gift for a whiskey drinker. The design is inspired by one of his favorite brands, so he'll absolutely adore it! He and his buddies will have so much fun playing intense games of cornhole. The game will get so competitive that he'll probably wager a bottle of his favorite whiskey!
Multi-Locational Gift Set
What's better than enjoying whiskey and cigars either at home or on-the-go? Being able to enjoy them BOTH at home and on-the-go! This awesome whiskey gift set provides a way to drink whiskey whilst away from home with this handsome cigar flask that fits flawlessly in his pocket, almost like it was meant to be there. When he's relaxing at home, the whiskey glasses are absolutely perfect for sipping slowly and enjoying whiskey while lounging around and smoking a cigar. No matter which way he chooses to enjoy whiskey and cigars, he's fully equipped with this gift set.
Whiskey-Flavored Coffee
He wishes he could drink whiskey all the time, but unfortunately, it's not possible to safely drink it constantly. However, let him have the next best thing with this dark roast whiskey-flavored coffee! He'll absolutely love the deliciousness and creativity of this gift that lets him drink whiskey-flavored drinks all the time. This gift will also help him wake up in the mornings, which he'll appreciate. This gift is not only delicious but helpful—which is what makes this a super fantastic gift for whiskey drinkers.
Truly the Tastiest Whiskey Set
What's the use in tasting whiskey if you aren't going to be able to taste the full, rich flavors in it? With the glasses in this whiskey gift set, any whiskey drinker will be able to fully appreciate each and every nuance from the different whiskeys they try. For those that are serious about differentiating between subtle notes in whiskeys, this awesome gift set is a must-have.