You wouldn't be who you are today without your parents. They've sacrificed so much for you in their lives, so you want to buy them an amazing gift. The problem is that they seem to have everything, and when you ask them what they want, they say "nothing." You've wracked your brain and nothing good is coming to mind. Gift ideas for parents who have everything are those that are very unique that will make them proud every time they see it and will impress all of their guests. These gifts for parents who have everything make the very best presents that your parents will no doubt adore.
Cheers to Your Parents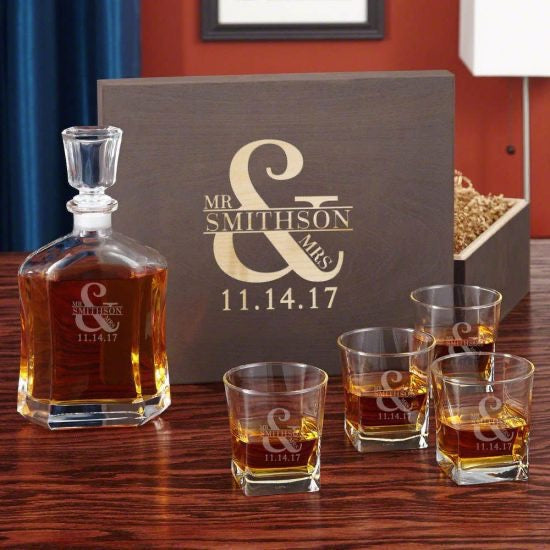 Whiskey is a drink that your parents' have always loved drinking together. Buy them this ultimate whiskey gift for parents who have everything to make their whiskey experience better than ever. The decanter in this stunning set is a unique, beautiful shape that your parents will love displaying on their home bar or kitchen counter. The set includes four square rocks glasses with thick bases, which help the whiskey stay cold by separating the warmth from hands from the whiskey. You'll love seeing the looks on their faces when they open this amazing gift.
Drink Together, Stay Together Gift for Parents Who Have Everything
For as long as you can remember, your parents have loved indulging in drinks together, talking and enjoying each others' company. This wooden wall sign is the perfect decor for them to hang around their home bar or anywhere else. It's a simple yet lovely sign that celebrates their love and devotion toward each other. It's crafted from authentic birch wood, and your parents will be able to tell that this sign is of the highest quality. This is a great gift idea for parents who have everything because it's very unique, and they'll love receiving this gift.
Whiskey Gift for Parents Who Have Everything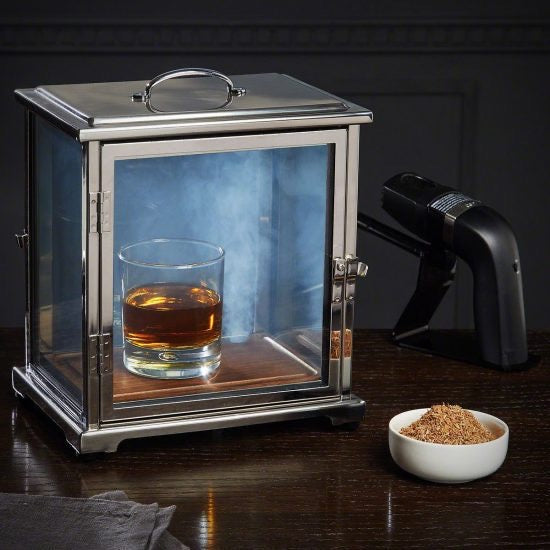 Whiskey is a drink your parents love, but they have all the brands and glasses they could ever want. Your mother and father are all about advancing the taste of their whiskey, so buy them this amazing drink smoker system. This luxury item is extremely easy to use; all your parents have to do is put a glass of whiskey inside, close the door, and then use the smoking gun and wood chips to effortlessly infuse a delicious smoky flavor into the whiskey. This is a great gift for your parents because it will help their favorite drink become even better.
Accessories for Hobbies Gift Idea for Parents Who Have Everything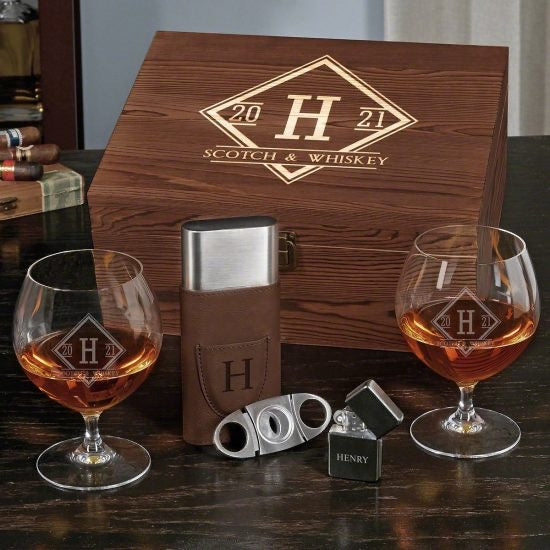 Your mother and father really like indulging in a glass or two of cognac, and they often pair cigars with it. This creative gift box is perfect for the two of them because it contains accessories for enjoying the two together. These cognac glasses are specifically designed for the drink, as the wide bowl and narrow rim intensifies the flavor. Their favorite cognac will taste delicious when consumed out of these glasses. Also included in this set are the three necessities when it comes to smoking cigars: a lighter, cigar cutter, and holder. Your parents will be blown away when they receive this gift because of how convenient it makes enjoying one of their favorite hobbies.
If They Chop Together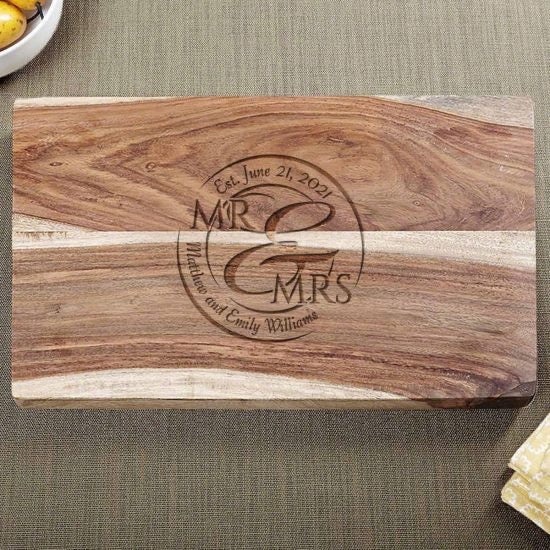 You consider yourself very lucky that your parents are such good cooks because you enjoyed tons of delicious meals growing up. They still love cooking together, so you want to buy them a gift that will make their cooking experience better. This gorgeous cutting board is a great gift idea for parents who have everything because there is no doubt that they have nothing like it. It's crafted from natural sheesham hardwood, meaning it has a very authentic look. It's very strong and sturdy, so it will withstand sharp knives as your parents chop food on it. The beautiful engraving in the center is a fantastic touch that will your parents will adore when they open up this gift.
56+ AWESOME PERSONAL CUTTING BOARD GIFTS>
For Dad's Bar
Your father is immensely proud of his home bar. He's spent a long time making it exactly how he wants it, and you want to add a brilliant touch to its decor. This wooden home bar sign will look amazing on the wall behind his bar, and he'll love how different it is. It shows designs of a martini, beer, and wine glass, which showcases your dad's diverse taste in alcoholic beverages. All of his friends will take notice of how brilliant it is and be insanely jealous.
Sentimental Gift for Parents who Have Everything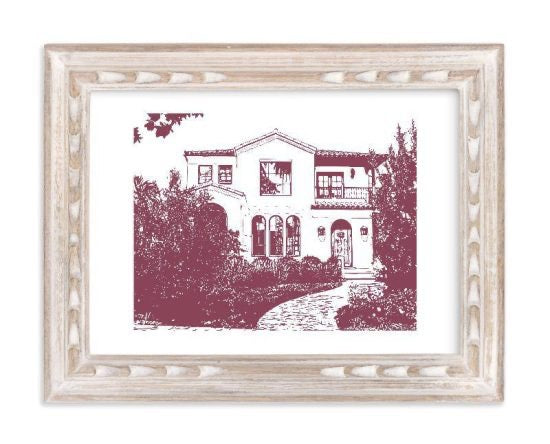 There's no place like home, right? This is especially true for your parents, who cherish the home that you and your siblings grew up in. Give them a beautiful gift for a custom portrait of that home. All you have to do is upload a photo of the house, and a portrait will be made to look exactly like it. They'll love the way it looks hanging on their wall, and they'll feel the sentimental feeling of home every time they see it.
Glencairn Whiskey Glassware Set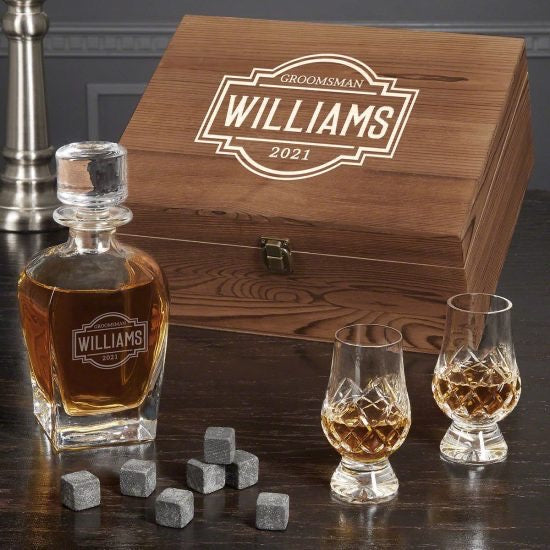 Unique glassware is a great gift idea for parents who have everything because it's something they don't already have. This Glencairn glass set is a fantastic gift for your parents. The decanter has distinct curved edges and a round stopper, matching the roundness of Glencairn glasses. The Glencairn glass is designed specifically for the swirling of the whiskey in the wider bowl, and the narrow top brings the aromas to your nose.
Red Wine Time
Your mother is a beautiful woman who deserves a beautiful gift. This wine decanter set will undoubtedly take her breath away. The decanter will help separate the sediment from her Bordeaux or Cabernet Sauvignon, making it more delicious than ever before. There are two stemless wine glasses included with the decanter, so your mom can pour herself and a friend a glass of delicious red wine from her new decanter. These glassware pieces are so beautiful, your mom will want them displayed at all times!
Fancy Whiskey Glassware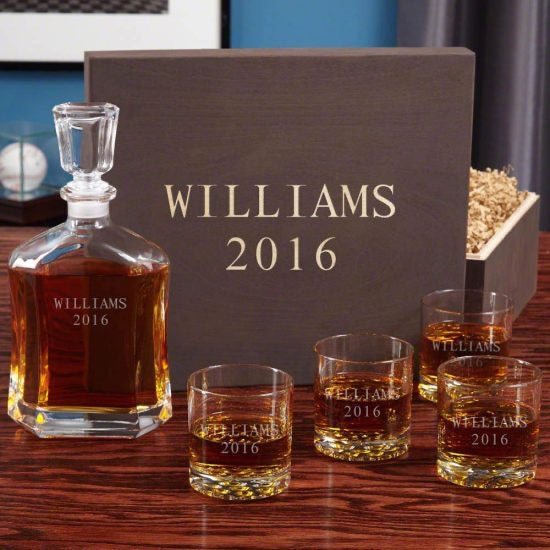 When it comes to whiskey, your parents are the biggest fans you know. They love relaxing together in the evenings, sipping on a glass or two. Make that experience even more enjoyable with this whiskey gift box set. They'll love pouring their fresh, delicious whiskey from the decanter into their rocks glasses, and they'll remember how much they love you every time they do.
Ultra Fancy Sheets
Good sleep is vital for mental and physical health, and you want your parents to be strong in those departments. To make their sleep experience better than ever, buy them these luxury sheets that they'll be obsessed with. This set of sheets has a 500 thread count and is the best quality Egyption cotton, making them incredibly soft and smooth. They will help keep your parents warm while also being lightweight and breathable. They will be so grateful for this gift from you, and they'll be more well rested than ever before!
Beer Mugs Gift Set for Parents
Sometimes, the best gift ideas for parents who have everything seem simple at first glance, but their quality makes all the difference. The sturdiness of these mugs will astound them—they'll definitely be able to use them for a long time. They're so hefty that your parents will feel like they're in a real pub when they're drinking beer at home. You can't go wrong with buying a classic, high-quality beer set.
Celebrate Love Gift Idea for Parents Who Have Everything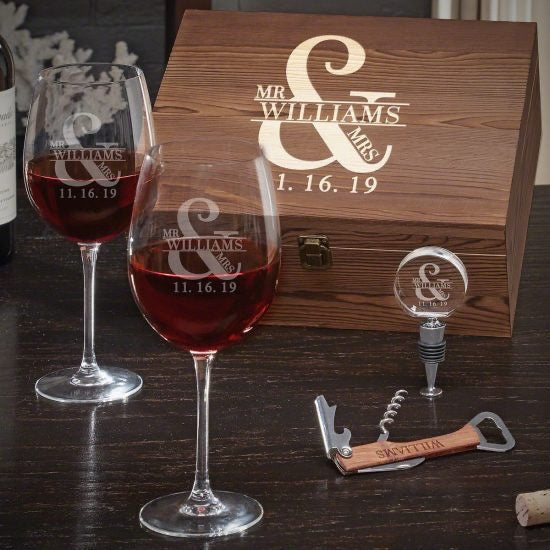 The best anniversary gifts are those that remind the couple of their love for each other. A great anniversary gift for your parents who have everything is this wine glasses gift set. It's extremely unique because the glasses, stopper, and gift box can be personalized with your parents' last name and a year. These two wine glasses are beautiful and elegant, great for your parents' favorite red wine. The crystal wine stopper can be used on any typical bottle of wine, keeping it tasting fresh for longer. Also included in the set is a corkscrew, so your parents never have to worry about not being able to pop open their favorite bottle. They will absolutely adore this anniversary gift, a celebration of their love for each other.
Serve the Liquor
You know that your parents take great pride in their taste in fancy liquors, and they love showing off their expertise to their friends. Buy them this liquor presentation set that they can use to serve their guests. Not only will your parents' guests be impressed with their taste and knowledge of different liquors, but they'll be stunned at how brilliant this serving set is when your parents serve them liquor with it.
Gift for Manly Dad
Your father is a manly guy who loves whiskey and cigars. This masculine gift set is the best gift for him. It comes in an ammo can, repurposed from the United States military, which will make your dad feel like a badass every time he's carrying his fishing equipment or anything else inside it. He'll enjoy his whiskey more than ever before when using these awesome rocks glasses, and the cigar accessories will make enjoying his favorite stogies so much easier.
77+ AWESOME CUSTOM AMMO CAN GIFTS>
Help Her Discover Her Ancestry
Your mother is unsure of her ancestry, and she's always been exceedingly curious about it. This 23andMe kit is the perfect, easy way for her to find out! Not only does it test for DNA and ancestry composition, but it also gives a wellness report and predisposition reports, based on the DNA. Trait and carrier reports are also included, which are extremely important to know. All your mom needs to do is use the kit to collect her saliva and send it back, and then after 3-5 weeks she can view her results online. It's an extremely easy way to discover a lot of useful information, so she will absolutely love this gift.
Game Set Gift for Parents Who Have Everything
Card games are a pastime that your entire family enjoys, and it all started with your parents' love for them. A super special gift for fun parents like yours is simply a set they can use on game nights. This one-of-a-kind set will provide hours of fun for your family with the cards and poker chips. And, because game nights aren't complete without drinks and snacks, the included serving set will make serving all their guests super easy.
Handsome Decanter Set for Your Father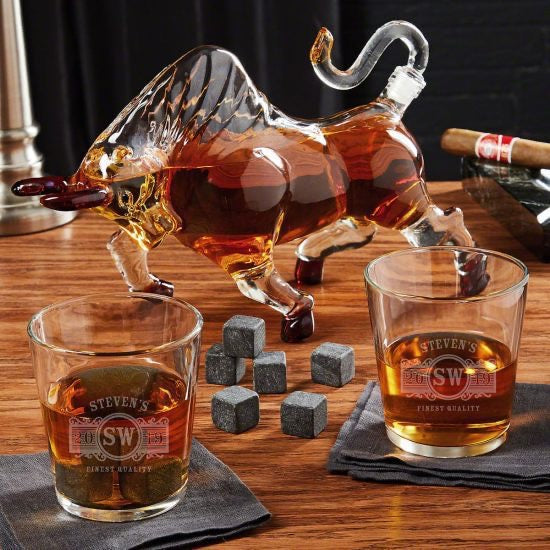 Your dad is one of the strongest men you know, so you want to buy him a gift that represents him strength. This bull decanter set is an awesome gift that will totally impress him because of how unique it is. He'll also feel so appreciated every time he looks at it knowing that you view him as stronger than a bull.
They Love to Collect
Your parents are wanting to begin a collection of wine corks from their favorite bottles of wine, but they aren't sure how to do that best. Buy then the greatest gift ever with this unique way to collect the corks: a shadow box. This ingenious invention provides a classy and attractive way to cultivate a collection without any hassle at all. This black-framed shadow box is a great way for them to show off all the bottles of wine they've shared. As a bonus, this set comes with two stemless wine glasses and corkscrew, so your parents will always have a way to pop open the bottle and two glasses to pour their favorite wine into.
For the Hosts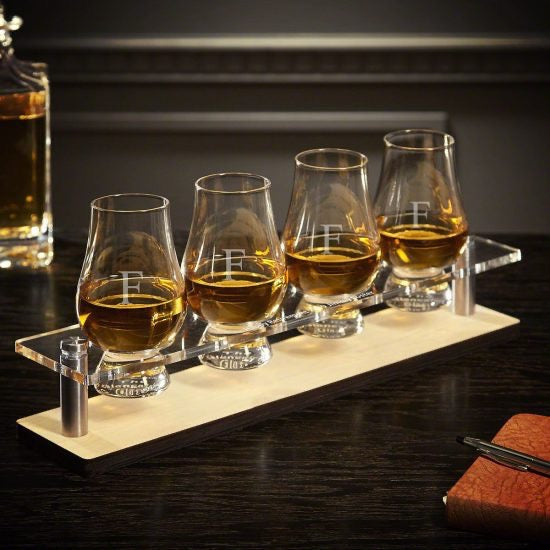 Growing up, your household was the host house, with friends and family always coming to your house for different get-togethers. Your parents absolutely love to host and serve their guests. This serving tray is the best gift for your host and hostess parents because it's both functional and fancy. This glass tray has spots for the four included Glencairn whiskey glasses to make for effortless serving to your parents' guests. The shape of these Glencairn glasses makes them the perfect glasses for tasting whiskey, as the shape is specifically designed for such. The base is crafted from birch wood, so it won't tip over. All their guests will be extremely impressed with the fanciness of this tray and these glasses, and your parents will feel very proud to still be the greatest hosts ever.
Easiest Entertainment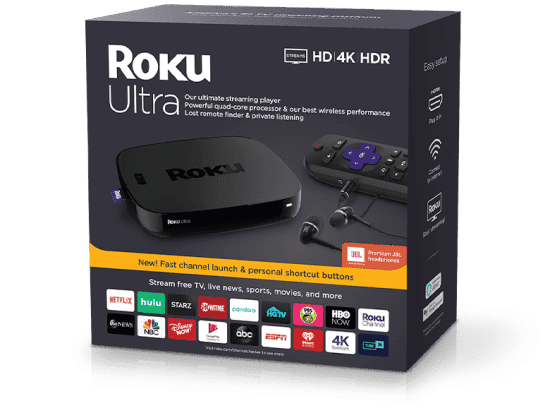 Your parents have worked extremely hard their entire lives, and you want to buy them a gift that will help them fully relax. The Roku Ultra is a fantastic avenue for all things entertainment. It's super easy to set up on your parents television, and then they'll have thousands of different apps at their fingertips. They can enjoy Netflix, different news outlets, sports channels, music, reality TV shows, and so many other things. The Ultra is the fanciest version of the Roku, so it comes with other high-tech advancements such as voice remote, personal shortcut buttons, and other features that will make your parents' lives easier. This is a great gift for your parents that will provide them years of easy entertainment.
Think Outside the Box
For the best gifts for parents who have everything, you have to think outside the box. Buy them this pair of awesome gifts! This home sign is a fantastic gift because it's simple yet beautiful, showing off their love for each other to everyone who enters their home. It's such a sweet and personal gift that they'll treasure forever. This marble wine chiller is perfect for keeping their wine cold. Not only that, but they'll love the way the gorgeous black marble looks on their kitchen table as they eat dinner. All their friends will be extremely jealous of this pair of awesome gifts.
Around the Globe
Your parents are very interested in gorgeous glassware. They love using it, and they especially love showing it off to guests to show how awesome it is. This globe decanter set is just the impressive set they've been searching for. The beautiful decanter will take their breath away when they see it, and they'll be thrilled to display it on their home bar, dining room table, or anywhere else they choose! They'll also greatly enjoy drinking whiskey from these glasses, and if they don't finish off the bottle, they'll pour the rest into their new favorite decanter.
309+ BEAUTIFUL HOUSEWARMING GIFTS>