On the magical day that is Christmas Day, you want nothing more than the loved ones you bought gifts for to absolutely adore their presents. That includes him, the man in your life who you're searching to find an awesome, unique present for. The perfect, one-of-a-kind gift takes some out of the box thinking. The most unique Christmas gifts for him will impress him with their personal touch as well as how creative you got incorporating his hobbies or interests into an unmatched Christmas present. We found incredible holiday gifts for men that'll make this Christmas the holiest and jolliest of them all!
Gorgeous Glassware Set of Unique Christmas Gifts for Him
If there's one gift that will wow him with on Christmas, it's this gorgeous whiskey decanter set! He'll be absolutely stunned when he sees this personalization on this glassware and definitely be impressed with how very classy the whole set is. To celebrate Christmas and every other holiday, he'll greatly enjoy having a delicious drink using these superior, unique glasses. He'll be so thankful for such a sophisticated glassware set that makes each and every celebration just a little bit better.
Personalized Game Room Sign He'll Love
Make the game room or home bar look way cooler than ever before with this custom wooden billiard room sign! It's one of the most unique Christmas gifts for him that he'll be absolutely obsessed with. He'll be a huge fan of the way it looks hanging up in his house, letting everyone know they're in a billiard champ's presence. It'll make him feel so confident and cool seeing it every time he walks by it!
Remarkable Pint Glass Ammo Box Set
There's no chance this personalized ammo can pint glass set doesn't knock the Christmas socks right off his feet! Any man will be absolutely in awe of how cool this set is that lets him keep his beer accessories in a secure location or bring equipment to the hunting trip in style. You can even include a sick pack of his favorite beer or some snacks he likes inside the ammo can to make the gift even greater!
Manly Whiskey Gift Set
You know you can't go wrong with holiday gifts for men that are manly and awesome. That's why this personalized whiskey glasses and axe set is one that he'll remember for years to come! He'll without a doubt think the hatchet is the coolest thing he's ever owned, and he'll feel like a masculine man with it displayed in his man cave or living room. The personalized glasses and whiskey stones will also make him feel manly and cool as he sips on a chilled drink to enjoy the his Christmas holiday!
Hefty Beer Mugs for Christmas
When searching for unique Christmas gifts for him, consider a gift that lets him enjoy one of his favorite things—beer! This engraved beer mug box set is absolutely incredible because the custom hefty mugs will make him feel like he's at his own pub sipping on his favorite brews. Lastly, even the handsome black gift box helps to make this set even more of a great Christmas gift idea for him. Now, he's got the perfect place to store his beer accessories or anything else he wants!
A Massage at Home
Get him a super unique gift for the holidays that will help him relax whenever he wants! This heated neck therapy with a remote is one of the best holiday gifts for men because it is just what he needs to feel like he's getting a professional massage whenever he wants. He'll love the convenience of using the remote to control the neck massage so he can have it exactly how he wants it. Any man will be so appreciative of his rare tech gift and how useful it is!
Box Set of Holiday Gifts for Men Who are Legends
What man wouldn't want a Christmas present that pumps up his confidence and gives him a great way to enjoy a cold drink whenever he wants? This whiskey gift box set will make any man you give it to feel like the most important man on the planet. He'll be obsessed with the unique style of the glasses and how the stainless steel whiskey stones will make his whiskey or cocktail stay chilled for hours. The convenience of having a place to keep his glasses between uses is something he'll really appreciate, especially when the engraving on the wooden box makes him feel so awesome every time he sees it.
Keep His Accessories Organized
Make him feel both classy and organized with this leather valet box and watch display case! It's one of the best holiday gifts for men because he'll greatly appreciate having a place to keep all of his watches, cufflinks, rings, tie clips, and any other small accessories. With this brilliant gift on his bedside table or dresser, he'll always have a place to keep small valuable items, and he'll feel really classy seeing all of his nice watches displayed on the top of it.
Classy Monogrammed Presentation Set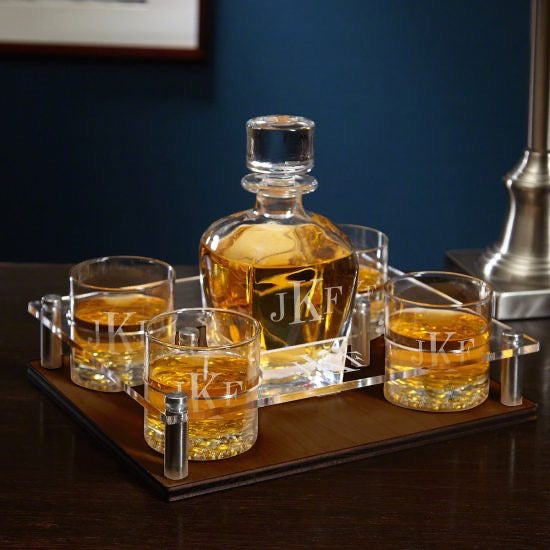 With this classy and convenient monogrammed presentation set, he'll always feel super sophisticated and always have an easy way to enjoy a drink! He'll be a big fan of seeing his monogram on this handsome set, and having it on his coffee table or home bar filled with his favorite spirit for easy access is something he'll be a huge fan of. It'll also make him feel like a terrific host to any guest, because it makes it easy to serve drinks to others when they come over, which he'll think is fantastic as well!
Throw Him Some Shade This Holiday Season
Give him one of the most unique Christmas gifts for him that make him feel like the raddest guy ever when he's wearing them! These Oakley sunglasses are incredible, not only because he'll look awesome while he's wearing them, but the high optic lenses ensure that he can see very clearly through them while also being protected from sunlight. As an added bonus, he can use these right away to not get blinded by all the fresh, white snow on the ground when you all drive to your Christmas movie!
A Holiday Gift for Storing Mementos
This holiday season, give him a present that helps him savor all the amazing experiences he shares with loved ones. This personalized shadow box is one of the most unique Christmas gifts for him that he'll think is so creative and incredible. Whether he wants to collect bottle caps, wine corks, photographs, or any other small items, he can do so easily with this shadow box. Each item inside will represent an awesome memory of the holidays, a shared experience with a loved one, or a great day he had on his own!
Whiskey and Cigar Holiday Gifts for Men
Make him feel like the classiest gentlemen you've ever met with this custom crystal decanter set as a Christmas present! He'll be so impressed with the quality and fanciness of this gift that lets him sip on scotch and smoke a stogie at the same time, using just one hand! He'll think it's fantastic that he can high-five you while holding both his beverage and cigar in the other hand. To celebrate Christmas and every other special occasion that comes his way, he'll love using this classy set to celebrate with a drink and cigar.
A Gift for Any Grilling Guy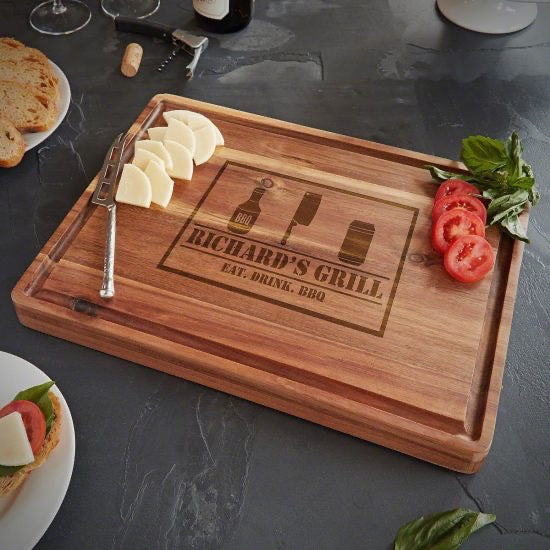 The best holiday gifts for men make them feel more confident in one of their skills. That's why this personalized butcher block is such a terrific Christmas gift for him! He'll absolutely love using this board to season and chop up food before throwing it on the grill. When he's done preparing his delicious grilled food, this gift also makes the perfect serving tray when he has guests! He'll feel like a master of the grill using such a special grilling gift.
Keep His Drinks Cool
Be sure your holiday gift for him will definitely come in handy with this all terrain cooler! He'll be so surprised when he sees this gift under the tree because of how incredibly functional it is, one of the most useful holiday gifts for men. Whether he's headed on a camping trip with some buddies, a family road trip, or headed to a backyard barbecue, he'll very much appreciate having a way to transport cold food and drink.
The Most Unique Cigar Humidor
Make sure his stogies always stay intact by getting him this personalized ammo can cigar humidor! He'll be so impressed with this useful present that ensures his cigars won't get too dry or too moist, and he won't lose track of them, either. This humidor is made from an ammo can repurposed from the US military, which is so cool that he'll definitely want it displayed in his man cave or living room as it keeps his cigars safe and sound inside! You can even include some Montecristos or Ashtons with this gift!
The Classiest Wine Tumblers Ever
The classiest wine tumbler box set ever? Say no more! This set is one of the most unique Christmas gifts for him that he'll absolutely love using to enjoy his favorite wine both when celebrating the holidays and on any other special occasion. The matte black stainless steel of these custom tumblers will definitely make him feel sophisticated as he sips his Merlot or Pinot Grigio from them, and he'll probably never want to drink from any other glass ever again!
Set of Unique Christmas Gifts for Him for Enjoying a Drink
Sometimes, a unique Christmas present that lets him enjoy his favorite drink is really all he wants! That's why he'll immediately fall in love with this engraved whiskey decanter box set when he tears open the wrapping paper on Christmas morning. He'll be so impressed with the quality and personalization of this set, and he'll definitely want to use it immediately to enjoy his favorite beverage to celebrate the holiday. He'll want it displayed on his man cave or kitchen counter, too.
A Toasty Holiday Gift
Make him feel super high tech and cool with this smart toaster! This is one of the most unique Christmas gifts for him that he'll have a blast using to make a waffle, bagel sandwich, the classic toast, or anything else he can make in a toaster. He'll be a huge fan of how easy this gift is to use to ensure he has the best quality toasted food he's ever had.
Unique Personalized Home Bar Sign
Give his home bar or kitchen the spruce-up it needs this holiday season with this handsome custom bar sign! It's one of the best holiday gifts for men because any guy will be a huge fan of how this sign has his name on it and makes the bar area in his home feel like a cool tavern or pub. This sign will definitely be one of his favorite holiday presents he's ever gotten!
The Coolest Way to Drink Beer
A unique, personalized holiday gift that helps him enjoy a beer whenever he wants is always a great gift idea. This engraved beer stein is a remarkable Christmas present for him because it's a fantastic way for him to enjoy some delicious brews from the coolest glass he's ever owned! There's no doubt he'll want to use this unique stein with an awesome pewter lid when celebrating holidays or other special occasions to fully enjoy the experiences.
Set of Holiday Gifts for Men for Playing Poker
Some of his favorite nights are those in which he has some close friends or family members, a drink in hand, and a couple hours of poker and other card game fun. Make these nights more common with this monogrammed poker gift set! He'll be so excited to host a game night using this gift, using the cool poker chips and deck of cards for poker and any other card game they want. He'll really appreciate the cigar glass, too, since it lets him enjoy a drink and stogie while holding his cards in his other hand!
Smell His Best, Feel His Best
Have him smelling his best with this with this Kenneth Cole jumbo cologne set! This is one of the most unique Christmas gifts for him that he'll think is so useful and will make him feel more confident! He'll like that the bottle is so big that it'll last him a long time, and he'll feel so good knowing he smells like a dapper gentleman!
A Christmas Present for Inventing Delicious Drinks
If you want to really "wow" him on Christmas morning, this smoke box kit is definitely the way to go! This ingenious contraption is incredible because all he has to do is place a glass of whiskey inside this box and then infuse it with wood chips, chocolate, or anything else they can think of! He'll have a blast trying out different concoctions of types of spirits and flavors, trying to make the most delicious drink ever.
Up Your Presentation Game
You know he'd really love a bottle of his favorite liquor, but you want to make the presentation fancy, after all, it's Christmas. This personalized birch wood box is one of the best holiday gifts for men because it is the perfect way to give him the bottle of Macallan or Jack Daniels! He'll be a big fan of how handsome this box is, and he'll want to use it to store a nice bottle of liquor for a special occasion. He'll probably think you're one of Santa's elves because of how perfect this gift is!
Cool Ammo Can Set of Unique Christmas Gifts for Him
Give him the coolest gift with the coolest customization ever for the holidays! This personalized ammo can beer gift set is any man's dream gift. It gives them outstanding, custom pint glasses to use to enjoy a drink whenever he wants as well as a unique ammo can that he can use when he's going fishing, on a camping trip, to the shooting range, or any other manly activity he wants to do. The delicious snacks will satisfy his hunger when he gets hungry doing his manly activities!
A High-Tech Safety Gift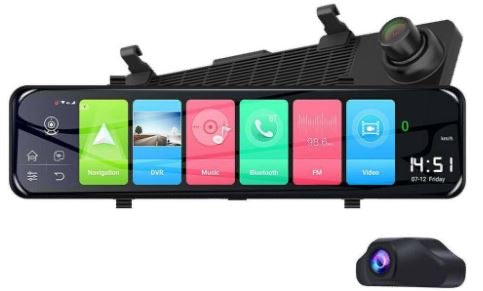 Surprise him with a super high-tech, useful present for Christmas that will make his life so much easier! This Wi-Fi rear view mirror and dash cam is one of the most unique Christmas gifts for him that will be a lifesaver when he's in the car. He'll feel safer knowing that he has a fantastic dash cam in case of an accident, and he'll be so appreciative of how the rear view mirror can help in so many ways, from navigation to talking on the phone via Bluetooth to listening to music.
For His Very Own Bar in the House
You know he would think it was so incredible to own his own bar. Make that happen for him on Christmas by getting him this customized wooden bar sign! He'll be so impressed seeing his name on this sign as it hangs in his home bar or bar area of the kitchen in his home. The cool look of this wooden sign will make the whole space feel like a real bar, and he'll be a huge fan of that.