Bar signs are the piece of decor that really tie the whole room together. However, slimming down your choices from the vast sea of signs made from wood, tin, steel, or even LEDs can be difficult. To get the best sign for your house you need to make sure that it fits your lifestyle exactly! You want to get a bar sign that you can personalize and has something you truly love on it; like your family, games, cigars, whiskey, or beer! Making your sign attuned to what you like is the best way for guests to see what you're all about. We know that you will find the sign that you have been looking for with these hand-picked bar signs!
Tales of the Neighborhood Bar Sign
Rustic and handmade in America, this birchwood sign gives the appearance of a sign made from an old barrel of your favorite alcoholic beverage. The ability to engrave anything you want into every line except for the "Neighborhood" will give your bar that personal touch. Also, the aging on the wood will give your home bar the feeling of establishment, like it has been there for years. Let this personalized sign hang as you and your friends create your own tales!
State Your Business
A bit of state pride never gets old in a bar, let alone your home bar. Find your state and map out you and your friends' drinking experiences! You may be the kind of drinkers who try every kind of beer you can find; if that's you, these signs are the best way to show off your eclectic taste! Mark the area of the state from where you got your favorite microbrew or craft beer! However, if you are loyal to your favorite brand, these signs look great when they're filled with a solid wall of beer caps such as Budweiser or Corona!
Right On Cue
Billiard signs are a great piece of home decor. The classic pool stick and billiard ball design always looks good on a wall of a bar or game room! Mount this sign in your home bar or even in the living room to show that your passion for billiards, "Cold Beer," or "Good Times." This classically styled pool hall sign will be a welcome sight by any guest. Make the night one about good beer and games with this awesome sign!
Beer Barrel Bar Signs
Hit'em with a bit of the old school way! Nothing screams "bar" quite like a tapped keg beer sign! This vintage bar sign makes a big, bold, and a better-be true statement. When you throw this sign up to mark your bar, you had better have cold beer on tap 24/7 for you and all your friends. Establish this sign as yours by adding name, a phrase, and the date of your choice. The rustic pub sign is perfect for any and all beer lovers!
Classic Pub Sign
A personalized pub sign is the perfect way to create a unique feel and style to your home bar! With each line of the sign open for customization, you'll be able to have your bar state exactly what sort of business you are up to! This English style sign is a fantastic way to represent your exact attitude about your home drinking area! Give your bar that classic English feel with two lines and a crown, you're sure to have the fanciest looking sign in town!
Take a Walk Down Bourbon Street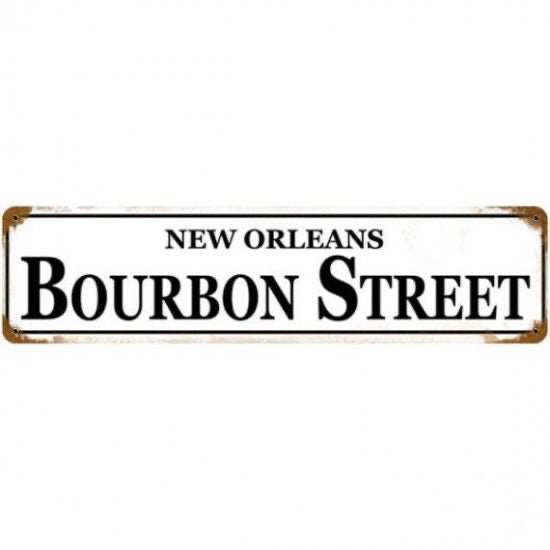 Perfect to sit above any bar is the famous New Orleans Bourbon Street sign. This is a great piece of home bar decor for those who absolutely love their whiskey and the history of one of the most infamous clusters of bars and nightlife in all of America. Whether you place it in the hall, above the bar, or even on your own street sign, for a whiskey bar owner, this sign is a must! Make your home bar represent your love of whiskey with this street sign!
A Timeless Style
Many pub signs feel contemporary, and some of those are left hanging long past their time to come down has come and gone. To avoid such a thing at your home bar, mount a timeless brewhouse inspired sign! This bar sign is great for any house or home bar. With personalizable colors and text, it will match any home decor! For those who like their bar to look just as stylish today as it will in 25 years you need to get a sign that holds the test of time. This stylish brewhouse sign is for you because it will never go out of style!
137+ MUST HAVE BEER CAP MAPS >
The First Rule Is…
You're all about the rules, even when the day is done, you just can't seem to let go of law and order. Even your home bar has rules; however, some of those rules are way more fun than those in your work life. Such as beer can only be drank in the left hand or you have to finish your drink on the spot or that you will be thrown out for saying "literally." This bar sign allows you to make the rules, but be careful, you've got to enforce them too! So yeah, you might need law and order, but drinking rules can be fun and will always get a good laugh!
Seek Shelter in a Good Port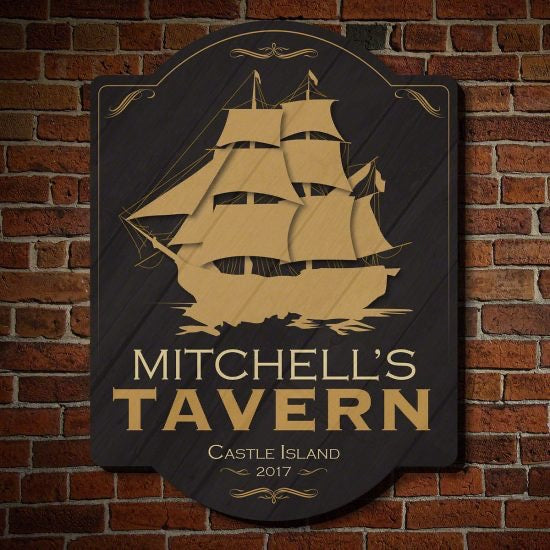 Some guys feel like pirates or sailors while they drink. And hey, sometimes when the good times have been flowing, they even sing like they are too. When your friends are already dropping anchor at your home bar, don't let the missing bar sign be your albatross. Get a bar sign that fits your personality! Don't use other bar signs that don't mesh with how you and your buddies are, use one that shows off your love for the sea!
Which Way?
Although it should never have to be asked, sometimes your friends need to be told which way to your home bar. It should be pretty obvious, but hey, sometimes you still need to show people the way. Other bar signs work to mark the exact location, but this one tells them where to go. Mount this sign anywhere in your house so the next time someone asks, "Which way to the bar?" You can just point to the hand and they'll find their way!
Give This Sign a Shot
Get right to the point with your guests. A lot of bar signs beat around the bush, but here, your sign will tell them exactly what you're about. This tin sign is made in the USA and comes in a full-color print. Be straightforward with your guests. Don't give them an LED sign promising Margaritaville if you don't plan on making any Margaritas. No, at your bar they're in for a night of drinking, and they are definitely going to have a shot poured for them!
Your Very Own Cigar Bar Sign
Tobacco lovers rejoice! You've finally got a sign that announces what you're about! You'll be able to mark your smoking territory and enjoy your stogie in peace! This vintage style sign even allows for two lines of personalized text. Set up your cigar lounge with an altered Game of Thrones quote to show your love and passion for smoking stogies as shooting the bull with your other smoking friends!
Smooth Pour Personalized Bar Sign
For the competent home bartender, a sign that advertises your abilities may be even the best bar sign ever! Before your guests enter, your sign will ensure that they know just how good you are as a bartender. Sure, you can still put your name on it and make the sign yours even if you're not the best bartender around. However, if you've got that smooth pour that's better than you and your buddies' favorite established bar, you need to have this sign!
Speakeasy Martini Bar Sign
You feel your home bar has a bit more refinement to it than others, it has some real old school American class. In your head, your bar is still one of the old speakeasies. Not only does that make it feel like your bar has a bit of outlaw danger to it, but being the bartender, you feel like you've got some of that refined bad-boy behavior too. A martini sign with some of your favorite cocktails on it is the perfect bar sign for you!
A Wall That Brings People Together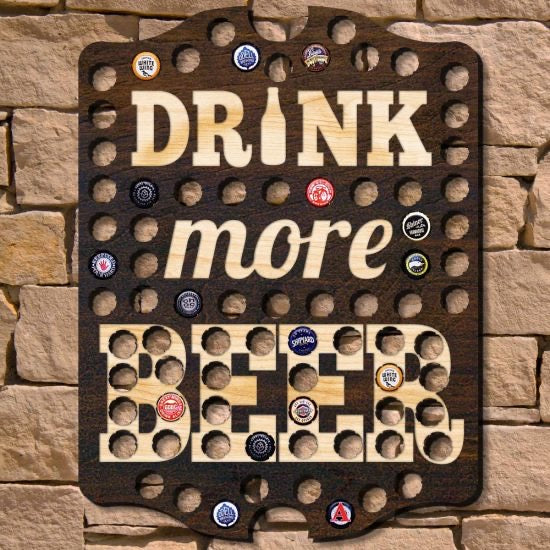 Remember the song from when you were a kid "Ninety Nine Bottles of Beer on the Wall"? Well, you can make that a reality with this awesome bar sign! When you pop the top of your favorite bottle of beer, place it in your new piece of home decor! This sign is a great way to show off all the various kinds of beer you enjoy or show off how much you love your one and only favorite brand!
Livin' in the Limelight
Give your bar the look of the classic nightlife everyone is familiar with! Light your home bar with your own neon sign. You'll be able to tell everyone the bar is open without saying a word, throw this sign up by a window and when you plug it in, everyone will know that for you, the good times are rolling!
Be Bold, Be Uncommon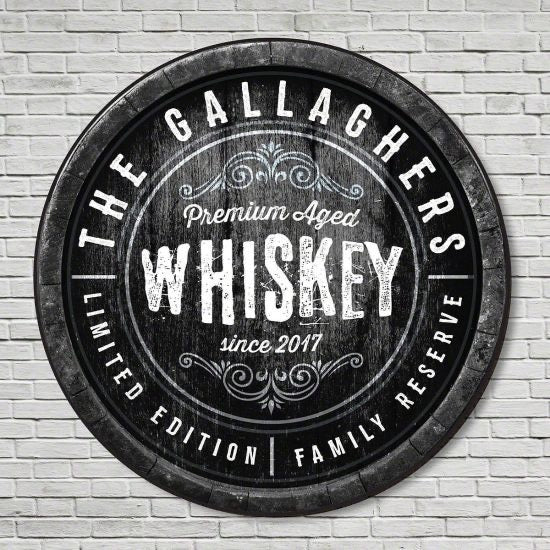 Sure, there are signs everywhere for tequila and all sorts of beer, but whiskey signs are less common. For the whiskey loving bar owner though, this sign is a must. As a whiskey lover, make people know exactly what your bar is about with a personalized whiskey sign that has the rustic appearance of an aged whiskey barrel becoming your new bar sign.
A Smokin' Sign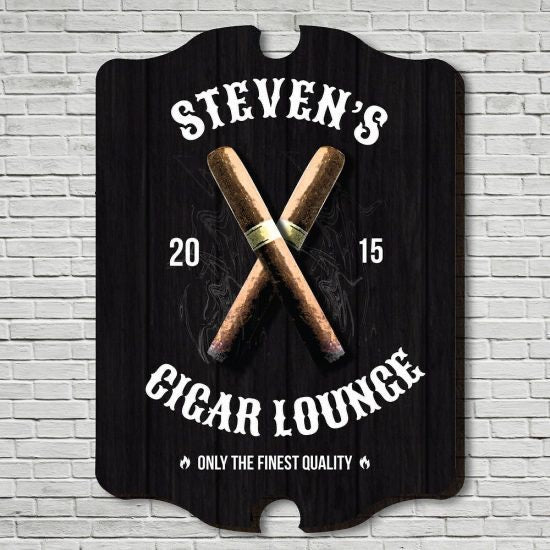 A quality cigar and smoke room are something to be truly proud of. As you know, most bars don't allow smoking indoors anymore, so use this bar sign to show to your guests that you are the haven they need! Enjoy the refinement of high-end tobacco while having some bourbon or scotch from your home bar; all the while being able to look at your own bar sign that shows off your enjoyment of your favorite relaxing hobby!
For the Outdoor Entertainer
Your home bar is a little different than the others. Most people keep their bar indoors, but not you. You love to host all the parties, so not only is your bar an outdoor one, but you've got the grill and tiki torches out and ready to go every weekend for all of the fun! Some signs really don't express what the bar is about, but if you love to grill and serve your guests the best Mai tais in the neighborhood, you absolutely must mount this sign to your bar!
Bee There or Bee Square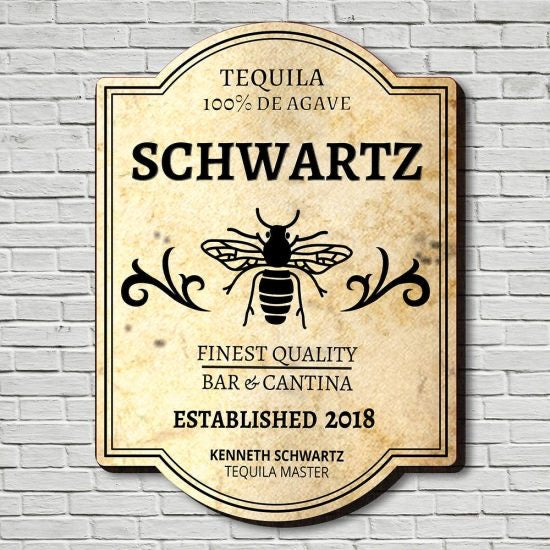 The symbol of the tequila bee has been used to mark quality tequila because of the insects' strong attraction to the blue agave plant. For your home bar where you drink with all of your compadres, you need to do the same. Do you have the best tequila in town, and each weekend everyone wants to come to your place for a drink? Then you deserve your own tequila bee sign to mark what you serve and that you know you've got the best drinks around!
Function and Form
What's better than a good bar sign? How about one that has another function other than simply looking good. This aluminum sign not only marks your home bar as your pub but on the underside also functions as a bottle opener. The sign even comes in seven different colors/shades of aged metal. This sign is a great way to get that aged or reclaimed look of a sign without all the hassle. And don't forget, it can still open your beer. Mount this at your bar and you'll never be short a bottle opener again!
Roll-Back
Your home bar takes what some would call a more pedestrian approach to things, but you don't care. All the bar signs in the world could be in front of you, but you will go with this one because you are the beer pong champ! You played all through college and still love playing any time you and your buddies have some red cups and a ball! This sign will let your guests know you're down for a game any day, any time!
Get Fired Up
After a long day of putting out fires with water, it only makes sense to unwind with some firewater. Heat up the atmosphere in your home bar with this firefighter-inspired bar sign! This sign is a great gift for the hero in your life. If his bar is the rest stop for him and all his co-workers between shifts, let them beat the heat and cool off with a refreshing drink under their own personalized sign!
Prost!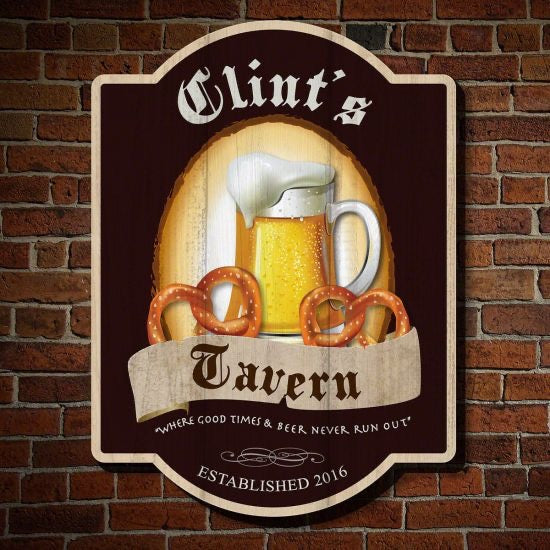 A throwback to the fatherland! Steins, pretzels, and vintage bar signs will give your home bar that old-world feel. Your bar isn't about anything fancy, you stay true to the origins of good food and drink. This vividly colored sign, although vintage in style, is not so in feel. Put the name at the top of this sign to let all your bar patrons know exactly what your home bar is all about!
A True Friend of the Crown
Welcome true friends of the crown! Dilly Dilly! Don't be a Doug with overly complicated drinks that he's really into "at the moment," no one wants that. Your bar is light-hearted and fun, but you enjoy some of the simpler and finer things in life. Other bar signs might advertise exactly what they're doing, but with Dilly Dilly Bud Light inspired sign, you and your friends will know exactly how easy going the atmosphere should be!
Which Way to the Bar
Direct your guests to the bar, or use both arrows to state that you treat your whole house as the bar! But seriously, as an addition to a bar this will go great right outside the doors or if you keep your home bar outside for when you're entering these wooden arrow signs will be a fantastic way to direct family and friends! Never let your friends and family go thirsty, make sure to keep these signs visible so you can help them score a refreshing drink!
Whoop! Whoop! That's the Sound of Da Police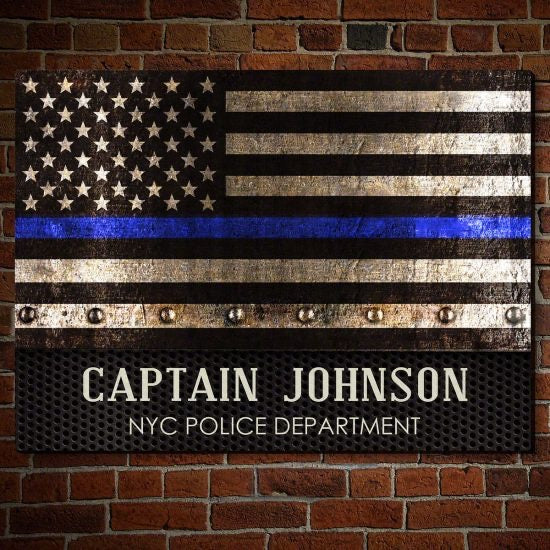 This sign is perfect for the home bar that backs the blue. When the boys finish a long shift and need to unwind, nothing is better than seeing a reminder of why they do what they do. On patrol, they'll see endless bar signs, but at your place, they'll see the one sign that counts. A bar sign with their name and department on a representation of the American flag will really be the finishing touch to your patriotic home bar. Show their department, career, and American pride with this police sign!
60+ MANLIEST OF MAN CAVE SIGNS>
Steadfast Stories and Tall Tales
Anchor your friends and family at your amazing home bar! This sign is great for people who love all things boat or fishing related! "Salty Tales – Strong Ales" is a great saying for enthusiasts of all things water related while they sit around discussing their best water stories over a good beer. Friends and family will unite under your bar sign while sharing some of their saltiest stories of one another. Be the anchor in your world, and steadfast your bar as their favorite place to come to spend time together!
A Wild Sign
This sign is ideal for the person who loves rustic design. The handmade birchwood sign will look great in any living room or home bar. The aged look and style gives the owner a feeling that cowboys and outlaws could stroll right in at any time. With a sign like this on the wall it'll feel like you're walking into a John Ford movie and your just waiting for John Wayne to burst through the door. For those that want to feel like they're Wild Bill, get your bar the sign you know it deserves!
The Neighborhood's Ol' Wateringhole
Home bar signs need to really fit their atmosphere. For the light-hearted bar full of jokesters and pranksters a sport-themed or old-world sign may do the bar a true injustice. Instead, mount up a beautiful piece of home decor that also shows just how easy-going your bar is! Let your guests find the irony in BYOB and serving their own drinks at your fully stocked bar!
A Sign That is Barrels of Fun
Nothing quite shows how much you love wine when you've got your own barrel in the house! However, a whole barrel may take up a bit too much room, for the average person, so why not hang a personalized wine barrel sign? The customization is perfect to show off how much you love your wine and when people come to your home bar they will know exactly what sort of drinks you're all about! Use this wine sign as an opportunity to make your guests just as excited about wine as you are!
Marquee That Your Bar Is Open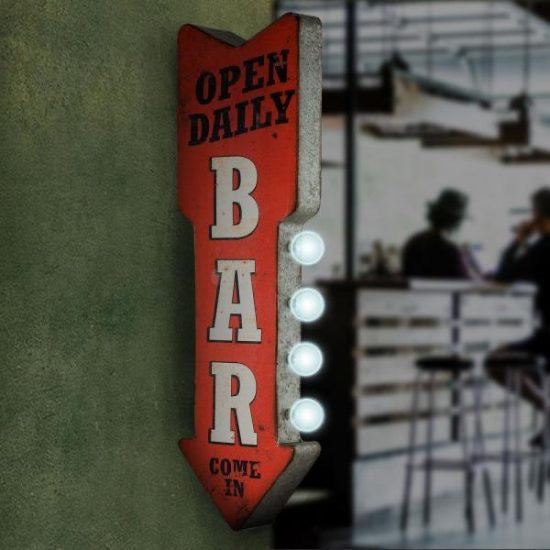 Rock this classic bar marquee sign in your home bar. This double-sided led sign is also battery-powered, so you can put in anywhere in the bar! Give your bar a bit of that vintage feel without sacrificing the brightness of modern LEDs. This is the perfect choice for retro bars or as a gift for the vintage lover in your life! Let them be the neighborhood watering hole that they've always wanted to be!
A Shamrockin' Bar Sign
You've stocked your bar with Guinness, Bailey's, and Jameson. You wear green and love Ireland. Embrace the love of the Irish you're already drinking with this nationally themed pub sign. With a large cloverleaf in the middle and the ability to add a few personal touches toward name and date, this sign will be the finishing piece to any Irish heritage or influenced home bar!
That's The Spirit
You're the kind of guy who is up to try out any kind of drink. You just love the company and the good times that come with a couple of bottles of ale, a nice wine, and a well-made Martini. Mark your bar with the same sort of openness, but with style. Place your name at the top and show everyone that you like it all; from Appletini to mead, if friends are there, you're going to have a drink for the good times!
Jack Daniels Inspired Bar Sign
Proudly show off your whiskey room to your guests. This Jack Daniels inspired sign is perfect for a Tennessee whiskey lover. Mount it at the entrance to the bar or man cave, or, a perfect piece of decor on the inside of the drinking room. Whether they love their bourbons or ryes, this classic American style whiskey sign will have them feeling like they are in the right place to drink some brown liquor!
David Harrington is a seasoned researcher with a degree in English literature. He uses his extensive training and research skills to evaluate thousands of gifts a year. He then narrows that list down to a select few, choosing unique gifts that will surprise and delight his readers and their gift recipients.