While the registry is always a safe place to check for wedding gift ideas, there are plenty of other great gifts out there that the couple will love. Besides, sometimes by the time you make it to the registry and all that is left is something cheaper than you want to give or some of the largest, expensive items. At this reception, make your gifts for wedding stand out with unique gifts that both the bride and groom will love using for years to come. While traditional wedding gift ideas for couples are great, you know some of these modern and unique gifts will be just as loved by the newlyweds as anything else on their registry!
Personalized Gifts for Wedding
Celebrate their time as newlyweds with a set of gifts for wedding that they'll never forget! This engraved decanter set is the perfect gift for them to use for years! Not only does it look great, making it a fantastic centerpiece piece, but it also will have their name and wedding date on it! There is no better fitting gift that will help them celebrate future anniversaries than this engraved decanter gift set.
A Classy Wine Set for the Bride and Groom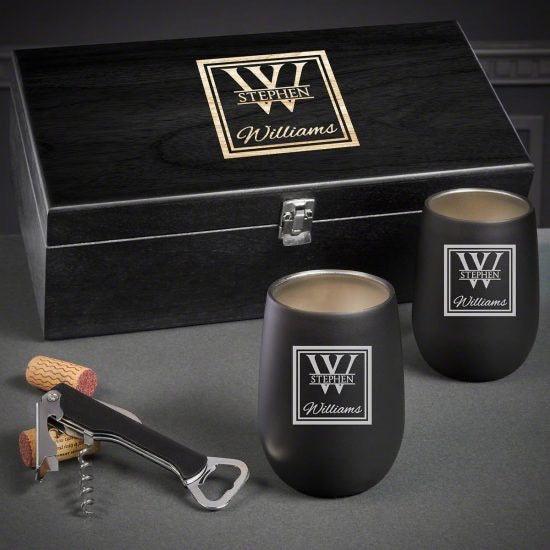 Give a toast to the happy couple with the coolest engraved wine tumbler gift set you've ever seen. The tumblers are made from stainless steel which means they are nearly as indestructible as the couples love for one another! Plus, when they are going through all their gifts, writing thank you cards, or relaxing at home after planning a wedding, is there any drink more fitting than wine? Nope! However, with this modern blackout set, they'll be able to have perfectly chilled Riesling as they sign all the thank you cards for their guests!
For Their Memories
Although they'll have thousands of pictures from their photographer, friends, and family, nothing will bring a tear to their eye quite like seeing her wedding bouquet every day which has been preserved perfectly inside their custom shadow box. Better yet, if you give this gift before the wedding, they can also use these champagne flutes as a unique way for them to celebrate their wedding at the reception.
Watch This Case Be Better Than All Their Other Gifts
If there is one thing that will help keep a couple together, it is organization. No one wants to have their side of the mantle or dresser taken over. Help them keep their watches and accessories in perfect order with this unique watch case with a valet tray as one of the most unique ideas for wedding gifts. Now, when they're getting ready in the morning he can find his watch and she can find her earnings with ease!
523+ GREAT GIFT BOXES FOR WEDDINGS>
Mix Things Up with Great Ideas for Wedding Gifts
Cooking in the kitchen has never been as easy as it is with this KitchenAid mixer set that comes with all the attachments anyone could ever need. These mixers makes some of the best wedding gifts. Whether they keep things simple as use this for basic cooking or end up using every single attachment to try to make every dessert made on the Great British Baking Show, they'll simply love having such a high-quality and high-tech set of ideas for wedding gifts!
Elegant Glassware Ideas for Wedding Gifts
Get a gift for the couple that looks as elegant as her dress on their wedding day with this custom twist glass box set as one of the most perfect gifts for wedding you could possibly hope to give. Each time they go to have a toast with the custom glasses they'll be transported back to their magical day together on the aisle. Add in a bottle of their favorite bourbon or whiskey, and you'll have given a great gift they can enjoy right away as well as for years to come!
The Perfect Wine Gift Box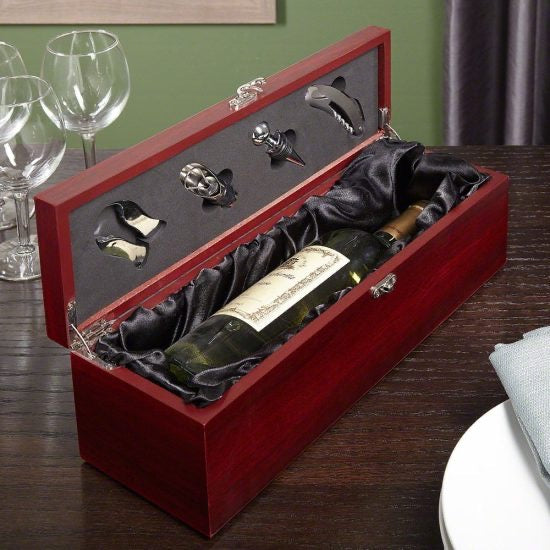 Don't settle for a bottle of wine inside a brown paper bag at the next wedding you go to. They got all dressed up to walk down the aisle so the least you could do is dress your wine up too! This wine tool gift box is also the ideal way to present a gift to the newlywed couple. They won't have to go diving in search of their wine tools to enjoy their new bottle, all they have to do is open the lid and they're strapped with all the best wine tool gifts.
Make Their Own Rings Be From the Wedding
The rings that they slide on before saying, "I do," are the only rings they should be seeing daily, so make sure their coffee table doesn't have any coffee or cold drink rings left on it with these personalized marble and wood coasters. Who doesn't want a good set of coasters anyway? It doesn't matter if this is for their chilled wine at night or morning breakfast tea, they're sure to use these gifts for wedding every single day.
Wine and Weddings are the Perfect Pairing
Make their first toast at home as a married couple as special as possible with a personalized wine gift set that has their name on quite literally every single piece! There are bound to be a few bottles of wine inside their gifts from the wedding, making this one of the most useful post-wedding gifts ever! Plus, thanks to the crystal stopper, they don't even have to finish each bottle right away. Instead, they're able to enjoy fresh wine night after night, thanks to this whole set!
Classy Cutlery
They've been using the same cutlery since they were in college. That means between their two silverware collections they have multiple different designs, fewer spoons than forks, and they may not even have more than one butter knife. Help them find their way into married life with ease with this luxury cutlery set that will have them feeling like the classiest of individuals, even when they're enjoying the simplest of meals.
A Perfect Box for Gifts for Wedding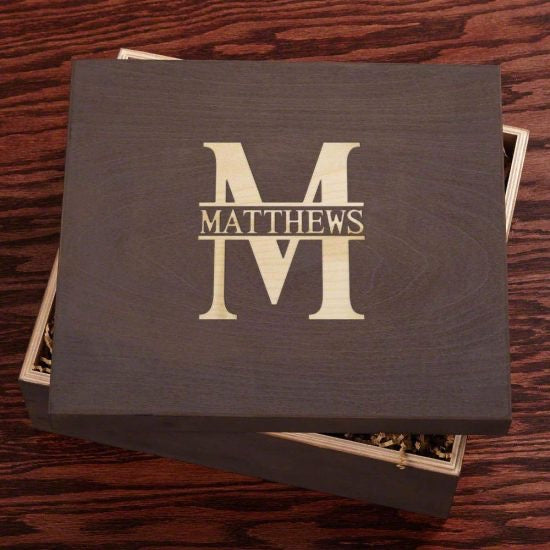 Got a gift or a few gifts for wedding that you really want to give to the happy couple but simply don't have a good way to present them? How about getting a classy gift box that has their shared last name and initial engraved right on the lid? This is the coolest way to give them a box full of snacks, photos, cards, or other sentimental gifts!
Monogrammed Cutting Board for the Married Couple
The couple that cooks together stays together! That is exactly why a monogrammed cutting board is a fantastic wedding gift. Sure, they may have a cutting board, but after years of use it is dinged, battered, and overall just needs to be replaced. This hardwood gift won't just last for years with proper care, but it will also bring a smile to their face each time they see that it shares their initials as well as their shared last name!
Presenting the Perfect Gift for the Mr. & Mrs.
Now that they are getting married, some ideas for wedding gifts should focus on things they would love to have in their home like their own engraved whiskey presentation set. This is a great gift for the two of them to celebrate with a toast on their anniversary, each other's birthdays, the holidays, or even just because. This gorgeous set of glassware is even a great way for them to entertain guests since it will always be out on display on their home bar or coffee table.
A Gift to Espresso Your Feelings
One thing has kept them moving over the past few months as they have planned their wedding, and that is coffee! Coffee has fueled their lives every single day, from the times they were finding a venue all the way to finalizing the seating plan. Now that all the chaos is done, let them enjoy a hot cup of Joe under their personalized coffee bar sign. This unique piece of decor will go in their favorite nook of the house where they can enjoy their favorite caffeinated beverage!
331+ GREAT SIGNS FOR A COUPLE'S WEDDING>
Give Them a Spa Day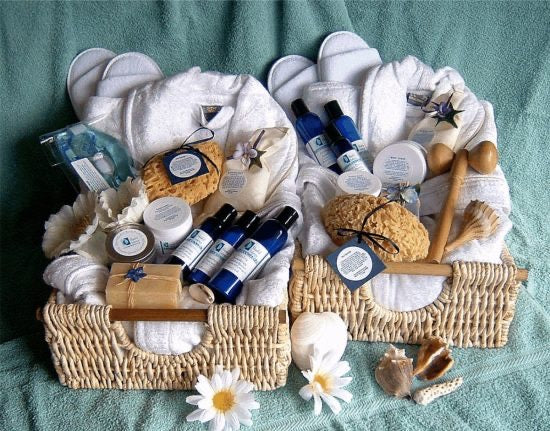 After months of planning a wedding, every couple could use a spa day to unwind. Give them each their own individual spa day gift basket that lets them unwind in the comfort of their home or hotel room during their honeymoon. Each set has slippers, a robe, and plenty of soaps and candles to simply melt the stress away. Talk about useful gifts for wedding!
A Custom Whiskey Gift Box
Give them a gift box set that not only lets them celebrate their wedding with a drink but that you can also fill with sentimental items like photos, signed cards, or other special trinkets. This personalized whiskey gift box is the perfect way to give sentimental items as well as an awesome gift too!
Make Their House a Home
Their house has never felt so much like a home when they walk through it the first time after being officially married. However, now that they are married, home is wherever their partner is, which is what makes this the perfect, custom home sign. Home will always feel less like a house and more like a special space for them and their partner.
Wine Gifts for Wedding
A great gift for their wedding as well as for every anniversary to come? Yup! This is the perfect gift that they can use every single day to have a glass of wine but could also save for monumental occasions like their anniversary. Thanks to the unique engraving of their names and wedding date, this wine tool and stemless glass gift set is the perfect gift that will quickly become one of their most sentimental and prized possessions.
Decanter Sets are Great Ideas for Wedding Gifts
Still in need of great ideas for wedding gifts? Get a gift that is almost as classy and elegant as their wedding with this personalized whiskey decanter gift set. Every day when they see this glassware on their countertop or home bar, they'll feel like they are back in the ballroom or church they got married in thanks to the gorgeous engraving as well as the unique base of the rocks glasses!
Unique Outdoor Furniture
When a couple gets married, most of the gifts for wedding end up being things that they will be enjoying inside. But what about the great outdoors? Ensure that they get their daily dose of sunshine with this awesome looking outdoor dining table gift set! Treated to last for years, this teak set will become their favorite spot to sit down and enjoy a home-cooked meal or to gaze at the stars on a warm July evening.
Keep Their Relationship Fun
A couple that can be competitive with each other or enjoys playing a game with one another will always have a smile on their face which is why a personalized bean bag toss set makes for a great set of gifts for wedding. This could even be a fantastic idea to give to them before the wedding, this way, at the reception, people can play a game of bags or even sign the boards!
199+ UNBELIEVABLY AMAZING GIFTS FOR COUPLES>
David Harrington is a seasoned researcher with a degree in English literature. He uses his extensive training and research skills to evaluate thousands of gifts a year. He then narrows that list down to a select few, choosing unique gifts that will surprise and delight his readers and their gift recipients.