The best way to enhance every bottle of wine you drink is by first putting it into a wine decanter. These pieces of glassware help to oxidize and enhance the flavor of your favorite drink; so, they don't only function but they are also great to look at too! Although the wine that benefits most from decanting are young reds, all wines will get a flavor boost from the oxidation and removal of sediment with the use of a decanter. So, not only will your wine taste better but when you're drinking from your own decanter, your wine will become an entirely new experience inside your own unique wine glass. The same wines you have been enjoying, will go from a regular drink to one that makes you feel so much more refined and classy because of how the decanter will enhance their flavor. These unbelievable wine decanters are the best around when it comes to their aesthetics and to making your drinks taste even better!
A Wine Decanter Set for All Occasions
Open your wine and taste buds up to a whole new world of flavor with your very own matching decanter set! You've got a taste for wine and enjoy pairing it with every dinner, so make sure it is always the best it can be with your own decanter set. You and your spouse will love the near flavors coming from your old favorites, all because of your new awesome decanter set up! Your shared drinks will never taste as good as they have now, especially because you've got an incredibly engraved matching set, from glass to decanter! Feel like the stylish couple with a decanter you'll want to use every night!
A Stylish Decanter
One of the coolest things about wine decanters is they can come in incredible shapes just like this one! The narrow neck and wide bottom are all you need for it to decant, so choose one that makes you feel as classy as your wine tastes with this stylish decanter. At dinner parties, get-togethers, and even over the holidays, you'll be celebrating with your favorite drink which makes it easy to show off your great looking piece of glassware!
For When You Need Wine Now
Now, aerators often get lumped in with decanters, so it is worth putting them here too. However, that doesn't mean they aren't awesome and don't deserve a place in your home, because as a wine-lover, they definitely do. This wine aerator set will have you ready to enjoy your favorite bottle of wine at the drop of a hat! Say you didn't plan for company, or were gifted a bottle of wine you want to enjoy right this second, just pour your wine into the large aerator, and then your glasses, and bam! You've got oxygenated wine perfect for tasting and exploring all aromas that you would have to wait at least 30 minutes to get from a decanter. Talk about an awesome set of unique wine glasses!
The Best Decanter as a Stylish Centerpiece
Open a bottle of wine and quickly enjoy it after pouring into the best wine decanter you've ever seen! People will love asking about this piece of glassware at wine and cheese partiers, get togethers, and more. This easy to use decanter will make your drink look as good as it tastes thanks to the fantastic glasswork. Make sure your decanter always ends up becoming the center of attention at your gathers, not just because of the wine inside, but how great the decanter makes the wine look! 
185+ WONDERFUL WINE GLASS GIFTS>
A Most Unique Aerator
The next time you decide to aerate your wine, make sure to do it in front of guests with this awesome crystal aerator. Not only are you making the wine taste awesome, you're putting on an awesome display for your guests as the wine is poured and crashes down and around the all the turns in the aerator. In fact, this year of the snake inspired decanter will have you looking and feeling like a true wine sommelier!
The Coolest, Classy, Crystal Decanter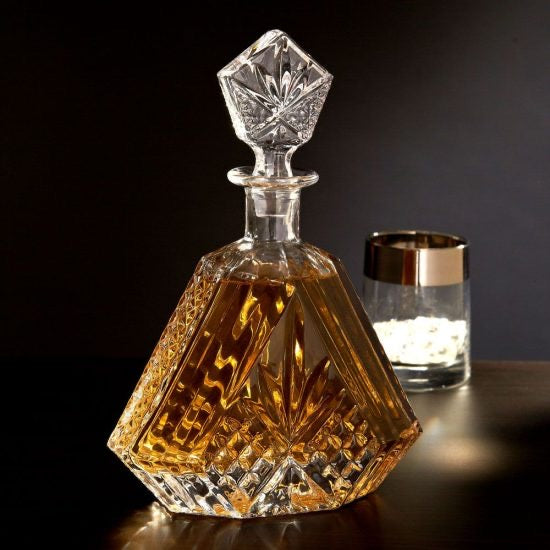 As a classy person or as someone who wants to use their decanter for special occasions, use this awesome crystal wine decanter! The unique design allows this decanter to work well with not only wine but whiskey too! As your wine begins to breath, you'll stare in awe as you see the gorgeous glassware come to life as your wine of choice enhances all the shadows and edges from the gorgeous crystal decanter. Embrace classic crystal styling with this awesome decanter!
For the Fullest Flavor
If there is one thing a wine enthusiast will always love getting as a gift, it is the newest and coolest wine decanter. This two-in-one decanter will cover all of their wine needs! Working as both an aerator and decanter, they're wine will be fully exposed, allowing for all the tannins to be tasted. Plus, it has gold on it, how much classier or cool can you feel than when your decanter has gold on it?
The Most Fun Wine Decanter Set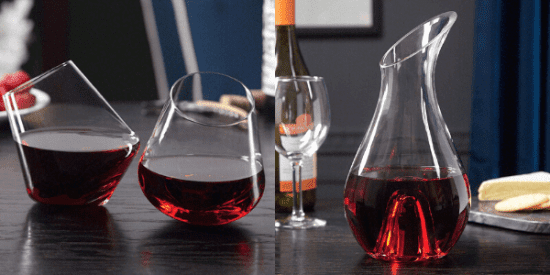 Although drinking with a decanter always feels classy and refined, that doesn't mean you can't have fun while doing so. After your first round of decanting, have some fun with a set of rolling glasses! These glasses are the perfect way to swirl your glass a few more times and have a great time doing it! This set is ideal to use every day for every wine enthusiast who wants to have a good time while simultaneously getting the maximum flavor from their wine.
Here Comes Treble

Having treble find the right wine decanter? Sorry, the pun had to be made. But for those who want something elegant, but different from the norm, there is this awesome looking musically inspired decanter. And be real, who doesn't like music? This is a great centerpiece for your home or even at an event. Everyone will be talking about your gorgeous decanter, and the next thing you know, you've got an awesome conversation going about your favorite music and why you got the decanter!
The Classic Decanter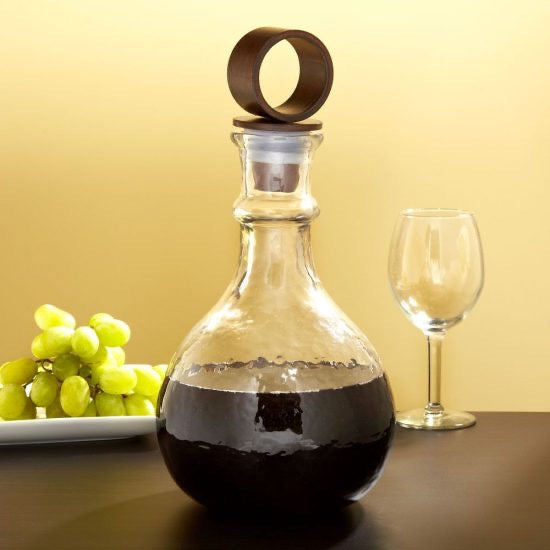 Stop, hammer time. Use this rustic, but elegant piece of hammered glassware will be the best wine decanter you've ever had! The classic shape and style of this decanter make it perfect for all decanting occasions. You can have it ready to go for a night with your spouse, or thanks to its large volume, you can use this when hosting plenty of guests. Enjoy this decanter that has a classic styling that has lasted centuries without going out of style!
The Perfect Minimalist Wine Aerator
You may already have a set of glasses you like, or you only want to aerate once. That is totally fine, you know the wines you enjoy and some do not need as much agitation as others. This aerator is the ideal way to open up all the flavors sealed away in your red wines! Set it out on the table, pour, and watch as jaws drop! They'll love watching your wine swirl and crash to create the flavors they can't wait to taste.
A Timeless Decanter Style
Feel like you're in an older time as you pour, drink wine, and be merry from this classically styled decanter. Use this decanter for any occasion from your nightly dinner all the way to fancy parties where you want to show off how great your wine looks before serving it! These simple, elegant crystal decanters are truly great because they go with any style and for any occasion!
The Perfect Wine Decanter for Couples
Give the wine-loving couple a decanter set they'll never forget. Perfect for both special occasions and date nights alike, this custom engraved decanter set will have them thinking about their wonderful wedding day and the wines they had to celebrate. Have them relish some of their best memories as they make new ones while they enjoy their favorite drink out of their new personalized decanter gift set!