Step up your gift-giving game with over-the-top, amazing gift baskets! People love getting gift baskets because they have a variety of items in them, which makes the gift feel like multiple presents in one. Luxury gift baskets are a step above average because they showcase gifts that you can treasure forever, making them more meaningful. Looking for a really nice gift basket as a present for your boss? Having trouble finding a man's gift basket for your husband or boyfriend? Are you wanting an awesome gift to celebrate a coworker or employee's retirement? You'll find any and every gift basket for all occasions below!
Luxury Gift Basket All About Whiskey and Cigars
When it comes to refined hobbies like whiskey tasting and smoking cigars, a luxury gift basket like this set can make your favorite vices even more enjoyable.
Review by Mo: "Very nice product. Husband loved the authenticity."
Review by Debra: "Such a great product. Looks exactly how I wanted it and the shop was amazing at working with me to get things that would work for what I wanted in this gift when things I first tried to order were out of stock."
Classic Wine Glass Set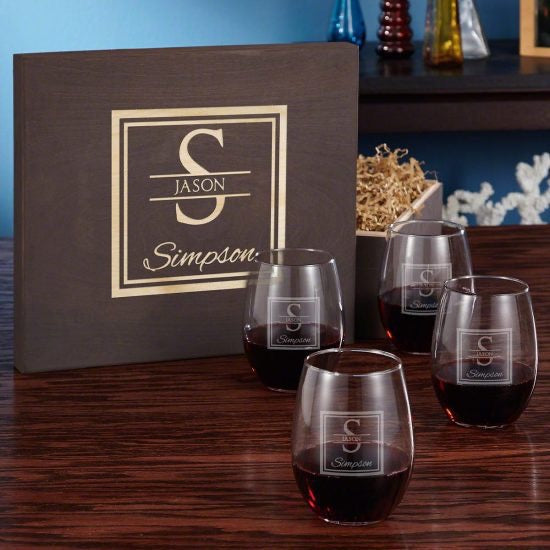 Forget your standard cheese and cracker gift basket, go above and beyond with this luxury gift basket full of personalized wine glasses!
Review from Donald: "This hit the spot, it is very personal and is very professionally done, looks like a million bucks"
Vintage-Inspired Luxury Gift Basket
Review by Chris: "I bought the engraved whiskey gift set for my wife celebrating our 5 year anniversary (Theme: Wood). We were very impressed by the high quality of the products and the sheer beauty. The beautiful engraved box has become a talking piece. Everyone asks about the beautiful box and glasses. I recommend H.W.B. to everyone, and will be shopping here again."
The Perfect Gift Basket for Beer Lovers
Review by Kelly: "I bought this set as a wedding gift for a couple who likes beer and I was able to have both of their first names on the first line, their last name in the middle, and their full wedding date on the bottom. Everything came out perfect!
The Ultimate Whiskey Experience
Why settle for a bottle of Macallan when you can gift an entire set of custom whiskey tasting glasses? Any whiskey connoisseur will be awestruck by this luxury gift basket!
573+ WHISKEY GIFTS AND GIFT BASKETS>
Gourmet Treats for Everyone
Review by Shih: "The basket was ideal for a big family with diverse desires in food and love surprises. The size and diversity apparently impressed them and who can go wrong with lots of chocolate. The price was what caught my eye first out of curiosity and when I saw the detail and quantity, I knew it was a winner. There is a great distance between us so not knowing what each desired, this covered something to impress all."
Simple but Elegant Gift Basket
Review by Gloria: "I gave this man gift basket as a Father's Day gift to my husband, with the idea that he'd want to have it in his office. He absolutely loved it! It's sturdy and elegant. The case has a very nice finish (I highly recommend to personalize it, it gives it a perfect, sophisticated look) He placed it on our bookshelf that's in our living room; easy access and even seems as if it's on display. So now instead of playing solitaire, he's putting"! I recommend this to anyone who enjoys golf."
A Man's Gift Basket Through and Through
You can never go wrong with a whiskey decanter set, especially when it's made of the finest crystal and the glasses actually hold cigars for you. Talk about luxury glassware!
Review by Laketa: "Absolutely loved it!!"
Manly Man Gift Basket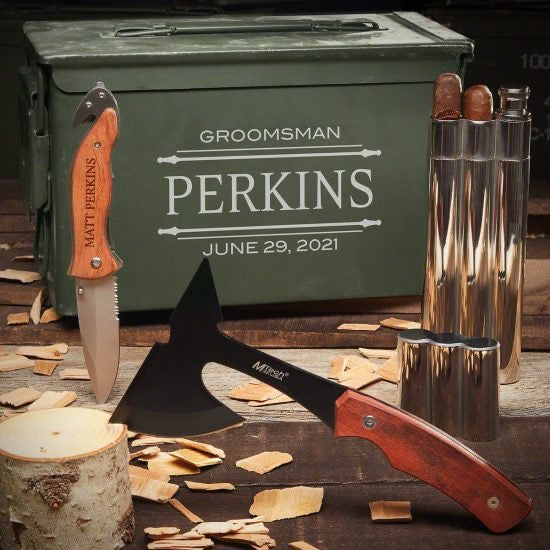 Review by Stephany: "So amazing! I got this set for my dad for his birthday and he loved it! I bought a few things to put in there. Well made, opens easily. Engraving is done beautifully."
Not Your Average Luxury Gift Basket
Some luxury gift baskets have themes, and some have a wide assortment of items. This practical gift basket is the perfect go-to gift for men thanks to its versatility.
Review by Jason: "My best man and groomsmen all loved this as a gift! They were customized perfectly and shipped very quickly."
A Luxury Gift Basket with All the Snacks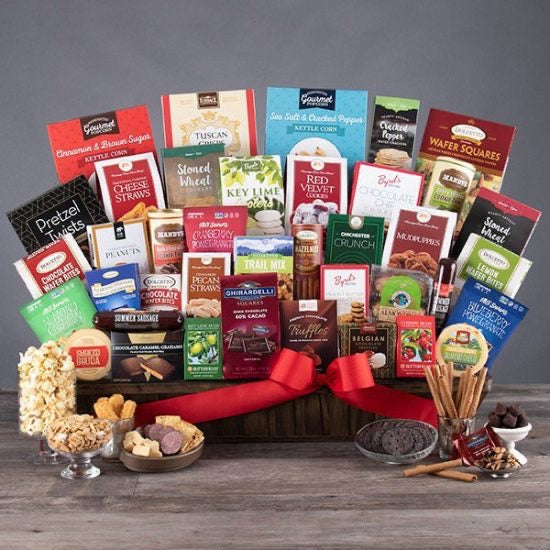 Review by Bette: "Basket was beautifully assembled with a delicious & inviting choice of treats. All in all, it exceeded our expectations."
Unique Gift Set
An Amazon Customer said: "I ordered one of these man gift baskets for my brother's birthday and it came out awesome!! I'll be getting one for myself soon as well"
Gorgeous Crystal Decanter Set
Last but not least, a crystal decanter set dressed to impress your boss, husband, or father.
Review by AA: "I ordered this on a Friday thinking I would be cutting it close for the birthday boy I intended it for, it arrived 3 days early, in perfect condition. I may be more excited about it than he is!"