You want to buy him a super unique and creative gift that is a full, immersive experience. That means, you're searching for 5 senses gift ideas that are perfect for him. These cool gifts appeal to his sense of sight, touch, sound, taste, and smell which will make this a fully-immersive gift that is unlike anything he's ever gotten before! When you're searching for gifts that appeal to all his senses, the first thing on your mind may be "Where do I even start?" We'll, you've come to the right place! We've got the ultimate 5 senses gift ideas for him that he will absolutely love! Each gift has been carefully curated to make sure it perfectly appeals to his sense of sight, touch, sound, and smell!
Beer and Cigar 5 Senses Gift Ideas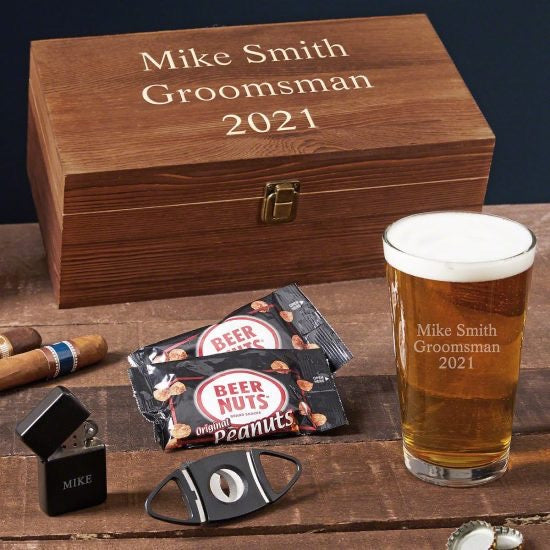 A customized beer and cigar set is the perfect place to begin addressing all 5 of his senses. The sight of the smoke drifting from the end of the cigar and the rich color of his beer will bring him joy. He'll greatly enjoy the taste of his favorite beer and beer nuts, and he'll love how it combines with the smell of his stogie. Before he lights the cigar, he'll roll it in between his fingers, feeling it and listening for the faint crackling sound that means it's perfect and ready for him to enjoy. This is the perfect set to appeal to all 5 of his senses through tasty hops and smooth smoke!
Sense the Best Whiskey Gift Ever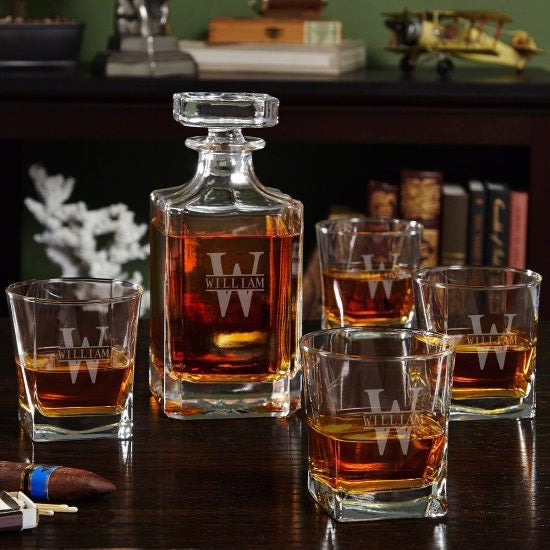 You know how a gift of a whiskey decanter set appeals to his sense of taste, but what about some other senses? As far as sight goes, he will really like how this decanter looks displayed on his mantle or home bar, especially when it's full of his favorite whiskey. As he swirls his whiskey in the glasses, it will oxidize, enhancing the aromas, and the touch of the whiskey on his lips will feel fantastic. This is a great 5 senses gift idea that will help him fully enjoy his whiskey.
Outdoorsy Gift Set
Any time spent outdoors is time well spent for him, especially once you gift him this awesome ammo can tool set. The sweet smell of freshly cut wood will waft through the air after he uses his hatchet to chop up some lumber. He'll love how strong he feels as the hatchet meets the wood, and the sound it makes will bring even more satisfaction. When he wants to take a break, he can enjoy the delicious taste of his favorite liquor from the flask. As he drinks, he'll admire the personalization on his ammo can because it looks so awesome.
Party Time 5 Senses Gift Ideas for Him
You know your man loves hosting parties in his backyard, which is why this 5 senses party pack is made up of fantastic gifts for him. As he plays bean bag toss with his guests, they'll feel the bean bags with their hands as they try to sink them in the hole, and taste the sweet taste of victory when they win. Their victorious cheers will echo throughout the yard, drifting over to the attractive tiki bar sign that looks so cool hanging in the backyard and gives the party an awesome vibe.
The Perfect Beer Mugs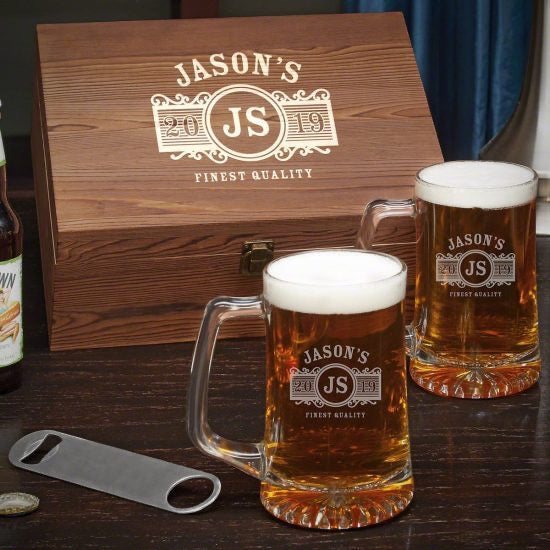 This beer gift set is a phenomenal 5 senses gift idea for him because he'll love seeing his name on this box and beer mugs. When he hears the "Phsst" of the bottle opener popping off the cap of his beer bottle, his mouth will immediately begin watering. The hops in his beer will taste as good as they smell when he hoists his ice-cold mug up to his mouth for a sip.
343+ AWESOME BEER GIFTS FOR HIM >
Grooming Set for Him
Men want to look good and feel confident in their appearances, which is why this grooming set is a great gift for him. As the facial trimmer makes a buzzing sound, he'll glide it across his face, trimming his facial hair and making himself look his very best in the mirror. The oils, creams, and balms will smell delightful as he lathers them onto his face. He'll love the way his face looks and feels when he's finished shaving!
Poker Night Senses
Truly enjoying the game of poker simply cannot be done without this poker gift set and cigar glass. He'll have a blast hosting a poker night, sipping and tasting his delicious whiskey as he looks around, observing everyone's faces to figure out who is bluffing. The feel of the clay poker chips beneath his fingers will give him a sense of power as he decides what moves to make. The smell of a nice cigar is absolutely umatched, and he will always love hearing the sound of the cards as they are bridged for a shuffle.
Cut It Out
This cutting board is the ultimate 5 senses gift idea for him for when he's in a "chopping" mood! He'll love how awesome this cutting board looks with the personalization in the center, and the sound his knife makes as he chops different foods on it will be extremely satisfying. The bamboo feels smooth as he grips this board, and the food he chops will smell and taste fantastic.
Legendary Whiskey Set
Sometimes, a whiskey box set is all he needs to experience all his senses. His whiskey will smell and taste phenomenal coming from these glasses, and it'll stay feeling nice and chilled on his lips when he uses the whiskey stones. The sound made as he plops them into the whiskey will be extremely satisfying for him, as will the appearance of the handsome wooden box. He'll love continually using this gift set, making it a perfect 5 senses gift for him.
Tee-Rific 5 Senses Gift Ideas for Him
The perfect 5 senses gift idea for the golfer in him is this pair of golf gifts: this golfer flask and display case. He'll love being able to taste his favorite spirit while he's out on the golf course, and he'll really appreciate how lightweight the flask feels in his pocket. The smell of fresh grass on the green will fill his nose as he enjoys his liquor. As mementos from his golfing adventures, he can store golf balls in this display case. He'll be a huge fan of how it looks hanging on his wall as well as the sound the golf balls make every time he adds a new one to his collection.
What Time is It? Wine Time!
You want him to be able to completely relax, and there's nothing quite like being able to chill and take in your wine-drinking experiences. He'll definitely be able to take in that feeling with this wine gift set. The sound of the cork being removed from the bottle will make him ready to indulge in some delicious wine. He'll love swirling his favorite wines, taking in the aromas, before tasting the first amazing taste. He'll be a huge fan of how sophisticated he looks as he sips his wine as well, and he'll love how the long stem feels in his hands.
5 Senses Gifts for Relaxing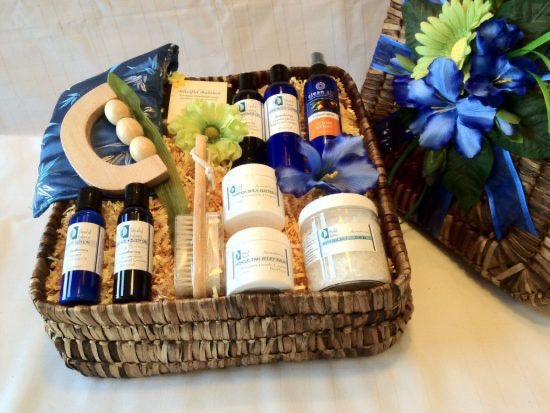 Sometimes, the perfect 5 senses gift ideas is a gift for an at-home spa day for ultimate relaxation of all senses. This spa gift basket includes Himalayan bath salts that will make a diffusing sound as they dissipate in the bath. With the muscle pain relief balm, he can feel healed from every muscle pain, and he can then use the various lotions so his skin feels smooth. The smells from the oils and lotions will put his mind at ease as well, leading to total relaxation.
Classiest 5 Senses Gift Set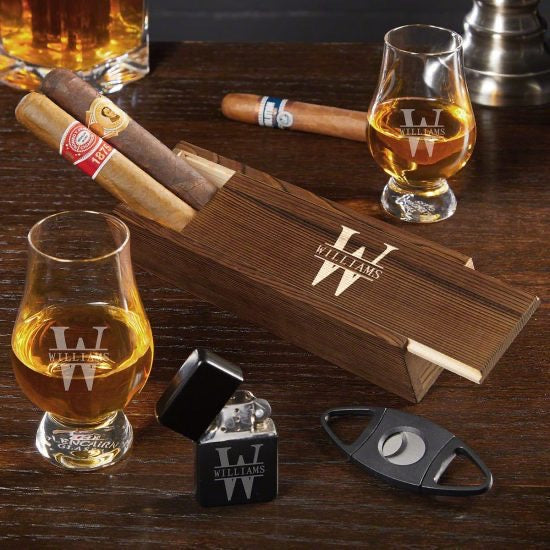 Whiskey and stogies can appeal to all 5 senses when you buy him this fantastic gift set. His whiskey will taste like never before when he's using these Glencairn glasses, with the shape directing all the good aromas straight to his nose. They'll feel lightweight and perfect in his hands as he sips his favorite whiskey. The sound of lighting his favorite stogie will make him smile every time, and that classic cigar smell will only add to the fantastic vibe. The look of the classy, custom set will make this an even more terrific 5 senses gift idea for him.
489+ UNBELIEVABLE 5 SENSES GIFT IDEAS FOR HIM>