Men love all things wooden whether it's rustic decor for the home or building materials for a new DIY project. It is only natural that they love wooden gifts! Wood is a cool, manly material that is known for being durable, sturdy, natural, and attractive. Whenever they see a rustic decor made entirely of natural wood, they are drawn to it. They love going to the freshly cut wood section in Home Depot and inhaling that woodsy scent as they pick out the pieces they need for their next project. Wood gifts for men are great for any occasion because you know you're giving him a gift that will last for years, won't go out of style, and is all about nature. What's not to love? The best part is that gifts made of wood come in all different forms from decor to box sets! You're sure to find an awesome gift for the guy in your life among these unbeatable gifts.
Wooden Gifts for the Whiskey Lover
Your outdoors-loving man is all about spending time in nature, but he also enjoys having a glass of whiskey in the evenings. He's a sophisticated, manly guy who knows the ins and outs of whiskey, but you know that he doesn't have very many tools for enjoying it properly at home. Help him out by getting him a whiskey gift set that comes with the essentials: two double old-fashioned glasses and a set of whiskey stones! He'll at first think you're just giving him a handsome, rustic wooden box that's engraved uniquely for him. When he opens it up and sees the whiskey glasses and stones inside, he'll be speechless! Once he pours the two of you a drink with his new gifts, he'll need a new purpose for the engraved wooden box. He can use it to store anything from his watch collection to bar tools, or even to keep a prized bottle of whiskey hidden for safekeeping.
One of the Most Unique Wood Gifts: A Fun Game!
The best wooden gifts for him are ones that he can use for many years. After all, wood is a durable and sturdy material that's meant to last a long time. How about a fun game to play with his family and friends? This bean bag toss game is made of American birchwood and is coated with a special UV-resistant paint that will ensure the design lasts for years, even if it's kept outside! He will love having a classic game that he can share with his buddies at a BBQ or to teach the grandkids how to play at Thanksgiving. Thanks to your amazing gift, he'll have a fun game to enjoy with all of his loved ones for years to come.
An Unbeatable Decanter Set in a Wood Box
The best gifts come in boxes, especially wooden ones! Once he sets up the decanter and glasses from this beautiful set on his home bar, he'll have a handsome wooden box to use for storing anything from bartending tools to photo albums. Men love getting gifts that are practical and useful, especially ones that can be used in multiple ways. The walnut finish of the wooden box will match any decor perfectly, so he can even use it as a display piece for his home bar or home office. Everything in this exquisite whiskey gift set will last for years to come. One anonymous reviewer bought this as a birthday gift: "I ordered this on a Friday thinking I would be cutting it close for the birthday boy I intended it for, it arrived 3 days early, in perfect condition. I may be more excited about it than he is!"
The Coolest Wooden Beer Box Set
Wooden gifts aren't always about the outdoors, they can have a little something for being inside too! This beer growler gift set is the perfect example. The growler is great for traveling with beer, but at home, the pint glass and bottle opener will be welcoming him home. He'll want the whole set on display prominently in his home as it declares him the coolest guy in the world. He could have the wooden box sitting on a side table storing special keepsakes or yearbooks as a unique piece of decorative furniture.
Rustic Decor Make the Best Wooden Gifts
Men love wooden decor. It's rustic, natural, and just looks cool. You're looking for a unique wood gift for him because he's all about decorating the house with wood art. Naturally, a personalized wooden sign is the perfect gift for him! This awesome sign is the ideal gift for a man who loves to grill and loves rustic decor. He'll feel like a true grill master with this cool sign on display in his kitchen or on the patio. He'll love the natural wood look and that it fits perfectly with his existing decor. Whether it's a birthday, anniversary, or housewarming gift, he will absolutely love this sign!
289+ WOODEN SIGNS HE WILL LOVE>
A Luxurious Wooden Watch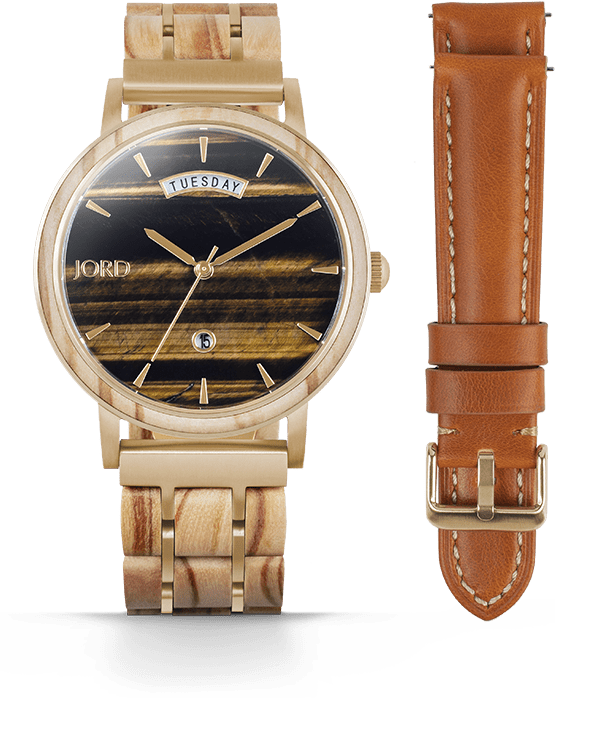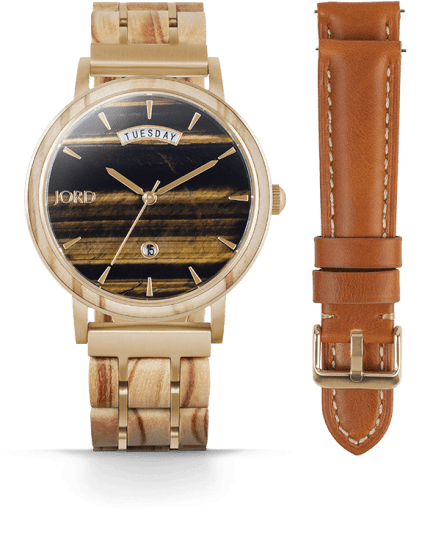 Wood gifts don't have to be decorative or household items. In fact, they can be stylish accessories too! Every guy needs a watch, and what's a better choice for a man who loves all things natural and rustic than a wooden watch with a tiger eye face? This handsome watch is quite an attractive timepiece, and will easily go with anything he wears whether it's a three piece black suit or every day T-shirts and cargo shorts. He'll love everything about this luxurious watch, and it's the perfect gift for any occasion!
Add a Wooden Tap Handle to His Home Bar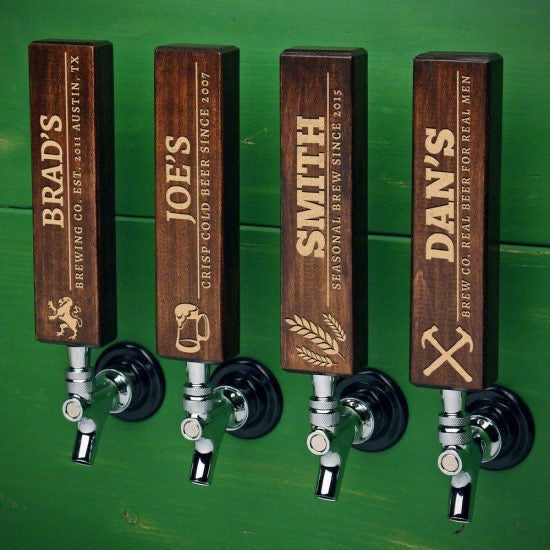 Give his home bar a touch of nature with wooden tap handles! His home bar will go from a casual everyday home bar to a rustic, professional brewery. He'll love having an actual tap handle to serve beer from a keg like an actual bartender. Once he installs a couple of these custom tap handles, he'll be hosting beer tastings and parties all the time just so that he can show off his awesome home bar. Take it from Rachelle: "This was a gift for my cousin, as I had gotten him for Secret Santa. He has a home bar and so I ordered a personalized Beer Keg Tap handle. The durability and precision of the item was fantastic. It was good quality and very impressive to the eye. He loved it – thought it was a unique and great gift to receive. The handle is universal and will screw onto any Beer Keg Tap."
The Classiest Flask Gift Set
You want to give a guy a great gift, something unique. He likes wooden things, but you know that he doesn't need any more wood decor in his house. How about something practical and unique, like a flask? This handsome matte black flask set comes in a very attractive cherry wood flask box. He will love having a couple of stainless steel shot glasses to use for doing shots with his friends and a convenient flask to bring with him on the go. Olivia loves this set, saying: "Amazing. This was bought as a gift for my boyfriend and he loved it, could not be more impressed with the quality and the design of everything. It was ordered and got here in plenty of time for Christmas. Will seriously consider buying more from these guys."
Natural Wooden Cutting Board
Of course, cutting boards are always great wooden gifts for men who love to cook. This isn't just any old cutting board from Dillard's, though. Not only is it custom engraved, it has a distinctly rustic and natural look that appears to be homemade! The man you give this to might even think you cut this from a tree in your own backyard and made him a spectacular new cutting board with your bare hands. He'll love this incredibly sturdy cutting board as it adds a great rustic appeal to his kitchen and provides a great surface for food prep. He won't ever have to worry about ruining his counters thanks to this awesome hardwood cutting board! Kathy said: I purchased this personalized cutting board for a wedding gift. It turned out beautiful! I am so happy with it. The different tones it it were just what I wanted.
Essential Whiskey Decanter Set
Are you struggling to find a great gift for the man in your life? Think first about his interests. If he likes whiskey, get him a box set with the essentials for a quality glass of scotch: a decanter and a set of whiskey stones! As a whiskey drinker, he's probably got glasses to drink from, but not everyone has a decanter or whiskey stones. Thanks to your thoughtful wood gift, he will have the proper tools to decant and chill his favorite bourbon. Once he tries the whiskey stones, he'll never want to drink whiskey on ice again! The decanter has a sealed stopper, ensuring that his top-shelf whiskey will stay fresh. He will also enjoy the wooden gift box from this set as it gives him a discreet place to store his prized bottles of whiskey that are only meant for collecting or special occasions.
All-in-One Wooden Organizer for His Daily Necessities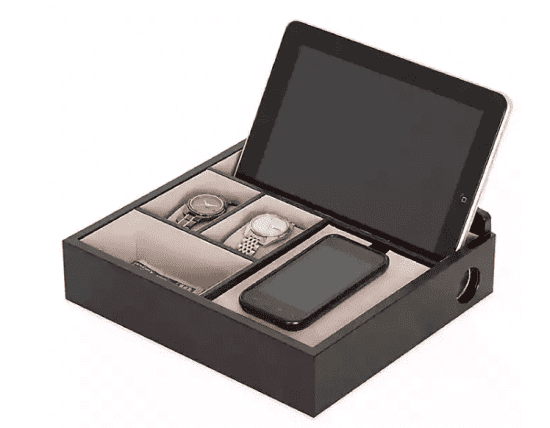 By now, you've probably seen plenty of wooden items that are all about being useful as well as decorative. Your husband or boyfriend probably has a nightstand or uses the top of his dresser to keep his daily necessities on after he gets home from work. It's probably pretty cluttered, with loose change all over the place and charging cables strewn everywhere. Give him a wooden charging valet! This convenient organizer will keep his watch, phone, jewelry, and spare change neat and tidy. His charging cables will be tucked away through their convenient openings, so he won't have to worry about them getting tangled. Overall, this awesome problem solver is one of the best wood gifts for a guy!
The Perfect Way to Travel with Beer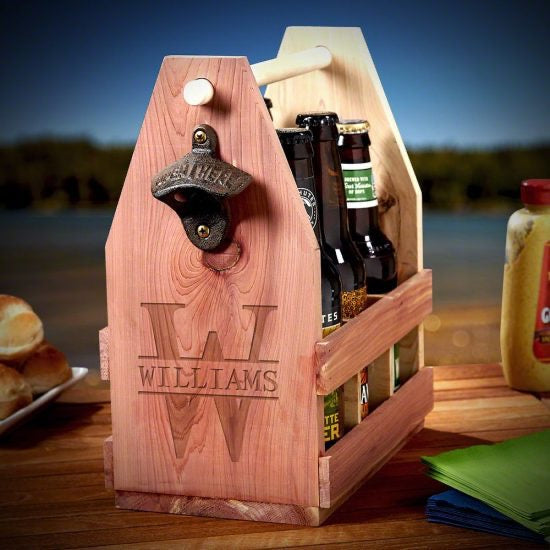 When it comes to traveling beer, there are two ways to do so safely: in a cooler or a caddy. The guy in your life loves to bring a six pack to the lake or to his buddy's house, but he hates actually carrying the beer. He can't count how many times that he's accidentally dropped one, breaking the container. Solve his problem with a wooden beer caddy! This sturdy and durable caddy is made of cedar wood and has a convenient built-in bottle opener. Hear it from Joe: I purchased this carrier/bottle opener for my friend's birthday. It arrived ahead of schedule and it looked great. Great design, great engraving, great product.
Give Him A Wood Gift That Reminds Him of Home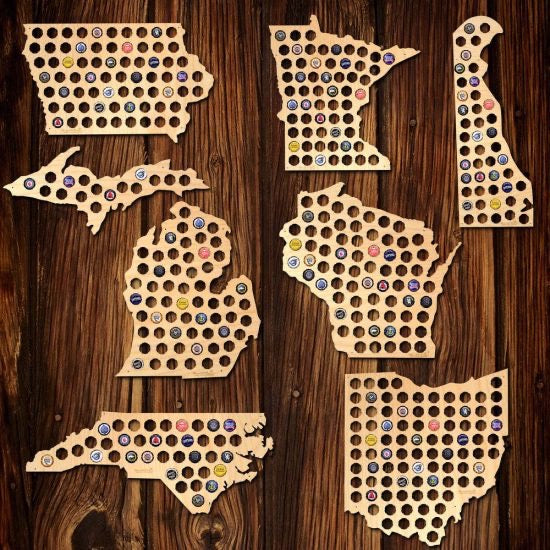 Whether he's recently moved or is proud of where he comes from, get him something unique that will remind him of his home! He will love using this beer bottle cap map to display his favorite beers with. A unique and manly piece of decor that will be a conversation piece wherever it's displayed, you can choose from all 50 states and even add a handsome walnut stain to it like Shana did: "I bought the Washington State Beer Cap map for my husbands Man Cave. It was the perfect addition!! I did purchase the additional Walnut finish and would recommend as it really makes the bottle caps pop in color. Thank you for the perfect Christmas Gift!"
He Never Knew He Needed Wooden Coasters Until Now
When it comes to getting gifts, you often have to think outside the box. However, some of the best gifts for men are simple, everyday items that they never they needed until you bought it for them! Take coasters, for example. They're a necessity in everyone's home, and some people like to have multiple sets so that there are some in every room. These handsome wooden coasters will protect his furniture while also adding a touch of rustic luxury to the room. Each coaster has a corner dipped in copper and is engraved with an ornate initial in a classic calligraphy style. You could use these coasters as stocking stuffers, an extra birthday gift, or as part of a housewarming gift set to any guy in your life.
Classy Presentation Set for His Office
A wood gift doesn't have to be all wood! Take this luxurious decanter set for example. The entire set is built to rest within the acrylic and wood serving tray, but the glassware is certainly the main feature of the set. This high-end set is perfect for having in the work office as decor to offer the occasional client or partner a drink,or for having as a centerpiece in a home library or bar. Austin said: Awesome purchase. Got it as a gift for my brother for graduating from pharmacy school. He loves it. Looks great, engraving was excellent, and outstanding quality. I was surprised how quickly it shipped as well. I did rush engraving, but it took less than a week to get here.
Give His Grilling a Delicious Smoky Hint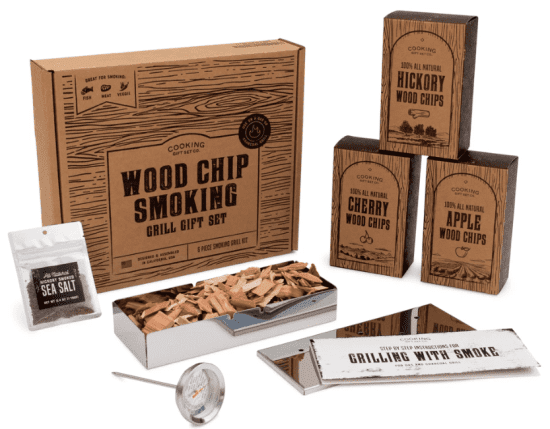 Wood can also be used in cooking! These unique wood chips give the meat a lovely new smoky flavor. Why don't you give the grill master in your life a whole set of wood chips and a smoke box? He will love trying the different chips with different meats to see which pairing complements each other best. Whether he's new at the technique or has been dabbling in it for years, this wood chip smoking set is one of the most unique gifts for men.
Nothing is More Rustic Than Cognac and Cigars in a Wooden Box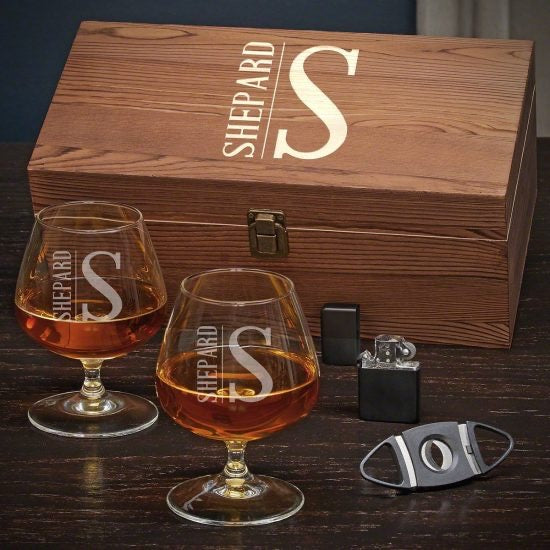 There's nothing like a warm glass of brandy to warm you up after spending the day outside in the snow. You and a loved one can wrap yourselves up in a cozy blanket, light a fire, and enjoy a romantic drink together with this set. Of course, cognac is great year-round, too! These lovely little snifters fit perfectly in the hand and will absorb the warmth from your palm, gently heating the liquor and unlocking the exotic hidden scents. You can keep the glasses in the wooden box for safekeeping if you wish, or you can use the box to store other items such as cigars!
A Unique Wooden Gift Unlike Any Other
When it comes to buying wooden gifts, you have to think outside the box sometimes. Pardon the pun, but how about a gift that allows the recipient to start a new hobby? Shadow boxes are awesome pieces of decor that show off collections in a unique way. The guy you give this cool shadow box to can collect all kinds of things inside, such as wine corks, bottle caps, golf balls, shotgun shells, ticket stubs, and so much more! He will love watching his shadow box fill up over time. A year from now, it might be full and he'll want a new one!
Get Him a Wooden TV Stand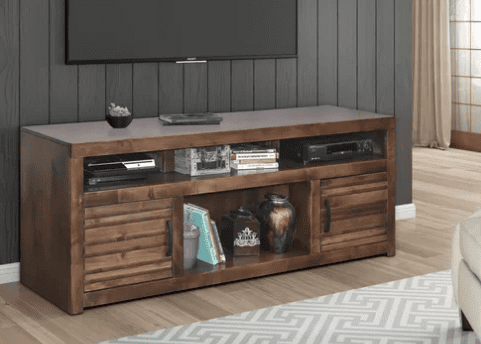 Of course, wood gifts often equate to decor. But that doesn't mean it has to be boring! Men love their TVs, so it's only natural that they would love a handsome TV stand to go with it. This large, rustic wooden TV stand is the perfect piece for his man cave or living room. It has plenty of storage for all of his gaming consoles, media players, movies, video games, and decorations. He will absolutely love this sturdy TV stand and will appreciate it for many years to come.
Awesome Beer Mug Box Set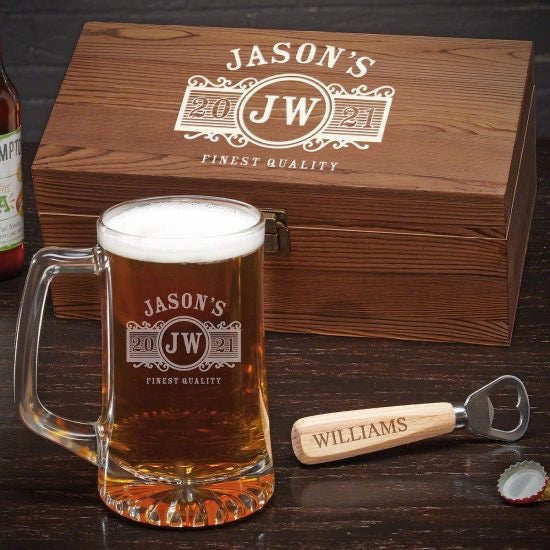 There's nothing like a big ol' mug of beer in a bar or a brewery after a long day at work. With this beer mug box set, he can enjoy a large mug of his favorite beer in the comfort of his own home. He will love having a cool new wooden bottle opener to crack open his beers, especially since it's personalized with his name. He can enjoy craft beer from his favorite brewery or imported bottles without having to leave his house thanks to your awesome gift! He can keep his cool new mug away from the rest of his family in the wooden box, or he could use it to store his collection of bottle openers so that he finally has a dedicated place for them!
He Won't Believe This is a Wooden Gift at First
At first glance, this gorgeous sign looks like a vintage metal sign from the 20's! Guess what? It's actually made of birch wood! This handsome sign is designed to look like a classic cigar label and will add a lovely pop of color to any room it is displayed in. Your husband or father will love having it displayed in his cigar lounge or home bar. You can customize the two lines of text to make it special just for him. Whatever the occasion you give this unique wood sign, he'll treasure it forever!