You want to get him something great, but you're having to stick to a budget. Good gifts for men don't have to be expensive, after all! The best gifts for men under $30 can be practical, cool, or even personalized items that they can enjoy using at home, on the go, or even at work. Just because it's inexpensive doesn't mean it has to be boring or lame. Even gifts for men under $20 can be the best presents they've ever received! Don't worry, we did all of the searching and price-checking for you so that you can find the perfect cheap gift for men within your budget.
The Coolest Glass He'll Ever Own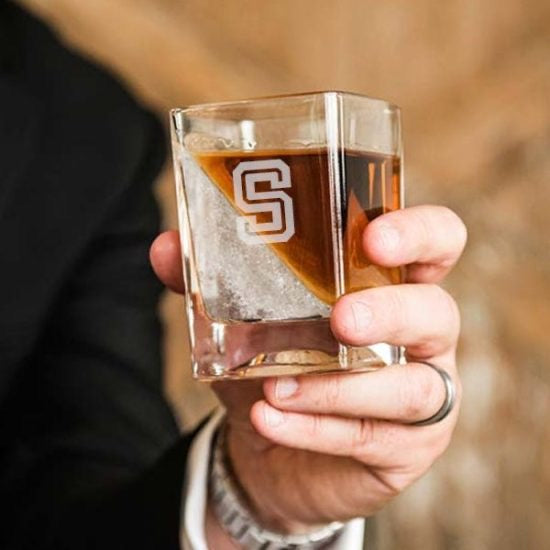 How neat is this whiskey glass? Perfect for the guy who enjoys a good scotch on the rocks, this nifty square glass comes with an ice mold that freezes a triangular wedge to one side of the glass. This way, their scotch stays perfectly chilled until the last drop and the wedge actually melts slower than a typical ice cube, which keeps the flavor intact. This glass is only $17.95 but you can engrave their initial on the side for an extra $9.95, which means you stay within your budget either way! As far as gifts for men under $30 go, this awesome whiskey glass is one that's guaranteed to please any whiskey drinker.
Knives Are Great Gifts for Men Under $20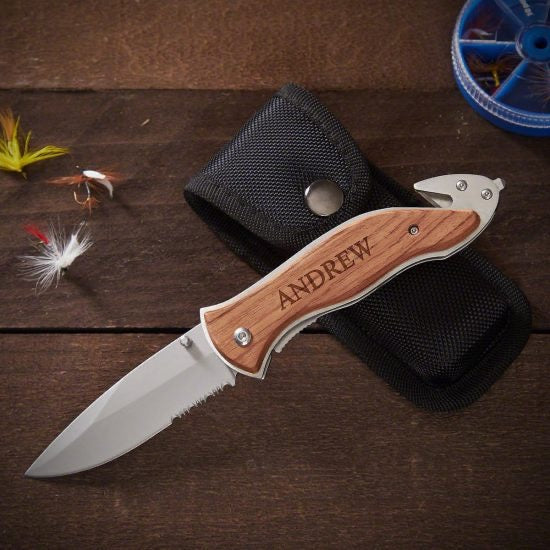 What guy wouldn't love to get a personalized hunting knife as a gift? Whether it's for your brother's birthday or your best friend for Christmas, anyone you give this knife will be stoked about it! Perfect for everyday carry or keeping in the car, this knife has a glass breaker, rope cutter, and a serrated edge which are all sure to come in handy in case of an emergency. In fact, you should give one of these knives to all of the men in your life!
He'll Always Have a Place for His Cigar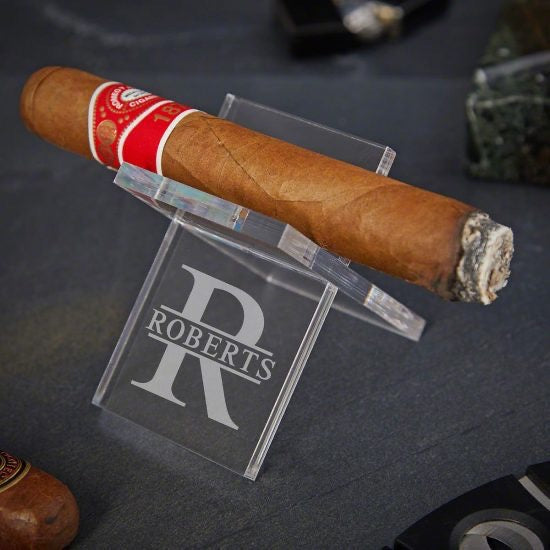 There's nothing more annoying than going out with friends, picking up a couple of stogies, and not having a place to put your cigar. Make sure the men in your life who love cigars will always have a cigar stand by getting them this portable one! Made of lightweight, sturdy acrylic and engraved with their name, this handy little cigar stand is pocket-sized so that they can take it anywhere.
Flasks Are the Perfect Go-To Inexpensive Gifts for Men
Not sure what to get a guy as a gift when you're on a budget? Flasks are the best gifts for men under $30! This cool leather-wrapped flask has a rustic style that any guy will appreciate. No matter what spirit he's enjoying from it, he'll feel like Wyatt Earp himself right out of a Western! Flasks are especially great birthday gifts or stocking stuffers, because they're so luxurious, practical, and make fantastic inexpensive gifts for men; so, you should get one for all of your guy friends.
Every Guy Needs a Beer Mug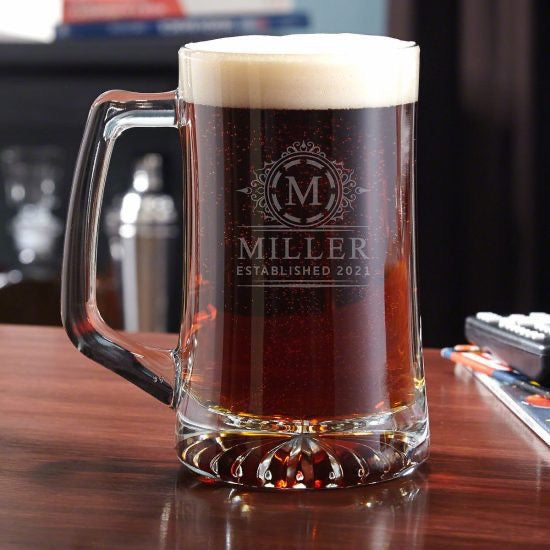 He hasn't truly had beer until he's tried it from a beer mug! Every guy you know who likes beer deserves his own custom beer mug so that he can knock back a cold one like a man. The large beer mug allows for a generous serving and has plenty of room to create a thick head of foam, which means it's the best-tasting and heftiest drink he can have!
303+ AWESOME PERSONALIZED BEER GIFTS FOR MEN>
Multi-Tools Are Always Great Gifts for Men Under $30
Every man needs a multi-tool, which is why they make such great gifts! Need a birthday gift for dad? Get him a multi-tool. Looking for a graduation gift for your brother? Get him a multi-tool. Your Christmas gift for your best friend went out of stock right before you bought it? Get him a multi-tool! This Gerber multi-tool is the perfect go-to gift with its many unique attachments and tools such as scissors, a wrench, nail file, various blades, and more!
Decorate His Home With Awesome Coasters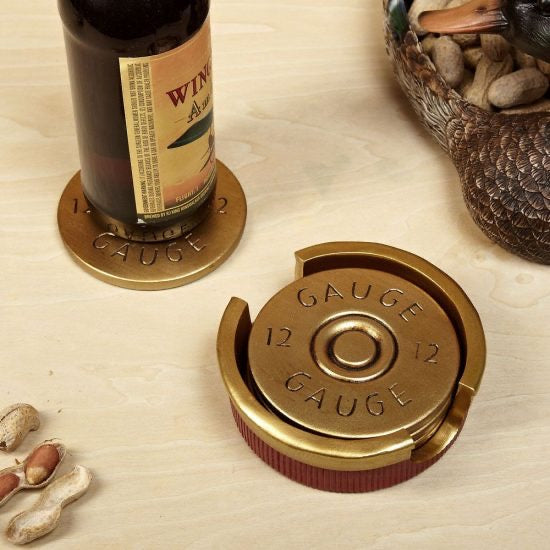 Novelty gifts can be inexpensive and lame, but these shotgun shell coasters are the coolest gifts for men under $30! These nifty coasters aren't just cool-looking additions to a man's home, but they'll make sure his furniture stays clear of condensation rings. Both practical and decorative, you just can't go wrong with such an awesome gift!
Unique Sunglasses He Will Never Lose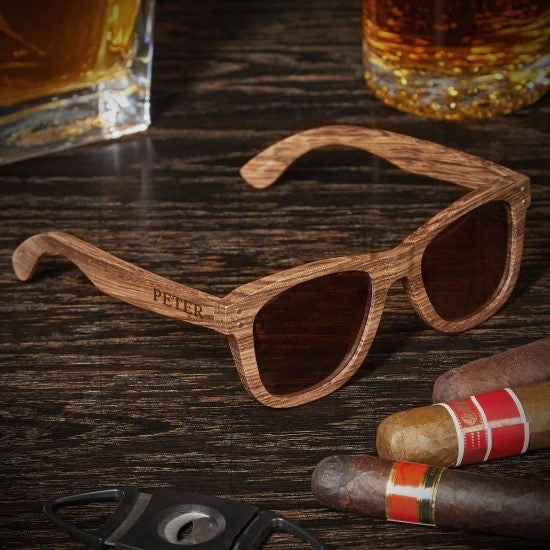 Yes, these sunglasses are really made of wood (well, bamboo). He'll never want to leave the house without these awesome personalized sunglasses because they're so unique. In fact, they're sure to be featured in his next social media profile picture because he will love how cool they look! These unique shades are definitely one of the coolest gifts for men under $25 you can get.
Essential Drink Tumbler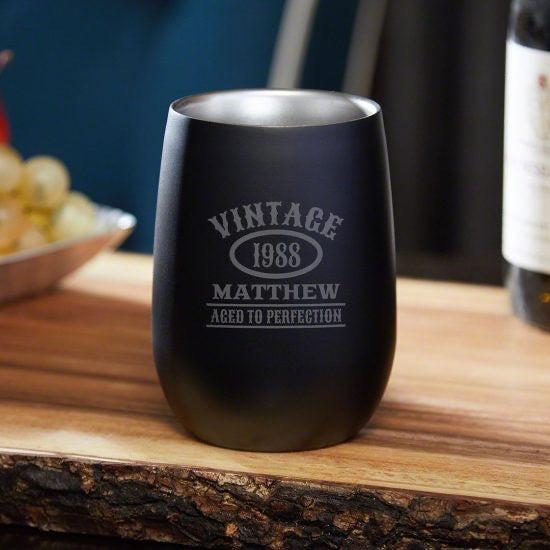 Gone are the days when a man has to deal with a cold drink that's gone warm or even a melted frozen margarita while he was swimming. With an insulated tumbler, he can finally enjoy his drinks at the same temperature as when he poured them! This incredible "glass" is made from double walled stainless steel which will insulate his drink and keep it the perfect temperature for up to six hours. You can easily give this tumbler and a bottle of wine or even a six-pack of his favorite soda to any guy for his birthday, Valentine's Day, or even as a housewarming gift and he will be excited.
Must-Have Golf Accessory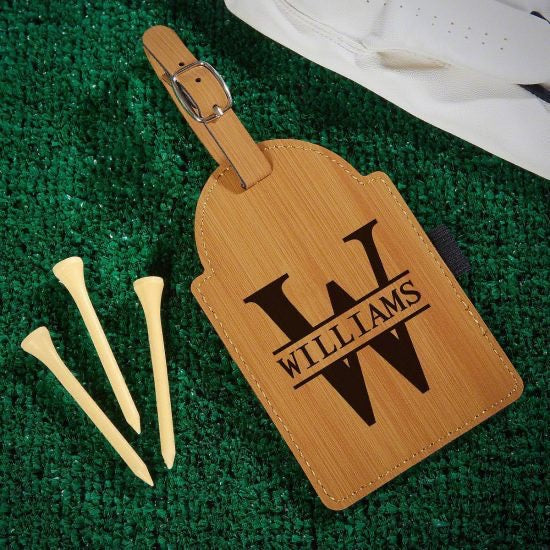 Looking for an inexpensive gift for a guy who likes to golf? He will love this handy little golf bag tag! Not only will it help him tell which bag is his next to his golfing buddies' bags, but it even comes with extra tees so that he can always make the perfect shot. He'll never go to the golf course without his custom bag tag ever again, that's for sure!
Mini Waffle Maker
"Why would a guy want a mini waffle maker?" The more important question is, why wouldn't he want one? Mini waffles just mean he can eat more waffles in convenient bite-size portions. Plus, he can dip them in maple syrup, peanut butter, chocolate, or anything else he wants. Or, he can "waffle" anything from cookies to make waffle bowls for ice cream! This awesome little waffle maker is definitely one of the most practical gifts for men under $20.
You Can't Go Wrong with a Personalized Whiskey Glass
The absolute best kind of inexpensive gift you can buy for a man is a custom whiskey glass. This isn't just any ordinary glass, either! The gorgeous glacier-like design in the thick base is as decorative as it is practical because that extra insulation prevents this particular glass from producing any condensation. It's also the perfect size for a generous double scotch or an Old Fashioned cocktail! Once he tries out his new glass, he'll never want to use just any old glass from his cabinet for his evening drink ever again.
A Fun Sign
So you're looking for a cool housewarming or graduation gift, but you're stuck with a certain budget. How about a beer bottle cap holder in the shape of their initial? This fun piece of decor they can customize with bottle caps from their favorite beers (or sodas!) is one of the most unique gifts for men you can get when you're on a budget. You could get one letter every gift-giving occasion to spell out their name if you want! 
The Best Whiskey Gifts for Men Under $30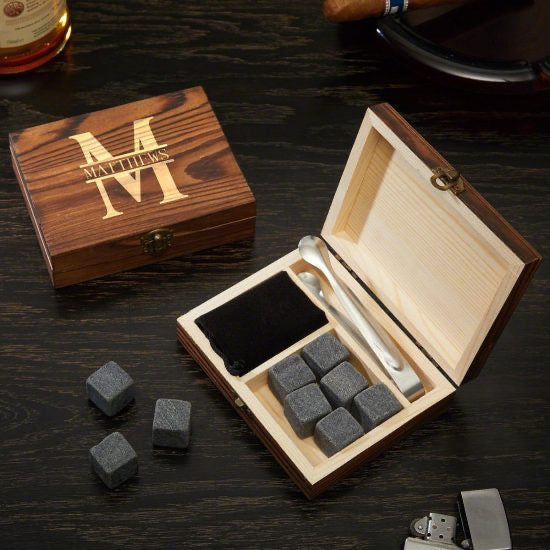 Make sure the men in your life are enjoying their whiskey to the fullest with this whiskey stone gift set! They will appreciate the whiskey stones that keep their drink chilled without watering down the flavor, and the fact that the tongs make them easy (and hygenic) to put in their glass. When they're headed out for a weekend away or a long business trip, they'll be able to bring their trusty whiskey stones along thanks to the convenient travel pouch!
Every Man Needs a Flashlight
What do you get a man who has everything while shopping on a budget? Get him something he probably already has, but a personalized version! This custom flashlight is by far the most practical inexpensive gift you can get because you know it'll be used and it has a personal touch that really shows you care.
The Only Belt He'll Ever Need
Belts are something every man needs, but once you give them this reversible belt they'll never have to buy another one! With one brown side and one black, they'll be able to match whatever outfit they're wearing using the same belt. It's perfect for wearing to work, around town, or even formal occasions. As far as good gifts for men under $20 go, you can't go wrong with such a practical and thoughtful gift as a reversible belt.
Bottle Openers Are Cool Gifts for Men Under $25
Yes, this bottle opener is made from a real .50 caliber bullet! How awesome is that? This gnarly personalized bottle opener is the perfect stocking stuffer or birthday gift for a guy because he's sure to use it and enjoy the fact that it has his name on it. He'll definitely make sure not to lose this particular bottle opener because it's so cool, and might even use it as a decoration in his office or kitchen as well!