When it comes to looking for the perfect gift for him, it can be difficult to choose the right one. With all the choices out there, it is really tough to narrow it down and pick gift ideas for him that are incredibly awesome, functional, and something so cool he can't help but love it. How do you know which kind of interest-related gift will make them feel special when they see it? What kind of functional gifts do men enjoy receiving as gifts? Do you want to get expensive gifts for guys when in search of the ultimate present? Whether you're searching for a gift for your husband, boyfriend, father, or any other man in your life, these are the best gifts for him that he'll love.
Worldliest Gift for Him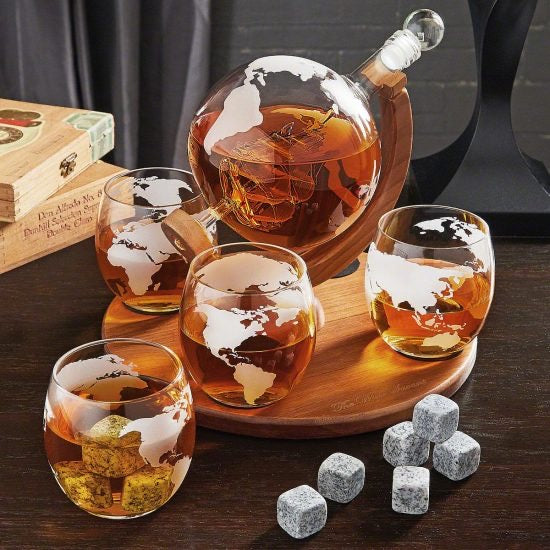 Searching for an out-of-this-world gift for a unique guy? Look no further! This globe decanter set is one of the coolest gift ideas for him because it's definitely the coolest gift he's ever seen. As he sips his favorite liquor from these glasses, he can reflect on his travels all across the globe or even start planning new ones!
Sign His Name
There's nothing like a gift that lets all his guests know they're on his turf. With this personalized brewery sign, there will be no doubt that he's the king of the house! He'll love seeing this sign hanging in his bar, man cave, or kitchen and it will definitely add an awesome vibe to the space that he'll really like. Making his home feel like his own personal brewery is one thing, but giving him a custom gift like this, you just know this will be a gift that'll blow him away.
Best Gifts for Him that Fit in a Can
You want the reaction to your gift ideas for him to be one of utter surprise and joy because of how incredible the gift is. When he opens up this ammo can gift set, his smile reaction will be just that! A personalized ammo will be the coolest and most unique gift he's ever gotten! In fact, this is one of the coolest custom gifts for older men you can find! He can use it to store fishing tackle, live rounds, drinking accessories, or anything else he wants inside it, and the glasses and cigar accessories will come in handy when he wants to enjoy his favorite vices.
Putting Around
He deserves to enjoy his favorite things all the time. That's what makes this golf putting set an excellent gift idea for him! Whether he's at the office, chilling at home, or anywhere else, he can whip out this bad boy and be practicing his short game within seconds. Thanks to your thoughtful gift, he'll be obsessed with shaving strokes off his game!
Gift for His Feet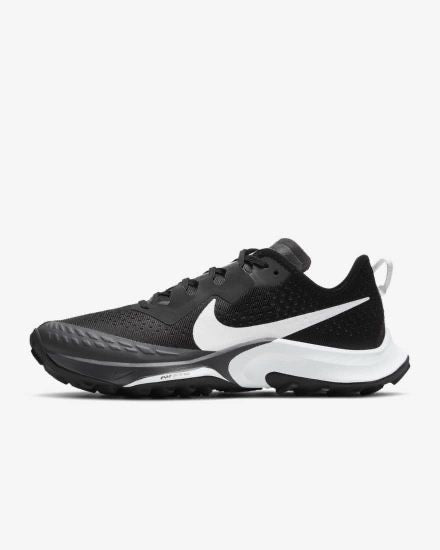 You know the saying "take a walk in their shoes," now is your chance to make people wish they were in his! Get him these awesome Nike shoes that are perfect for dress up, casual wear, and even exercise. He'll love getting a gift that he can wear all day everyday, when you get him these ultra-attractive sneakers. He'll never want to take them off!
Ultimate Personalized Set
He'll never be able to forget about this amazing gift! This wooden gift box decanter set is a one-of-a-kind present that he'll undoubtedly love. To be fair, who wouldn't want a gorgeous glassware set with their name custom engraved on each piece? This set looks so good in fact, you know he is going to want to use it for every occasion, big or small. It doesn't matter if he is having a night in with his spouse or a group of friends, either way, you can be sure he's reaching for this set every time he wants to pour a drink!
Movable Drinks
His very own mobile bar cart? Say no more! This gorgeous globe bar is the gift he never knew he needed! He'll love the ease with which he can serve himself a drink no matter where he is in the house. When he's entertaining guests, the same can be said for them as well. Not to mention that this gift is stunningly beautiful, making it one of the best gifts for him money can buy.
Gift Box Set He'll Love
There are few gift ideas for him that are cooler than a gift set that helps him relax and enjoy his favorite things. That's what makes this custom gift box set the absolute coolest! What could be cooler than a cold brew, a stogie, and even a snack? How about having his name personalized on each part of the gift? Sipping a beer will never taste as good as when it comes from a gift set as thoughtful as this one!
347+ INCREDIBLE BEER GIFTS HE WILL LOVE>
Best Watch Ever!
With the newest technology on his wrist, he'll feel like the coolest guy ever. Whether he is into it for all the bells and whistles that come with Apple products or he simply likes having the sleekest watch on the market, he is sure to love this Apple watch as a gift! He'll be able to call or text without his phone in his hands, and it'll track his workouts, bringing his exercising to a new level.
A Sign He Won't Stop Looking At
Nothing makes a man feel special like his very own man cave. Whether he already has one or this gift will be the start of his own special oasis, you can be sure he'll hang his new man cave sign up right away! Add in that his name has been custom engraved onto the sign and this gift will be the perfect way for him to claim any area of his home as his official space!
Simple Set
Sometimes, a simple yet incredible gift is the best choice. This whiskey stone box set is one of the best gift ideas for him because it has actually been personalized! What could make him feel more special than a gift that has been custom engraved for him? He'll love taking these initialed glasses from his custom wooden box and enjoying a glass of chilled whiskey when he wants to relax, celebrate a special occasion, or even just because.
Most Versatile Gift Ideas for Him
Backpacks are incredibly versatile. Whether he's headed to class, work, the gym, on a road trip, or anywhere else, this black backpack will be the perfect companion! He'll love the convenience of storing his laptop, gym clothes, or anything else inside this handsome backpack, and he'll be very grateful for it.
Humidor for Him
The greatest of guys deserve the greatest gifts, which is why this personalized ammo can cigar humidor is the PERFECT gift for him! He'll get a kick out of seeing his name engraved into the side of this repurposed ammo can, and he'll appreciate having a way to keep his cigars intact and in ideal condition until he gets to enjoy them.
Best Gifts for Him for His Wine
Get him a gift that makes him feel like the man he is. This stainless steel tumbler set is an awesome gift idea because he'll love using the rugged, wooden box to store whatever items he wants inside it or maybe even take the glasses on a camping adventure. He'll also really enjoy the manliness of these handsome tumblers that let him enjoy his favorite wine in style with a buddy out in the wilderness.
Engraved Kitchen Accessory
Cooking is so much better with high-quality, awesome kitchen accessories. This etched cutting board is one of the best gifts for him because he'll feel really cool having his name and initial engraved into such an awesome cutting board, and he'll love how easy it is to chop up his favorite foods using this gift. Whether he's creating a masterpiece of a meal with different meats, veggies, and other delicious foods or simply chopping a block of cheese to make queso, he'll get great use out of this terrific gift.
Practice His Jumper
What a baller gift! Any guy will go crazy for this miniature basketball hoop set! No matter what he's doing or working on in his home, he can always go practice his jump shot at a moment's notice if he desires. He'll probably challenge you to play one-on-one, though, so you better start practicing!
Monogrammed Gift Ideas for Him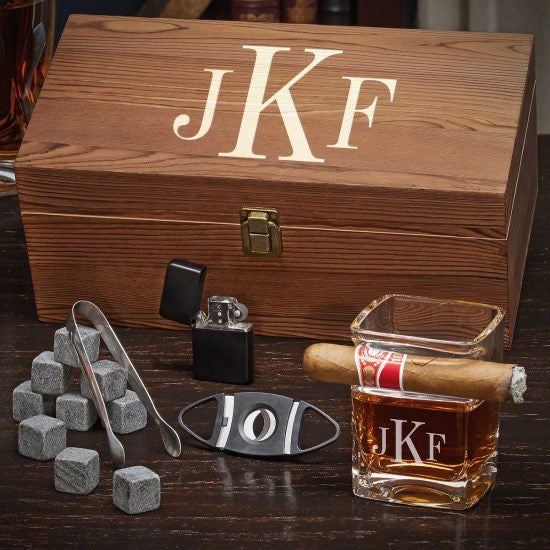 There's just something about seeing your initials on a gift that just makes you feel special. He'll feel super special when he sees this monogrammed gift set! He'll greatly enjoy sipping whiskey and smoking a stogie with his other accessories. Storing his most prized possessions inside the monogrammed box will bring him great pleasure.
Memory Saver
Everyone has memories they wish to remember forever. The best way to commemorate those experiences is with this shadow box. He can put bottle caps, cigar bands, or any other small mementos inside this box. Shadow boxes make great gifts because they're a cool piece of decoration that he can put up that also reminds him of each and every cool occasion he's had! In fact, relieving all those memories will make him feel legendary!
Flask Box Set for Him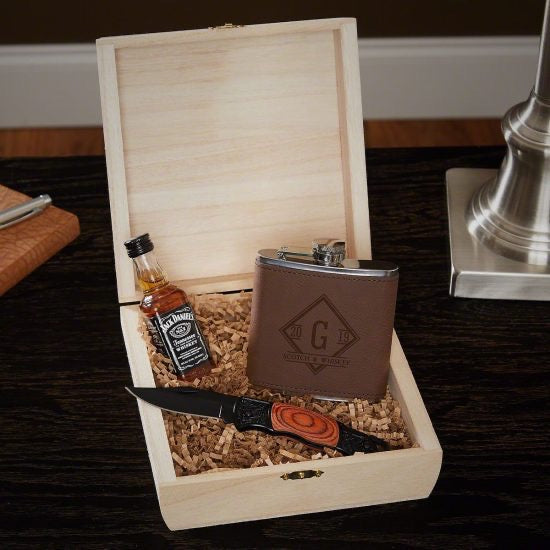 A cool flask with your name on it is such an awesome way to enjoy your favorite spirit. That's why this flask set is full of awesome gift ideas for him! Not only is the flask perfectly personalized just for him, but the box is as well. He'll love using the unique box to store whatever small items he desires, and the knife will definitely come in handy at some point! Throw in a small bottle of his favorite booze or anything else he really likes to make it the perfect gift for him that you know he'll love.
Cozy and Stylish
Everyone wants to look their best, just like the guy you're getting this gift for. He will look fantastic wearing this sweater jacket! The classy black look will never go out of style, and he'll really like the way he looks wearing this jacket. It'll also keep him nice and warm even with the most chilly and windy of conditions when he's camping in the cold forest or skiing down a snowy slope.
Game Room Sign He'll Love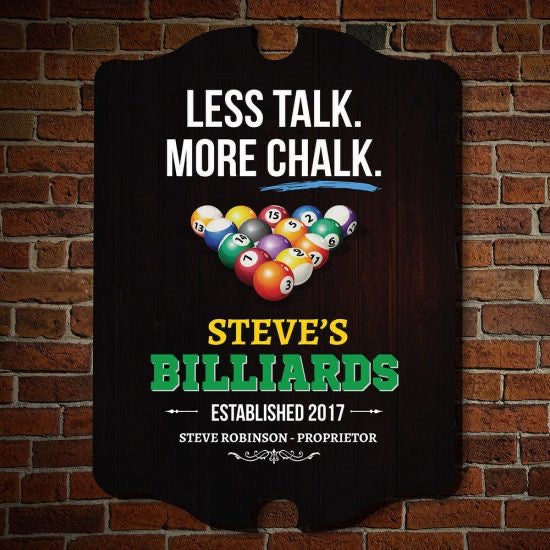 Whether he has a full-fledged game room in his home or just a pool table tucked away in the corner, having this personalized billiards sign up on the wall will make him feel like he's got the coolest game room ever. Seeing his name on his new sign will make his game room, no matter how big or small, feel like the hot spot in town to come shoot a round of billiards!
A Personalized Glass and Custom Case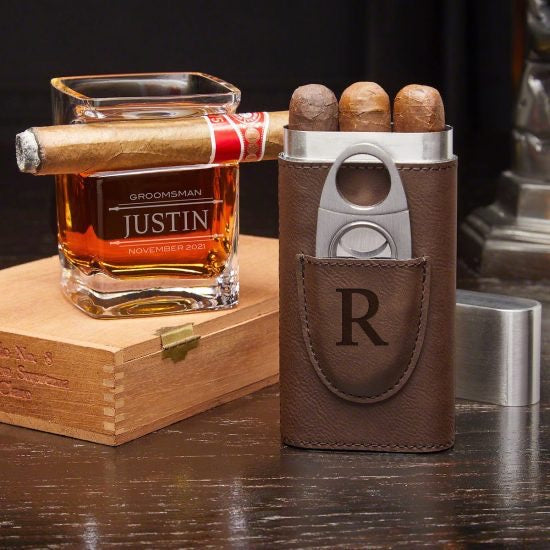 A set of cool accessories to enjoy his vices? Good gifts. These same cool accessories personalized just for him? The best gifts for him out there! This custom cigar set is a fantastic choice for a gift because he'll love how special he feels seeing his name and initial on these useful items. Whether this goes to your boyfriend, father, grandfather, or any other man in your life, you can be assured that this gift will be loved by him.
493+ AWESOME GIFT SETS FOR MEN>
High-Tech Photography
Men love high-tech, useful gifts. That's what makes this GoPro camera the most awesome gift idea for him! He'll love using this stunning camera to take footage of all of his adventures, whether he's swimming, skiing, riding a mountain bike, or anything else. He'll love reliving his most fun experiences over and over.
Gift Ideas for Him and His Beverages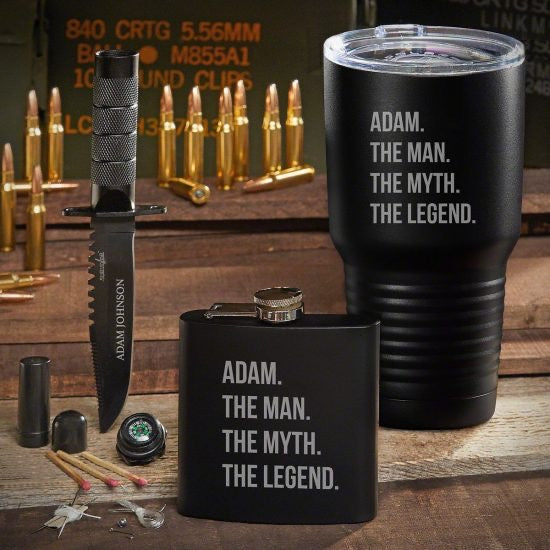 Everyone deserves to enjoy their favorite beverages in the best way possible. This custom gift set will let him do just that and it doesn't matter whether he is on the go or at home. He'll love being able to enjoy piping hot or ice cold beverage for hours in the tumbler while his spirit of choice will be firmly secured inside this flask. Not to mention he'll feel as awesome as King Arthur when he saw Excalibur when he sees his personalized knife!
Pawsome Gift He'll Adore
Everyone knows that dogs are man's best friend, so why not get him an awesome dog-related gift? This dog decanter set is a super novelty gift that he'll be obsessed with. He'll love seeing this dog perched on his home bar or mantle, filled to the brim with his favorite liquor. It'll make him smile every time he sees it, making it one of the best gifts for him.
Because He's a Legend
Nothing will make him feel more awesome and legendary than this gift! This ammo can gift set is such a unique, incredible set of gifts that he won't be able to stop talking about. He'll love using this repurposed ammo can to hold his own hunting equipment, drinking accessories, or anything else his heart desires. He'll really enjoy using the glasses in this set to share a drink with his buddies when he's at home, on a camping trip, or any other occasion!
He'll Use It Forever
You want him to be able to use his gift time and time again and enjoy it each time. He'll definitely use this amazing gift box set for the rest of his life! Whenever he needs a drink to relax, celebrate a special occasion, or for any other reason, he'll pull out these unique glasses and whiskey stones and enjoy a chilled drink, remembering how happy he was when you got it for him. He'll store his most prized possessions inside this handsome, customized gift box so he can keep them safe and sound.
Most Unique Lamp Ever
He'll be stunned by this incredibly unique gift! This hexagonal lamp is a novelty lamp that will look awesome hung up on the wall in his house, brightening up the room in the most unique way. Ultimate gifts for men need to be uncommon and cool, and what sort of decor and lighting fits those features better than this?
Hot or Cold
When it comes to enjoying his favorite beverage, he'd definitely love a gift that makes the experience better than ever. That's why this mug and carafe make phenomenal gift ideas for him. It'll make him feel special seeing his name on these two awesome items, and he'll love how this carafe keeps his drink hot or cold for hours as he travels, works, or does anything else.
Chop Then Relax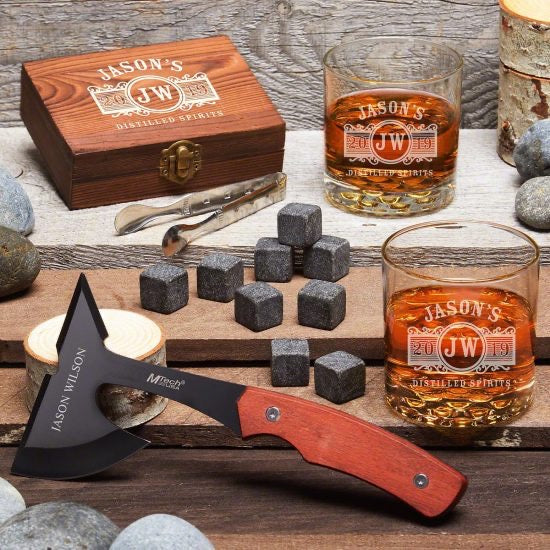 Any guy will appreciate this customized gift set. He'll feel awesome chopping wood with this hatchet with his name on it, collecting firewood for his family or getting rid of dead trees. When he's drenched with sweat from his hard work, he'll love more than anything else coming inside and having a chilled glass of whiskey as he relaxes. These gift ideas for him will make his day every day!
Bar Sign Best Gifts for Him
Whether his house is full of awesome decor or he has bare walls all over the place, he'll definitely benefit from an incredible bar sign hanging on the wall! No matter where this sign is hanging up in his home, it'll brighten up the room, and he'll love seeing his name on it every day, pointing to where the great drinks are!
Future So Bright He's Wearing Shades
No matter his personal style, a good pair of sunglasses will look fantastic on him. These gold-colored Ray-Ban sunglasses are one of the best gifts for him because he can wear them all the time, and he'll be a huge fan of how cool he looks wearing them.
Classy with Cognac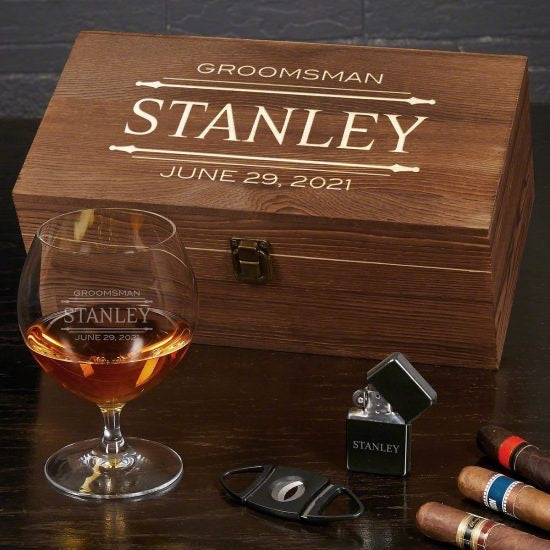 Nothing will make a man feel classier than this cognac gift set. The customization will make him feel very special and important, and he'll feel even more classy sipping whiskey from his personalized glass while enjoying a stogie. Whether he's celebrating a special occasion or simply relaxing, he'll love using this classy gift set to enjoy himself.