There's nothing quite like getting home after a long day at work, kicking your shoes off, procuring a hearty serving of your alcoholic beverage of choice, and sitting down on the couch for a few relaxing hours of television entertainment. The benefits, such as comfortable furniture and private restrooms, are hard to argue. Even though the television waves are packed with plenty of likable characters that are perfectly suitable to spend an evening with, everyone needs a good drinking buddy. Drunk characters have had a home on television since the dawn of broadcasting, and every year, a few new drunk people move into TV land. From classic TV, to 90s TV sitcoms, to drunk cartoon characters, we wanted to pay tribute to 12 of TVs best loved drunks. Tell us about the drinking buddies on your favorite television shows in the comments below.
Randy Marsh from South Park
One of the most prominent citizens of South Park, CO is Stan's dad, Randy Marsh. A geologist, discount store employee, and mall security guard by trade, he's also one of the best drunk cartoon characters on TV. Whether he's performing music, setting world records, or protecting fellow citizens from angry shoppers, Randy does it with panache, and usually a little vino. Here's a great clip of Mr. Mash hosting his own simultaneous beer and wine tasting, which sounds totally awesome.
Lucy from I Love Lucy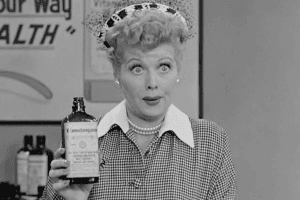 So many times I've wanted to adopt a cat and name her "Lucy," just so when she got into trouble I could say, "Luuuuuccccyyyy!" Although Lucy Ricardo, from the classic TV series I Love Lucy, was by no means a lush, it was pretty hilarious when she got inadvertently drunk while she and Ethel were executing their shenanigans for the week. The best example is the classic episode where Lucy gets booked for a TV commercial selling Vitameatavegamin. This fictional health drink, and predecessor to The Master Cleanse, was purported to contain, ""vitamins, meat, vegetables, and minerals," but also a healthy dose of alcohol. Over continued re-takes, as Lucy swallows shot after shot of what I can only imagine would be something like a savory 50 proof schnapps, and gets hilariously intoxicated in an innocent manner that only old television shows can get away with.
Tom & Donna from Parks and Recreation
Clothes. #treatyoself Fragrances. #treatyoself Massages. #treatyoself Mimosas. #treatyoself. Tom Haverford and Donna Mingle from the sitcom Parks and Recreation, are two drunk and incredibly funny TV characters. These Pawnee, IN citizens, played by Aziz Ansari and Retta, respectively, have become synonymous with living life to the fullest. Their self-created holiday, Treat Yo' Self Day, is dedicated to indulging with absolute selfishness in everything from luxury accessories to fine cocktails. Their love of nightlife also makes them two of the drunk characters I'd most want to take with me on a Vegas weekend. With only a few episodes of Parks & Rec left before the series finale, it's time to mix up a drink and treat yo' self to a night of Tom & Donna binge watching.
Detective Rustin "Rust" Cohle from True Detective
Who hasn't thought about how fun it would be to get drunk with Matthew McConaughey? If you haven't, please take a moment and do so right now. Seems fun, right? However, getting drunk with his cable TV persona from the series True Detective might be a little more intense. As he takes swig of Lone Star Beer, or dips into his well-worn leather flask, the character of Rustin Spencer "Rust" Cohle is a force to be reckoned with. As his alcohol consumption increases, so does his intensity. Even though we love watching Rust get drunk on our flatscreens, we'd pass on meeting him for drinks at the local bar. We'd rather not get trapped in a bar stool conversation about The Conspiracy Against the Human Race.
Homer Simpson from The Simpsons
The patriarch of Springfied's favorite family, Homer Simpson is another drunk cartoon character that cannot be forgotten. Homer's love of beer is second only to his dedication and love for his family. Whether he's headed down to Moe's Tavern for a cold one, or stopping by the Kwik-E-Mart for a six pack of Duff on the way home from the nuclear power plant, Homer rarely goes an episode without imbibing. And who can forget that loving musical tribute, "It Was a Very Good Beer." When drunk people, like Homer, sing an ode to booze like this, you just want to reach through the screen and give them a well deserved, "cheers!"
Norm Peterson from Cheers
If you don't have a bar where everybody knows your name, you might want to go watch an episode of Cheers. This classic TV series only had one customer that appeared in every single episode, and that was Norm Peterson. Norm was exactly the kind of guy you want to pull up next to at a bar. Friendly, honest, and always with an open tab. Played to perfection by George Wendt, Norm was loyal to his favorite bar, his favorite restaurant, and his favorite people, even his ex-wife, Vera. So the next time you'd like to get away, start up an old episode of cheer, and have a beer for Norm, and put it on his tab.

Chelsea Handler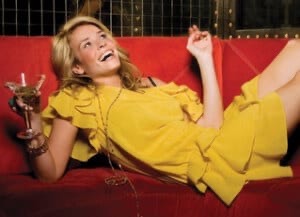 Although Chelsea Handler isn't fictional, she's definitely a drunk television character. Even after watching just one or two episodes of Chelsea Lately, you learn that her favorite alcohol is vodka, and her favorite thing in the world to do is drink it. Whether you actually believe that she drinks as much as she claims, you have to admit that a life filled with that much boozing sounds like an awful lot of fun. Her tastes have changed over the years, from Ketel One to Grey Goose, for example, but she stays true to vodka through thick and thin. Although we'll have to wait until 2016 to see more Chelsea on a weekly basis, there's no doubt that there will still be vodka in her glass when she returns to the air, ahem, cyber waves.
Don Draper from Mad Men
Mad Men ushered a number of things back into the cultural spotlight, but arguably the biggest was whiskey. Now, whiskey never went anywhere, and it was always a staple of liquor cabinets from coast to coast, but its cultural influence has definitely taken a surge since Don Draper first walked onto our TV screens. Some would say that Don, played by Jon Hamm, is hardly loveable, but you have to have some respect for a broken man who (mostly) keeps himself together in a fractured world. The world of Mad Men was a different time, where drinking at work was one of the reasons people actually wanted to go to work. Where instead of free coffee, the office sprung for free booze! Don sipping on a cut crystal glass of fine spirits exemplifies the utmost in drunk sophistication. Plus, I've still not been able to get through an episode of Mad Men without mixing up an Old Fashioned cocktail. Also, be sure to check out the Mad Men drinking game, but add on our special HomeWetBar.com bonus rule, where you drink twice every time Don pours a fresh dram.
Karen Walker from Will & Grace
TV has seen many changes through the years, and 90s TV sitcoms absolutely deserve their own category. Karen Walker was the first TV drunk of her kind, unapologetic in her consumption of alcohol, with the bank account and personal designated driver to pull it off. With classic one-liners like, "Honey, I'd suck the alcohol out of a deodorant stick," and "As long as I'm drunk, what's the difference?" Dressed in impeccable clothes from top to bottom, with her signature up-do and mini bar for a purse, Karen brought proud public drunkenness into the national spotlight. Whether seated at a four star restaurant, or lying flat on a cold kitchen floor, Karen Walker always reached for the top shelf.
Edina and Patsy from AbFab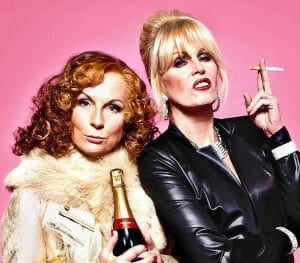 Classic pairings include peanut butter & jelly, Samson & Delilah, and, of course, Edina and Patsy. The gin-soaked best friends from Absolutely Fabulous are two of the most recognizable characters from British TV shows. Though the series began more than 20 years ago, these two have been drinking it up ever since, and still look fabulous. Whether scrambling to adopt the latest fad, searching for the ever elusive fountain of youth, or enjoying a little bubbly with breakfast, Edina and Patsy are supremely loveable drunks. With rumors swirling that an Absolutely Fabulous movie is in the works, you can be sure that these two lovable lushes will be swigging their way through retirement, too. Not that they did that much work in the first place.
Fun Bobby from Friends
90s TV sitcoms were definitely a sweet spot for drunk TV characters. A brief, but unforgettable example was "Fun Bobby," from Friends. Fun Bobby, played by Vincent Ventresca, was a guy that Monica dated, who was loads of fun when drinking, but mind-numbingly boring when sober, bestowed by Chandler with the new nickname, "Ridiculously Dull Bobby." Although not everyone can be the life of the party all the time, we maintain hope that somehow, somewhere, Fun Bobby was able to reclaim his prior glory.
Spuds Mackenzie
Few drunk stories match the fun and whimsy of household pets consuming alcohol. The college freshmen with a dog that loves Schlitz. Aunt Shirley's cat who sips pinot grigio right from the glass. But the granddaddy of all drunken TV pets is Spuds Mackenzie. Introduced in the 80s as a mascot for Bud Light, Spuds was always close to the beach, surrounded by girls, and epitomized value-priced beer coolness. Spuds as actually played by a female dog named Honey Tree Evil Eye, but hey, this is TV, and commercial advertising at that. You didn't really think that a male dog named Spuds was getting drunk on Bud Light and then going on camera. This isn't I Love Lucy.