A tribute to Mr. Jon Hamm
After the first episode of the final season of Mad Men last night, we couldn't be more excited. As you may have read in a previous post, it's with bittersweet excitement that we encounter these last few episodes of Mad Men. So we wanted to pay tribute to the guy at the center of it all. Not the character of Don Draper, but Mad Men star Jon Hamm, whose on-screen performance not only drives the primary narrative of the series, but serves as the axis of all other characters rotating around him. On screen, the character of Don Draper is a wicked, conflicted soul, but in real life, Hamm is a gentleman and all around interesting fella. Here, we'd like to present a brief Jon Hamm bio that we hope will shed some light on this somewhat elusive celebrity. So mix a strong drink, and get some insight on this awesome guy.
Yes, he was once a kid.
On March 10, 1971 in St. Louis, Missouri, Hamm was born into a blended family which included two step-sisters. His parents divorced when he was very young, and he spent most of his childhood living with his mother and grandmother. In a GQ article, Hamm said, "We were three generations living under one roof, which is difficult in the best of circumstances."
As he grew up, his interests and activities varied, both in athletics and more creative hobbies. In high school, he was on the football team, and acted in school plays as well. "I went to a high school where you were encouraged to do a lot of different things, so there wasn't this great divide between the jocks and the theater guys, or the smart kids and the stoners, or whatever. It was like everybody was a little bit of everything, and that was encouraged," he once said.
This division of interests continued during college. He started out playing football at The University of Texas, but after his father's death, finished his education while acting in the drama department at The University of Missouri. He played leading roles in a number of plays, including Cliff in Cabaret, and Leon Colgosz in Stephen Sondheim's dark musical, Assassins.
Going west.
Hamm moved to Hollywood in 1995 to pursue acting as a career. Although he was a certified teacher who taught acting for several years prior, enough people had encouraged him to become a professional actor that he decided to go for it. He landed his first screen roles in 2000, including a small part in Space Cowboys, and a recurring role on the TV series Providence. He continued to work on the big and small screens for several years, including a role in the feature film, Kissing Jessica Stein, written by and co-starring the soon-to-be-Jon-Hamm's-girlfriend, Jennifer Westfeldt.
Jon Hamm & Mad Men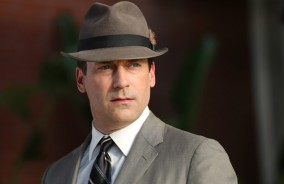 The big break came in 2007, with the high profile starring role of Don Draper in Mad Men. On landing this iconic role, Hamm once said, "It was amazing. I read the script, and it was for AMC, and I thought, 'They've never done anything that's remotely like a TV show, so what's that going to be like?' I read the script for Mad Men and I loved it. Then, I realized that a guy who wrote for The Sopranos, Matt Weiner, created it, so I thought, 'Okay, that's pretty cool.' But I never thought they'd cast me. I mean, I thought they'd go with one of the five guys who look like me but are movie stars. Obviously, they didn't. I literally had to go through six or seven auditions. They flew me to New York to meet all the people at AMC. My final audition was at that bar on the roof of the Hotel Gansevoort. When we were riding down on the elevator, the woman in charge of whatever the decision-making process was told me, 'You got the job'."
He can still play parts other than Don Draper
In the years since Man Men debuted, Hamm has made an eclectic mix of appearances on screen. Everything from Liz Lemon's quirky neighbor on 30 Rock, to the Allen Ginsberg bio pic, Howl, to multiple hosting gigs on SNL. He and Westfeldt are still a couple, co-producing the film, Friends with Kids, in 2012. There's no telling what Jon Hamm movies are still to come. The list is growing, and will no doubt bring many surprises along the way. When asked about how he chooses roles, Hamm said, "I certainly go after what I want. But I just have detached amusement about a lot of it. Because it's silly. This job is ridiculous. There's a line from 30 Rock that Tracy Morgan says that makes me laugh out loud: 'I remember that movie-I got paid one million teacher salaries'. It is what it is."