Gift shopping for men is never an easy task. Whether it's your dad who has everything, your husband who has very particular tastes, or your brother who never knows what he wants, it's always a challenge to find something you're confident they'll like. But, what is a good gift for a man? Get him a cool, manly, or unique gift that he can enjoy using every day as well as something that makes him feel special! Whether you're looking for a birthday present, a Christmas gift, or a romantic anniversary gift, we've got it all! We even chose which ones are among the top 10 gifts for men!
What is a Good Gift for a Man? A Custom Beer Mug
By far one of the top 10 gifts for men, this custom beer mug gift set is perfect for any man you know and can be tailored to any occasion, even just because! Seriously, what guy wouldn't want their own personalized beer mug? This large, hefty mug is just like the mugs he can enjoy gulping from in his favorite pub, but this one's uniquely engraved just for him! He will love using this manly glass to enjoy a nice cold beer after a long day, and he will certainly appreciate the new bottle opener and the matching personalized gift box that he can use to store all kinds of things from his watches to a bottle cap collection!
The Perfect Gifts for Him
Men and grilling go together like women and shopping, it's just in their instincts! Your dad or husband would be so excited to get his very own chef-quality BBQ tools for his birthday, Christmas, Father's Day, or even your anniversary! He will especially appreciate the fact that you had the handsome cherry carrying case engraved just for him. Now, he can take his trusty tools anywhere so that he can enjoy his favorite way to cook wherever he is instead of just his own backyard!
One of the All-Time Top 10 Gifts for Men
What is a good gift for a man? This gift set for sure! Help him celebrate his birthday, a promotion, or his retirement in style with this classy cigar and whiskey gift set! He will be speechless when he opens up such an incredible gift, especially if you include a couple of stogies inside the cigar case so that he can light one up right away. The beautiful whiskey glasses are as great for drinking out of as they are to display on his home bar, and he'll feel like a million bucks every time he uses them which makes these perfect for the man who has everything!
His Very Own Bar Sign
Fact: every man has fantasized about having his own bar. Seriously, it's true! One of the best gifts you can get a guy is a custom bar sign as a way to help make his dream become a reality right in his own home! He will love the vintage style of this rustic bar sign, and it might even inspire him to build his own home bar. This sign will make a fantastic housewarming or wedding gift for any guy you know!
The Coolest Answer to: What is a Good Gift for a Man?
Wow, talk about awesome! This classy and badass ammo box gift set is like someone took James Bond and turned him into a set of whiskey glasses and a custom ammo box. The cool design on the set is awesome on its own, but what really makes this gift set one of the top 10 gifts for men is the fact that it's something even the pickiest or the guy who has everything will love! Ideal for Father's Day or your anniversary, this incredible gift is something he'll be talking about and enjoying for years to come.
479+ INCREDIBLE GIFT SETS FOR MEN>
Make His BBQ Better Than Ever
Men love to make good food for their loved ones, which means they love gifts that help make their cooking even more enjoyable! This complete set of spices and meat rubs will give his signature ribs and steaks an explosive new flavor that no one will ever forget! Once his friends and family try his latest BBQ, they'll be speechless at how amazing it tastes. They may even want to invite the entire neighborhood over and try his new special seasoning! In fact, this spice set would make a great companion gift to the grilling tools you saw earlier!
Cool Poker Set
There's nothing like a classic game of blackjack with the boys! This custom poker set is a great gift for any guy on his birthday or for Christmas. He will love having a poker set on hand when the bros come over for guys' night or even when he visits his family for game night! The endless card, dice, and poker games he can play with this set ensure that this great gift will last a lifetime.
Custom Crystal Decanter Set
Make the guy in your life feel like a classy, sophisticated man with a stunning personalized crystal decanter set! Whether he has it on display in his office or home bar, he will feel like a king every time he uses it and even more so when he offers a classy drink to a guest. This decanter set is also perfect for celebrating special occasions with his loved ones such as his new house, wedding, or a job promotion!
The Perfect Go-To Gift for a Man
Still wondering what is a good gift for a man? You can't go wrong with a customizable flask and knife gift set, especially when the custom gift box the set comes in is actually a cigar humidor! How cool is that? You can be as creative as you like with the three customizable lines of text on the flask and the box so that your gift is funny, sweet, or simple to tailor it to the man you're giving it to. You can literally give this set to any guy for any occasion, which means it's your new go-to gift for all of the men in your life from your brother to your coworker!
This Cigar and Whiskey Gift Set is Among the Top 10 Gifts for Men
How awesome is this incredible whiskey gift set? From the cigar-holding whiskey glass to the custom wooden gift box, every part of it is cool and classy. Your dad or husband will be so blown away by the unique glass that he will never want to enjoy his evening bourbon any other way! He will especially appreciate the sweet message you had engraved on the gift set, which you can fully customize to make it perfect for him and the occasion. This set is certainly perfect for Father's Day, his birthday, or anniversary!
A New Fishing Rod is Always a Good Idea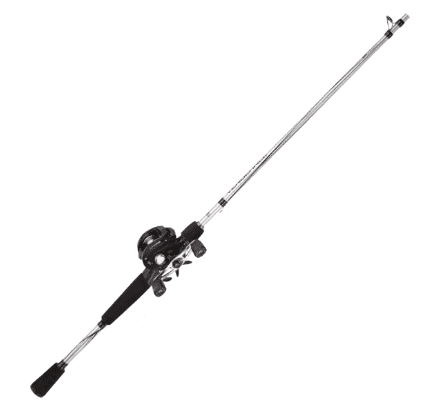 What is a good gift for a man? Something new that will help him enjoy his favorite hobbies, like a new fishing rod! Any man who enjoys fishing will appreciate such a nice gift, especially if you take him out to go fish with it right after you give it to him on his birthday or to celebrate his retirement! This awesome fishing rod is loaded with features such as an Ultra Max reel, machined aluminum spool, compact handle, and more.
The Ultimate Gift for a Man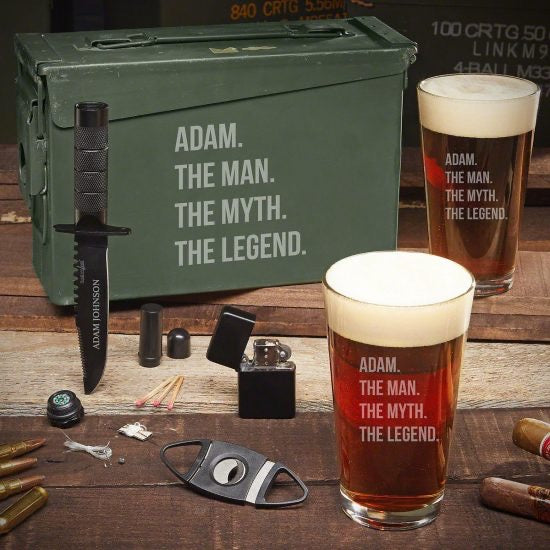 Any man you give this badass ammo box gift set will feel like the most legendary man in the world! This gift set has it all: personalized pint glasses, a tactical knife, a survival kit, and even a pair of cigar accessories. Perfect for enjoying on an outdoor adventure or relaxing at home, this gift set would be perfect for any guy you know such as your boyfriend, husband, brother, or father.
What is a Good Gift for a Man? His Own Man Cave
What man doesn't dream of his very own private man cave? This custom man cave sign is a must-have gift for any guy so that he can display it in his home. If he doesn't have a man cave already, he'll want to start putting one together as soon as you give him this cool sign as a housewarming or holiday gift! Finally he'll have a room that's entirely his own to relax and enjoy some well-deserved time to himself or with his best bros.
Unique Decanter Set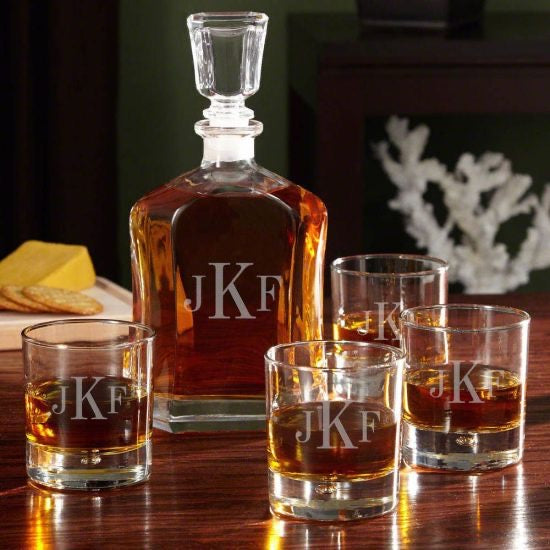 Every man needs a decanter set! This classy monogrammed whiskey decanter set is perfect for displaying, using for a relaxing evening drink, and even for entertaining guests with a drink in style. He will love having such a handsome centerpiece in his home bar, office, or living room, especially since the entire set features his initials. No one else in the world will have a set like this, which means this is a one-of-a-kind gift that just can't be beat!
393+ INCREDIBLE WHISKEY GIFTS FOR MEN>
New Tools Are Always the Answer to "What is a Good Gift for a Man?"
Men always need more tools, it's just a fact of life. Sure, he probably has a garage full of tools he's bought or been given over the years, but he definitely doesn't have one like this! He will be so touched that you got him such a nicely personalized wrench multi-tool. He'll want to take this handy gift everywhere he goes because of its many useful features such as screwdrivers, a knife, bottle opener, and of course an adjustable wrench! This little multi-tool is definitely one of the top 10 gifts for men, especially since it's the perfect stocking stuffer, birthday gift, or Father's Day present!
You Can Never Go Wrong with a Tie Gift Set
How striking is this tie gift set? Complete with a matching pocket square and cufflinks, your dad or brother will be thrilled to have such a nice new set. Plus, if you're worried about budget, this set is a mere $20! Such a great gift is bound to be your new go-to gift for every guy in your life, and it even comes in three beautiful color schemes. Whether it's a last-minute birthday gift or a Secret Santa present for your coworker, this classic gift is totally fail-safe.
The Classiest Gift Set He's Ever Received 
As soon as he opens up this incredible gift, he'll be positively speechless because it's so amazing! From the custom crystal decanter to the cigar-holding whiskey glasses, he won't know which piece is his favorite. This impressive decanter set is sure to be the classiest new addition to his office or home, and he will certainly be using it for every celebration, special occasion, and even just to treat himself to a relaxing drink and a cigar. One look at this and any guest or client he has will surely be impressed with such a classy piece!
Bigger is Always Better
Why settle for a small, regular old gift when you can get your boyfriend or husband the biggest beer mug he's ever seen? With a whopping capacity of an entire liter of beer, this monstrosity will make sure that he never has to miss another second of his game or movie to get a refill. In fact, thanks to your thoughtful gift, he only has to fill it up once and enjoy his favorite armchair to his heart's content, allowing him to fully relax and enjoy his brew. Such a hugely awesome gift is ideal for a man's birthday or for Christmas!
Make His Home Bar a Classy Pub
It doesn't matter if his home bar is inspired by real English pubs or not, he'll feel like he's in a famous and fancy bar as soon as he hangs up his new sign! He will love how unique and handsome it is, especially since it's the first thing anyone will see when they come over to his home bar. Thanks to you, his home bar will be cooler, classier, and official! Such a great gift is perfect for a man's housewarming, the holidays, or even just because you noticed he didn't have a sign for his favorite place in the house.
Small Gifts Are Good Too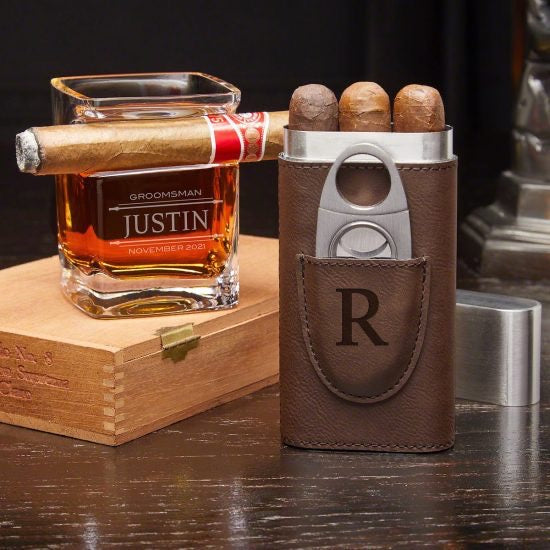 You're here because you're asking yourself, "What is a good gift for a man?" Well, this is the answer! Seriously, this little duo is one of the coolest gifts you can get for your dad, husband, or even your boss. The whiskey glass will hold his favorite scotch and a cigar so that he can smoke and sip with ease, freeing up his other hand to scroll through his feed on his phone or read a book. The handsome cigar case will protect up to three stogies and conveniently holds a cigar cutter so that wherever he is, he's ready to light up a cigar like a cool mafia boss. Any man who receives this set as a gift is sure to be pleased and feel cooler than ever before!
Tool Boxes Make the List for Top 10 Gifts for Men
Everyone has that one guy friend or male relative that loves looking at new tool boxes, storage sheds, and fancy tool sets when they go to Home Depot or Lowe's. Well, why don't you buy him this handsome 46" tool box that has a gorgeous solid wood top? He will be in awe of such an incredible gift, which is ideal for your dad on Father's Day or for his birthday. He will be so excited to make room in the garage for it and spend the rest of the day putting all of his favorite tools inside!
For the Man as Strong as an Ox
Okay, so maybe he doesn't have to be actually as strong as an ox or a bull but you can certainly tell him that he is when you give him this amazing bull decanter set! He will love the tough bull decanter and the custom glasses for his usual scotch on the rocks, especially since he can enjoy his favorite drink without the hassle of melting ice ever again with the whiskey stones. The impressive decanter makes a fantastic centerpiece and conversation piece no matter where he chooses to display it in his home, and he'll feel like a king when he pours from it and wows his guests!
The Manliest Gift Set for Men
As soon as he opens up the ammo box and sees all of the gnarly tools inside, he'll feel like Bear Grylls and going on an outdoor adventure so that he can try them out! Each piece of this set is perfect for going hunting, hiking, camping, fishing, you name it. But best of all, the ammo box is custom engraved just for him so that he always knows which one is his when he goes shooting or hunting with his bros! With plenty of room to hold all of his new gifts and extra gear, he'll be ready to test his survival skills as soon as he finishes his birthday cake or Christmas dinner!
A Gift He Never Knew He Needed
Men usually have more than one watch, and it's fairly common to see them strewn all over his dresser or bedside table. One of the most thoughtful gifts you can give a man is a watch case so that he has all of his beloved timepieces in one convenient, secure place. He will love that you even had the glass window custom engraved with a sweet or fun message, and especially that he can finally find the watch he wants to wear right away instead of hunting around the whole house for it! This custom watch case is by far one of the top 10 gifts for men, and you should definitely buy one for every watch-wearing guy you know!
The Perfect Gift for the Man Who Loves Craft Beer
When it comes to buying men's gifts, you should stick to things you know he's passionate about if you're not totally sure he would like what you picked out. For instance, a guy who likes craft beer and going to a local brewery would love a personalized growler and pint glass set more than he would a new flannel shirt! This three piece set is great for trying out his latest home brew or for enjoying a tasty new concoction from his favorite brewery in the comfort of his own home. Plus, the fact that they're all personalized with his name will mean that he will love your gift even more!
A Survival Backpack
Does the man you're shopping for enjoy going on adventures? Make sure he's prepared for anything with this ultimate survival backpack! The main backpack is a whopping 50 liters so it can hold a huge amount of gear, and has several smaller attachable bags for his tools, snacks, emergency kits, and more! He certainly won't need to load up with multiple bags anymore when he goes hiking or backpacking thanks to your thoughtful and practical gift!
Essential Whiskey Gift Set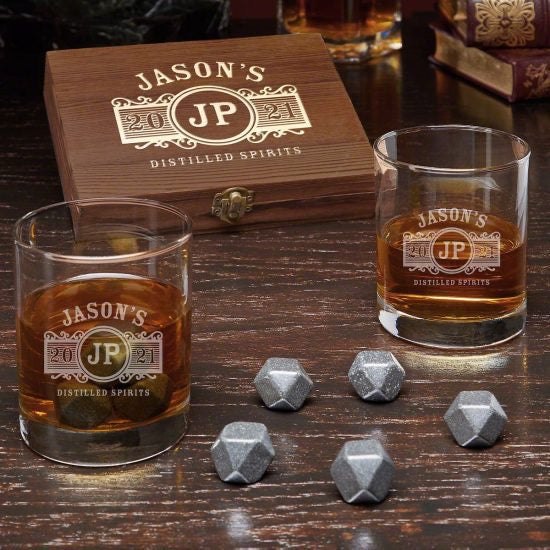 This may be the end of our ideas, but that doesn't mean this whiskey gift set isn't one of the top 10 gifts for men! You simply can't go wrong with a simple but cool pair of custom whiskey glasses and a nice set of whiskey stones. Whether he's a Jack and Coke kind of guy or prefers Scotch on the Rocks, he will really appreciate having a proper set of rocks glasses and chilling stones so that he can enjoy his favorite drink to the fullest. Besides, the vintage-inspired design on the entire set is fully customizable which means you can make it especially unique for him! Such a great gift is perfect for birthdays, anniversaries, Christmas, or even to celebrate a promotion or retirement.