Christmastime means buying gifts for friends and loved ones, and you have men in your life who you want to find the perfect presents for. You want these gifts to be the best-of-the-best gifts so he feels more loved and appreciated than ever before on Christmas Day. You're on a quest to find those perfect gifts, and we're here to help you out! Top Christmas gifts for men should be unique, personal presents that serve some sort of purpose for him, whether that's enhancing a hobby, introducing him to a new one, or making his life easier with something useful! After searching from the North to the South Pole, we found the absolutely best Christmas gift ideas for men that any man will think are totally awesome.
Classy, Monogrammed Decanter Set
Make his jaw drop on Christmas morning when he rips the wrapping paper off of this gift! This monogrammed decanter set will definitely be his favorite gift he's ever gotten because of how classy he feels while using it! It's one of the top Christmas gifts for men that he can use to celebrate every holiday season and other special occasions. It'll bring a warmth to his heart even in the cold December air as he enjoys his favorite drink using this gorgeous set.
An Ammo Can Full of the Top Christmas Gifts for Men
Get him a holiday gift that will really surprise him because it's the kind of gift he didn't even know existed! This ammo can gift set is a one-of-a-kind Christmas present that he'll instantly think is the coolest thing he's ever owned. Using the pint glasses will make drinking his favorite beers better than ever before since they're personalized just for him, and he'll really enjoy keeping his beer accessories, live rounds of ammunition, or anything else inside the ammo can. You can even put a couple of his favorite beers inside it when you give it to him on Christmas!
Most Fun Christmas Gift for Him
A gift that's personalized just for him and a ton of fun? That's right up his alley! This custom cornhole set is one of the best gifts for men for Christmas that he'll have such a blast using with loved ones whenever they have the chance. He'll love bringing it to the beach or setting it up in the backyard when he hosts a barbecue or Super Bowl party. As a fan of whiskey, the creative personalization will be a nice touch he's obsessed with.
A Cool Cigar Gift Set for Christmas
Men always appreciate feeling cool and classy, which is why a gift that makes them feel even more like that is always a no-brainer. This personalized cigar gift set is a gift he'll treasure forever for this reason! He'll always feel like the most dapper man in any room when he's holding the custom cigar glass, sipping on his drink and smoking a stogie at the same time. Plus, it doesn't hurt that this classy set of Christmas gifts for him will have him looking like Don Draper at every holiday party he goes to. In fact, if there comes a time he wants to bring cigars to a buddy's house to enjoy them there, the cigar case will definitely come in handy.
Grown-Up Remote Helicopter
How about top Christmas gifts for men that make him feel like he has the latest and greatest technology has to offer? This quadcopter drone with a professional camera is so amazing that he'll want to immediately go outside and use it to take pictures from the sky. He'll think it's such a unique gift that reminds him of remote helicopters he loved as a kid. He'll want to show it off to everyone at Christmas dinner!
Personalized Wooden Sign for His Man Cave
Top Christmas gifts for men that let him really claim his own space are always going to be awesome ideas! This personalized man cave sign will let all who enter the home know who the man cave belongs to! He'll feel really awesome knowing that his sanctuary within the home is marked with his name, so he can play video games, read books, or do anything else in peace.
325+ COOL CUSTOM WOODEN SIGNS>
Steel Wine Tumblers are Awesome Gifts for Men for Christmas
This gift is so incredible that as soon as he opens up this gift on Christmas morning, he'll want to immediately start using it! This stainless steel wine tumbler set will be one of the best gifts he's ever received. It's so unique that he'll feel very fancy every time he's using it. He'll love pouring chilled wine, or even any other drink, into these handsome glasses and using them to really enjoy his drink on Christmas. On every other special occasion, he'll definitely bring out this classy gift set to enjoy a drink.
Every Vintage Video Game
Bring him back to Christmases he had as a kid with this all-in-one console system! This incredible contraption has over 30 retro arcade systems all in one box. He'll be so excited to play tons of games, like Space Ace, Penguin Adventure, Galaga, and so many more, a fun throwback to when he would receive video games as a child on Christmas.
Bet on this Christmas Gift for Men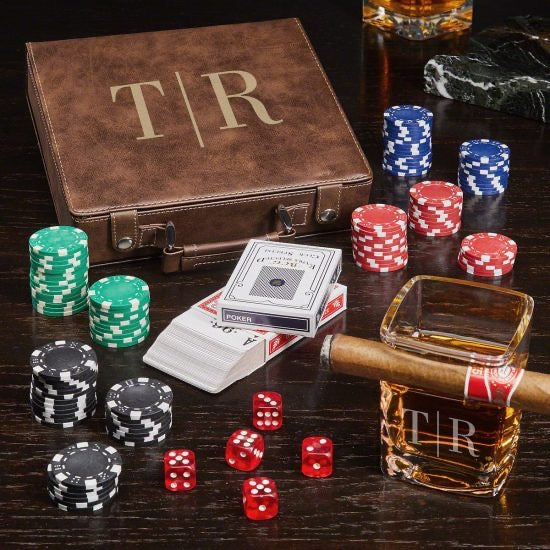 If video games aren't his style, a classy adult game set would definitely make a great holiday gift. This monogrammed poker gift set is one of the best gifts for men for Christmas that will lead to many fun game nights. He'll be so excited to use this set to play poker or other fun card games with friends and family. As he's holding this whiskey glass, sipping on whiskey and smoking a stogie, and holding his cards in his other hands, he'll feel like the classiest guy alive.
Drink Beer the Best Way
Don't let him go another day drinking beer from a boring glass! This holiday season, surprise him with the coolest way to drink beer—this custom traditional German beer stein! He'll be stunned when he sees this beauty waiting for him under the tree, and he'll definitely want to use it immediately to enjoy his favorite beer! He'll love showing this unique stein off to every guest that comes into his home, and he'll never want to drink beer from anything else ever again!
Handsome, Custom Liquor Bottle Box
You know a bottle of his very favorite liquor will make an incredible gift, but you want to make it even more special of a present than just a bottle. This etched wooden liquor box is just what you need! This box is one of the top Christmas gifts for men because it'll make him feel so special knowing you went to the trouble to get a beautifully engraved box to put the bottle in. He'll even want to use the box from now on when he is keeping a bottle of liquor for a special occasion!
Top Christmas Gifts for Men Who Love a Clean Shave
Make his shaving experience more enjoyable and better than ever with this rotary shaver kit! This all-inclusive kit comes with trimmers not only for his face but for his body and ear and nose as well. It even includes a cleaning brush and lubricating oil, so he has absolutely everything he needs for the best shaves of his life.
Gift that Makes Serving Himself and Others Drinks Easily
Get him the glassware set he never thought existed because of how spectacular it is! This personalized whiskey presentation set is just what he's been missing from his life. Having such a fancy set sitting on his coffee table or home bar will make him feel very classy. The ease with which he can serve himself a drink with this gift as he's sitting on the couch will make him very happy. When he has guests over, this fancy set will make serving them so easy, and he'll be a big fan of that!
For a Grilling Man
Give him a Christmas gift he can't refuse that'll make him feel like the "Grillfather." This custom bamboo cutting board is one of the best gifts for men for Christmas because it'll make his hobby of grilling better than ever! Cutting, seasoning, and any other preparation he needs to do with his meat and other foods will be made so much easier using this board. When he's serving his delicious food to guests, this tray is the perfect serving surface.
Beer Mugs are Fantastic Gifts for Men for Christmas
Any guy who is into beer would be excited to receive the perfect beer gift for the holidays. This beer mug box set is the best of the best when it comes to beer-related gifts, so you know he'd absolutely love it! Every time he drinks from these hefty, personalized mugs, he'll feel like he's at the coolest pub ever. It'll be like he's at his own private bar enjoying beer with a buddy, which he'll think is awesome!
527+ AWESOME BOX SETS FOR MEN>
A Pair of Suede Shoes
Boost his confidence this holiday season with a handsome pair of suede shoes! These aesthetically pleasing shoes are one of the top Christmas gifts for men because what man doesn't love a stylish set of shoes? After all, who doesn't want to feel classy every time they leave their home. Whether that's when he's on a date, at work, or even at the supermarket, he'll be a big fan of how these look on his feet and how cool he feels while wearing them.
Sensational Ammo Can Gift Set
When you look up the definition of "sensational" in the dictionary, you'll definitely find a picture of this personalized ammo can gift set! Any man will feel so lucky to receive such an amazing gift set on Christmas morning. When he wants to enjoy a holiday drink, or a drink on any other special occasion, he'll use his amazingly personalized rocks glasses. The ammo can will definitely impress him, too, especially when you fill it with small bottles of his favorite whiskey, or his favorite Christmas candy, or anything else you know he'll love!
For His Very Own Manly Garage
After he hangs this garage wall hanging plaque, the whole area will feel like the coolest space in the world. He'll love how awesome this plaque looks in his garage, where he likes to spend time, whether that's fixing cars, working out, or doing any other "guy" activity he likes to do out there. He'll really appreciate this plaque marking his territory with his name.
You Won't Strike Out with this Gift
Hey, batter batter! This baseball decanter set is one of the most unique gifts for men for Christmas that he'll think is awesome! He'll definitely want the bat decanter displayed in his man cave or living room because of how interesting it is, and he'll really enjoy having a couple buddies over to watch the Red Sox or Cubs and enjoy a drink using these unique glasses!
A Gift He'll Punch
Get him a holiday gift that's a new way for him to both exercise and have fun! This vintage leather boxing bag is one of the top Christmas gifts for men that he'll have a blast hanging in his garage or man cave and using to practice his uppercut. He'll feel like Rocky Balboa owning this unique boxing bag!
Coffee Sets Are One of the Top Christmas Gifts for Men
Make sure he always gets his caffeine fix by getting him this coffee carafe and mug set! It'll definitely come in handy in all kinds of situations, like when he's at work or on a road trip and in desperate need of some coffee. When that happens, he'll be really thankful for the sleek, handsome carafe keeping plenty of coffee piping hot inside it. He'll pour it into his new favorite mug and enjoy!
The Coolest Cocktail Shaker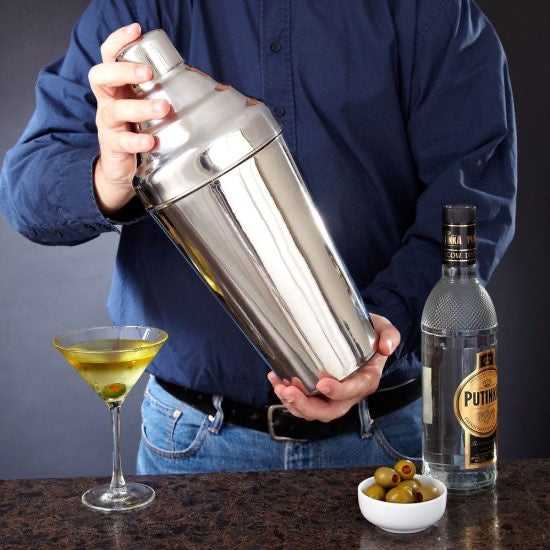 Top Christmas gifts for men that help him be creative and result in a delicious drink? Say no more! This extremely large cocktail shaker is a super fun holiday present that any man will think is so unique. He'll love experimenting with different cocktail recipes or even inventing his own cocktails. He'll even want to make a holiday cocktail for his loved ones each Christmas!
For the Whiskey-Loving Man
As a true whiskey fan, get him a holiday present that'll help him embrace that love! This Glencairn glasses box set is a classy, sophisticated gift set that any whiskey fan will think is to die for. He'll really appreciate how he can taste every note in his favorite whiskeys, and he'll like feeling like an aficionado as his whiskey tasting skills become more astute. He'll absolutely adore this gift and how much it helps him enjoy one of his favorite hobbies.
A Very Practical Holiday Present
Sometimes, the best gifts for men for Christmas are those that are very practical and could very well save him some day! This electric car jack set will certainly come in handy when he's stuck on the side of the road, or even if he's just as home but doesn't want to have to take his car to a shop when he's having tire issues. He'll be so pleased to receive a gift that's so useful and practical!
Great Gifts for Men for Christmas Who Love Golf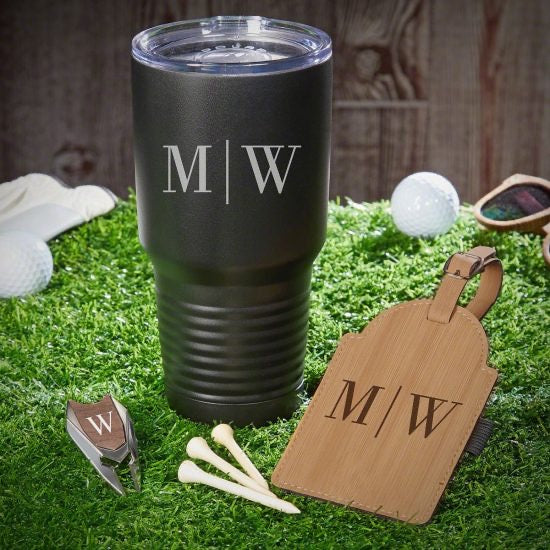 A gift he can take to the golf course is one you simply can't go wrong with! This personalized golf gift set is a fantastic Christmas present for a golf fan because he'll feel like he is on the PGA tour with the personalized bag tag attached to his golf bag and on his very own divot tool! When he's worked up a thirst on the course, he'll be extra thankful for the cold drink in this handsome tumbler.
Monogrammed Wine Gift Set
This wine gift set is definitely one of the top Christmas gifts for men that he'll use all the time! He'll be obsessed with the monogrammed, stemless glasses with their modern look and practicality. Having every tool he needs inside the wooden barrel will be so convenient for him, which he'll definitely appreciate. You can be sure that throughout the holiday season he'll want to use this gift set every chance. Plus, it is great for the rest of the year too! He can use this classy set for special occasions like his anniversary or even as his daily wine set.
Make His Home Bar Feel Like a Real Bar
Make sure the bar area in his home is well adorned this Christmas! This personalized pub sign will look so classy in his home bar, making it feel like a genuine fancy bar right there in his home! He'll be motivated to put even more work to make his home bar even more awesome, so when he has guests, they'll want to spend time in the most amazing bar they've ever been to!
A Leather Roll Toiletry Bag
He's probably been using the same old toiletry bag for years (or even a large Ziploc bag). Remedy this situation by getting him a super nice hanging toiletry bag! This is one of the top Christmas gifts for men because it'll come in handy time and time again. This gift will make it so easy for him to bring all the shaving tools, shower items, and anything else he needs on any trips he takes.
Amazing Christmas Gift on Land and Sea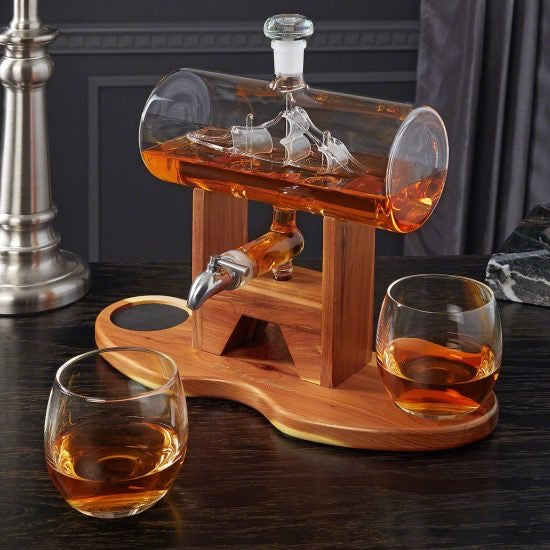 For Christmas, get him the most impressive decanter sets on earth! This ship in a bottle decanter set is one of the best gifts for men for Christmas because it'll look incredible in his home bar or kitchen, especially when it has been filled to the brim with his favorite liquor. He'll really like the style and element of "cool factor" this decanter brings to any room he keeps it in. Now, don't be surprised either when it becomes a tradition on Christmas and other holidays for him to use this handsome set to enjoy a drink!