When it comes to buying gifts for wine lovers, don't just get them another regular wine glass or one of those cheesy T-shirts that say "I'd rather be at home drinking wine." Instead, get them something unique, cool, and definitely a gift that they definitely don't already have. The best wine gifts are items that make drinking wine more fun, help them become better at wine tasting, custom wine glasses,  or even cool gadgets that make it easier to enjoy their favorite beverage. Don't worry about having to search for these gifts though, we already scoured the web to track down the absolutely best wine gift sets and the most impressive gifts for wine lovers that are perfect for any wine drinker!
Decanters Are Always the Best Wine Gifts
Decanters are some of the best wine gifts you can give, but don't just settle for an ordinary one! This stunning three piece personalized wine decanter set is the perfect gift for someone who enjoys drinking red wine because it won't just enhance their favorite Merlots, the whole set is custom engraved just for them and creates a gorgeous centerpiece for their home! One of the best wine tools to own is a decanter, which is necessary for aerating red wine to make it sweeter, less bitter, and enhance the flavors.
The Best Wine Gift Sets for White Wine Fans
Stainless steel tumblers are more popular than ever right now, and it's no wonder why! These double-walled insulated tumblers are designed to keep your white wine chilled for hours whether you're in the pool on a hot summer day or you forgot about your drink and found it half-full the next morning. These cool tumblers are even custom engraved and come with a handy corkscrew multi tool so that you're always prepared to open a bottle of white wine! You can even use the wooden gift box to store your next bottle or keep the whole set inside for safekeeping between uses.
Custom Signs Are the Best Wine Gifts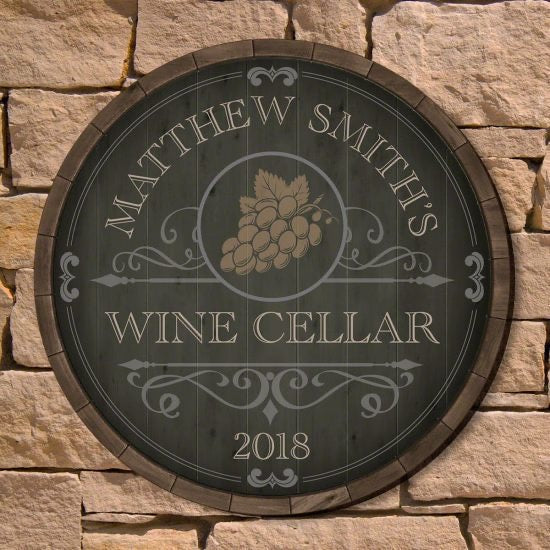 Make their wine cellar official with a custom wood sign! This beautiful sign is a must-have decoration for wine lovers whether they have an actual wine cellar or not. You can customize the entire design from the colors to the text so that your gift is a truly one-of-a-kind piece that no other wine drinker in the world will own. Such a lovely piece of decor makes for an amazing housewarming or anniversary gift for every wine love in your life! After all, who doesn't want their very own wine cellar?
Wine Preservation Systems Are the Best Wine Gifts Ever
There's nothing worse than a bottle of wine that's gone bad, but you can make sure that never happens again to the wine lovers in your life by giving them a wine preservation set! The Coravin Pivot is a must-have tool because you can open the bottle of wine, place one of the included stoppers in, and then use the Pivot to extract the wine without actually removing the stopper. This way, the wine stays fresh for up to four weeks!
The Most Luxurious Way to Chill Wine
How gorgeous is this marble wine chiller? You will never have to worry about remembering to put the bottle of Moscato in the fridge a few hours before dinner thanks to this beautiful wine accessory. You can keep the entire chiller in the freezer at all times so that it can instantly chill your white wine whenever you feel like a bottle! Even when you're not using it, this lovely marble chiller is a great decoration for your dining room or home bar because it's perfect for holding a bottle of wine or your wine tools.
The Best Wine Gift Sets Are Personalized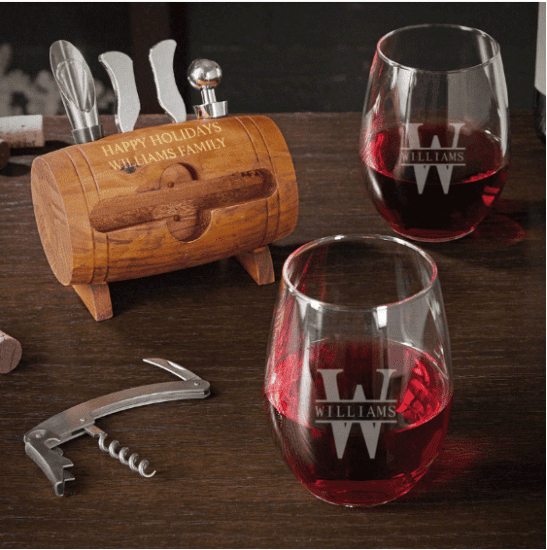 This lovely set has everything a wine drinker could possibly need (besides a bottle of wine of course) to enjoy their favorite wine! By far one of the best wine gift sets ever, this lovely pair of stemless wine glasses and adorable tool set is a must-have. You can get really creative with the engraving on the barrel, which belongs on display in the dining room or kitchen at all times because it's cute and is a great way to keep all of their wine tools in place. This set also makes a fantastic wedding or housewarming present too!
The Tool Everyone Wants
Opening a bottle of wine can be very difficult at times, but it doesn't have to be! An electric corkscrew takes all of the effort out of opening a bottle of wine with just the push of a button. An electric corkscrew is one of the all-time best wine gifts you can give, even to a wine lover who says they have everything. Wine gadgets like this one make enjoying their favorite wine so much easier, quicker, and better overall!
Every Wine Lover Needs a Statement Decanter
It doesn't matter if you're in search of a new centerpiece for your home bar or a wine decanter to make your favorite merlot sweeter because this stunning piece is both! Made of the finest Italian glass, this gorgeous wine decanter has a beautiful mosaic design that looks like it came right out of the Louvre. Decanting your wine in this piece is not only going to make you feel like royalty, but your wine will certainly taste better than ever before!
Classic Wine Gift Set
No matter what occasion or who you're shopping for, one thing is for certain—this incredible stemmed wine glass set is one of the best wine gift sets you can get! With its custom engraved glasses, engraved gift box, and even a matching acrylic stopper, this amazing set has it all. This set is the ultimate gift for a wine lover because everyone who drinks wine needs everything in this set and each piece is sure to be enjoyed many times for years to come. The classic pair of wine glasses makes this set an ideal wedding, anniversary, or even a housewarming present!
The Coolest Glasses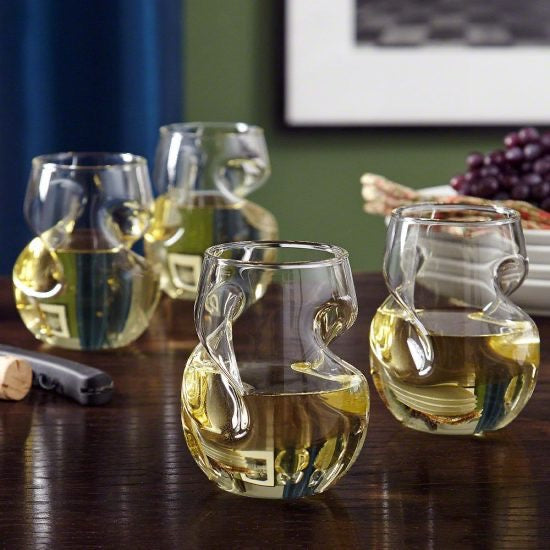 Looking for the best wine gifts that are truly unique? You can't get any more unique than these stunning self-aerating wine glasses! Designed like works of modern art, these beautiful glasses actually aerate your wine for you so that you don't need a decanter! They can aerate red or white wine so that whichever wine you're in the mood for, each sip is more flavorful and sweeter than the last. Any wine lover or even someone who aspires to be a sommelier will appreciate such gorgeous glasses!
Fun Wine Décor
You can never go wrong with cork collectors as gifts for wine lovers, especially if they're shaped like their home state! This fun, interactive decor is a great go-to gift for anyone you know who drinks wine. They will love filling up the wooden map of their home state with wine corks over time, creating a one-of-a-kind work of art! Of course, you should definitely pair one of the signs with a bottle of wine so that they can put their first cork on it right away.
A Wine Fridge
Who doesn't want a wine cooler in their house? This awesome wine fridge is the ultimate gift for a wine lover! Whether they don't have room for a whole cellar or their fridge isn't big enough for all of their wine, this little wine cooler is going to be their new favorite kitchen appliance. With a 25 bottle capacity, they'll be able to keep a wine for every occasion chilled and ready to enjoy at a moment's notice!
A New Way to Drink Wine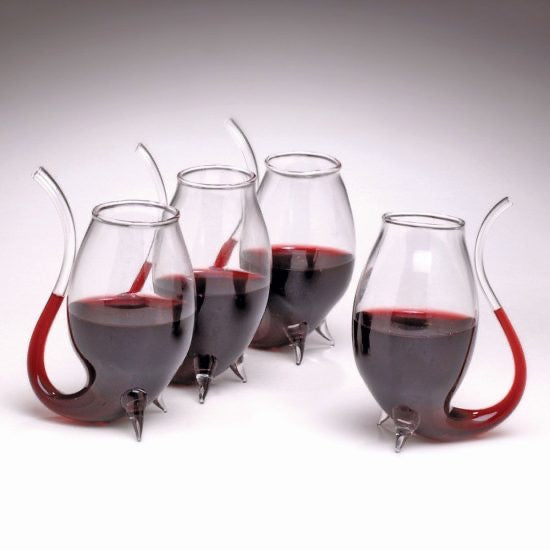 Have you ever seen wine glasses like these port sippers? The person you're shopping for probably hasn't either! These unique glasses are designed to be held in your hand so that it can absorb the warmth of your palm, gently releasing the hidden flavors. The "tail," part is a built-in straw that you sip from instead of using the rim of the glass, which allows you to enjoy the fullest flavor from the bottom of the glass instead of the oxidized, exposed part of the wine. Such a unique gift is the perfect way to help a wine lover become a sommelier!
DIY Cork Trivet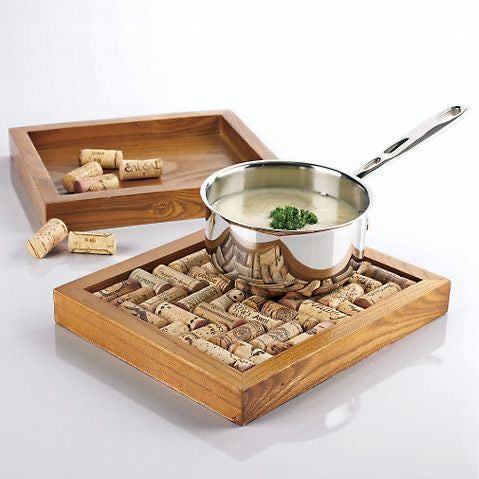 Looking for a fun wine gift that isn't glassware? This adorable wine cork trivet kit is one of the best wine gifts for anyone you know who enjoys wine! It comes with wine corks and a wooden frame and all they have to do is arrange the corks to create a unique, cute new trivet! It will look lovely in their kitchen, and they can rearrange it whenever they like to make different patterns. This fun DIY gift is perfect for the holidays, especially if you're trying to find a gift for a wine lover who has everything.
Copper Wine Glasses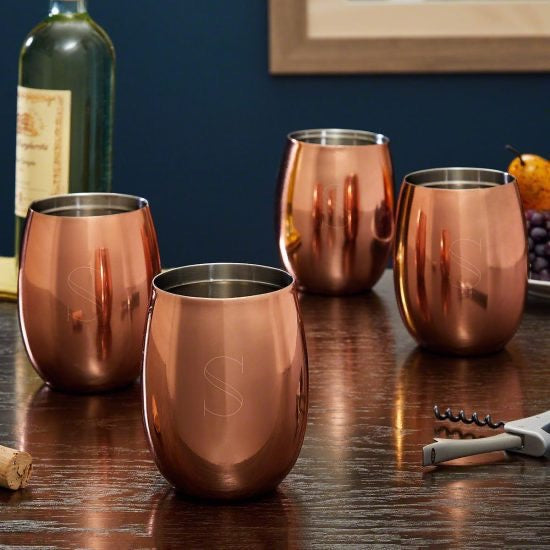 How cool are these unique wine glasses? Literally, these copper stemless wine glasses are actually made of double-walled stainless steel which helps keep your wine naturally chilled and just the right temperature for hours. You definitely know that the person you're shopping for won't have these already in their home bar because they're so cool and unique! They're even virtually indestructible like the wine tumblers above so that they can be enjoyed outdoors or on the go.
The Guidebook to Wine
Are you in search of a gift for someone who dreams of having their own wine cellar or even just becoming more knowledgeable about wine itself? Then get them this book! The Wine Cellar Book by Mitchell Beazley has everything from detailed blueprints on various types of wine cellar, decanting wine, and how to store wine properly. Once they've read it, they'll be a bonafide sommelier ready to impress everyone they know about wine and will want to build their own wine cellar!
The Best Way to Give a Bottle of Wine
So, you've got a really nice bottle of wine to give someone, but you don't want to just hand them the bottle and that's their gift. Why don't you give it in this gorgeous personalized wine gift box? With a custom engraved lid and all of the tools they need to open and enjoy the wine, this is one of the best wine gift sets ever! Sure, it's simple, but it will mean way more to them that you took the time to pick out a nice gift box and even come up with the text engraved on the lid than if you just gave them a bottle with a bow around it.
The Ultimate All-in-One Gift for Wine Lovers
While most wine gifts are cork holders, wine tools, and wine glasses, this gift set has all of them in one incredible gift set! The wine lover in your life will be speechless when they see their new personalized wine glasses, matching shadow box, and the handy multi tool corkscrew. They will enjoy using the whole set every time they have a bottle of wine because they can open it with the multi tool, pour it into their custom glasses, and then drop the cork inside the shadow box. Over time, their collection of wine corks will grow inside the shadow box which will create a really cool piece of décor! Seriously, this is one of the best wine gifts ever because it has all of the best kinds of wine gifts in one personalized set.
Bring Chilled Wine Anywhere
There's nothing like going on a picnic to the park with your significant other or going to a party with friends and bringing a bottle of wine to share. However, by the time you get there, it's probably not cold anymore. Solve this common problem for everyone you know who drinks wine by giving them a portable wine cooler! This custom cooler is vacuum-insulated and ensures that their wine stays just as cold as it was in the fridge by the time they actually get it out to serve at the park or their friend's house.
The Best Wine Gifts Are Unexpected
Want to give a wine gift that they will never see coming? Try these wine-filled chocolate truffles! Made with Napa Valley's finest wines, these gourmet chocolates are a fun new way to enjoy their favorite wines. With assorted types of truffles such as Cabernet, chardonnay, and even rosé inside delectable milk and dark chocolates, they will be able to experience the luxurious pairings like never before! In fact, they might request a box of these for every occasion.
Must-Have Wine Gift Set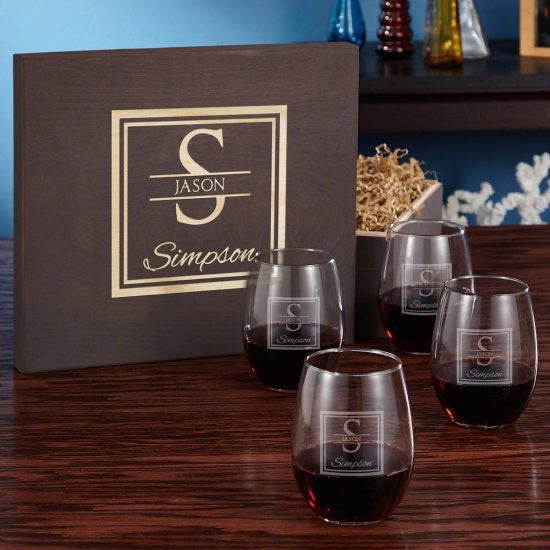 Sure, they probably have some stemless wine glasses in their cabinet, but are they custom engraved with their name and dishwasher safe? Most likely not. Make any wine lover's day with this must-have set of custom stemless wine glasses, which are large enough to hold nearly half a bottle of wine! Once they see their name engraved on all four glasses and even the beautiful wooden gift box, they'll never want to use their cheap department store wine glasses ever again. Now, when they have company over, they'll be grabbing these from the cabinet instead and will be proud to show them off!