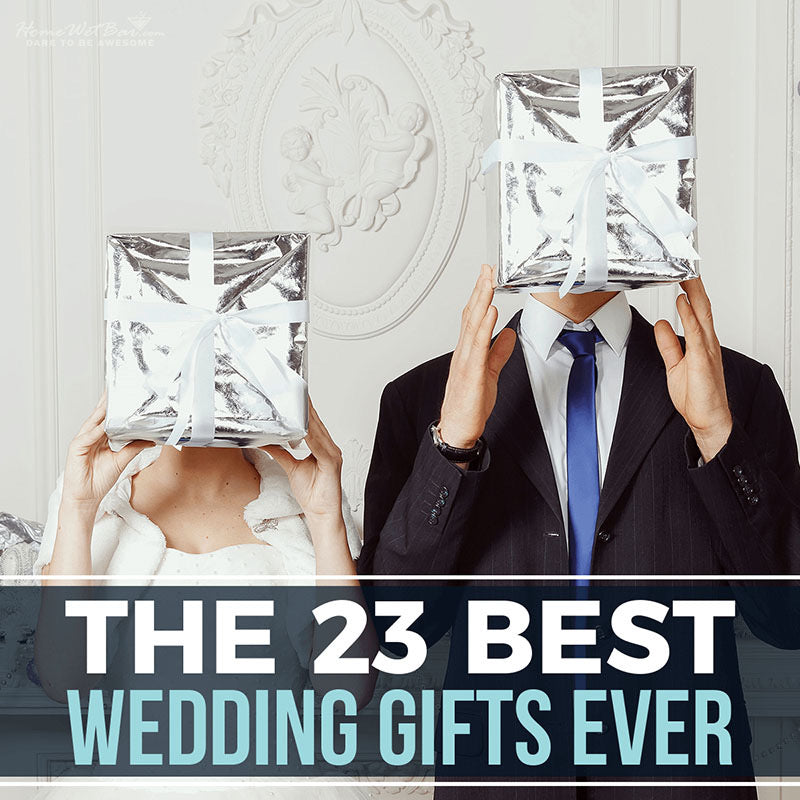 The 23 Best Wedding Gifts Ever
They're so excited to be getting married, and you're thrilled for them, too! You want to get the happy couple a fantastic wedding present to show them how much you love them. However, you aren't sure what the perfect wedding gift would be. Don't sweat it though, we've got you covered! The best wedding gifts ever are those that are perfect for the newlyweds to enjoy that remind them of their love for one another every time they look at it or use it. Personalized and unique wedding gifts for couples are also always phenomenal ideas. We've found the best wedding presents for the newlywed or soon-to-be-married couple in your life that they'll absolutely adore.
Presentation Set of the Best Wedding Gifts Ever
Why not get the newlywed couple a gift that not only will the two of them enjoy using, but they'll find really helpful when they have guests over? This decanter presentation set makes having a drink of deliciously decanted spirits easy and awesome. They'll love seeing their name and initial etched into this handsome glassware as this set sits on their home bar, coffee table, or dining room table. The ease with which they can serve their guests a drink with this set is fantastic!
Sage Advice on a Sign
This handsome, customized bar sign is one of the best wedding gifts ever because not only will it look awesome hung up in their home, but it provides some great marriage advice they can always follow! The couple will be a big fan of this unique and slightly humorous sign hanging in their home bar or kitchen. It will always remind them that the most important thing in life is spending quality time with one another!
Every Tool in the Wine Tool Box
A delicious bottle of fancy wine is always a welcome sight to a newlywed couple, but it's made even better of a gift when it comes inside this wine gift box set! It's one of the best and most unique wedding presents because they'll really appreciate having all the tools they need to enjoy a bottle of wine all in one convenient place. The gorgeous box is also the perfect place for them to keep a nice bottle of wine until they want to enjoy it during the next special occasion.
Glassware They'll Never Tire Of
Why not wow them with a wedding gift so classy and spectacular they will still treasure it years down the road? This sculpted glasses and decanter gift set is the perfect wedding present for that! The personalization on the decanter will remind them of the most special day of their lives, and they'll really enjoy using the unique glasses to share a drink together as they reminisce about that amazing day on their anniversary or Valentine's Day.
Blenders Make the Best Wedding Presents
No newlywed couple has ever turned down a fancy kitchen appliance! This technologically advanced blender is a stellar wedding gift idea that can blend up anything they want! Whether they're making soup, ice cream, smoothies, spaghetti sauce, or anything else they need to blend, they'll greatly appreciate having such a high-quality blender to make the meal of their dreams!
Raise a Glass to this Champagne Set
The champagne toast at a wedding is a classic. Give them a gift before the wedding or at the engagement party that they'll want to use immediately! This champagne glasses gift box is incredible because not only does it have extremely classy champagne glasses, but they're customized just for the couple, so they'll definitely want to use this unforgettable wedding gift set to do a toast at the reception and on anniversaries and other special occasions.
525+ GIFT BOX SETS THEY WILL ADORE>
Wine Glasses and Decanter Set of the Best Wedding Presents
They may already have wine glasses, but they'll definitely replace their old set with this gorgeously customized wine glasses and decanter set! They'll absolutely love the look of this decanter that will hold their wine elegantly on the home bar or dining room table. They'll really appreciate such high-quality, modern looking stemless wine glasses that make them feel like a very sophisticated couple.
Custom Cutting Board They'll Love
The best wedding gifts ever don't have to be super complicated! This gorgeous, custom cutting board is a simple yet fantastic idea for a wedding present. The special etching makes it a wonderful keepsake that the couple will want displayed when they aren't using it. However, when they are spending time cooking together in the kitchen, this board is fantastic for chopping, slicing, dicing, and even seasoning every kind of food they want!
For the Wine Cellar, Kitchen, or Anywhere Else
Make their house feel more like a home with the most aesthetically pleasing sign ever! This wine cellar sign is one of the best wedding gifts ever that'll look fantastic hung up in their wine cellar, home bar, or kitchen because it's so beautiful and classy. They'll feel really special seeing their name at the top of this gorgeous sign, and it'll always serve as a reminder of their special wedding day.
Travel Must-Haves
Starting with the honeymoon, the couple is bound to do plenty of traveling during their marriage, from far-off destinations to trips to stay with their parents. That's why this luggage set is definitely one of the best wedding presents that will come in handy time and time again. They'll be very appreciative of this set that will be their go-to luggage for every trip!
Wine Chillers are the Best Wedding Gifts Ever
This gorgeous marble wine chiller will definitely be one of the couple's very favorite wedding presents! Not only is the black marble absolutely stunning and beautiful, but it's personalized with their names and wedding date. How amazing? All they have to do is place it in the freezer and then take it out and put their chilled bottle of wine inside it to keep wine chilled for hours as they slowly enjoy the bottle. They'll love the way this looks on their dining room table or home bar, keeping their wine chilled for hours as they enjoy time together or with friends and family.
Keep those Rings Safe
Wedding rings are some of their most prized possessions, along with their watches and other jewelry and accessories. Get them a wedding gift that provides them with a way to keep these possessions safe and sound! This leather valet box will look fantastic on their dresser or bedside table, keeping those precious rings and other accessories in one place!
A Gorgeous Display from their Wedding
Considering their wedding day is the most important day of their lives, it deserves to be commemorated in an amazing way too. Their wedding song means a lot to them, so you know they'd appreciate a gift that reminds them of their favorite song. This wedding song canvas is absolutely stunning, and it's definitely one of the best wedding gifts ever! They'll love having a gorgeous canvas with a photo from their wedding with lyrics from their first dance song hanging on their wall!
Classy, Unique Glassware Set
For such an amazing, unique couple, a unique whiskey gift set is a must-have gift! This whiskey decanter and glass box set is awesome, giving them the perfect glassware for when they want to enjoy a drink together during their anniversary or a holiday. They'll think the rare shape of the glasses is really awesome. The customization will always remind them of their special day, and they'll love being able to keep mementos from their wedding inside the handsome box.
Shadow Box Set of the Best Wedding Presents
This shadow box set is absolutely gorgeous and will no doubt be an absolute hit with the couple! They'll think the shadow box is a beautiful way to keep flowers from their wedding inside as an amazing keepsake from their special day. Plus, the lovely wine glasses are perfect for when they toast at their wedding or when they're celebrating their anniversaries in the future!
Every Snack Hungry Newlyweds Could Want
With the craziness of planning and getting married, the couple probably hasn't had a lot of time to themselves. After they get married, they'll love having a food gift basket full of delicious treats so they don't have to try to cook or go get food when they're tired but hungry! This basket is one of the most delicious, best wedding presents that is packed full of scrumptious treats like chocolate cream puffs, cheese wedges, wafer cookies, and so many more!
A Home Sign They'll Love
This gift is one that will make the couple smile every time they see it! This custom home sign will look fantastic in their living room or bedroom in their home! They'll absolutely love this present because it reminds them that all they really need is each other. It's definitely the kind of wedding gift that they'll keep with them for the rest of their lives!
331+ AWESOME CUSTOMIZED SIGNS>
Keep Those Passports Safe
Matching passport covers are a really unique yet useful gift idea that the couple probably wouldn't even realize they need! Whether they're taking an international honeymoon or planning a trip for the future, these passport covers will definitely come in handy for them!
Make Them Feel So Classy
Make the couple feel like the classiest married duo of all time! This glasses and stones set is one of the best wedding presents ever because they'll feel so sophisticated sipping whiskey together from these amazing, uniquely-shaped glasses! They'll also be huge fans of the handsome wooden box that they can use to keep mementos from their wedding, such as wine corks or flowers. Nothing will make two whiskey lovers happier!
The Best Wedding Gifts Ever that you Play on the Big Day
Give them a gift before the wedding that they can have at their wedding to make it even more fun! This bean bag toss board set is absolutely gorgeous and has been personalized just for the happy couple. They'll love having this displayed at the wedding reception where all of their guests can admire it as well as have fun playing bean bag toss!
A Wine Set for the Ages
The most gorgeous wine gift set of all time is a wedding gift you can't go wrong with! This wine barrel and glasses set is perfect because of both the usefulness of it as well as the gorgeous customization. They'll really love having this unique wooden barrel on their kitchen counter or home bar, filled with all the tools they could ever need when they want to drink some wine and reminisce on their wedding together!
Most Comfortable Matching Robes
Nothing screams happily married like awesome matching robes! This gorgeous set of satin robes is one of the best wedding presents that the couple will really appreciate! They'll love lounging around together in their matching robes, fully comfortable and feeling like a true married couple. These help made those comfy and cozy date nights better than ever.
A Classy Wedding Gift for Newlyweds
Make them feel like the classiest newlyweds to have ever been married by getting them the most impressive and sophisticated looking decanter set they've ever seen! This is the perfect gift for them to indulge in while writing thank you cards and calling loved ones for all the great gifts they got at their wedding. But, unlike everyone else's gifts, they'll get to celebrate their wedding with yours for years to come!