Dads, we all have them. He is the one who you looked up to as a superhero as a kid. He was the strongest and smartest guy you knew. He taught you to tie your shoes, play catch, and even drive. To help thank him for shaping you into the person you are today, get him the best gifts for dads the internet has to offer with these unique gifts perfect for all occasions, from Father's Day to his anniversary to just because, he will love getting top-notch gifts that show just how much you care about him! It doesn't matter if he wants something classy, sophisticated, vintage, or the newest tech, you are sure to find the best gift for dad right here!
The Toughest and Best Gifts for Dad
It simply doesn't matter what occasion you are looking to get a great gift for your dad for, once you get a look at this personalized whiskey and ammo can gift set, you'll know it is the perfect gift for him! You can even fill it with a few of his favorite things to make it even more of a personal gift: whether you fill it with a bottle of his favorite whiskey, a few cigars, or even something like some fishing tackle, you know what your dad likes best, and he'll be sure to love this unique gift no matter what! Add in that he can have a relaxing drink from the matching glasses, he simply won't be able to get enough of this awesome present!
For the Kingly Dad
A stein is one of the best gifts for dads because it is one of the few gifts that will make him feel like he transforms into a new person each time he grabs the gorgeous glass handle. As he lifts his custom beer stein, he'll feel like a king toasting his knights or taking a victory sip each time the stein makes its way to his lips. This is even a great gift that he can leave on display because of how great it looks too! This is the perfect piece for his mantle, desk, or glassware cabinet; however, unlike some decorative pieces, he can use this to enjoy his favorite brew at any time!
Keep Him Making Grill Masterpieces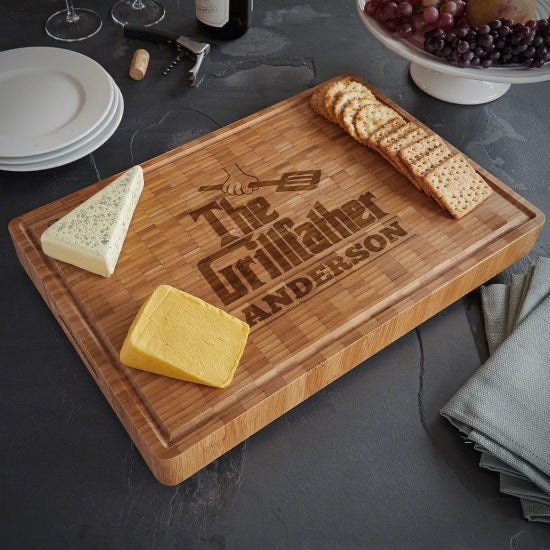 If there is one thing that dads are always known for, it is their grilling skills. They'll spend hours and hours over the heat creating the perfectly seared burgers and bratwurst that you grew up eating. However, before making the way to the fire, his food all needs to be prepared on a cutting board first, so give him this unique bamboo cutting board so he can continue making delicious grilled foods for years to come! Even better, this doubles as a serving board, so when the steaks and asparagus are done, he can put them on his custom gift and serve everyone in style.
A Monogrammed Poker Set
Test your dad's poker face with a gift that is sure to make him show his hand, this monogrammed poker set! Now, he'll feel like Tony Soprano each time he has a card night since he'll be enjoying more cigars and whiskey than ever. Playing hands of Blackjack or Texas Hold'em with his friends and family will never be more fun for him than when he feels like the ultimate card shark thanks to this classy, monogrammed gift!
A Sign for His Sanctuary
The best gift for dad that you can give is one that makes his personal space that much more personal. That may go for a lot of areas, but his garage has always been the place where he can truly be himself. He can have his tunes playing, a drink on a workbench, a massive project ahead of himself, and an equally large smile on his face. He loves being in his garage which is why a personalized garage plaque is the ideal gift to get dad. You know each time he looks up to wipe sweat or car grease from his face, he'll be looking for this sign to remind him this is his perfect hideout.
329+ SIGNS YOU FOUND THE PERFECT GIFTS FOR DAD>
The Best Gift for Dad Keeps Him Looking Good
Normally, looking like a pirate may seem like a bad thing but you can be sure with these badass pirate-style beard products your dad's facial hair will be so good-looking that it will make turncoats out of Blackbeard as well as Redbeard too! With the brush, wash, and oils, he is sure to look like the finest pirate in the world!
The Perfect Gift for the Beer-Loving Dad
A box set of the best gifts for dads who love beer? If that is what you are searching for, you hit the jackpot! This engraved beer mug gift set has everything he could possibly want to become the beer connoisseur he has always dreamed of being. There is simply no better way for him to enjoy a beer from the looks to the aromas than in a mug! So, the next time he wants to have a stout, pilsner, IPA, or lager, you won't find him reaching for his old standard pint glasses; instead, you'll find him reaching for engraved beer mug!
The Toughest Tumbler Gift Set
Dad has always been one of the toughest guys in your life, even as an adult, you see him as the ultimate badass. For a guy like this, no gift is more fitting as the best gifts for dads than these blackout tumblers that come inside a matching keepsake box. These personalized gifts are a great way to show your dad you think that even at his age, he is still a badass. Plus, thanks to the stainless steel, he can enjoy his favorite drinks while they remain chilled to perfection.
Of Course, Your Dad Knows a Thing or Two
Dad jokes never get old and your dad always has one ready it seems; however, with this awesome gift, you can also play in on the dad joke for once with a hilarious yet awesome custom cigar sign! This cigar sign will ensure that everyone knows he "Knows Things," and will be the perfect piece of decor for his favorite area to enjoy a stogie. However, don't be surprised the next time you talk to him and to confirm what he said, he will simply point to the best gift for dad ever to show that he still knows a thing or two.
A Custom Stogie and Whiskey Gift for Dad
Speaking of cigars, this engraved cigar case and cigar whiskey glass is a great gift that he will use all the time! Perfect for celebrations like his anniversary or Father's Day, he can easily break out his favorite stogie and whiskey combination and still use the remote or high-five people thanks to the cigar glass making it easier than ever to use one hand to enjoy a stogie and drink at the same time.
Get in Touch with the Best Gifts for Dads
Keep dad in touch with one of the best gifts for dad this year, the iPad Air! This lightweight tablet will replace his desktop in no time. Instead of sitting at the computer, he can bring it everywhere with him! It even hardly weighs a thing, which makes it perfect for travel if he needs to bring this to work, on a trip, or around the house!
For the Aspiring Whiskey Aficionado
The best gifts for dads are sure to keep them feeling classy for years to come, no matter how many times they have used their gift. So, this year, when you are in the search of the ultimate dad gift, look no further than this uniquely personalized whiskey tasting box set! Instead of using a standard pint or water glass, now he'll be able to experience his favorite liquor the right way! Thanks to this set, he'll become an aficionado in no time. That means if he prefers to taste the finer notes of his drink, enjoy chilled glasses of whiskey, or mix cocktails, he now has the perfect glass for each!
Great Golf Gifts for Dad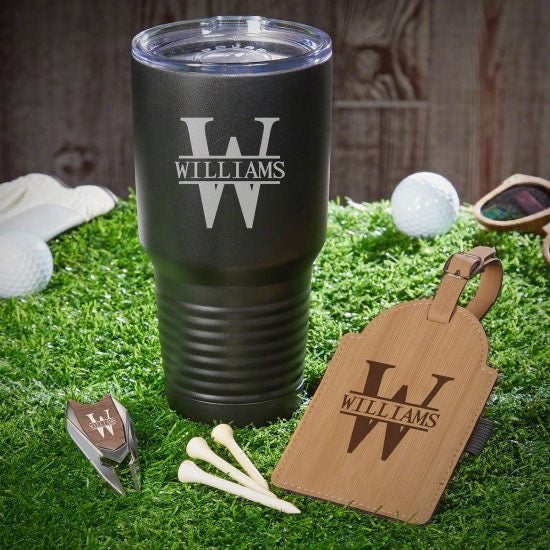 Useful gifts are always a win for dad and what is more useful than a gift he can take to the golf course? This whole coffee and golf gift set has a matching personalization which will make him feel like he belongs on the PGA tour each time he goes to find his bag with the custom bag tag on it, takes a sip of coffee on a brisk morning for his tee time, or even when he uses his divot tool. For the dad who spends as much time as he can on the green, there are few gifts that are better than this!
Update His Home Bar with the Best Gift for Dad
It doesn't matter if he has a fully furnished home bar or you have heard him talking about creating one over the last couple of years, this custom home bar sign is the perfect gift to either finish off his home bar project or to give him the kick start to get going on his dream. The best gift for dad, like this rustic sign, will keep him going on his hobby and wanting to spend even more time around it. So, now that he has this sign, he'll want to become the ultimate home bartender to make sure he stands up to the claim of "Great Drinks," on the sign!
For the Papa Bear
Show him how much he means to you as the papa bear in your life with the best gift for dad you can think of, this engraved decanter box set! The personalization of him being your "papa bear," makes this one of the best gifts to give on his birthday, Father's Day, or Christmas to show that he has always been there for you. He'll love seeing that even after all these years you still see him as the protector and guy who raised you. He may even shed a tear each time he sees the unique personalization on this set.
An Attractive Gift
Getting this up on the checking block will never be easier than when dad has this magnetic whiskey stave as one of the ultimate gifts for him. Now, whenever he needs his chef's knife, paring knife, or steel, he can easily reach up to his mounted magnetic strip! This has got to be one of the coolest looking gifts for dad in the kitchen!
The Best Gifts for Dads Require Two Hands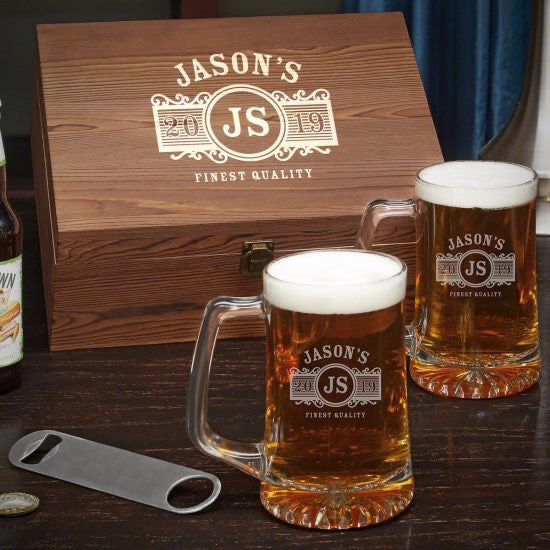 Few things in the world make a dad feel as masculine as a beer mug, so what could make that a better gift? How about two beer mugs! This set is so good it'll take him both hands to pull these from the keepsake. He may even want to indulge in his favorite brew in each hand when he first gets this custom beer mug box set. This is a great gift that you know you are going to see him using for every football, basket, or baseball game. Who knows, after some time, he may even let you drink a pint or two from one of these glasses with him too!
Keep Him Classy with an Engraved Valet Whiskey Set
There is nothing dads love more than to be organized, and thanks to this personalized watch case, he can be! Getting ready in the morning will never be easier. Suiting up with a tie clip, cufflinks, and a fancy watch for his big meeting will be as easy as opening a lid. He can even store his Fitbit or Apple Watch inside, making day to day accessories easy to keep track of as well. So, what could be better for your dad than a gift from you that he gets to use every day?
A Custom Gift Set for His Memories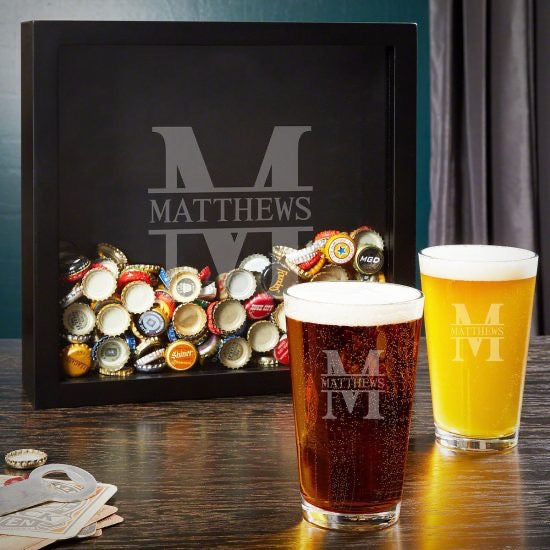 If there is one thing that dads are all about it is making memories. They've kept even some of the smallest things you could think of because they mean the world to him. So, make putting those memories on display or holding onto new ones easier than he ever thought he could imagine with an engraved shadow box pint glass gift set. Whether he wants to fill it with things already important to him or with beer caps from the two of you sharing a drink, you can be sure that he will put his most treasured memories right here!
The Perfect Golf Sign Fore Dad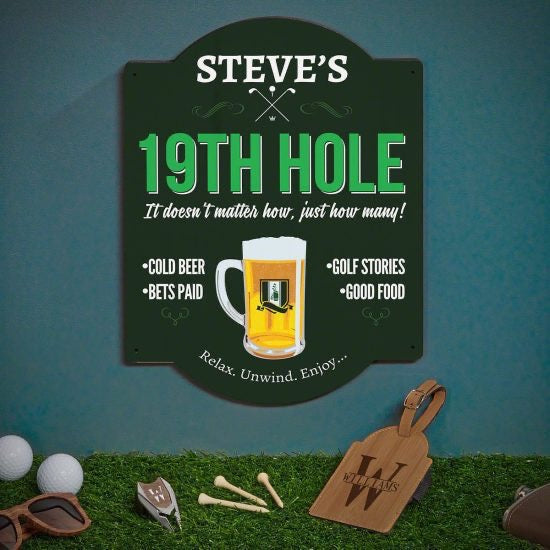 Got a dad who can't get enough of golf? Then you know this customized sign and golf gift set is the most fitting gift for him on any occasion! In fact, this set fits his life like a golf glove. He can easily make his bag known thanks to the engraved bag tag while the divot tool is perfect for each stroke that takes a chuck out of the ground. However, you also know that he'll love that his home or home bar has become the official nineteenth hole thanks to this unique sign! Now, he and his buddies will have the perfect place to talk about their latest round once all the scores are in.
Tool Time
There is always something he can do with more tools. But, you can do so much more than a new hammer or saw, you get him a whole toolset that is easily portable! This fully equipped service kit actually comes with a hand and wheels, so lugging around a box of heavy tools will never be easier! Now, he can fix anything around the house or even store this in the car for repairs he may face at work or while he is on the move.
A Top-Tier Gift for Dad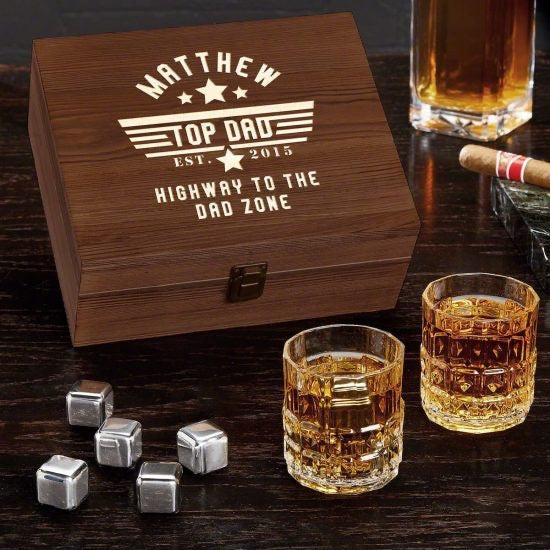 Dad has always been the Maverick in your life, so make sure he knows he has been an awesome dad with a personalized whiskey stone set that comes with unique crystal glasses. This is the ideal way for him to unwind at the end of the day with his feet up and a cold drink in hand. Also, thanks to the stainless steel whiskey stones, that cold drink will never be watered down. Now, even if he leaves it for an extended period of time, his drink will be just as strong as he left it!
The Best Gifts for Dads Keep Their Stogies Safe
Ensure that your dad never again suffers the defeat of a spoiled cigar with an engraved cigar humidor! This unique humidor actually is the ammo can, meaning that if the ammo can can protect bullets to arrive on time, his cigars are sure to remain in tip-top shape. Now, instead of finding rotted or dried out stogies, he'll always have one that is perfect and ready to be smoked! To make this gift even better you could throw in a few Cohibas so he can see just how good it works right away.
Custom Liquor Gift Box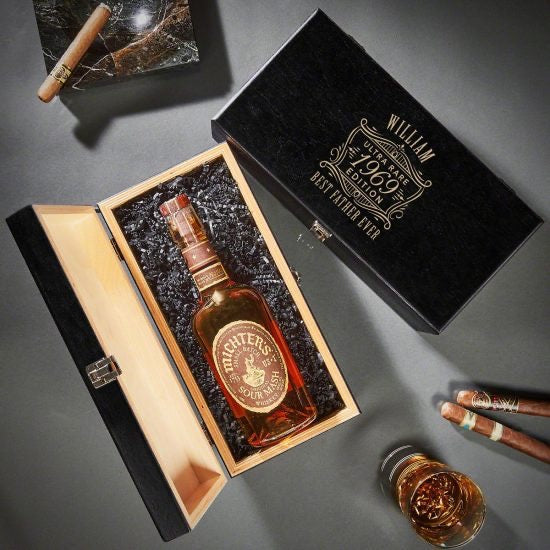 While a bottle of his favorite liquor is cool and all, this is your dad you are talking about! Make things special with the best gift for dad by placing his favorite liquor inside this classy blackout presentation gift box! Never before has a bottle looked so good as a gift. Now, he can even use that to store a special bottle for occasions worthy of breaking out his most prized liquor!
A Gift From His Favorite People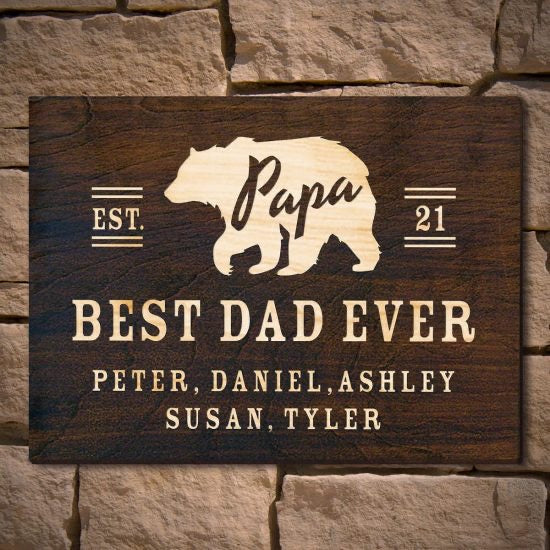 Some of the best gifts for dads will show him just who loves him and how much, and this rustic wood sign that has been engraved with all of his children's names making it one of the most sentimental gifts he has gotten in years! Perfect for his office or the living room, he'll want this sign displayed prominently so he can see it every single day.
The Sharpest Gift Idea
Making food in the kitchen has never been easier than when your dad finally has his own Damascus steel Japanese chef knife! This super sharp knife will have him feeling like a samurai the way he can easily cut through fruits, vegetables, and sides of meat. Just be prepared for the onslaught of dishes you are about to experience since he is going to want to be slicing and dicing food as soon as he opens up this unique gift for dad!
The Classiest and Best Gift for Dad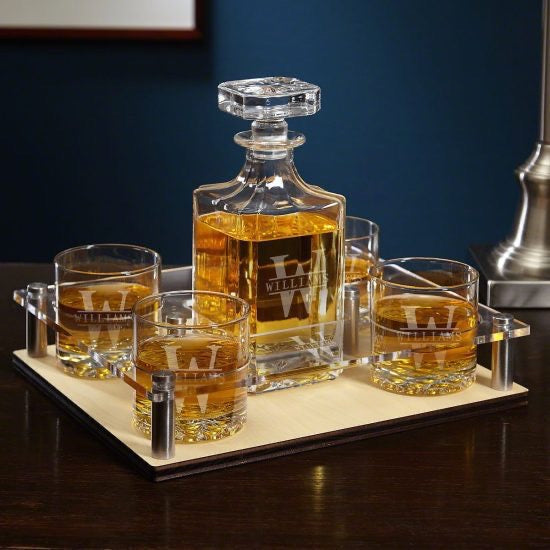 Still searching for one of the coolest and best gifts for dad, then you simply must get him this engraved presentation gift set. It is so classy and sophisticated looking, there is no way that any dad wouldn't immediately fall in love with it. Just include a bottle of his favorite liquor and he'll be the happiest guy in the world. With the four glasses and bottle of liquor, he may just give you a glass and raise a toast in your honor for giving such a spectacular gift!