Christmas time is right around the corner, and you have so many people to buy for, including your friends and neighbors! You want to buy Christmas gifts for friends and neighbors that are out of the ordinary and very well thought out. These gifts need to show that you took the time to pick out the perfect things for the recipients. Most of all, these Christmas gifts need to show that you pay attention to their interests and care about them. There are a lot of questions you may have, though. How personal do you get with the gift? What is a budget for a great gift? Which of their interests do you focus on when buying a gift? These suggestions will help you find the best Christmas gifts for neighbors and friends that will show them that you truly care for them.
Whiskey Lovers Around the World
Novelty is an important factor for any gift, and you want your friends and neighbors to have a unique gift. This whiskey decanter globe and glassware set is a phenomenal Christmas gift for friends and neighbors because they will have never seen anything like it. This beautiful decanter looks like a stunning globe with a small replica of a boat inside. It's placed on a mahogany-stained wooden base. The two whiskey glasses match the beautiful globe appearance, perfect for your friends to enjoy their whiskey out of. Travelers and lovers of whiskey will adore this gift, and all the guests who come into their homes will be extremely envious of this appealing set.
Christmas Gift for Friends Who are Whiskey-Obsessed
All a close friend of yours can talk about is whiskey, and you want to buy them a holiday gift that you are certain they'll fawn over. You can't go wrong with this boxed decanter set with whiskey glasses. The beautiful decanter will look awesome on their home bar, undoubtedly making all their guests envious. Drinking whiskey will never be better than when they're using these stunning whiskey glasses because of how handsome they are. They will absolutely love showing this gift set off to each and every person who enters their home, and they'll be very grateful to you for buying it for them.
A Matching Kitchen Set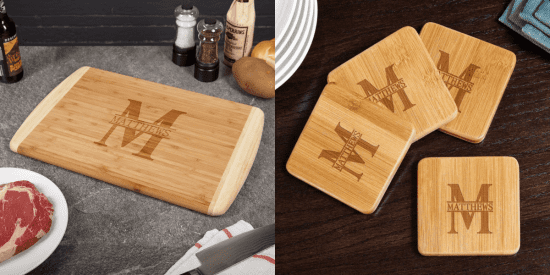 Matching kitchenware is a passion for many people, and your friends and neighbors would adore this set of coasters and matching cutting board. This bamboo custom cutting board is a gorgeous addition on its own to any kitchen. It is crafted from two hues of sturdy bamboo, which is very aesthetically appealing as well as incredibly functional. Add to that this set of four gorgeous bamboo coasters that match the lovely aesthetic of the cutting board and will keep your friends' tables completely free from condensation. Your friends won't be able to stop thanking you for this fantastic Christmas set.
Coffee and Tea: Delicious Christmas Gift for Neighbors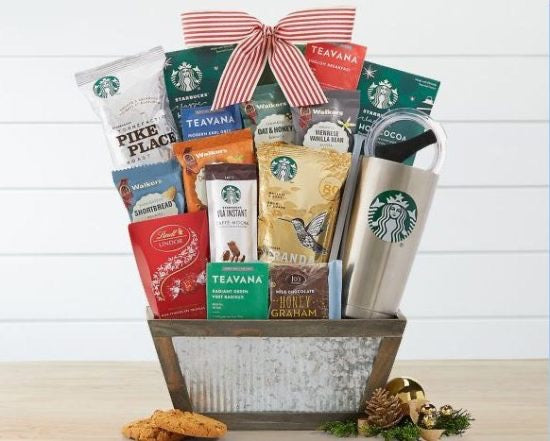 There's nothing quite like waking up on a cold wintery day and enjoying a hot cup of joe. Buy your neighbors this fantastic coffee and tea set for the holidays that they'll adore. This basket is stuffed to the brim with a Starbucks stainless steel tumbler, various Starbucks coffee grounds, an instant mocha latte, different teas, hot chocolate, assorted shortbread cookies, and more. This amazing basket has so many goodies, and it's an amazing gift that will warm your neighbors' insides.
Aesthetically Aerate Wine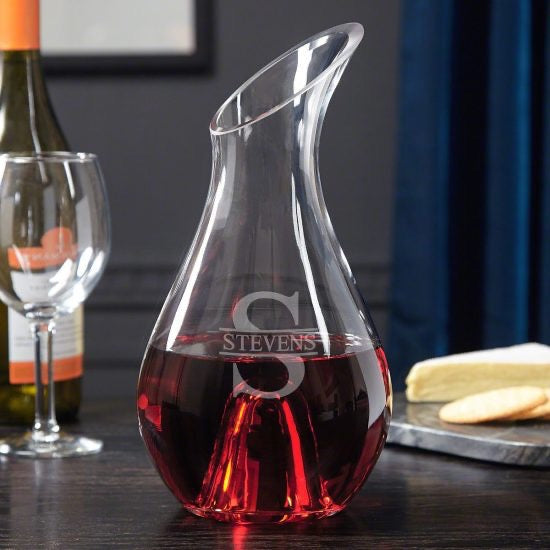 Neighbors love showing off their lovely homes to other neighbors, and always greatly appreciate any kind of functional decor in their homes. Your neighbors will go crazy for this gorgeous wine aerator. Any red wine poured into this stunning glassware will oxygenize and be all the more delicious when served into a glass and consumed. It is also such a beautiful piece of glassware that they will want it on their kitchen counter or on their bar at all times to show it off. This is an amazing Christmas gift for neighbors because they will appreciate you buying them a personalized gift that they can put on display for all to see.
For the Couple Next Door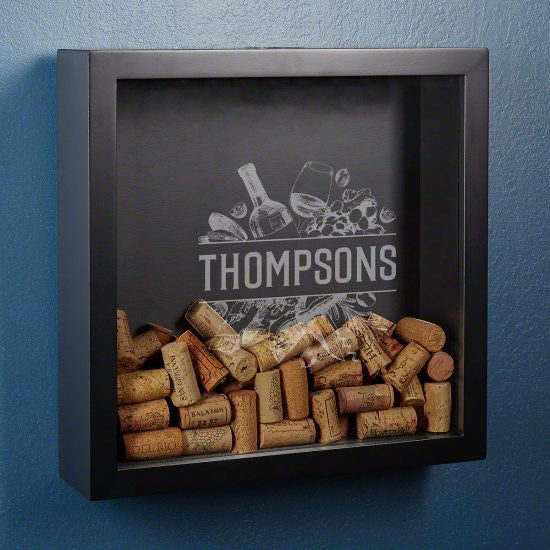 The couple across the street is so kind and always willing to help you out. As a Christmas gift, buy them this beautiful custom wine cork shadow box for their home. This box is easily mountable on the wall, so your neighbors will have no problem hanging it up. They can use it for wine corks, bottle caps, or anything else they may choose to collect. The front can be engraved with their last name, making this such a sweet, personal gift from you to them. They will be so grateful that you bought them something that not only makes a lovely decor piece in their home, but something that can hold mementos from their marriage.
Save the Trees
Plants add a brightness and cheeriness to a room that nothing else can. Your friends and neighbors would love a simple yet lovely fake plant that looks realistic for their home. This 5-foot potted silk Smilax tree is so realistic-looking that your friend's guests may try to water it. Especially in the wintertime, when it's cold outside and many plants have lost their leaves, this tree will retain the bright feeling of nature. This tree makes a great Christmas gift for neighbors because it will spruce up their home and make them feel brighter and happier.
Christmas Gift for Friends who Love Whiskey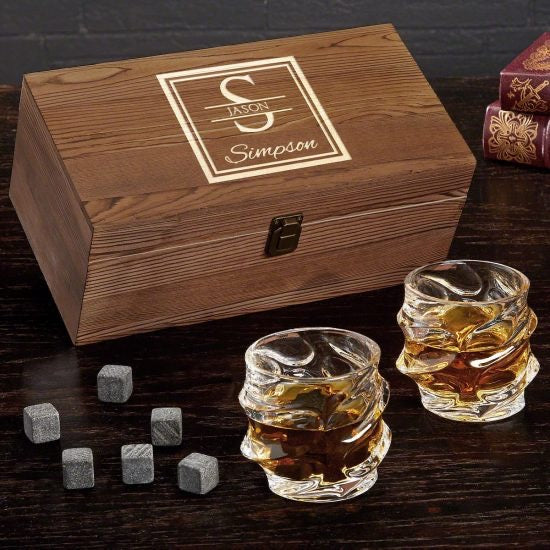 There's no better time than the holidays to consume your favorite whiskey, and your friends take full advantage of this opportunity to enjoy their favorite drink. Help them take that advantage by giving them this unique whiskey box set. The glasses in the set are an unusual, attractive shape that fits perfectly in any hand that holds it. Also included are a set of whiskey stones to ensure that your friends' whiskey stays cold and delicious. These items come in a beautiful wooden box that can be engraved to make it a very personal, special gift for a friend.
512+ CLASSY WHISKEY GIFTS FOR MEN>
Sign Their Name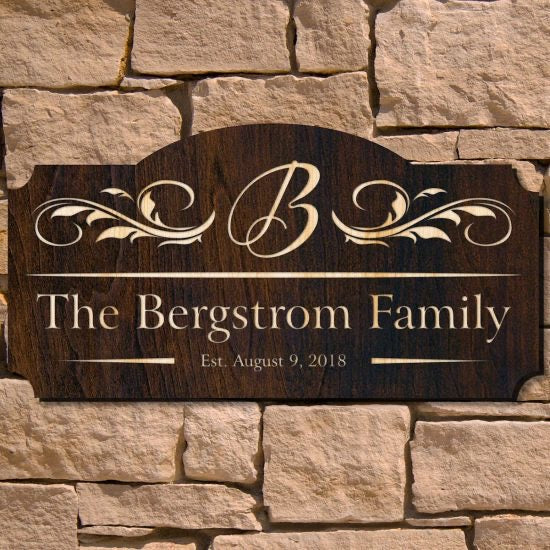 You have a friend's family in your life that means as much to you as your own family does, and they deserve a personal, beautiful Christmas gift from you. Get them a stunning sign to hang in their home—this personalized family name sign. It's crafted from all-American birch wood and finished in a rich dark brown color. This sign will look amazing in the family's home, and it will be a reminder of your friendship forever.
Pint Glasses Set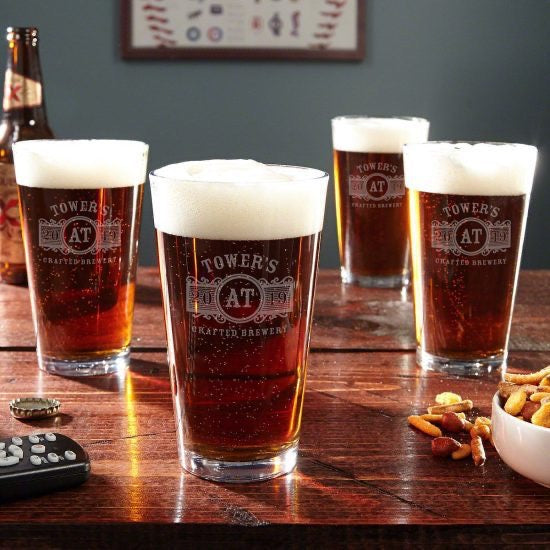 You've enjoyed a beer or two with your neighbors, and so you know that they love beer and beer glassware. These custom pint glasses are a fantastic gift for them. They provide a superior drinking experience because they are simple yet sturdy, crafted from handsome premium glass, so they are made for years and years of enjoyment. This set of four will be adored by your neighbors, who will use them to consume their favorite beers almost on the spot upon seeing them.
Did Someone Say Cookies?
One thing that always comes to mind when Christmas is mentioned is Christmas cookies! You know your neighbor loves to bake cookies because she has given you a batch before, so return the favor with this cookie and snack sled! This is the perfect holiday spirit gift and they'll feel like Santa when he stops off to drop off presents when they're pulling all these cookies and snacks form their sweet sled. You can get her started with the 14 raspberry-filled cookies that come with the cookie jar. She can enjoy these cookies while researching her next cookie recipe.
Whiskey Stones and Glasses
Great Christmas gifts for friends often include several parts to maximize their greatness. This set of whiskey stones and glasses is fantastic for either a single friend or a couple. They can use this lovely wooden box for several purposes, such as to store anything they want inside or to display on their mantle. The whiskey glasses are fantastic for enjoying a nice glass of their favorite whiskey after a long day at work or having a fun weeknight with a large group. You can't go wrong with this simple yet amazing whiskey set.
Wine Time is Christmastime
Wine is a classic drink for Christmastime, with families crowded around for the holiday dinner, holding up their glasses and toasting to family. Help your friends out this holiday season with their very own set of wine glasses. This glassware is crafted from premium glass, making this stemless wine glasses a beautiful addition to any glass collection. They are bound to make Christmas dinner more enjoyable for your friends, who won't be able to talk about anything else besides these lovely, personalized wine glasses.
161+ FABULOUS GIFTS FOR WINE LOVERS>
Awesome Ammo Can Set Christmas Gift for Neighbors
Who wouldn't want to receive the coolest gift they've ever seen? This amazing gift set comes in an ammo can repurposed from the United States military. Along with the awesome can are two whiskey glasses and whiskey stones, so the recipient can enjoy their chilled whiskey without worrying about dilution. Also this set comes with cigar lighter and cigar cutter, so cigars can be enjoyed along with the whiskey. They will love this Christmas gift and appreciate that you knew what the perfect gift that will make them feel warm with holiday spirit.
Keep Beer Chilled for Christmas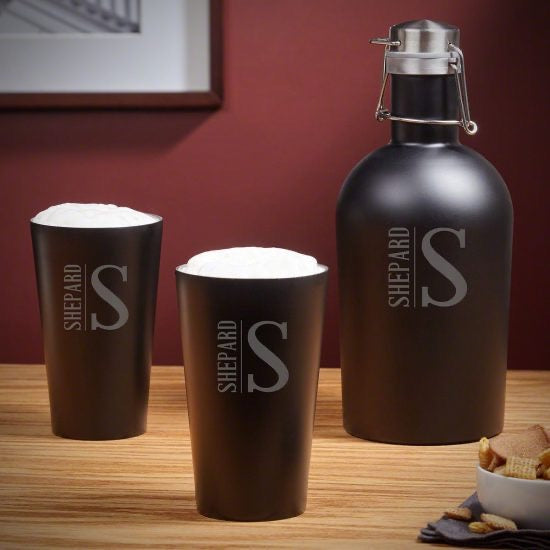 Beer lovers know how disappointing it is to pour a new glass of beer only to find that it's room temperature. For your beer-loving friend, purchase this stainless steel growler and pint glass set. This personalized growler is matte black and crafted from stainless steel that will keep your friend's beer cold all Christmas day long. The pint glasses are also stainless steel, so even after the beer is poured out of the growler, it will stay cold for much longer than normal glasses in these stainless steel ones. This is a fantastic Christmas gift for friends who love beer, and the one who received it will be very thankful to you for it.
Helping Out the Host
You and your friends love having each other over to your house for food, drinks, and good company. Help your friends out next time they're hosting with this beautiful cheese board! It has handles on the sides, so they can easily serve hors d'oeuvres on it. It's made from slate, so they can even write on it with chalk, labeling each food or simply writing a nice message on it. This is a phenomenal Christmas gift for friends that they'll love using all the time!
Help Him Be the Best Host with this Set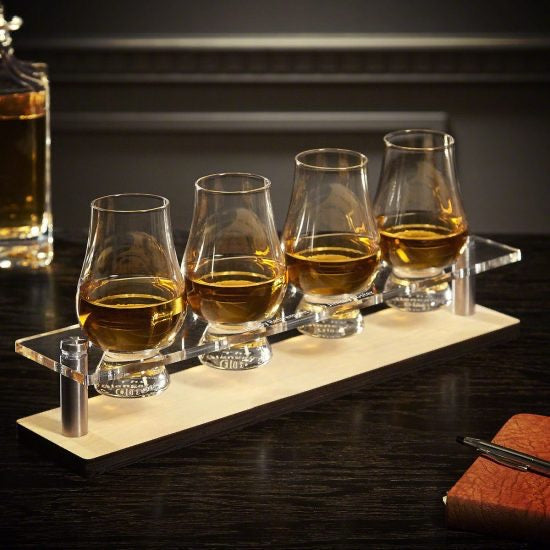 Your fancy neighbor loves hosting parties at his house, and he loves to serve fancy drinks in sophisticated glasses at these parties. The perfect gift for this neighbor is this personalized serving tray. This tray is beautifully constructed, with spots for four Glencairn glasses that come with the tray. This tray and these glasses are a perfect way for your neighbor to entertain his guests at Christmas, serving them his finest Scotch whiskey in this beautiful glasses on this stunning tray. He will be obsessed with this set and definitely invite you over to enjoy Macallan with him. This is the ultimate way for him to taste his scotch.
308+ CHRISTMAS GIFTS EVERYONE WILL LOVE>