What do you buy the man who is successful and seems to have gotten everything he has ever wanted? Cool gifts for men who have everything are what we specialize in. For these guys, price is not the issue, their gifts need to be functional and unexpected. It needs to be a gift he'd never have thought of, but now can't live without! But where do you start? Do you look for expensive gifts for men? Personalized gifts? How about unique box sets? We have gotten creative with some really awesome gifts because we know this is the sort of guy who already has everything he has ever wanted already. Follow our guide of supreme luxury gifts for the men who have everything.
The Manliest Gift Box
This cool guy loves to keep himself in a perpetual state of manliness, so he needs a manly gift set. His form of relaxation is to head out to the range, fire a few thousand rounds, and head home to enjoy some cigars and bourbon. Luxury gifts for men who have everything always seem to be crazy tech gifts, but for this man you know what he really wants. He wants a 50. Cal ammo can that lets him carry around his all of his vices so when his day of being awesome is complete, he can put his feet up and relax with his bourbon and cigars.
Tap Into the Cool Gift He Wants
No matter how much stuff he has, he will still always have room for gifts that deal with his favorite thing, beer! Custom made tap handles will always be some of the coolest gifts for the men who have everything. Getting these made with personalized engraving shows you pay attention to him, so you can give an awesome gift. He could buy a blank handle, but your custom-made ones give them sentimental value which he can't buy. These will be the best home bar gift he's ever gotten!
The Ultimate Scotch Glasses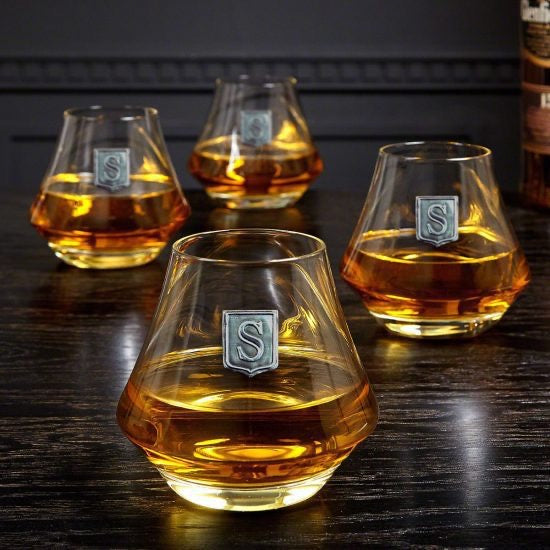 This glassware set is a luxury gift for the man who has everything. He really enjoys his scotch or whiskey and wants to taste each subtle flavor that is there. This glass is perfect to enhance all of the flavors he enjoys! The shape funnels it to his nose, so your gift will be giving him a whole new world of taste to explore. You'll make his love for tasting scotch even great because now he gets to go back and retry all his old favorites to see what more he can taste, and that is all because of your glasses!
Cool Coffee Set for the Man Who Has Everything
This coffee set is fantastic for any cool guy that loves coffee. He is set for any occasion. He can wake up with his morning cup while he looks outside, and then prepare for the rest of the day with his carafe and tumbler!  Luxury gifts for men who have everything should make them enjoy their hobbies more. For this man, he can take his coffee anywhere he wants to go, and when he is done, he has a gorgeous display box to either put his beans or his cups back into. No matter the occasion, he will always be able to bring his coffee with thanks this gift basket for men who have everything.
A Corn-Hole Set Inspired by His Favorite Bourbon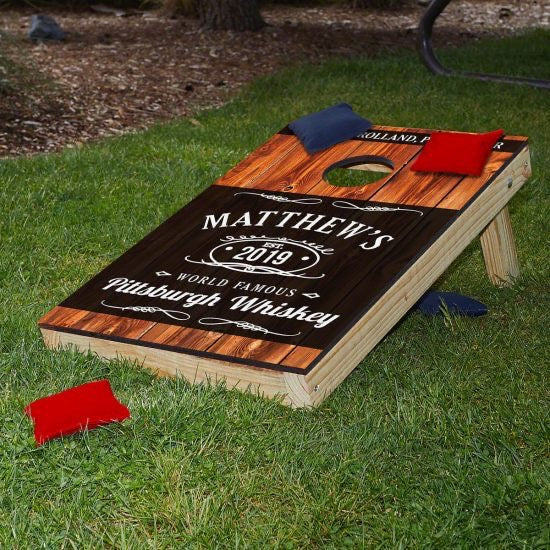 Some of the best cool gifts for the men who have everything get them back outside doing simple things that they love. One of the best things that will have him relaxing, enjoying the outdoors, and spending time with friends is a corn hole set! This one in particular is the ultimate set of bags for bourbon enthusiasts. The Jack Daniels inspired will wow him when he first sees it, and then the personalization you've added will have him showing his set off to anyone he can. Soon, he'll be kicking back with a Jack and Coke in one hand while tossing a bag with the other.
43+ AWESOME OUTDOOR PARTY GEAR>
Ultimate Sports Autograph Gift Box
One thing almost every guy has in common with one another is a love for sports. Even the guy who thinks he has everything probably doesn't have all the sports paraphernalia that he wants. To give him a truly awesome gift, find his favorite sport and team, and get him the ultimate autograph! Whether it is a ball, puck, jersey, helmet, or even a trading car, he will love having his favorite athlete's signature! Or, if he is a fan of a whole genre of sports, get him a mystery box, who knows what awesome signature he might get then?
Sweet Scotch Glasses
He swirls and sniffs his liquor before taking a sip. It may not always be scotch, whiskey, or cognac, but it is always one of those three. He has enough bottles in his possession to make the most well-versed liquor connoisseur jealous. However, he doesn't have a matching set for all of his favorite drinks yet. A glass for every occasion with whiskey stones and a customized gift box to store it all in will surely be shown a gracious amount of gratitude by the man who thought he had it all. Luxury gifts for the men who have everything can seem quite daunting, but if you enhance their relaxation experience, they will always love the gift.
Not Your Average Joe
Make his life much better in the morning with a premium coffee set. When it comes to luxury gifts for men who have everything, improving his morning routine is one of the best things you can do. Almost everyone wakes up and could still use another hour or so of sleep, so help him get perked up with his own personalized coffee set. Pair this with his favorite brand of coffee grounds or beans and you'll have given him the most useful gift in years!
Brewhouse Bar Set
No matter how awesome or how many things he has, he is going to love getting his very own brewery beer glass set. The box will be his new favorite display piece in his living room to keep anything from the glasses you got him to his cherished collectibles! The set of four matching pint glasses will be his go to set when he is having a pint on his own, or when he has company over. Make him feel like he is always in a brewery with this fantastic gift set!
Smoke on the Whiskey, A Fire in the Sky
For the guy who has all the cool stuff in the world, he is going to need something that changes everything he knows about whiskey. Give him a gift that can enhance his favorite drink. He can smoke his favorite scotch or whiskey with various wood chips and herbs that pair with the different hints of flavor. Cool gifts for men who have everything need to change their experiences, and since they experience whiskey all the time, let them try it a new way!
Life is Like Riding a Bike
This man cycles everywhere in life and it shows! He constantly talks about everything being made of carbon and is obsessed about how many watts he is making. Cool gifts for men who have everything enhance hobbies, and this one gift that'll do more than merely make his hobby slightly better. With this stationary bike he can now ride all of his favorite cycling courses on tour any time of year. Another bonus is in the winter, he can ride without having to put on a ton of gear and he avoids covering his bike in all that road salt.
Legendary Beer Set
Get the man who has everything he has ever wanted a set of beer mugs that recognize his awesome status. A custom engraved beer mug box set will be the perfect gift to indulge the coolest guy in the room. But, what makes a man legendary enough to deserve this set? Is it wrestling a bear and winning? Is it surfing across the ocean to get home after your ship sinks? No matter. The guy who you think is legendary has probably done something way cooler than what a writer in an office can think of.
The Luxury Gift Set for the Man Who Has Everything
A cool gift for the man who has everything can be enough to get them to relax at the end of a stressful day. He is constantly in meetings and under the gun for deadlines. He seems to have the life, but you can see that one vein in his forehead always throbbing. He needs to take some time to himself and take the edge off with a chilled bourbon in his own glass and a stogie fresh from his custom cigar holder. This whiskey gift set plus his favorite drink and cigars will make him feel like how you see him, as the guy who has it all!
The Patriotic Ammo Gift Set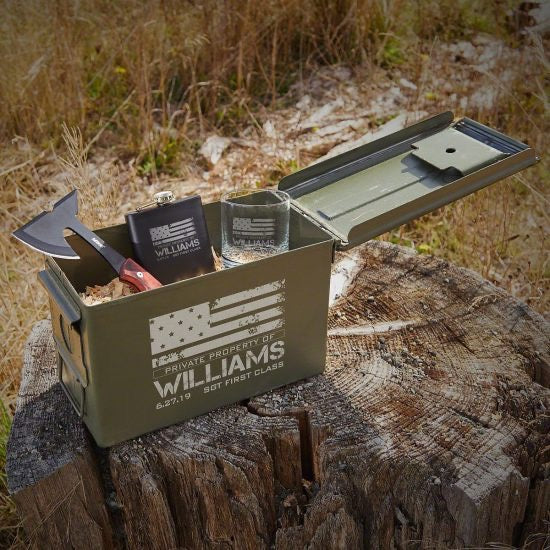 This gift set is perfect for the patriotic guy who has everything. He may love to go shooting or go out in the woods, and he is sure to have plenty of gear, but is any of his equipment personalized just for him? Cool gifts for men who have everything need to be custom and tailored to him, if they aren't, he may already have it. This kit gives him endless possibilities. He can carry whatever he likes in the ammo can and you've made sure he'll always look like a patriot while he quenches his thirst!
A Gift Set That Is a Cut Above the Rest
This whiskey stone set is perfect for the manliest guy you know and it is sure to keep his drink ice-cold. This cool gift for the man who has everything is a gift set that ensures he'll look like the most badass guy in the room. But he also loves that he can keep his whiskey perfectly chilled with his new whiskey stones and the finishing touches of the engraving on each piece of the set give this gift set a great deal of sentimental value to him.
Reach for the Stars with This Gift
One thing the man who has everything cannot ever have are the stars. These may have been his inspirations for all of his accomplishments, he may have even been told to "reach for the stars" all of his life. Since he can't actually have a start or own one, you need to give him the next best thing, a telescope! Now, you can get him as close as possible with a high-powered digital telescope that he can program to find his favorite stars and constellations!
A Classy and Unique Decanter Set
Give the perfect gift for the guy who loves his whiskey and has a fascination with the globe. This decanter set will have him staring at his glass for hours as he looks at each continent and looking deep into the decanter to see the glass ship sailing in his favorite bourbon. This set is a fantastic gift for anyone because it will look great on any desk, end table, or coffee table. He'll love having this set out and sharing a drink with anyone who asks about his awesome decanter!
A Sign for the Man Who Has Everything
Everything he owns could be its own list of cool gifts for men who have everything. But his house has always had a feeling of not quite being a home. A great way to fix that feeling for him is with an awesome sign. Tie his house together with this hand-stained, walnut finished, made-in-America birch wood sign! This will be the gift that he gets to see every day since he will have hung it in his living room, hallway, or any other room he sees fit!
A Most Manly Cigar and Whiskey Set
Sometimes the luxury gifts for the men who have everything need to be truly unique, but still fit their personality. The refined whiskey lover who almost always pairs each drink with a cigar needs a decanter set to match. These glasses let him drink and smoke with one hand, now how cool is that? He may have a handful of whiskey glasses laying around the house, but it is unlikely he has anything that will be this useful for him.
Uncorking a Great Gift Idea
Over the years that you have known this awesome guy, you've noticed he has a love for wine. In fact, he is probably the biggest wino you know. Every time you see him he always wants to have a glass of wine and share some great stories, but he never seems to have a matching set of glasses. For the guy who has everything else, a matching set of four glasses are perfect! He'll finally be able to uncork a bottle and tell you all his wine stories or reminisce on old times. And don't forget, he'll want a shadow box to mark just how many bottles he's been able to go through with the people that mean the most!
Vacuum Seal the Deal with This Gift
To start with, who hasn't ever wanted a Roomba? They've always seemed so cool, and that was when most people were kids. As technology has progressed, they've gotten even better and the guy who has everything will love not cleaning. These new ones map the house, empty and recharge themselves, and can even be programmed off of your phone! This is perfect for the guy who has everything because it takes out the annoyance of cleaning, he can focus more on the exact things he wants to do!
An Awesome Cognac and Cigar Set
Make him have a dedicated relaxation set. He may be the guy you know that has everything but you never see him truly relax. If you can sit him down and get him started, this gift set and some great conversation is guaranteed to make him unwind for the night. These cognac and cigar luxury gifts for men who have everything are perfect for this sort of guy. He can relax with his glasses and fire up his favorite cigar, taking the night in and looking forward to doing it all again tomorrow!
Royal Flush of a Gift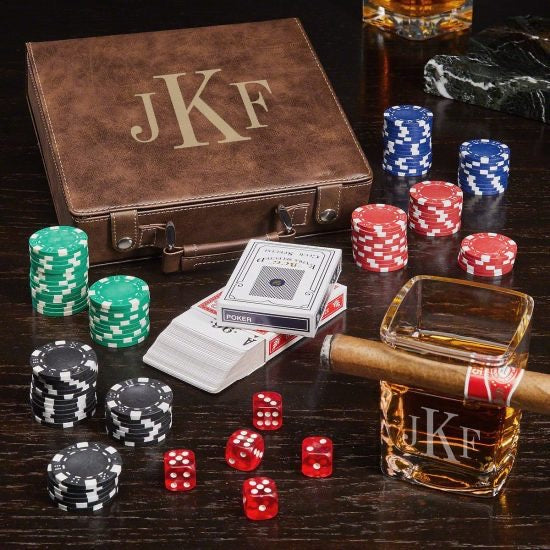 One of the best gifts you can give the man who has everything is time with the guys. Spending time unfortunately is one of those gifts you can't box up. But the next best thing is a kickass poker set that means the boys will be coming over at least once a week to share in games, stories, and good drinks! This gift is perfect for a luxurious gift for the man who has everything because it allows him to unwind with some of the people who mean the most to him.
221+ COOL GIFTS FOR THE MAN WHO HAS EVERYTHING>
David Harrington is a seasoned researcher with a degree in English literature. He uses his extensive training and research skills to evaluate thousands of gifts a year. He then narrows that list down to a select few, choosing unique gifts that will surprise and delight his readers and their gift recipients.