You've already gotten the bill for the wedding. There's no need to stress about gifts for your groomsmen. We were able to scour the internet to find inexpensive groomsmen gift ideas that not only look way nicer than you would expect, but are also something each of your groomsmen will love to have and use as often as they can. Go ahead and take a gander at our incredible list of items that will impress your wedding party and not break the bank at the same time.
Unique Whiskey Spheres
The best cheap groomsmen gifts out there are going to upgrade your wedding party's life. Let them enjoy their whiskey in a way they didn't even know was possible with these awesome whiskey spheres. Each groomsman will get two spheres and a rocks glass made just for them. The liquor's not included, but that won't be a problem because they'll rush to the nearest liquor to give this gift a whirl. Your guys will be amazed at how well these spheres cool their drink to the perfect temperature without diluting the flavor.
Inexpensive & Original Bullet Bottle Opener
Want a cheap groomsmen gift that is better quality than most high-end gifts? This .50 caliber bullet bottle opener is exactly what you need. Or rather, it's what your groomsmen will realize they needed all along when you hand them one that's been engraved just for them. They're perfectly sized to fit in any pockets without being bulky, but sturdy enough to open countless drinks. This is a gift they'll take with them to the beach, to backyard BBQs, or anywhere someone needs a cold one cracked open.
Engraved Flask Set for Groomsmen
Every guy needs a flask. Your groomsmen are not the exception to the rule. Get them a flask that can discreetly fit in any pocket without breaking your budget. What makes this gift even cooler, aside from the fact that you get to tailor each one for each member of your wedding party, is the fact that it comes in a stylish case with a set of stainless steel shot glasses so they can get a party started whenever they'd like.
Get a Beer Cap Map of your Groomsman Home State
Every single one of your friends has a state that has special importance in their life. Whether it's where they born, where they went to college, or where you two became fast friends. You can pick out a beer cap map of their home state for a cheap groomsmen gift they will love to display in their home. It will be a race between your friends to see who can fill their map first. It will be a fun game that will continue long after the wedding.
Wall-Mounted Wood Bottle Opener
A reliable bottle opener is a must own in any guys home. Sadly, sometimes bottle openers get lost in drawers, under couch cushions, never to be seen again. Thankfully, you can easily remedy this problem with this inexpensive groomsmen gift idea. They can place this wall mounted bottle opener in their man cave, next to their home bar, or even in their garage. They'll quickly forget the struggle of not being able to open a beer. This is a gift that's built to last, just like the bonds you formed with your groomsmen. You can even find even more amazing groomsmen gift ideas with this curated list.
Gift Set for Manly Groomsmen
Got a bunch of manly groomsmen? Then get a gift that ticks all of their boxes. Beer mug? Check. Flip-top lighter? Check. Cigar cutter? Check. Engraved tactical knife with enough tools hidden in the handle to survive a Bear Grylls level survival challenge? Another check. After your groomsmen receive this awesome gift from you every other groomsman gift they get will pale in comparison. Set the standard at your wedding.
289+ BEER GIFTS FOR GROOMSMEN>
All-in-One Wallet Tool
Even in this modern world having the right tool for the job is just as apt as it ever was. Tool Logic makes this incredible wallet size tool that's essentially a modern-day pocket knife. Want to look sharp before a big meeting? Your groomsmen can use the toothpick and tweezers. Need to cut a loose thread? It has a knife. Lost in the woods? It even has a compass. The fact that it all fits slimly inside a wallet is even more incredible. Your groomsmen will want to have any excuse to break out all the tools that are a part of this awesome gift.
Whiskey Glasses for All Your Groomsmen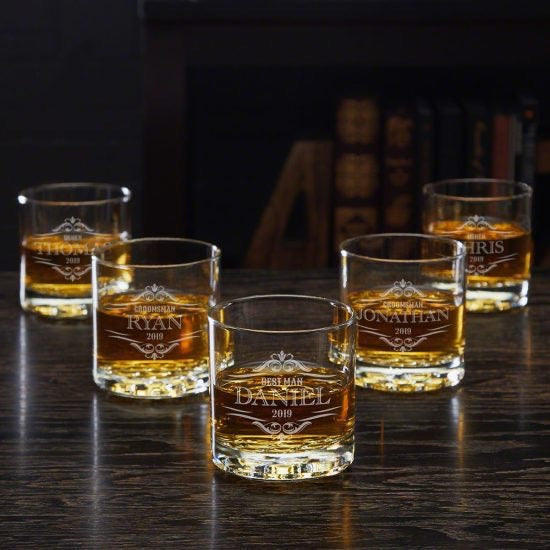 Want to knock out gifts for your groomsmen in one fell swoop? This set of 5 rocks glasses can each be personalized for every member of your wedding. It's an inexpensive groomsmen gift idea where you can also take care of your best man, father-of-the-bride, and even the ushers. The way these glasses are expertly crafted, your wedding party will be convinced you spent a king's ransom on their gift.
Awesome Stainless Steel Wine Glass
Your groomsmen enjoy a nice glass of wine and they also appreciate a new trend when it pops up. This stainless steel wine glass will amaze your best friends. Not only does it look super cool, but it will also keep their wine at the ideal temperature for hours on end. Every sip they take will be accompanied with a raised eyebrow as they taste their wine like they've never experienced. They won't ever want to use a traditional glass ever again.
Affordable Engraved Shot Glasses
Every guy needs a reliable pair of shot glasses. The plastic ones from their college Spring Break trip in South Padre aren't built to last. Get your guys a cheap groomsmen gift that is built to last and has that personal touch. If they need a quick shot for pregaming these glasses are perfect. However, they also double as a set that lets you savor your finest spirits. This gift blends the party-side and modern adult that made your groomsmen the men they are today.
Personalized Louisville Sluggers
Personalized, full-sized bats. Does anything else need to be said? Probably not, but rest assured that having a bat that's custom made just for them is a boyhood dream that never dies. Your groomsmen will feel that same childhood happiness when you hand over this gift. They'll be sure to find a prominent place for in their home. Don't be surprised if at least one of them tries to get an impromptu game going.
Modern Beer Gift That Adds Style
Your groomsmen need to look sharp for your wedding. Your wedding may not be a black-tie event, but it certainly is for the guys you asked to be your groomsmen. Get them started in the right direction with a gift that comes with a classic black bowtie. Of course, it doesn't hurt that this gift also includes a matching lighter, cigar cutter, and stainless-steel pint glass. Your groomsmen will gladly put on the bowtie as they enjoy their first cigar and first beer with this gift.
Customized Cufflinks
Your guy's need cufflinks for your wedding. They'll be needing cufflinks for more and more occasions the older they get. Why not get a cheap groomsmen gift that's also practical? Each cufflink can be engraved with their initials. They also have a timeless style, so they'll be great with any suit, for any occasion for decades to come.
Take Your Beer Everywhere
Everyone knows the pain of schlepping around a loose collection of beer, banging around in a cardboard container that's barely holding it together. Or even worse, not being able to bring any beer at all. Get a next level groomsmen gift that solves this problem with this custom wood beer caddy. Your friends, especially your best man, will love being able to throw in six of their favorite beers and take them wherever they're needed. The attached bottle opener is the perfect accessory to this original gift idea.
Massive Cocktail Shaker
Yes, this is a cocktail shaker. Yes, it is extremely massive. Yes, your groomsmen will love it. If your best friends like to craft a quiet cocktail at home or thrive being the life of the party, then they will appreciate the thought you put behind this gift. Invite everyone to your place while you hand them out and let them see who can make the best cocktail for the groom. It's an unforgettable experience and another way to build great memories with your best friends.
Get Your Groomsmen Some Style
You'll want to look back at your wedding photos every year. Make sure your groomsmen look sharp with Cole Haan's styling kit. This is an awesome inexpensive groomsmen gift idea, because whether they'll ever admit it or not, your groomsmen loved to look their sharpest, especially for an occasion like your wedding. Plus, if there's going to be a couple of cute bridesmaids, it's even better. Pretty soon, they'll be keeping themselves styled whenever the leave the house with this gift.
Inexpensive Beer Growler
No guy should have their beer choices limited to what's in their fridge or on tap at the local bar. Give your groomsmen some freedom with a double-walled beer growler. They can take this to their favorite brewery and get it filled so they can enjoy top of the line brews wherever and whenever. This is an especially awesome groomsmen gift if you guys are doing a bachelor party where you'll be spending some time outdoors. It gives the perfect chance to break in their awesome new gift.
Affordable Combo Flask for Groomsmen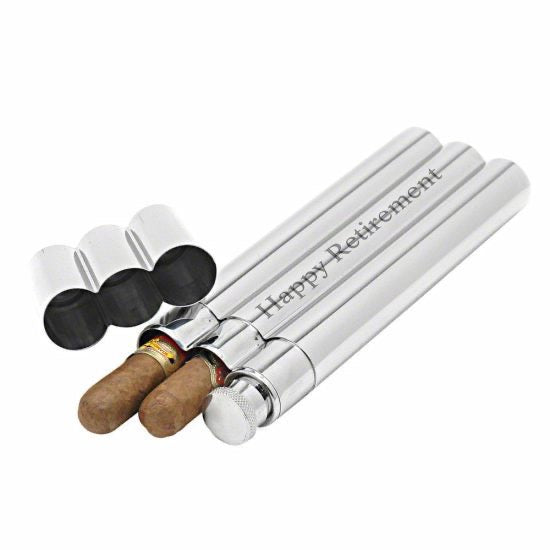 If you're going to carry a flask around, it shouldn't create a flask-shaped bulge in your pocket. That's what makes this Monte Carlo flask a perfect groomsmen gift that won't break the bank. Well, that and the fact that your groomsmen can also store a couple cigars next to their liquor of choice. You could even have a couple cigars waiting inside before you hand this gift over to thank your friends for how they've stuck by your side through the years. You can even get a bunch more practical groomsmen gift ideas right here.
Elevate Your Groomsmen's Whiskey Drinking
Your college days are in the rearview. You're getting married and it's time to push your groomsmen one step closer to adulthood. They don't need to tie the knot, but you can get them an inexpensive groomsmen gift that will transform them into refined whiskey drinkers. Or, at the very least, give the illusion that they know what they're doing. These black onyx whiskey stones are the latest thing out there for avid whiskey drinkers. And it's never a bad idea to gift your groomsmen with the latest and greatest available.
Personalized Groomsmen Knives
Groomsmen knives have become the latest craze in gift-giving. They're practical, fun, and you can add your own personal touch on these serrated blades. They come in a set of 5 and each one can be engraved differently for every guy you're shopping for. This is a handy tool they'll love to have around the home, while working in the garage, or while they're relaxing on a nice fishing trip. A gift that's useful for all occasions is something your groomsmen will surely appreciate.
A Travel Mug with a Secret
Your groomsmen can't sit still. They love to be active. Get them a Bindle Bottle so they don't need to stop. It will keep their drink insulated. It works great for coffee or water, but the really cool feature is the waterproof storage compartment. They can store their keys, wallet, or whatever else they like and not worry about it getting lost, damaged, or having to lug it around. This is a gift your groomsmen will use long after your wedding.
Incredible Whiskey Cigar Glass
Want to get a jaw-dropping gift for your groomsmen and still leave your bank account happy? This whiskey cigar glass will do just the trick. Capable of holding your groomsman's favorite liquor and a cigar in one stylish glass is something every single guy would love. It leaves them a free hand for their phone, to raise during a game over poker, or to high-five you during your bachelor party. It's a cheap groomsmen gift they'll never expect and will be eternally grateful for your gift-shopping prowess.
Everything A Beer Lover Needs
Your groomsmen love beer. No one could argue otherwise. That's why they practically need their own beer mug personalized just for them. They will show this inexpensive groomsmen gift idea off to every guy that shows up to their place. It's even better that it comes with a sturdy bottle opener and a handsome wood box to store all their knick-knacks. Just make sure they don't carry it with them to the ceremony.
409+ MORE GROOMSMEN GIFT IDEAS>