A man's space is sacred ground. Growing up he had his room. In college, he had a dorm or whole apartment to make his own. However, when he moves into a home and has a family, finding a space that he can make 100% his own can be difficult but not impossible. Man caves are the perfect places for him to put posters on the wall of those 80's movies he still loves to quote or images of cars he always wished he could drive as a kid. As an adult, he also has grown in taste which is why this will be the area of the house that also has his favorite liquor, beer, cigars, or even some things to relax such as his games or movies. Make sure that he can mark this space as his official space with one of these man cave signs that embody everything his space is about while also giving a custom touch to his room in the house! Surely one of these signs will perfectly fit the style of his man cave as well as being unique enough that he'll just have to put it on display as soon as he gets it!
A Classic Man Cave Sign
There is nothing quite like the classic man cave sign. A rustic cut wooden sign like this one is perfect for any man. He can be into sports, cigars, games, or anything else and this sign will seamlessly blend into his pre-established home decor while also being a noticeable improvement on the room. Now, it isn't just this hangout spot, with this sign, it is officially his man cave!
This is Where He Rules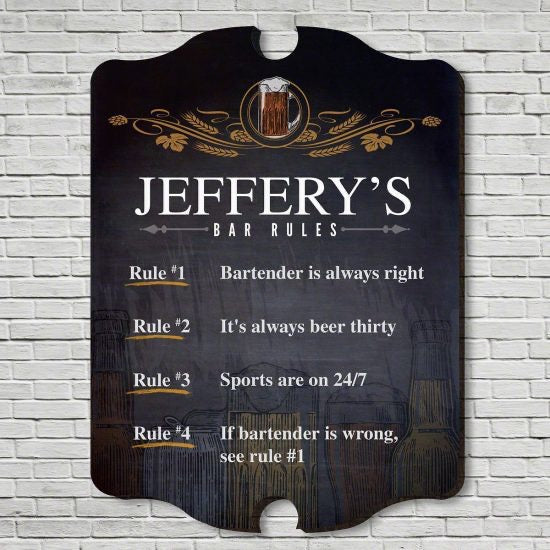 He has always been one to have rules. Everything for him has to be just so. Instead of a generic sign, take the time with this unique rule sign as a gift to write out his top four rules that you know he can't live without! He'll love getting a man cave sign that is this unique as well as letting everyone know that he is the one that rules in his room!
A Space for His Tales
Man caves aren't just about him hanging out by himself, many are a place where he can kick back and be 100% himself with some of his best friends. Even before you got him this unique round sign, he and his friends would be in the basement for hours enjoying drink after drink while talking about the night's game or a memorable event from years ago. So, for the man cave that seems to draw out the best stories, no sign is more fitting than this personalized round bar-themed one that encourages another drink as long as it goes with a good story.
Man Cave Signs Aren't All Fun and Games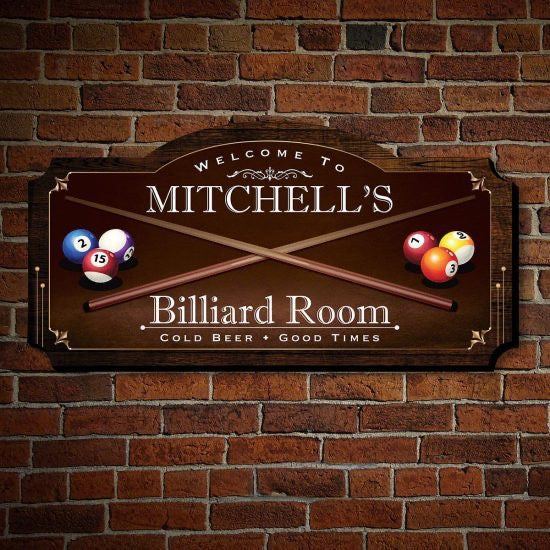 Speaking of hanging out with people, if he enjoys a good bit of competition while he is in his personal space, a custom game sign is just what he needs! Billiards, darts, bags, even video games make man caves a space he craves to hang out in. Sure he could go to a bar with the boys but with a perfect man cave where he controls the tunes, drinks, and who is hanging out, you can be sure he'll have far more nights playing games with the boys at home under this custom man cave sign than he will out on the town.
A Man Cave Sign Fore Him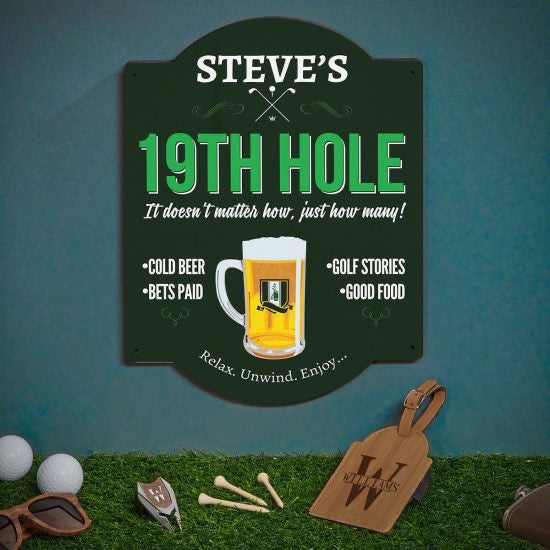 Never settle for a sub-par man gift for him. When you see a gift as good as this sign that does more than decorate his favorite room of the house, you know you have to get it for him! Complete with a bag tag and divot tool, this golf sign is more than just an awesome sign to sit near while downing a beer after a round of golf, it helps him while he is on the course too! Pair this with a six-pack so he can truly have a 19th hole experience and you'll have given one of the best gifts for his spot in the house ever.
An In Route Sign
Is there any road more famous than Route 66? These signs are seen in bars everywhere but are even better used as man cave signs! Now, he can create the roadside dive bar or high-class biker bar feel inside the house. This sign will look perfect next to his posters of Harley motorcycles, classic Mustangs, or among old-school Jack Daniels ad cut-outs.
He'll Know This is a Good Sign
He has been using this specific room of the house for cigars for years. It may be the basement, in a corner of the house, or even one with the biggest window to help let the smoke out. You know for a fact that there are few things he loves more than cigars, so since you can't get him a walk-in humidor, give him the next best thing, a personalized sign claiming this room as his official cigar lounge! It has wit just like him, but is also an incredibly badass looking man cave sign!
Personalize His Pub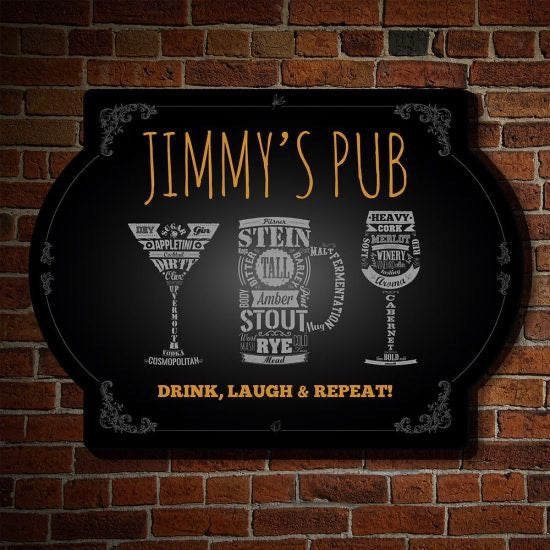 Whether when the day is done and he wants to unwind with a drink, it doesn't matter if he prefers beer, a cocktail, or a glass of wine. This home pub sign is a great gift for his cave! He can be as eclectic as he wants! After all, why limit yourself to enjoying just one kind of drink. Better yet, his man cave can be like his own home bar thanks to this sign, making it the perfect place for him to practice his bar-tending skills with his friends and family, as long as he has his gift on display, you can be sure he'll want to sit down have a drink and good laugh with you.
For a Wonderful Wine Cellar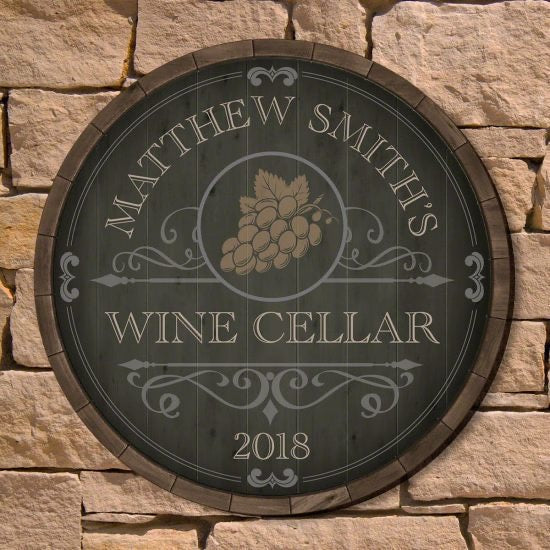 His favorite hangout spot doesn't need to be rustic or overly masculinized; instead, it can be quite relaxed and refined which is why for this guy, an engraved wine cellar sign is the perfect way to decorate where he likes to spend his time. Whether it is a true wine cellar or just the room he prefers to enjoy his drink, this is the ideal gift that he can enjoy seeing every single day!
A Custom Man Cave Sign
Give him one of the most unique man cave signs with one that can be customized! Put his name, initial, and date established on this sign! It is the perfect gift for a husband or father. You know they've been wanting to officially ordain their man cave, and since it isn't a ship, breaking a bottle of champagne won't do, but giving him this sign to hang up is the next best thing!
Light Up His Space
There is nothing quite like a classic neon sign to give a home hang out spot an official feel. As soon as he clicks on his beer sign, you know that his favorite room of the house is open for business. Whether he puts this on the bar or hangs it in the room, each time he is relaxing with a cold one, you'll be able to see the warm glow of his favorite sign.
For the Family Guy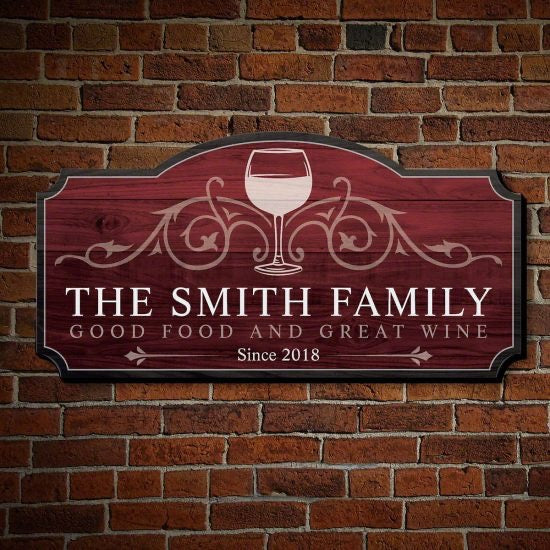 Although this is his space, he doesn't always want to keep everyone out. In fact, his family members are some of his favorite people so unlike other man cave signs, use this family and wine themed one that reminds him of when he established his family. Now, when he is unwinding with a glass of wine or while doing his favorite hobby, when he looks up, he'll be reminded of all the people who make everything he does worthwhile.
Get Him a Great Garage Sign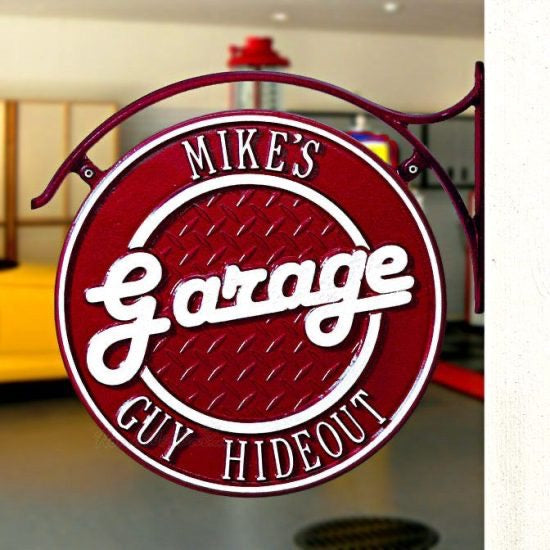 Not every man cave is inside the house, in fact, many are made from their garage space. He is already out in the shop wrenching on his ride, cutting wood, or doing one of his many other manly projects. So, it only makes sense that over the years it has become his hideout, it may even have a mini-fridge and television. Now, instead of it being the unofficial hang out spot, make his man cave official with this custom garage plaque!
The Perfect Spot for a Pint
Turn his manly hideaway spot into the pub he wished he could always have visited with this awesome personalized sign! What man doesn't wish that they had their own pub in the house. Now, they never have to worry about the bar closing up while he's still hanging out with his best friends telling stories and sharing laughs over a few good pints and some stogies.
Sometimes, Man Cave Signs Need a Little Extra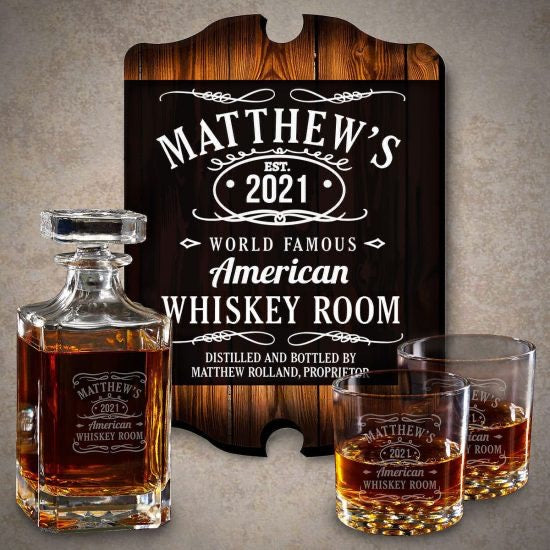 When you have a man who has been needing his own space for years, you may want to help him establish it with more than just a man cave sign, instead of just one gift, get him this custom sign gift set that includes a matching decanter! Now, in his own space, he can feel like he is drinking from his own whiskey brand! So, whether he wants to enjoy this gift with a few friends or with you for finding something so good, he is sure to share a drink from this set right away!
617+ WHISKEY GIFTS FOR MAN CAVES>
Take the Antler Angle
A lot of men love nature or the outdoors but don't necessarily want to have a head mounted inside their house. Instead of the messiness of hunting, take your shot at getting him an antler sign as the perfect piece of decoration inside! It even has his name in a gorgeous cursive font giving an element of class to this rustic wooden gift.
A Cinematic Man Cave Sign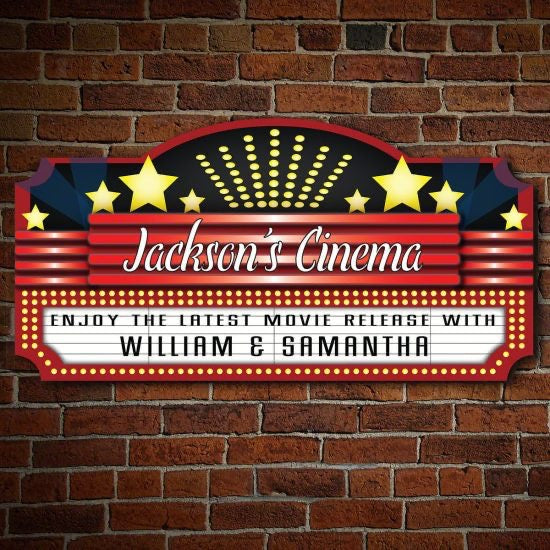 Have him make a scene with a sign superior to all other man cave signs for the man who is truly into the cinematic world! Whether he is a fan of classic monster movies, detective noirs, war movies, or the modern Marvel universe, he'll love seeing his name up in lights with this fantastic personalized sign! A hot bowl of buttery popcorn as well as his favorite movie loaded up on Netflix will be the ultimate way for him to enjoy this gift right away!
For the Home Brew Guy
Got a guy who loves beer? This rustic brewery sign is perfect! Man cave signs are all about making the space his, and if he is an aspiring beer aficionado there is nothing quite like making the area of the house that he keeps his books on beer, custom beer glasses, and rare craft brews feel even more like his own like placing an engraved sign making it feel like his brewery too!
For Dad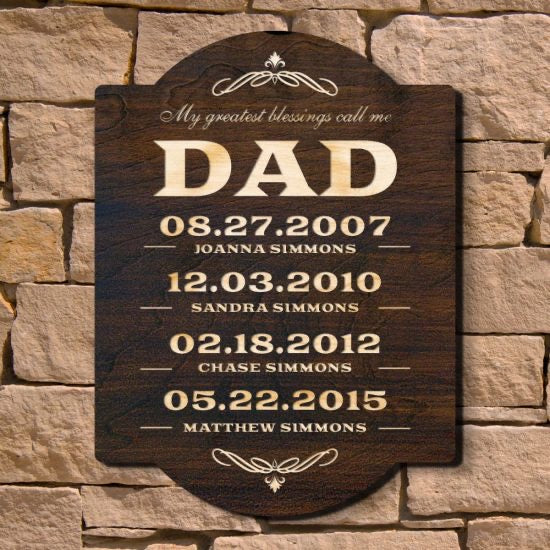 A lot of men (to no surprise) who have a man cave are dads! He loves being a dad, so why not get him a sentimental gift that will bring a smile to his face each time he sees it? This man cave sign made specifically for dad by his children will do just that! Now, he can be reminded of his favorite people, his kids. This way, even when you and your siblings are long gone off at college or living on your own, he'll still have this fantastic gift to remind him of his love for each of you.
A Man Cave Sign for the Coffee Fiend
Does he enjoy spending time in his favorite room of the house as soon as he gets up? Then there is nothing better than one that helps him start his day off right than a blackout coffee sign that shows off his love for his brew. As he starts the day, there will be nothing like enjoying his coffee, latte, espresso, while reading the morning news and enjoying his new favorite sign.
A Rustic Sign for a Rustic Man
Whether his personal space is in the barn, garage, basement, or somewhere else, you know the guy can't wait to show off his rustic, personalized man cave will be ecstatic with such an awesome metal sign! With custom text. you can have this gift say anything you want, making it perfect for literally any man's man cave! Plus, there are multiple animals to choose from to put on top, how cool is that?
There is No Place Like the Home Bar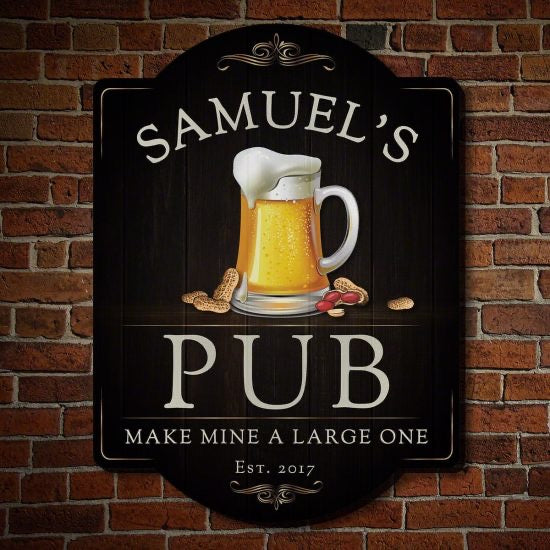 His man cave doesn't have to be a room secluded from the rest of his house, in fact, it could be as large as the whole basement or garage. Some might say that it is so large and filled with his favorite drinks, that it is practically a bar. Make it officially his man cave or home bar with this personalized pub sign adoring peanuts and a classic pint of beer! He'll love sliding beers down the bar to friends and family with this awesome sign hanging up!
The Wild West of Man Caves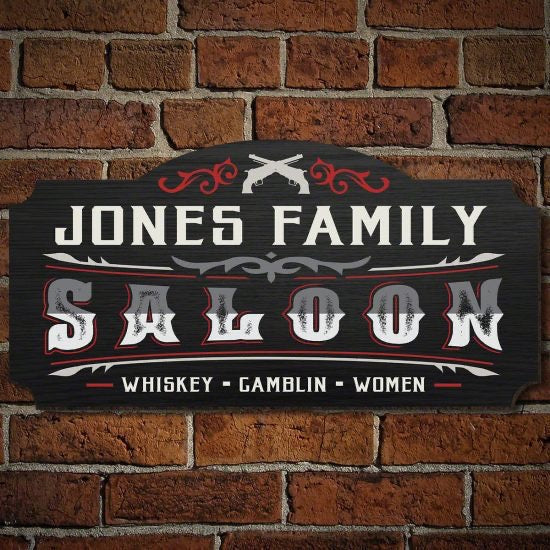 If his man cave is like the Wild West with pictures of John Wayne or Clint Eastwood and saloon doors, you know that this Western themed sign is an absolute must for him. With his name engraved on the sign, you can be sure you'll get a "Yeehaw!" out of him when he comes home to find this hanging up on the wall or over his home bar.