You want to give him the most awesome gift ever, and you know a gift set is the way to go! Gift sets make the most amazing gifts because they are basically one giant gift comprised of several super cool, smaller parts. The best gift sets for men will enhance his favorite hobbies so his free time is well spent. They also make him feel good inside every time he uses or sees them. Being customizable isn't a must, but custom gift baskets for men do add an extra level of awesomeness of the gift. These men's gift sets make the most fantastic presents for any man in your life who deserves a great gift.
Enjoy Whiskey and Cigars Simultaneously
Guys love the classic combo of whiskey and cigars, so a great gift set for men is one that makes partaking in that combo easier and better. He'll be able to elegantly hold his whiskey and cigar with one hand, which all his friends will be jealous of. This cigar case is the best way to transport his cigars. It's small enough to fit easily in his pocket, so it's effortless to travel with.
Best Beer Gift Set for Men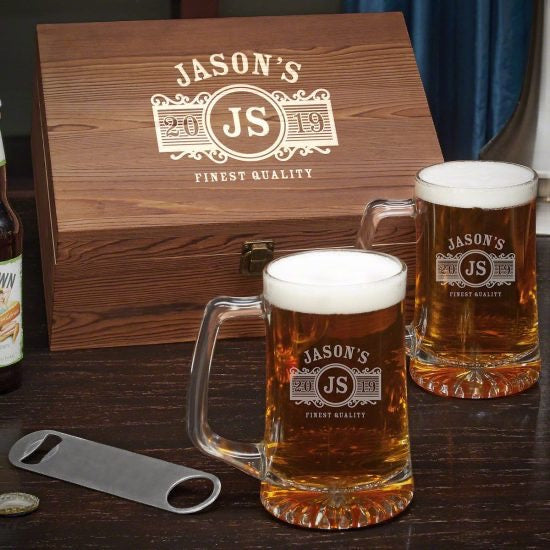 Beer is one of his main passions, and you want to buy him a beer-related gift set. This set is simple and yet has everything he needs to fully indulge in his favorite beers. He'll have a great time drinking beer from these sturdy, manly beer mugs whenever he wants to relax. This wooden box is the perfect way for him to store beer caps or anything else he chooses. This unique beer mug set is one of the coolest and manliest gift for men!
Best Kind of Tools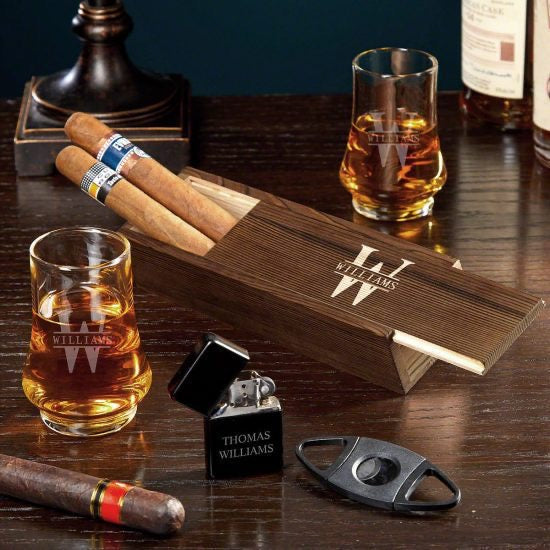 Smoking cigars and tasting whiskey is one of his favorite activities, and you want to get him an amazing gift set that will help him indulge in it. This whiskey and cigar gift set is the ideal one because it has all he'll need to really enjoy it. The two Glencairn glasses are perfect for whiskey tasting, as the wider bowl and narrow rim lead the aromas right to his nose. The cigar case is a great way for him to store his cigars, and it's small enough that he can easily transport it if he wants to. He will spend many relaxing evenings, sipping on whiskey and smoking stogies, totally and completely at ease. Equipped with the items in this set, he will enjoy whiskey and cigars like never before.
Super Cool Military Can Set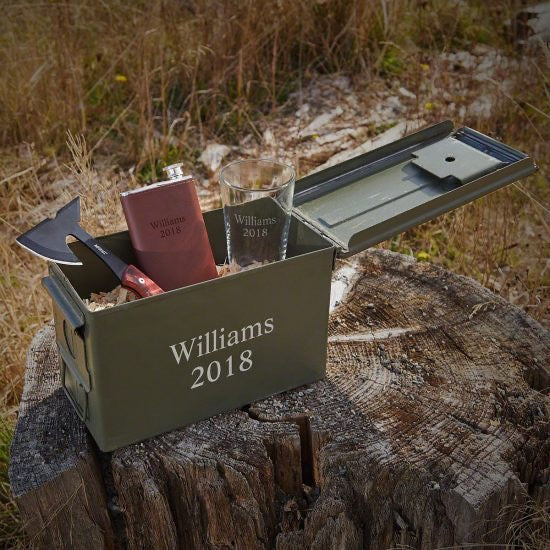 The coolest custom gift boxes come in awesome ammo cans. This ammo can is repurposed from the United States military, so your special guy will feel super cool wherever he carries it. Coming in this can is one pint glass, the ideal glassware for your guy to joyfully drink his favorite beer. He'll also be crazy about this handsome flask that will make it easy for him to take his favorite liquor on-the-go wherever he ventures.
Whiskey Essentials Gift Set for Men
Drinking whiskey is not worth it without the proper tools. These awesome glasses are the proper glasses for whiskey, and he will love drinking from them. To make sure that his whiskey doesn't get warm, he can use the included whiskey stones to cool it down, making it absolutely delicious. Because all good tools need a toolbox, he can store his whiskey-related items in this awesome wooden box. Include some miniature bottles of his favorite whiskeys to make it an even more excellent gift.
612+ IMMENSELY AWESOME WHISKEY GIFTS FOR MEN>
Gift Set for Men Who Love the Great Outdoors
Being in the great outdoors is one of his favorite places to be. For his next outdoor adventure, he could really use a gift set will tons of helpful tools in order to have the best experience possible. These backpacking kits are perfect for the outdoorsy guy you know. They come with a first aid kit, compact meals, flint, water filtration system, and more. He'll be so thrilled with this awesome backpacker set!
Treat Yo Self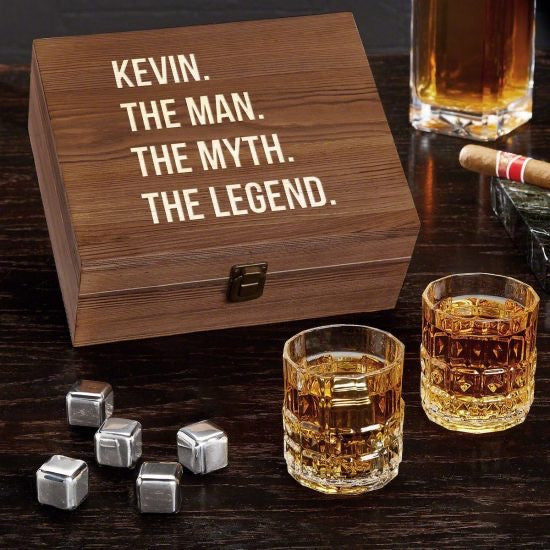 You've been killing it at work recently, and you want to reward yourself. Treat yourself with this awesome whiskey box set that all your friends will be jealous of. These whiskey glasses and stones are both very unique. The glasses have a distinct texture, and you'll really enjoy the novel feel of them in your hands. The special whiskey stones are made from stainless steel, and they'll look awesome inside your new glasses while keeping your whiskey chilled. Your friends will all want to treat themselves with this same set!
For the Poker Champ Gift Set for Men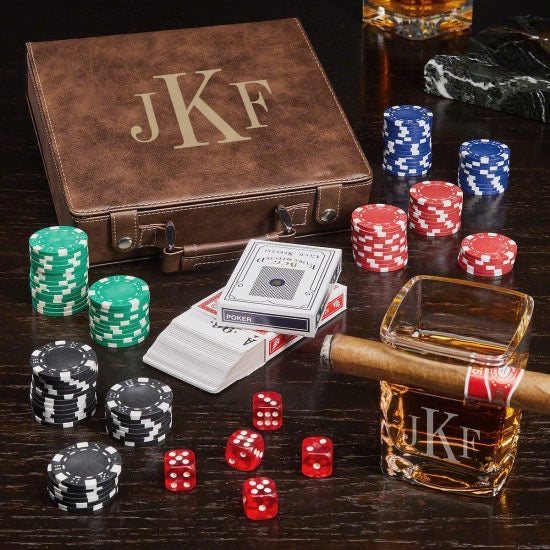 Game nights are the best nights, as he always says. He loves playing poker with his family and friends, so give him this sweet gift set. All the makings of hours and hours of fun playing poker come inside this transportable case, convenient if a game night is being held at a buddy's house. He will love this cigar glass as well, which will make it easy for him to smoke his favorite stogie and enjoy his favorite whiskey in one hand while trying to school everyone in poker with the other. He'll be obsessed with this amazing set.
The Coolest and Manliest Gift Set
He's never owned anything quite as cool as this ammo can. Knowing that actual ammunition used to be stored inside this can makes this ammo can gift set an awesome gift set for men.  The matte black flask makes for discreet drinking on-the-go of his favorite liquor without having to worry about it spilling out in his pocket or briefcase. When he's relaxing at home, he'll love filling up one of these pint glasses to the tippy top with his favorite beer and drinking it. He can store whatever he chooses inside this ammo can, from beer caps to fishing equipment. All in all, he'll love the usefulness and awesomeness of this gift set.
Try 'Em All
He fancies himself a whiskey connoisseur, and you want to give him a terrific gift that will help him indulge in his whiskey passion. This whiskey glass set is the ultimate gift for a huge whiskey fan such as him. It included five common whiskey glasses, so he can drink out of each of them, comparing and contrasting the tastes from each glass, determining which whiskeys are his favorite out of which glasses. The whiskey stones included in the set will help him ensure that his whiskey stays chilled as he does all his experimenting.
Delicious Gift Set for Men
Bakery items are a beloved food group for many men, including your dad. This bakery gift basket will make his face light up and his mouth water instantly when he receives it for Christmas or Father's Day. This basket is stuffed full of scrumptious bakery items, such as a blueberry scone, triple berry preserves, cinnamon roll, and blueberry muffins, just to name a few. Your father will be so thankful to receive this amazing gift set, and he's sure to share some of the goodies with you!
Good, Strong Coffee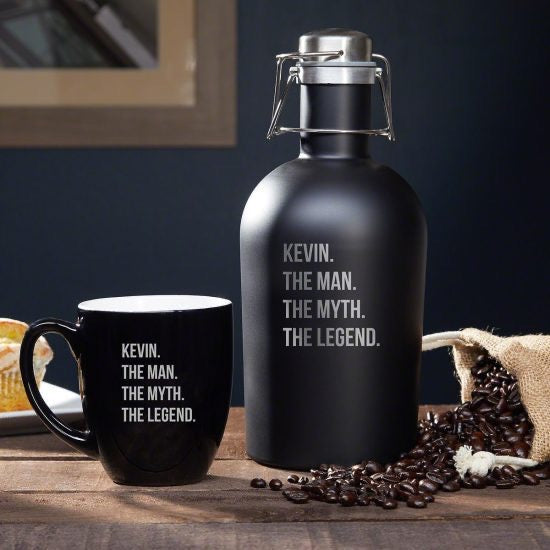 Unsure of what to buy a serious coffee lover? This coffee set of a carafe and mug is absolutely perfect. Their coffee will stay warm inside this carafe for up to 24 hours, so he can have nice warm coffee for an entire day! He can pour his coffee into this awesome mug, which is the perfect way to enjoy delicious coffee. This awesome gift set for men will make enjoying coffee better than ever.
Stemless Wine Classiness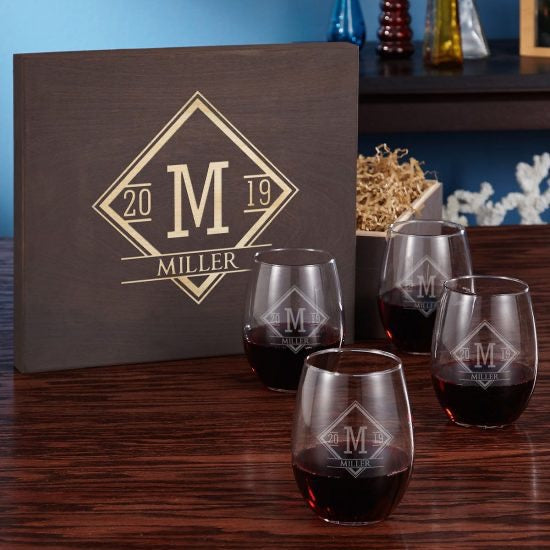 Stemless wine glasses are all the rage due to their practicality and modern appearance, and you know he would love a set of them. These four wine glasses have that classy look he craves, and his full-bodied red wines, such as Cabernet, will taste great when consumed out of these awesome glasses. He'll love pouring his wine into a glass and relaxing in front of the TV or fireplace. As a bonus, the handsome custom gift box is crafted from maple wood, so it's both sturdy and very attractive, a fantastic decor piece for his home.
A Cool Set of Tools
The coolest guys deserve the coolest gift sets, and he is the coolest person you know. This phenomenal set comes in an ammo can that he can use to store fishing or hunting equipment or anything else he wants. The cigar flask is perfect for a fishing or hunting trip or any other adventure because it provides him an easy way to transport his favorite liquor and cigars. The axe is great for when he's in the wilderness and needs to cut through thick forest. The knife is an essential for wilderness activities as well, although he'll definitely want to keep it in his pocket all the time.
77+ SUPER AWESOME AMMO CAN GIFT SETS FOR GUYS>
Fill Him with Joy
Do you remember that feeling of being a kid and opening up a fantastic gift on Christmas morning? That's how your friend will feel when he sees this awesome decanter set! It's absolutely breathtaking, and your friend won't know at all what to say. He'll immediately want to fill this amazing bull decanter with his favorite whiskey and display it on his home bar or kitchen counter for the world to see.
For the Stylish Guy
He has a fantastic sense of style, and he wants to cultivate a collection of really cool ties and other nice outfit accessories. This tie gift box is a great way to help him start that. This set comes with a combination of eight silk ties, pocket squares, dress socks, collar stays, and tie clips. He will look better than ever when he's adorning these awesome accessories, and he'll be very grateful to you for this awesome gift set for men.
Best Beer Set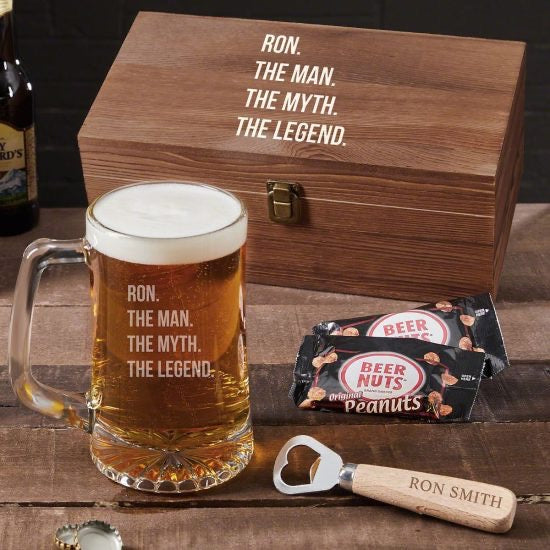 For a beer-loving man, no gift set is better than one that has all the beer accessories he'll ever need. He'll love drinking beer from this hefty mug that comes in this beer gift set as he snacks on the delicious beer nuts. You won't be able to convince him to ever drink out of anything else again once he's used this mug a single time.
For the Adventurous Guy
The manliest man in your life is always on adventures, it seems, and you want to buy them a gift set that will make their experiences that much better. This personalized gift set is a fantastic gift because it includes three manly essentials for adventures. The first essential is a stainless steel travel mug. This awesome mug keeps his hot coffee piping hot for up to six hours, and it will keep cold drinks cold for 24 hours. It's perfect for his morning coffee. Later in the day, he can have a drink of his favorite liquor using this flask. And because it's better to be safe than sorry, he'll bring this tactical knife that has a hidden survival kit. This way, the adventurous guy you know will always be prepared for any situation.
A Classic Whiskey Set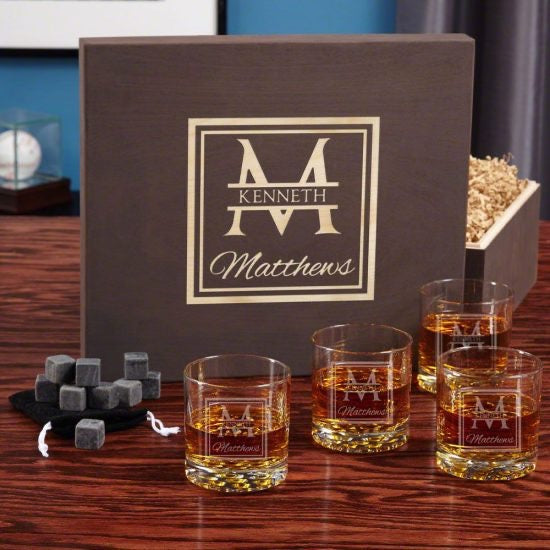 Sometimes, a classic whiskey gift set is the best kind of men's gift set. Few things are more enjoyable than relaxing with a chilled glass of whiskey after a long day. This whiskey gift box set is a phenomenal gift for any whiskey-loving man; he'll love putting his ice cold whiskey stones into his glass full of whiskey and sipping on it. There is no doubt that he'll absolutely love this amazing gift set and use it all the time.