Dads are notoriously hard to shop for on any gift-giving occasion, but Father's Day is his special day and you want to give him something awesome. The best Fathers Day gifts are those that show your dad just how much you love him, look up to him, and appreciate everything he's ever done for you. You can get him something nice and personalized, something fun for you two to enjoy together, or even a gift that he's always wanted but never gotten for himself. Fathers Day gift ideas don't have to be anything fancy, but make sure you think about your dad and how he would use the gift to decide which one is best for him!
Personalized Beer Mug for Dad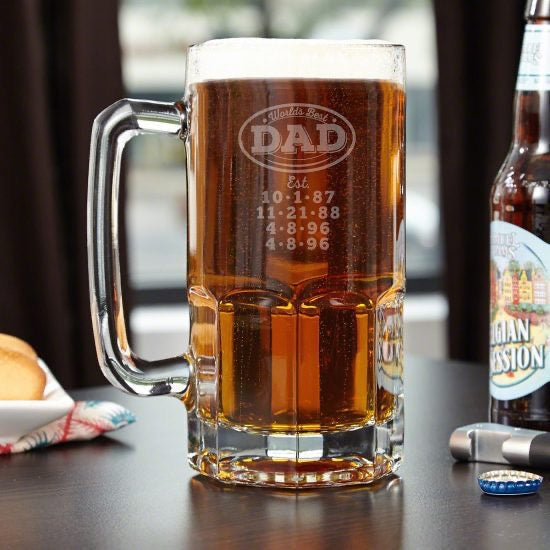 With this large beer mug, your dad can finally enjoy plenty of beer without needing a refill while he enjoys his favorite sport or TV show from his chair. Boasting a capacity of an entire liter of beer and made of premium thick glass, his beers will finally be cool and big enough. The mug is even engraved with a classic "World's Best Dad" emblem along with the birthdays of all of his children. Everything about this incredible beer mug makes it one of the best Fathers Day gifts ever!
Badass Fathers Day Gifts
Your dad is a cool, manly man and deserves to get a Father's Day gift that is just as awesome as he is. Look no further than this monogrammed whiskey gift set! The two of you can enjoy a drink together using the set on Father's Day and every time you come over to visit! He will love using the bullet whiskey stones to chill his whiskey because they don't just look awesome and make him feel like a badass, but they also make sure his drinks are perfectly chilled and never watered down.
Incredibly Manly Gift Set for the Manliest Father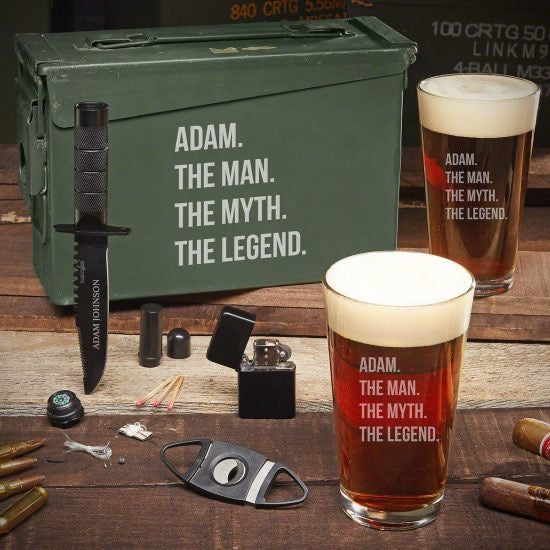 Is your dad a manly guy who enjoys drinking beer, smoking cigars, shooting guns, and adventuring the great outdoors? Then this is the absolute perfect gift set for him. It has everything he enjoys: beer glasses, cigar accessories, a tactical knife, and a genuine military surplus ammunition can! The glasses and ammo can are even engraved with your father's name followed by "The Man. The Myth. The Legend.," declaring just how cool of a manly guy he is. He'll love using the beer glasses to toss back a couple of cold ones with you after spending a day at the range together emptying his new ammo can. When the family goes on their annual camping or fishing trip, dad will be prepared for anything with the tactical knife! Talk about incredible Fathers Day gift ideas!
Relaxing Fathers Day Gift Ideas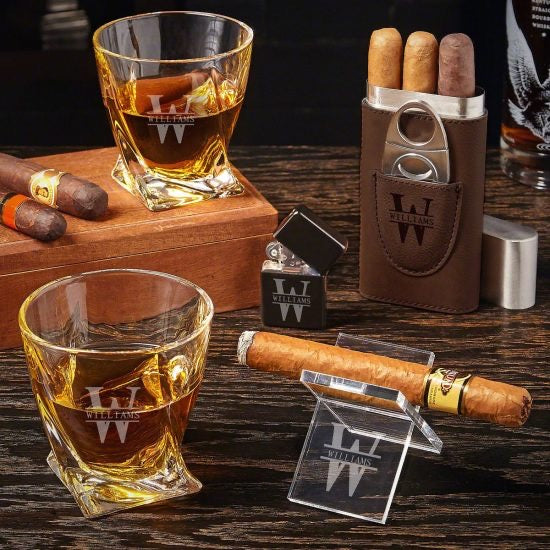 Treat your dad to a relaxing Father's Day with this awesome cigar and whiskey gift set! He will feel like a king as he kicks back in his favorite chair with one of the unique glasses full of his favorite bourbon in one hand and a freshly lit stogie in the other. There's another glass included as well so that you can enjoy a drink with your dad on his special day! He will love these relaxing Fathers Day gifts and will always think of you when he uses them to relax after a long day.
Dad's Own Special Grilling Tools
He probably has some old grilling tools, but it's about time he gets a new set and Father's Day is the perfect occasion to get them! This set of rosewood tools are professional-quality, and they're sure to be his new favorite grilling essentials to use! He will especially love that he can use them at home, the lake, while tailgating, camping, and everywhere else so that he's always prepared to grill up awesome BBQ for everyone.
279+ MORE GREAT GIFT SETS DAD WILL LOVE>
 A New Smartwatch for the Active Dad
Whether he's already a fitness nut or just getting into exercise, a smartwatch makes a fantastic Father's Day gift. The FitBit Versa is one of the newest and most efficient of the current smartwatches on the market as it is completely waterproof, has GPS, tracks everything from breathing to sleep stages, and he can link his bank cards to it so that he doesn't have to get his wallet out when shopping. You seriously can't get any better than this!
Create His Own Whiskey Label
One of the most thoughtful gifts you can get your dad for Father's Day is something so unique that no one else in the world will have the same one, like this customizable whiskey label decanter set! Like his favorite brand of whiskey but entirely his, this awesome personalized decanter set will make your dad feel like a true connoisseur and distiller! In fact, he might even be inspired to take up whiskey distilling and make a real label out of the one you created for him!
The Perfect Golf Gifts for Dad
Does your dad love to spend his free time on the golf course? Surprise him with these amazing golf essentials as Fathers Day gifts! The perfect time to give him his new golfing accessories is when you take him to the course for a fun day of golf together. He will be so excited to celebrate every hole-in-one with a drink from his flask and to proudly show off his awesome new golf tag and divot tool to all of his golfing buddies!
The Best Gifts for Dad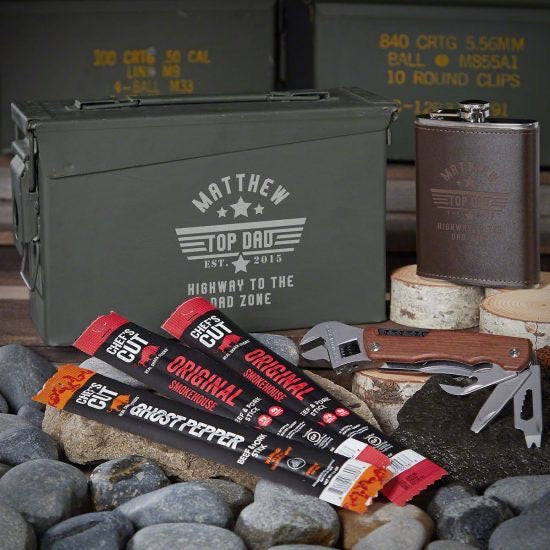 One look at this incredible set of Fathers Day gift ideas and your dad will be absolutely speechless! He probably won't even realize that there are more amazing gifts inside the ammo can, which is super cool on its own. He'll love munching on the tasty beef jerky and using his new multi tool to do DIY projects around the house as soon as he opens up your awesome gift.
A Classy Whiskey Set for His Home Office or Home Bar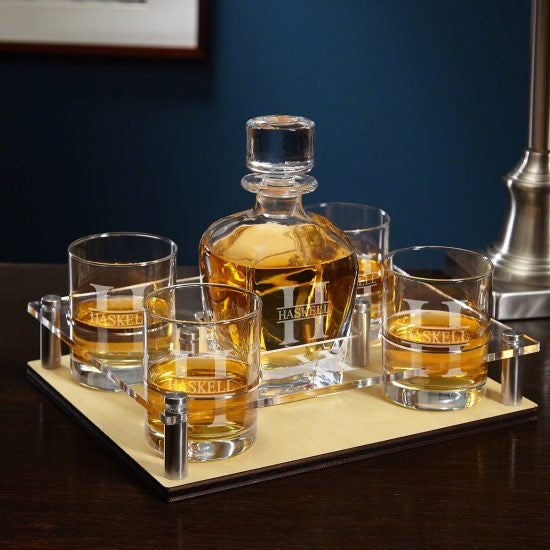 Want to give your father a really nice Father's Day gift? This handsome whiskey serving set is a fine addition to his home bar or office. The six piece set includes a decanter, four glasses, and a serving tray which are all engraved with his initials. He'll love having a nice set of glassware to serve guests with and to give his office or bar a classy touch.
Electric Razor for the Best Shave of His Life Every Time
One of the best Fathers Day gift ideas is an electric razor! Whether he has a beard to regularly trim or like to be clean shaven, this top-notch razor is ideal for either. The three rotating heads are designed to remove unwanted hairs with expert precision whether he shaves dry or with cream. Either way, his face will be smoother than ever before! He'll never have to deal with irritating razor burn ever again thanks to you.
A Lovely Decanter From His Daughter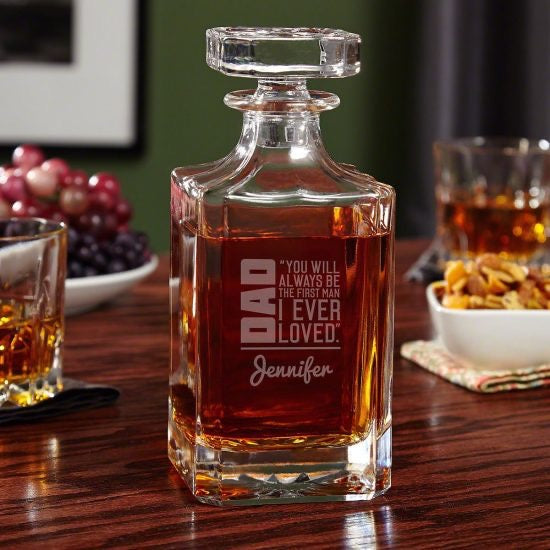 Even though you're grown, you'll always be daddy's little girl. Show him just how much he means to you with this lovely decanter that is engraved with "Dad, You Will Always Be The First Man I Ever Loved," followed by your name. He will be so touched at this incredible Father's Day gift that he will treasure it forever. He'll want to display it proudly for everyone to see in his home office, home bar, or dining room.
Personalized Bamboo Cutting Board for the Dad Who Cooks
Does your dad enjoy cooking for the family? Then he'll love this custom bamboo cutting board! Engraved with "My Favorite People Call Me Dad" followed by all of the names of his children, he'll be reminded of his favorite people every time he uses it. Plus, mom will love that he'll be making less of a mess of the kitchen! It's a win-win.
The Ultimate Fathers Day Gifts from You and Your Siblings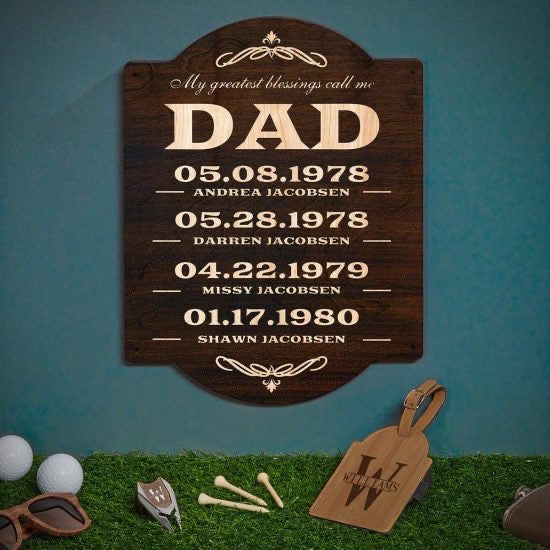 Want to pool your money with your siblings to get dad a truly amazing gift for Father's Day from all of you? This is perfect! With all of your names and birthdays on the sign, your dad can proudly display his greatest blessings in his office or the living room. He will be so touched and amazed by the personalized sign that he might not even notice the two new golfing accessories at first, but once he does he will put them on his golf bag as soon as possible and try them out at the course.
255+ PERSONALIZED SIGNS FOR DAD>
Cool Gift Set He'll Never Expect
This Father's Day, spoil your dad with a gift that's all about enjoying his favorite things! This awesome ammo can gift set is perfect for relaxing with a drink and a stogie after a day at the shooting range or even going fishing. The ammo can is great for storing all kinds of gear, tools, or ammunition, which means he can take it along for any adventure! He will love coming home to relax with a glass of scotch in one of the matching glasses, especially if you're there to share a drink with him.
Cordless Power Tool Set
One of the fail-safe Fathers Day gift ideas: a new set of tools! This awesome wireless set comes with a drill, impact driver, reciprocating saw, flashlight, and a storage bag. The rechargeable batteries will ensure that he's never without power whether he's building a new table for your mom or fixing up the deck.
Cognac and Cigar Gift Set for the Sophisticated Dad
Is your dad a classy guy who enjoys a warm brandy and cigar by the fire for fun? Then he'll love this gift set! Included are two personalized cognac glasses, a cigar cutter, a lighter, and a wooden gift box. Now the two of you can enjoy a highbrow drink and a quality stogie like true gentlemen.
The Perfect Set of Gifts for Dad
Not sure what kind of gift to get your dad for Father's Day? Don't just settle for one thing, get him a gift set full of many awesome gifts like this one! Complete with a wooden watch, watch case, whiskey glass, and even a flask, your dad will be speechless at how many amazing gifts are in this unique set. He will love sporting the cool wooden watch and bringing the handy flask with him everywhere, and when he gets home he can tuck his new watch safely away in the case and treat himself to a double bourbon on the rocks. Even the dad who has everything will love this incredible gift set!
One of the Most Unique Fathers Day Gift Ideas
Dads are all about practical gifts that they can use over and over for years, but it's not always easy to find that one new tool he doesn't have or a new tie to add to his wardrobe. How about getting him something that's both practical and decorative that he can enjoy for the rest of his life? This beautiful beer stein is a work of antique art on its own and will look fantastic on display in his office or home bar, but he can also use it to drink his usual evening beers with! Plus, who wouldn't feel like a manly Viking when drinking beer out of one these badass steins?
Personalized Fathers Day Gifts are Best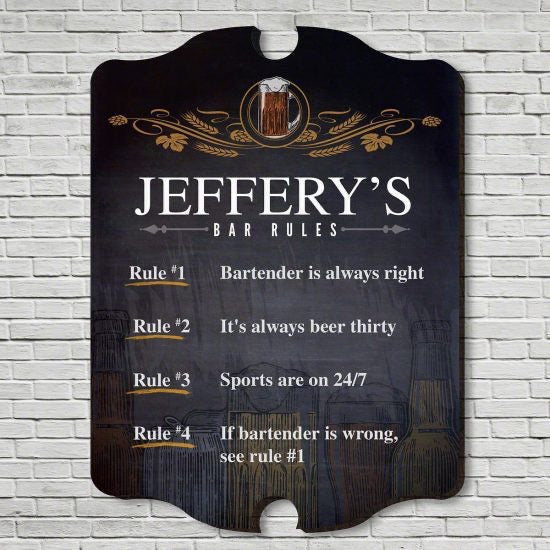 Wow your dad this Father's Day with something you personalized just for him, like this awesome bar sign for his home bar! You can customize the name and each rule, creating an entirely unique gift that no one else will have. He will love how creative and fun this amazing sign is, and he's sure to show it off to his friends every time they come over to make sure they follow "the rules!"
A New Grill for the Backyard
Your dad's grill could probably use an upgrade, and this incredible grill is perfect for Father's Day! It's both a gas and charcoal grill, has a smoker box, large cooking areas, warming racks, and more. He'll want to use this awesome grill right away to cook up a delicious rack of ribs or a large batch of hot dogs for the whole family.
Unique Bar Sign for Dad
Does your father have a home bar or man cave that he and his golfing buddies enjoy hanging out in after a round of golf? Then he needs this cool sign! Created with guys like your dad in mind, this sign is all about golf and beer. It's even personalized with his name to proclaim his ownership of the official 19th Hole.
For the Dad Who Knows All
The best kinds of Fathers Day gifts are those that make him laugh whether they're dad jokes or poke fun at him, and this unique decanter set is both! The cool decanter is engraved with "I Smoke Cigars & I Know Things," which is a nod to both his endless knowledge and his love of stogies. Of course, you'll have to have a drink and a smoke with him on Father's Day so that he can try out each part of the set, so make sure to get him a pack of his favorite cigars to go with it!
A Fun Gift the Whole Family Can Enjoy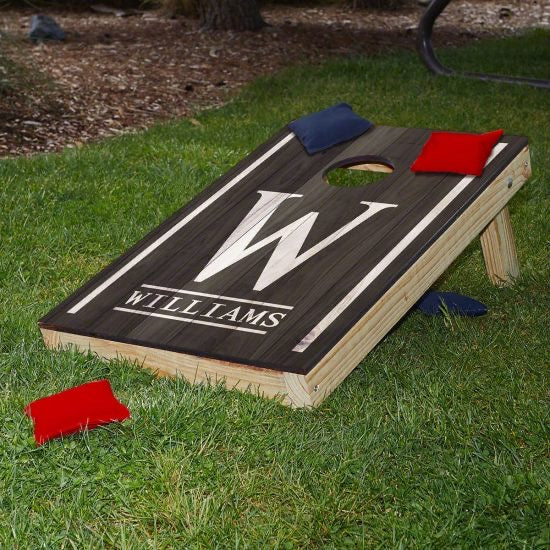 Does your dad love to have family gatherings and get-togethers with friends? Then the perfect Fathers Day gifts for him is this custom cornhole set! He will love playing the classic game with his friends when he hosts a football watch party, has a BBQ for everyone, and teaching the grandkids how to play at family gatherings. Best of all, the set is perfect for using indoors, outdoors, and it can even travel so that he can take it anywhere!
Manly Fathers Day Gift Ideas
Your dad is the manliest, strongest, coolest guy you know, and his gift for Father's Day should reflect that. You can't get any better than this awesome beer gift set! From the vintage-inspired design on the 30 cal ammo can to the cool bottle opener made from a 50 cal shell, this set is nothing short of badass. You and your dad can crack open a couple of cold ones using his new personalized pint glasses and enjoy a game on TV or take the ammo can and pocket knife on a camping trip!
303+ MORE BEER GLASSES YOUR DAD WANTS>
His Own Pac-Man Machine
Is your dad a gamer guy who often speaks of the fond memories he has of going to the arcade as a kid and playing Pac-man? Now he can play his favorite game whenever he wants from the comfort of his own home! This Pac-man game is a quarter-scale replica of the classic arcade game, which means it'll easily fit anywhere in his home. He'll love relaxing with a couple of rounds of Pac-man after work and compete with everyone in the family for the highest score!
Dad's Own Home Bar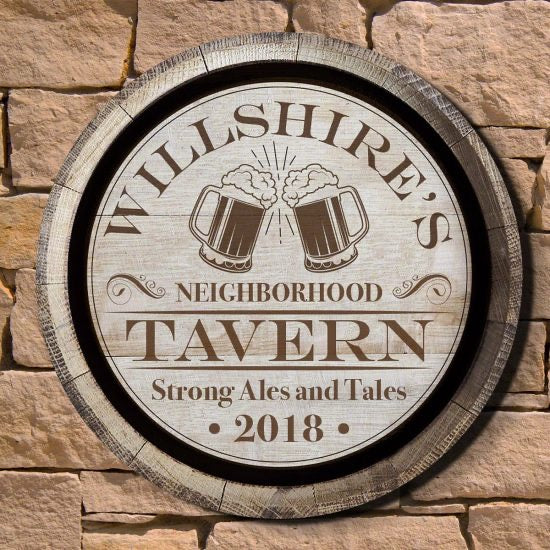 Whether he's been working on his home bar for years or is about to start building the bar of his dreams, one of the best Fathers Day gift ideas for him is this custom bar sign to make it official! The rustic look and personalization will make his home bar feel like a real bar that's been around for years.
Make Him Feel Like a Legend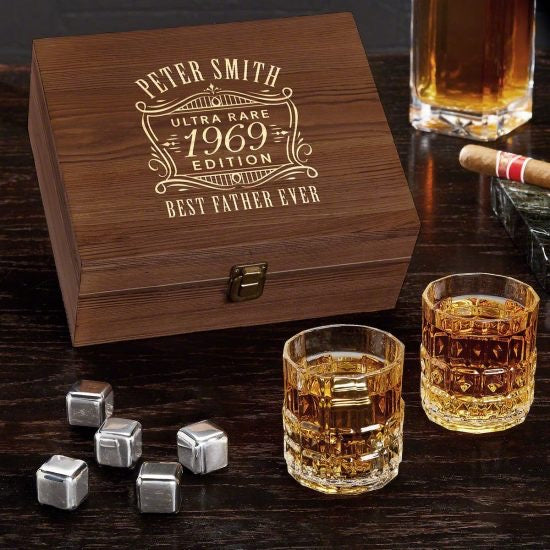 Declare your dad an "Ultra rare edition," kind of man with this cool whiskey box set! He will feel like the coolest dad on the planet every time he opens up the box to get his new crystal glasses and stainless steel whiskey stones out for a drink. He can also re-use the box to store keepsakes, photos, or even cigars if he wants! This thoughtful and practical set is one of the best Fathers Day gifts out there.
The Best Beer Gifts
For a dad who loves beer, just getting a six-pack of his favorite brew is always a great gift. However, for Father's Day you can step it up and also get him this personalized growler and pint set to go with it! He will love having a growler on hand to use for homebrewing or to take to the local craft brewery and fill up with his favorite beer to enjoy at home. The two of your will be using the pair of pint glasses for drinks together every time you come over to visit for sure!
A Golf Lesson with a PGA Pro
For the dad who's really into golf, give him a unique experience instead of a material item for Father's Day: a golf lesson with a professional golfer! He'll learn how to add hundreds of yards of distance to his drive, swing straight as an arrow, and more. This one-of-a-kind gift will make him a better golfer so that he can improve his game and favorite hobby. He'll be so excited to show off his new skills when he gets home from the lesson that he'll want to go right back to the course and show you what he learned from your incredible gift!
Top Gifts for the Top Dad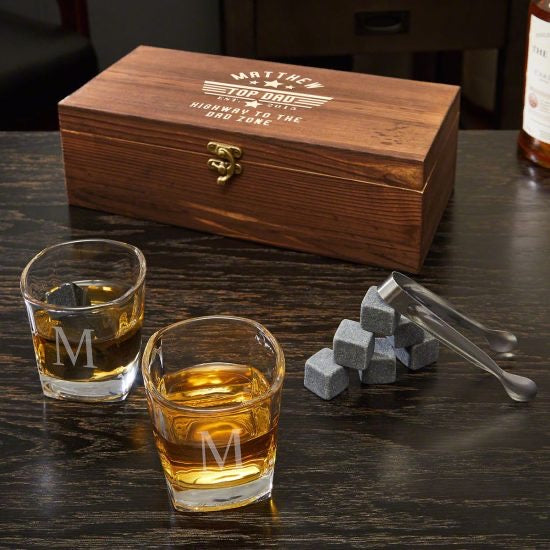 You've made it all the way to the end and still haven't decided on the perfect Fathers Day gifts? Well, this is it! This unique box set declares him as the best of the best dads, and there's even two shot glasses and a couple of whiskey stones so that you can toast to his awesomeness! He can keep the entire set inside the custom wood box or use it instead for keeping his watches, keepsakes, or a special bottle of liquor in. Even the dad who's impossible to buy for will love such an awesome gift!