Dads are notoriously hard to shop for on any gift-giving occasion, but Father's Day is his special day and you want to give him something awesome. What is a good Father's Day gift? Father's Day is all about celebrating how great of a dad he is, so you should get him something that shows how much you appreciate and love him, perhaps a nice item he's always wanted or something personalized. First things first: what does your dad like? What are his hobbies? Is there anything you know that he needs? We put together plenty of awesome gift ideas that are perfect all kinds of dads, so you're sure to find something he will love to get for Father's Day!
Personalized Beer Mug for Dad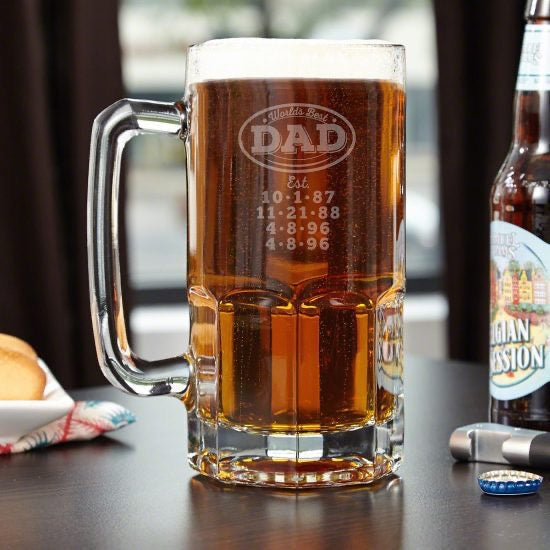 With this large beer mug, your dad can finally enjoy plenty of beer without needing a refill while he enjoys his favorite sport or TV show from his chair. Boasting a capacity of an entire liter of beer and made of premium thick glass, his beers will finally be cool and big enough. The mug is even engraved with a classic "World's Best Dad" emblem along with the birthdays of all of his children. Everything about this incredible beer mug makes it one of the best Father's Day gifts ever!
Customizable Whiskey Decanter Box Set for the Dad Who Loves Scotch
This complete whiskey gift set is an absolute must-have for any father who loves whiskey. Each item in this six piece set is engraved with up to three lines of text of your choosing. That's right, you can engrave the set with a touching message or a simple "Happy Father's Day to the Best Dad." It's all up to you! No matter what you choose, he will proudly display the entire set on his home bar for all to see his incredible Father's Day gift.
Incredibly Manly Gift Set for the Manliest Father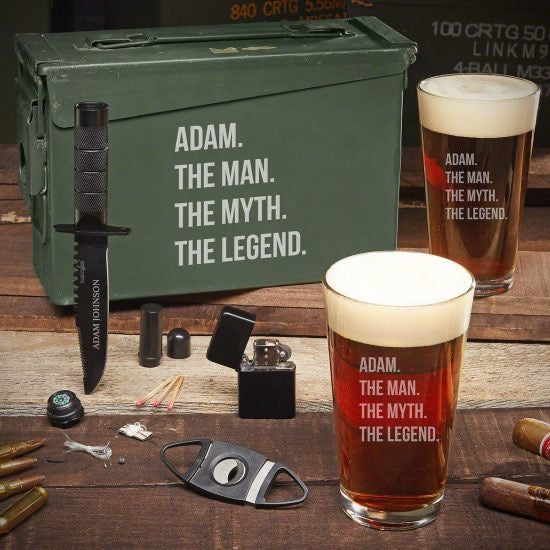 Is your dad a manly guy who enjoys drinking beer, smoking cigars, shooting guns, and adventuring the great outdoors? Then this is the absolute perfect gift set for him. It has everything he enjoys: beer glasses, cigar accessories, a tactical knife, and a genuine military surplus ammunition can! The glasses and ammo can are even engraved with your father's name followed by "The Man. The Myth. The Legend.," declaring just how cool of a manly guy he is. He'll love using the beer glasses to toss back a couple of cold ones with you after spending a day at the range together emptying his new ammo can. When the family goes on their annual camping or fishing trip, dad will be prepared for anything with the tactical knife! Talk about an incredible Father's Day gift idea!
A Unique Whiskey Decanter He'll Treasure Forever
Want to give him a Father's Day gift that he can show off and use forever? This laser engraved whiskey decanter fits both requirements! As the new centerpiece for his home bar, the decanter is engraved with "My Favorite People Call Me Dad" followed by the names of you and your siblings. He'll want to use the decanter to pour friends and family members a round of drinks every time they visit.
Custom Beer Lover Gift Set for Dad
Does your dad really enjoy beer? Then he'll be ecstatic about this beer gift set! Included is an engraved beer mug, a matching gift box, and a cool bottle opener. He will love the mug so much that he'll never want to drink beer any other way thanks to the extra-thick glass and design that insulates his beer, allowing it to stay cooler longer and have a longer-lasting head. He can store a bottle cap, bottle opener, or cigar collection in the wooden gift box. For beer lovers, this is one of the best Father's Day gift ideas.
279+ MORE GREAT BEER GIFTS DAD WILL LOVE>
 A New Smartwatch for the Active Dad
Whether he's already a fitness nut or just getting into exercise, a smartwatch makes a fantastic Father's Day gift. The FitBit Versa is one of the newest and most efficient of the current smartwatches on the market as it is completely waterproof, has GPS, tracks everything from breathing to sleep stages, and he can link his bank cards to it so that he doesn't have to get his wallet out when shopping. You seriously can't get any better than this!
Funny Whiskey Glasses for the Golfer
Is your dad a golf fan or amateur golfer with a typical dad sense of humor? Then he'll crack up at these fun golf-themed whiskey glasses that are engraved with the pun, "Kiss My Putt." The set of four will be a unique addition to his glassware in the kitchen or home bar and he'll love using them with his golfing buddies. They'll give him a chuckle every time he uses them!
World's Best Dad Glass with All of His Kids' Birthdays
Give your dad a super cool beer glass that he can take with him anywhere! Made of double walled, insulated stainless steel, his beer will never get cold again. He can bring this with him when he goes camping, hiking, fishing, you name it. The durability and lightweight of the steel will ensure that this glass can withstand plenty of wear and tear. Plus, he'll think of you and your siblings every time he uses it as it is engraved with all of your birthdays!
Genuine Marble Ashtray
Does your dad or grandpa enjoy a quality cigar now and then? Upgrade his classy pastime with a genuine marble ashtray! This handsome ashtray will be an attractive addition to his cigar lounge or man cave. He and three of his cigar-smoking friends will now have a truly sophisticated place to rest their stogies as they discuss current topics.
A Classy Whiskey Set for His Home Office or Home Bar
Want to give your father a really nice Father's Day gift? This handsome whiskey serving set is a fine addition to his home bar or office. The six piece set includes a decanter, four glasses, and a serving tray which are all engraved with his initials. He'll love having a nice set of glassware to serve guests with and to give his office or bar a classy touch.
Electric Razor for the Best Shave of His Life Every Time
One of the best Father's Day gift ideas is an electric razor! Whether he has a beard to regularly trim or like to be clean shaven, this top-notch razor is ideal for either. The three rotating heads are designed to remove unwanted hairs with expert precision whether he shaves dry or with cream. Either way, his face will be smoother than ever before! He'll never have to deal with irritating razor burn ever again thanks to you.
A Lovely Decanter From His Daughter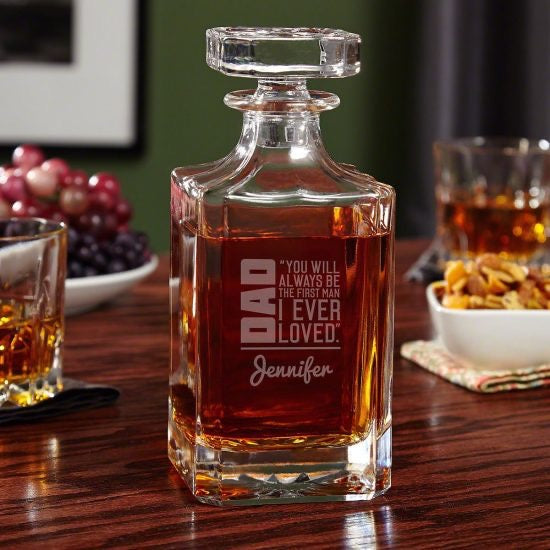 Even though you're grown, you'll always be daddy's little girl. Show him just how much he means to you with this lovely decanter that is engraved with "Dad, You Will Always Be The First Man I Ever Loved," followed by your name. He will be so touched at this incredible Father's Day gift that he will treasure it forever. He'll want to display it proudly for everyone to see in his home office, home bar, or dining room.
Personalized Bamboo Cutting Board for the Dad Who Cooks
Does your dad enjoy cooking for the family? Then he'll love this custom bamboo cutting board! Engraved with "My Favorite People Call Me Dad" followed by all of the names of his children, he'll be reminded of his favorite people every time he uses it. Plus, mom will love that he'll be making less of a mess of the kitchen! It's a win-win.
Custom Game of Thrones Glasses and Decanter for The Biggest Fan
Is your dad really into HBO's Game of Thrones? Look no further, this awesome personalized decanter set features Tyrion's famous quote, "I Drink and I Know Things," followed by his name. The unique Game of Thrones glasses will look awesome on his home bar or in his home theater and is perfect for pouring a couple of drinks for him and your mom while catching up on the latest episode.
A Sign for His Cigar Lounge or Office
Whether he has a cigar lounge or a favorite room to enjoy his stogies, this cool personalized sign is the perfect piece of decor for him. The vintage style will complement the room and add a personal touch. He'll love having such a neat sign to decorate his cigar lounge, man cave, or home bar.
255+ PERSONALIZED SIGNS FOR DAD>
Cordless Power Tool Set
One of the fail-safe Father's Day gift ideas: a new set of tools! This awesome wireless set comes with a drill, impact driver, reciprocating saw, flashlight, and a storage bag. The rechargeable batteries will ensure that he's never without power whether he's building a new table for your mom or fixing up the deck.
Cognac and Cigar Gift Set for the Sophisticated Dad
Is your dad a classy guy who enjoys a warm brandy and cigar by the fire for fun? Then he'll love this gift set! Included are two personalized cognac glasses, a cigar cutter, a lighter, and a wooden gift box. Now the two of you can enjoy a highbrow drink and a quality stogie like true gentlemen.
Insulated Tumbler for the Dad On the Go
Dad can enjoy plenty of hot coffee until lunchtime at work with this insulated tumbler. The matte black finish is engraved with a fun phrase and all of the names of his children. He'll love having a handy tumbler to bring along his favorite coffee to enjoy during his morning commute and to work. Now he won't have to keep going to the coffee maker for refills with one of the office mugs!
Unique Globe Whiskey Decanter for Him
And now for something completely different: a gorgeous decanter expertly crafted to be a replica of the globe! Your dad will be in awe of such a handsome piece of glassware. The decanter even rotates like an actual globe! He'll love storing his favorite rum, whiskey, or tequila in this unique decanter and it will be a great addition to his home bar or office. This Father's Day gift is ideal for dads who have or have always wanted to travel the world!
Cool Flask for Dad
Give your dad something he can take with him everywhere, like a liquor flask! He'll love having a few ounces of his favorite spirit at his side when he's out fishing with his friends or relaxing on the beach on vacation. The stainless steel flask is wrapped with faux leather and its engraved with "Dad since" and a year of your choosing.
A New Grill for the Backyard
Your dad's grill could probably use an upgrade, and this incredible grill is perfect for Father's Day! It's both a gas and charcoal grill, has a smoker box, large cooking areas, warming racks, and more. He'll want to use this awesome grill right away to cook up a delicious rack of ribs or a large batch of hot dogs for the whole family.
Unique Bar Sign for Dad
Does your father have a home bar or man cave that he and his golfing buddies enjoy hanging out in after a round of golf? Then he needs this cool sign! Created with guys like your dad in mind, this sign is all about golf and beer. It's even personalized with his name to proclaim his ownership of the official 19th Hole.
Custom Engraved Hatchet – Not Your Ordinary Father's Day Gift
Tools are one of the most popular Father's Day gift ideas, but this hatchet is far from ordinary. The extra-sharp steel blade is engraved with up to three lines of text all of your choosing and is compact sized for easy traveling. He'll want to bring this along when the family goes camping or hiking to chop firewood and clear pesky branches out of the way.
Stainless Steel Drink Tank
For the dad who likes to travel, a drink tank is a must-have. This super durable growler is made of double walled, vacuum-insulated, 18/8 stainless steel. Whether he wants to bring beer for the camping trip or water for his hike, his beverage will stay ice cold for 24 hours! He can even bring hot coffee and it will stay warm for up to 6 hours. Talk about a useful Father's Day gift idea! He'll never want to travel without his handy drink tank.
A Stout Glass for His Dark Beers
His stout beers will taste better than ever in this Spiegelau glass! Specially designed to improve the flavors and aromas of dark beers through the unique shape. He'll be shocked at how much better even the cheapest of stouts tastes in one of these glasses. Now he can truly enjoy his favorite stout beers and their exotic, rich flavors.
303+ MORE BEER GLASSES YOUR DAD WANTS>
His Own Pac-Man Machine
Is your dad a gamer guy who often speaks of the fond memories he has of going to the arcade as a kid and playing Pac-man? Now he can play his favorite game whenever he wants from the comfort of his own home! This Pac-man game is a quarter-scale replica of the classic arcade game, which means it'll easily fit anywhere in his home. He'll love relaxing with a couple of rounds of Pac-man after work and compete with everyone in the family for the highest score!
Unique Steel Glasses
Forget regular glassware, give your father these versatile stainless steel tumblers! Perfect for wine, cocktails, beer, liquor, or even hot cocoa, your dad will love them. The double walled insulation will keep any beverage inside chilled or piping hot for hours so that even if he forgets about his drink, it'll be the same temperature by the time he remembers it. Plus, the tumblers are extra durable so that he can travel with them. One of the most useful Father's Day gifts you can give, he's sure to love them.
A Fun Sign That Shows Off His Love for Beer
With this super cool sign, your dad can show off his extensive taste in beer through collecting bottle caps! How cool is that? He'll love having a unique piece of decor for his garage, home bar, or man cave that displays his love for beer. The sign holds up to 70 bottle caps, which will probably take a while to fill up, giving him a fun new hobby to start on Father's Day!
Gigantic Cocktail Shaker for Monster Cocktails
For reasons unknown, dads tend to enjoy ordinary items that, as a joke, have been made comically large. This ridiculously huge cocktail shaker will be your dad's new favorite bartending tool because of its massive capacity and humorous appearance. This monster of a shaker can make 10 margaritas or martinis at once! He'll want to host parties and events all the time just so that he can make a large batch of cocktails for everyone. It'll certainly be a conversation piece, too! Be prepared for all of the related dad jokes once you give it to him on Father's Day.
A Golf Lesson with a PGA Pro
For the dad who's really into golf, give him a unique experience instead of a material item for Father's Day: a golf lesson with a professional golfer! He'll learn how to add hundreds of yards of distance to his drive, swing straight as an arrow, and more. This one-of-a-kind gift will make him a better golfer so that he can improve his game and favorite hobby. He'll be so excited to show off his new skills when he gets home from the lesson that he'll want to go right back to the course and show you what he learned from your incredible gift!
Whiskey Lover Gift Set for Father's Day
The perfect gift for a whiskey drinker: a personalized rocks glass and whiskey stone gift set! Your dad will love having a new go-to glass to enjoy his nightly glass of bourbon from and a quality set of whiskey stones that will keep his liquor chilled without watering it down. The whiskey stones have their own storage box that is engraved with a line of custom text while the glass is engraved with his initials. Make sure to include a bottle of his favorite whiskey to make it a complete Father's Day gift!
365+ MORE SUPERB FATHERS DAY GIFTS>