Are you struggling to find a thoughtful gift for your dad that he'll actually like? Shopping for Father's Day gifts for your dad is always stressful, but not this year! These incredibly unique Father's Day gifts are not only awesome and practical, but they show your dad how important he is to you. Looking for something related to his favorite hobbies? Wondering what to get the dad who wants nothing? Struggling to find a nice gift that he can display in his office? Don't worry, we found something for every type of dad so you're sure to find something awesome for him. Even the dad who has everything will enjoy these amazing gift ideas for Father's Day!
Set of Unique Father's Day Gifts
Unique Father's Day gifts should show how much you love and appreciate your dad, and this awesome ammo can gift set is so sweet that he might even cry! It comes with all kinds of cool additional items that he can use when he's doing projects in the garage, or even to take on outdoor trips with his buddies. You and your siblings could all pitch in some money and get this amazing gift for him as a group Father's Day gift, just don't forget to get him a case of his favorite beer to go with it!
The Perfect Whiskey Gift Set for Dad
Some of the best gift ideas for Father's Day let your dad savor the finer things in life. This personalized set was designed for the dad who doesn't like to miss a thing. He can place a whiskey stone or two in one of the glasses and get perfect sips of chilled whiskey while noting each subtle aroma. It's the perfect gift for the dad that likes to have a drink after work or on the weekend.
Classy Father's Day Gifts
Dads deserve to kick back and relax every once in a while. Nudge your dad in that direction this Father's Day with this personalized cigar gift set. The glass is more than what it seems as your dad can hold a cigar in the same glass that holds his whiskey. You might have to remind your dad to pick his jaw off the floor when he opens this gift! It's a good thing it comes with a cigar cutter so you can show him how to use it immediately.
Giant Cocktail Shaker for Giant Mixed Drinks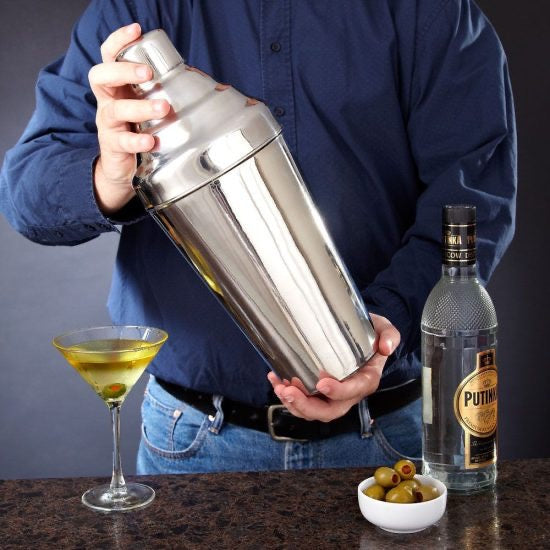 Your dad is going to insist on making cocktails for everyone no matter what. Get him a larger canvas to work with than some bottles and a rocks glass with this gigantic cocktail shaker! Your dad will love making your mom his custom-made Long Island Iced Tea, your brother a Harvey Wallbanger, and whatever you request (being the gift giver and all). This gift gives him an excuse to be the life of the party whenever people are over at the house.
The Gift Every Beer-Loving Dad Needs
Some dads know and appreciate a good beer. Does that sound like your dad? Then this is a unique Father's Day gift just for him! This insulated copper growler and matching pint glasses ensure your dad can have his favorite beer with him wherever he goes and it will still be as cold as when he filled the growler. He can even take this growler and get it filled at a local brewery with his favorite craft brew. He'll never want to drink beer any other way than from this set!
Every Dad's Dream Father's Day Gift
Every dad thinks he's a professional weatherman. He always knows when it's going to rain or get cold thanks to his beloved weather channels. With this weather station kit, your dad can be a true weather expert! He'll love putting together the weather vane and using the accompanying app to monitor the weather at all times. Now he'll be able to make sure that the thermostat is the perfect temperature at all times!
Ultimate Whiskey Gift Set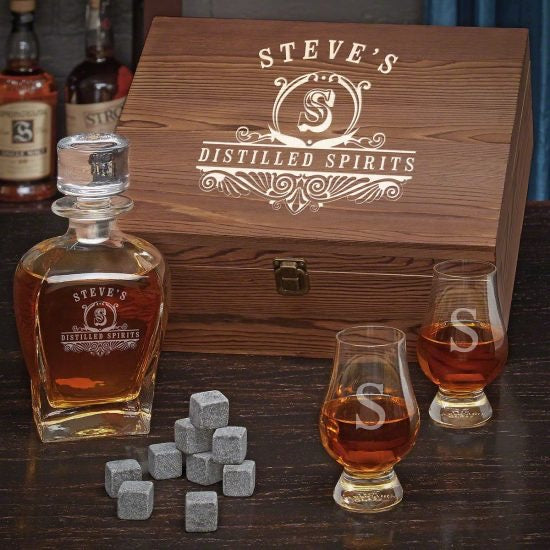 It takes a discerning man to appreciate what a nice scotch and the right glass can really do. If your dad has developed a taste for scotch then a solid gift idea for Father's Day is this scotch connoisseur gift set. He'll be able to enjoy his favorite scotch like a professional thanks to the flavor-enhancing Glencairn glasses, and he can display it in between drinks in the custom decanter. This set will look awesome in his office or home bar, and he's sure to use it every evening for his usual glass of whiskey after work!
The Perfect Dad Gift
When he's not at the driving range, your dad is at his trusty grill. Combine his two favorite things into one incredible gift that he'll never forget: a set of grilling tools designed to look like golf clubs! This unique Father's Day gift allows your dad to enjoy both of his favorite hobbies at once, and he'll love showing it off to all of his golfing buddies. In fact, he'll want to invite them all over for a cookout just so that he can use his new set. He'll never want to use any other grilling tools!
Thoughtful and Unique Father's Day Gift
Want to give your dad a gift so sweet that he might even cry on Father's Day? This is it. Whether you and your siblings all pitch in to get this thoughtful custom sign for him together or you go it alone, this cute piece of decor will be his favorite new display piece. He will want to hang it prominently in his office at work or at home so that everyone can admire his greatest blessings.
The Coolest and Most Unique Father's Day Gifts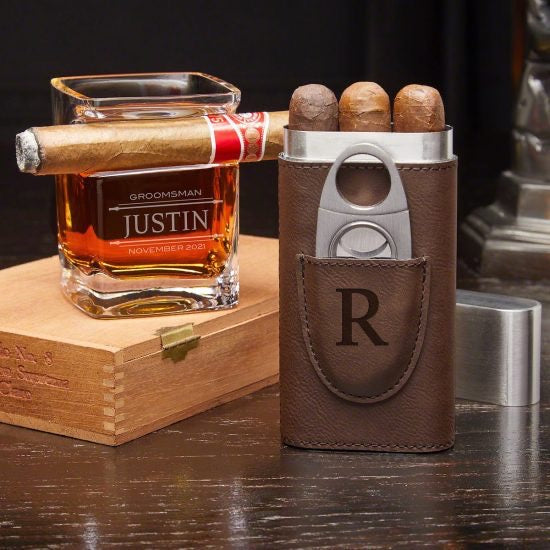 Is your dad the kind of man who enjoys fine scotch and a fresh cigar after a long day? Make sure he can relax and enjoy Father's Day properly with this classy gift set! He will absolutely love the nifty 2-in-1 cigar whiskey glass so that he can sip and puff at the same time. The handy cigar case will keep his stogies fresh and secure so that he can take them along anywhere. Make sure to include a bottle of his favorite whiskey and a pack of his preferred cigars and you've got the perfect Father's Day gift.
Digital Notepad Takes Dad's Work Into the Future
Hurl your dad into the modern world with a digital paper notepad from Sony. They can have all the benefits of keeping paper notes with none of the clutter. They can write directly on the tablet and send the files to wherever they'd like. They can even annotate books, memos, legal documents, or whatever they'd like by hand with this incredible device. It's more than a tablet. It's a tool that changes how they do everything.
Ultimate Beer Lover Box Set for Dad
Give your dad that little nudge of encouragement with this gift idea for Father's Day. This aspiring connoisseur beer tasting set gives your dad everything he needs to dive into the modern world of craft beer. He will have the perfect glass for each kind of brew. It even comes with food pairings for each kind of beer, so your dad can really elevate his beer game. He will love expanding his palate and even preparing meals to complement a new kind of beer he finds at the liquor store.
Must-Have Whiskey Stone Gift Set
Father's Day is the perfect holiday to give your dad a whiskey experience that will keep on giving. This whiskey gift set has a pair of striking twist glasses that allows your dad to drink his whiskey however he prefers. It even comes with a set of whiskey stones, so he won't ever suffer from a watered-down drink ever again.
Manly Wine Glasses Your Dad Will Love
Dads certainly pride themselves on their wine collection, even if it's only a selection of a few key bottles. Let your dad celebrate his love of wine and his growing collection with these personalized stainless steel wine glasses! Your dad will love how manly and durable these wine tumblers are, especially since they keep his favorite wine the perfect temperature. He can bring this pair of tumblers anywhere he goes: fishing, hunting, camping, and even the lake. He'll never want to use regular wine glasses ever again!
Unique Tool Set Every Dad Needs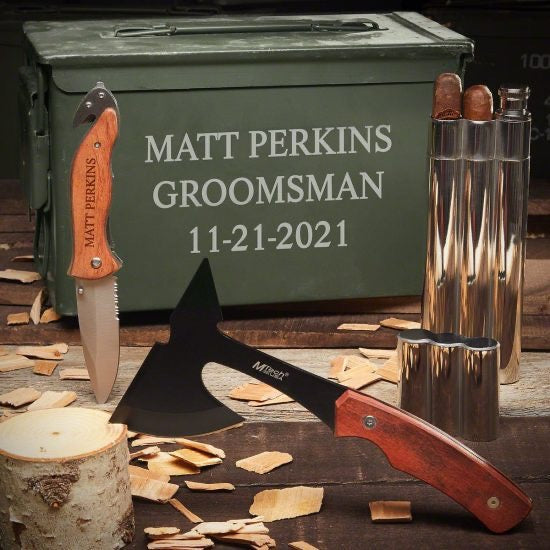 One of the most unique Father's Day gifts available is an ammo box set that comes fully stocked with everything your dad needs to conquer the world. The liner lock knife is the perfect companion for work around the house or on a camping trip. The axe will even get the tougher jobs done. As a bonus, once his work is done for the day, he can kick back and relax with a cigar and whiskey all pulled from the included combo flask. Let your dad rediscover his roots with nature with this manly gift set.
455+ GIFT SETS AND GIFT BASKETS DAD NEEDS>
For the Dad Who's as Strong as an Ox
Growing up, you always admired how strong your father was. He may be older now, but he's still as strong as an ox! Remind your dad just how much you look up to him this Father's Day with this unique bull decanter! By far one of the most unique Father's Day gifts ever, this decanter is the perfect symbol of your dad's strength. He'll love using it for his evening bourbon and having it on display in his office as it's sure to be a conversation piece when anyone visits!
Handy Portable Grill
Dads and grills go together like moms and sewing machines: they all have to have one! This grill, however, is portable! Your dad can finally take his favorite hobby anywhere he goes from the cookout at his buddy's house to the camping ground on your annual family camping trip. He'll love using this handy little grill to cook up some delicious burgers and hot dogs for everyone!
Classic Beer Gift Set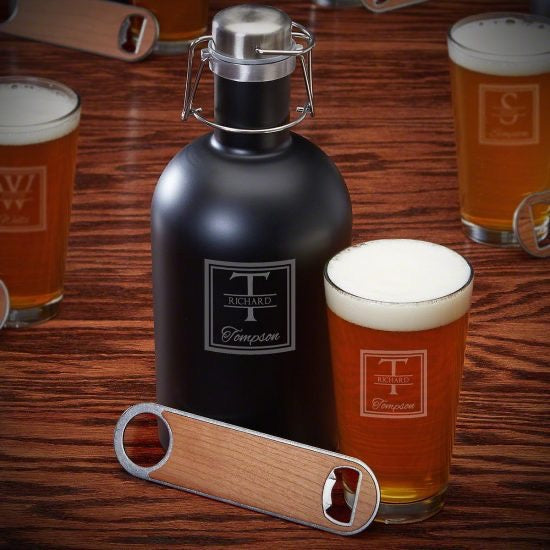 Dads who love beer are pretty easy to find gift ideas for Father's Day. This classic growler and pint glass bundle is one of the best gifts for any beer-loving dad you can get! He will love using the growler to take to the brewery and filling it up with the latest creation to enjoy in his favorite chair at home. He'll certainly never want to drink beer out of anything other than his new custom pint glass, after all!
Every Dad Wants This for Father's Day
Dads love bean bag toss. No one's really sure why, but it gets their friendly competitive nature going. When he unwraps this gift, he will love the classic whiskey barrel look covering the cornhole boards. This set is easily portable, so he can easily take it from inside and outside the house, to tailgates, or wherever he wants to show his bean bag toss dominance. He can even challenge the grandkids to friendly games. He'll probably even try to make playing the game a brand new family tradition.
The Manliest Dad Gift
Dads aren't meant to sit still. Even on the weekends, your dad loves to spend time in the yard, or enjoy a glass of scotch after dinner. This incredibly unique Father's Day gift has everything he needs for to enjoy his favorite activities even more! Whether he's doing outdoor projects or is wanting to relax after a long day, this set has it all.
Must-Have Beer Caddy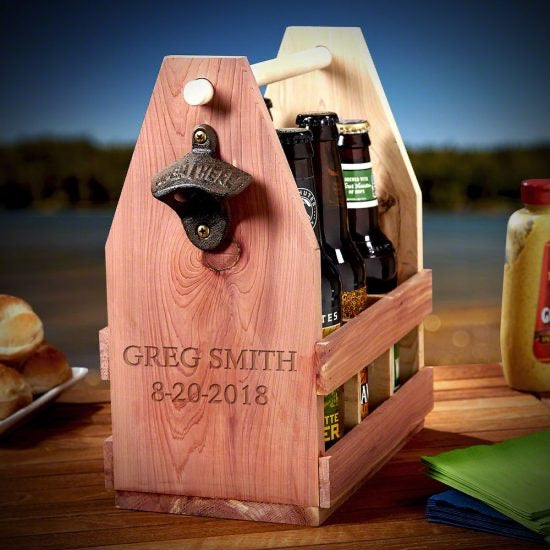 Like most dads, your father enjoys a six-pack of beer while watching TV, fishing, hunting, camping, or just hanging out by the lake. One of the simplest but most thoughtful gift ideas for Father's Day is this custom wooden beer caddy! It doesn't just keep your dad's precious beer safe, but it makes it easier to bring his beer wherever he likes. It even comes with a bottle opener! Make sure you pre-load it with his favorite beer before giving it to him on Father's Day, he'll love it!
The Multi Tool of All Multi Tools
Every dad has a go-to tool in their toolbox. This time, for Father's Day, get him this Super Tool 300. It will practically replace every other tool in his arsenal and it can easily fit inside the pocket of a pair of jeans. It has fuse-wire cutters, cap crimpers, a C4 punch, and 13 other tools all on this one device. It even comes in two colors! How could any dad not want this?
Keep His Favorite Watches Safe
Dads everywhere have watches whether they're the classic timepiece or a smartwatch. One of the best Father's Day gifts you can give him is a brand new timepiece, but you know what's even better? Pairing it with a custom watch case! This handsome engraved watch case is the perfect way to gift your dad a new watch as it can hold his newest everyday watch as well as the rest of the watches he owns.
The Perfect Father's Day Gift for the Dad Who Loves to Travel
Does your dad enjoy traveling? Whether he's been all over the world already or dreams of doing so, this inspirational etched decanter set will certainly make him want to take a long vacation! The perfect decanter set for his office, this handsome three-piece set will be the coolest decoration he has. It'll be the first thing he reaches for after a long day to enjoy a quality glass of whiskey, but he'll especially enjoy showing it off to his associates and clients.
A Place to Store a Cigar Band Collection
There's nothing better than getting a pack of his favorite stogies for Father's Day. Well, except for this custom shadow box to store his collection of cigar bands in! He's been saving every cigar wrapper for years and keeping them in a box, but now he can display them in a fun way. Plus, there is plenty of room to add to it. This unique Father's Day gift is something he'll cherish forever!
The Only Edible Gift Dads Want
Snake River Farms delivers the perfect steak to your dad's front door. That's not an exaggeration. Their steaks are in more Michelin Star restaurants than any other farm in the United States. Your dad can decide what cut he wants and how he wants to cook it, but the quality is unlike anything he'll have ever tasted. The hardest decision he'll have to make is whether to cook it on the grill or pan sear it. These steaks are such an awesome, unique Father's Day gift that you might even try and invite yourself over whenever it arrives.
For the Father Who Dreams of His Own Whiskey Brand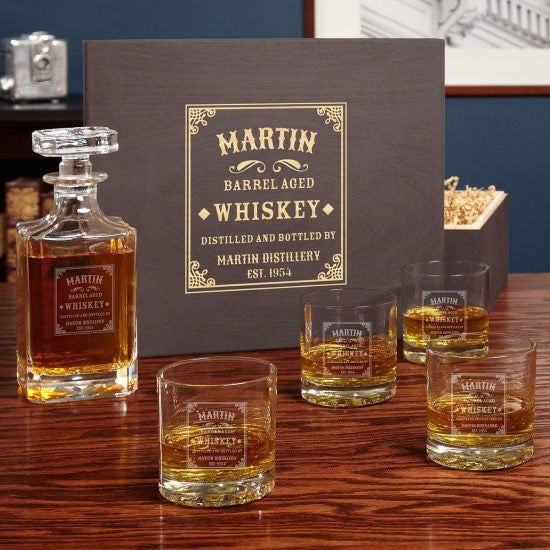 Some spirits aren't meant to be downed like a cheap shot. They're meant to be savored until the very last drop and shared with friends. That's why he'll love this classic whiskey set that's an homage to the very roots of American whiskeys. Each glass will allow him to get a full sense of the hidden notes and aromas. The decanter will always be ready for a refill. The box is great for storing ties, tools, or whatever he wants to keep in a special place. This Father's Day get your dad something he will cherish.
299+ SUPER UNIQUE FATHER'S DAY GIFTS>