Wooden boxes can be used for so many different things: storage, keepsakes, collections, or even for a gift! Getting a personalized one, especially for a gift, makes it even more special. Our engravable wood boxes are perfect for gifts and storing keepsakes because they are customizable, come in a variety of sizes, and can be used for any occasion. Each of these boxes can be used for jewelry, photos, and anything else you want to keep in a safe place. Some of them even come with a gift set of all sorts of cool things inside, completing the gift for you. Looking for an engravable wooden box to use for storing your precious mementos? You're in the right place! Searching for a custom wood box to tailor for a special occasion? These amazing wooden boxes can all be personalized to your needs!
Engravable Wooden Box Whiskey Set
One of the perks of having a custom wooden box for storage or a gift is that you know it'll last for years to come. By giving this impressive shot glass box set as a gift, you aren't just giving them a standard, disposable gift box. Instead, you're giving something tangible and long-lasting that they will enjoy for many years! Even if you're just searching for a gift box on its own, this engravable wooden box is totally customizable not just with the engraving, but you can even take out the foam insert to use the interior for anything you need!
Unique Wooden Grill Box Set
Have you ever seen a more unique wood box set for someone who loves to grill? Whether that's you or you're giving it as a gift for the grill master you know, this handsome grilling tool set is incredibly classy. Not only is the box perfect for gifting, but it even makes it easy to store and transport the tools! This way, they'll have their own storage space that will ensure they last longer than a regular set of tools that's left out in the grill all year long. Plus, the convenient handle allows you to bring this set anywhere from your buddy's cookout to a campsite!
Engravable Wood Boxes Make Great Gift Boxes
Why give a boring, cheap gift bag with your gift when you can give it in a beautifully personalized wooden box? This rectangular box is fully customizable and is perfect for giving anything from a nice bottle of liquor to an assortment of their favorite candy! By far one of the best engravable wood boxes, this attractive gift box is perfect for every possible occasion.
A Box Set with a Surprise
While at first this looks like an ordinary wooden box set, this flask gift set isn't all that it appears to be. In fact, the wooden box it comes in is actually a cigar box! This multi-purpose gift box is perfect for storing cigars or even a pocket knife collection. This set is one of the most versatile engravable wood boxes you can get for yourself or as a gift for someone else. The engraving on the box even matches the engraving on the flask as a matching set, how cool is that?
Custom Decanter Box Set
Yes, the five piece decanter set really does fit in that beautiful wooden box! This large personalized maple box is perfect for presenting a gift in style, and then it can be used afterward as a keepsake box for anything from photo albums to cards. It also works as a display box for your mantle, office, or home bar. Such a versatile box is sure to come in handy for a variety of uses whether you're buying it for yourself or giving it as a gift!
639+ WHISKEY GIFTS AND BOX SETS>
Engravable Wooden Box for Keepsakes
Whether you're in search of a nice wooden box to hold keepsakes from your wedding, precious photos, important documents, or family heirlooms, this is the box you need! The latched trunk style and reinforced corners of this beautiful box ensures that it is extra secure, and the leather handles allow you to move it with ease no matter how heavy it is. One of the more unique aspects of this lovely box is just how much you can personalize the lid, the inside of the lid, the front of the box, and even the tray inside! You have so many options for customization that it's certainly one of the most engravable wood boxes out there.
Personalized Wooden Box Set of Whiskey Gifts
While this whiskey gift set on its own is absolutely stunning, the box has as many uses as the glasses and stones do! The foam insert inside that keeps the set secure can be removed to use to store a collection, small keepsakes, mementos, or even cigars. If you'd prefer to keep the set intact, you can certainly use the box to keep the glasses and whiskey stones secure or on display in between uses. This unique whiskey box set altogether makes a great anniversary, birthday, or holiday gift!
Must-Have Beer Mug Box Set
You've never seen a classier way to drink beer than this! Not only is the custom beer mug perfect for large servings of any brew, but the box is perfect for a bottle cap or bottle opener collection! There is plenty of room inside to store all kinds of small keepsakes or practical items like bar tools, and it will look fantastic on your home bar or end table. Any beer lover would be thrilled to receive this box set as a gift!
Elegant Engravable Wood Boxes for Wine Glasses
The best way to enjoy wine is with the proper wine glass, of course, but when you have a box set of wine essentials you'll be able to relax to the fullest! The box isn't just for storing the many items in this lovely set, you can use it to start a wine cork collection, store a wine bottle or two for special occasions, keep all of your bar tools in one place, or simply display in your dining room! This beautifully monogrammed wine box set and it's gorgeous engravable wooden box are must-haves for any wine drinker.
Custom Decanter Set with Engravable Wooden Box
Why have just a decanter when you can have a complete whiskey decanter box set with stones too? This amazing set comes with a large walnut-finished box that's perfect for keepsakes such as your prized fine bottles of scotch, your dedicated tasting glasses, photos, and more! The box also works great for displaying on your home bar or in your office. The best part of this set, however, is how creative you can get with the engraving! You can have up to two lines of text in your choice of four fonts, making it a one-of-a-kind gift or decoration that will last forever.
Customizable Cedar Chest
One of the best features about this lovely cedar chest is that you can customize the lid with text, an image, or a custom design of your own! This unique feature allows you to be as creative as you wish, especially since you can choose between different types of wood besides cedar. You'll want to get one of these unique engravable wood boxes for everyone you know to use for keepsakes and storage!
The Perfect Personalized Box for Your Cigars
While having a large box is great for storage, sometimes the best packages come in small boxes. This is especially true for this smaller wood cigar box, which can hold quite a few cigars or watches. The unstained wood is rustic and elegant, but the personalization makes it really stand out on your coffee table or in your office.
Complete Beer Box Set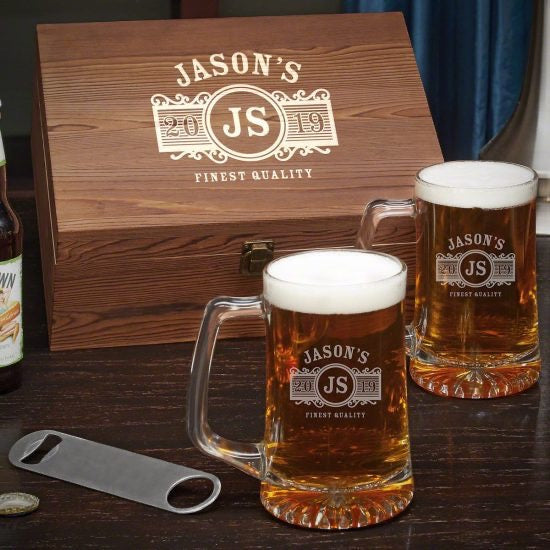 With this beer mug box set, you have everything you need for a proper cold one with a friend or loved one! You can keep the mugs in the large wooden box for safekeeping in between beers, or you could use it to store your collection of bottle caps or bottle openers. Either way, it certainly makes for a great decoration anywhere in the home!
Cute Wine Box Set for Couples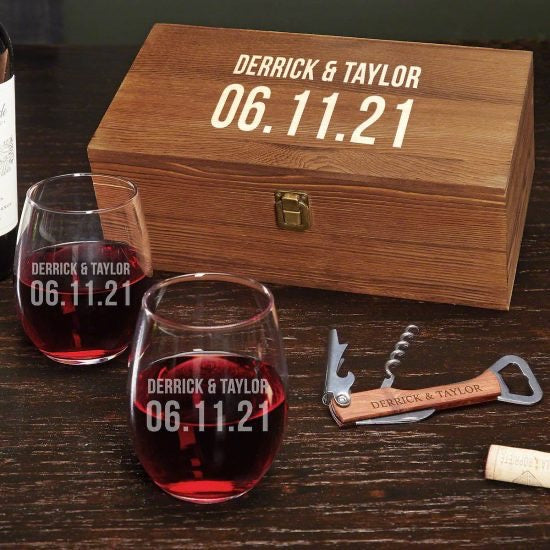 Looking for a smaller custom wood box? This adorable little wine glass set is perfect! The rectangular wooden box fits the two stemless wine glasses perfectly, but you could even use it to store a liquor or wine bottle that you're saving for a special occasion. This particular set is themed around a special date such as a birthday or anniversary, so the box itself doubles as a gift! It's also great for smaller keepsakes and items like ticket stubs or jewelry.
Engravable Wooden Box for Whiskey Stones
Then there are engravable wood boxes that have a specific purpose, such as housing a whiskey stone set! The small, thin box holds nine whiskey stones, a pair of tongs, and a velvet travel pouch. You could certainly take those items out and use it to store your favorite earrings or pins, though. Just because it's designed to hold something specific doesn't mean you can't repurpose it, after all!
Custom Wooden Recipe Box
Add an adorable rustic wood box to your kitchen that holds your tried and true recipes! This handy little box is a great way to store the recipes you've collected from friends and family over the years, or even ones you printed out from Pinterest. It even comes with dividers to keep everything organized! The fact that you can personalize multiple areas on the box itself makes it especially unique, and definitely one of the best engravable wood boxes you can get.
Cigar and Whiskey Themed Box Set
Looking for an even smaller engravable wooden box to keep your favorite stogies secure? This is it! The box in this set can hold cigars, your favorite pocket knife, or other small items. The sliding wood top makes it easy to get anything out of it, and ensures that the lid doesn't accidentally open when traveling. You can rest easy knowing that your keepsakes are safe and sound inside this durable little box!
Unique Whiskey Glasses with Customizable Wooden Gift Box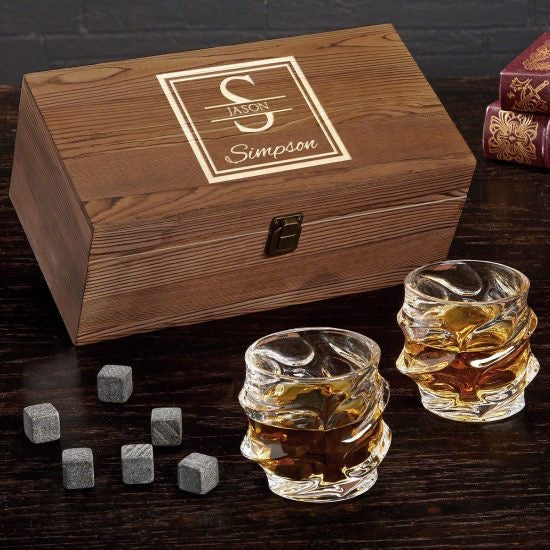 When it comes to drinking whiskey, you have to have all the right tools to enjoy it to the fullest. Luckily, this box set has everything you need and more! You can store the entire set in between tastings in the handy wooden box, but it's also great for keeping a bottle or liquor or your favorite sample sized bottles to try. The unique glasses in this box set are sure to be your favorite part, but having a nice wooden box to keep your whiskey essentials in is certainly convenient.
Crystal Whiskey Glass Gift Set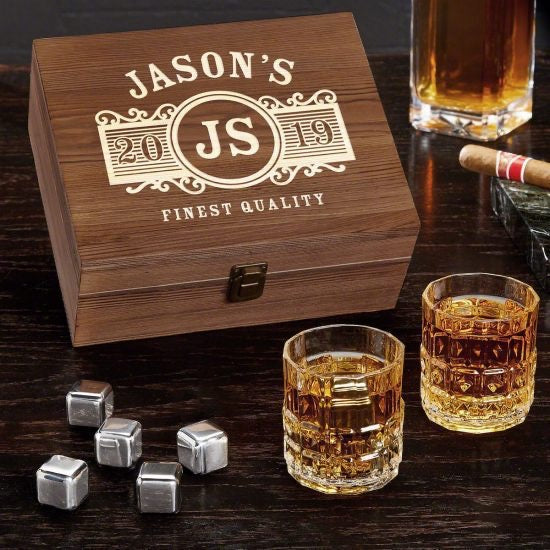 Not in need of a large box or one that comes with too many accessories? Get an engraved gift box that's perfect for smaller collectibles and items, like this whiskey set that comes with its own gift box! You can use the gift box for storing the glasses and stones in between drinks or remove the foam insert to have a perfect personalized box for all of your bar tools, pictures, collections, and smaller keepsakes!
Engravable Wood Boxes for Storage
Looking for a larger, more functional wooden box? This huge chest is big enough to store anything from blankets to children's toys! It will look great at the end of the bed or as a storage bench anywhere in your home. You can customize various areas of the chest and choose between several different types of wood so that it will suit your needs exactly. Some people use these chests for memorials, storing wedding keepsakes, or giving as a gift that can be passed down for generations.
Personalized Wooden Box for Keepsakes
You can't go wrong with a handsome walnut box like this one! The beautiful dark finish and elegant personalization on this box will complement any wood and any decor you have in your home. The box can be used for keeping all of your precious wedding keepsakes in one place, storing a collection, or simply for displaying! This versatile box is by far one of the best custom wood boxes you can buy for yourself, but it also makes a really thoughtful gift.