Bachelors: They live on their own which means they are free to do anything! However, living on their own, sometimes their special occasions where they should be getting a gift gets overlooked. So, when his birthday, promotion, or the holidays come around, make sure to get bachelor gifts he will be proud of! These unique gifts are sure to be something practical he can use every day, a unique piece of decor, or simply an awesome item he won't be able to help but show off! Make his bachelor pad the best looking guy hang out space around with any of these amazing gifts for bachelors!
A Smokin' Set of Bachelor Gifts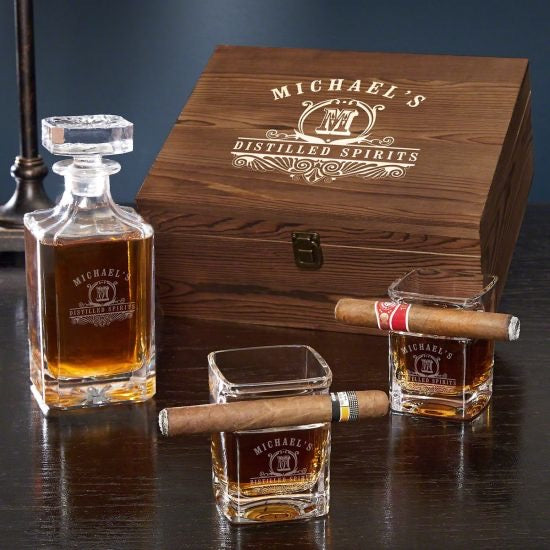 Get a set of bachelor gifts that are so cool, he is bound to leave them front and center so anyone who walks in the door will immediately see his engraved decanter and cigar glass box set. This gift is the perfect way for him to sit back and watch the game or have a boy's night while still having free use of his off-hand to high-five his bros or change the channel. Because of the unique design, it'll only take him one hand to enjoy his Oliva Master cigar and Glenlivet scotch. Thanks to this great gift, he'll always feel like the classiest guy in town each time he needs a stogie and some scotch.
The Sharpest Gifts for Bachelor Around
Got a bachelor who is into things that are practical? Look no further than this custom ammo can toolset. Whether he is on the move to his favorite fishing and camping spot or simply always likes to be prepared, this fantastic set has him covered! The knife and cigar flask are ideal on the go gifts, while the ammo can will easily bring all of his must-have equipment with him. The ammo can can even be filled with other necessities you know he can't live without, like fishing lures, ammo, or snacks!
The Ultimate Beer Gift Set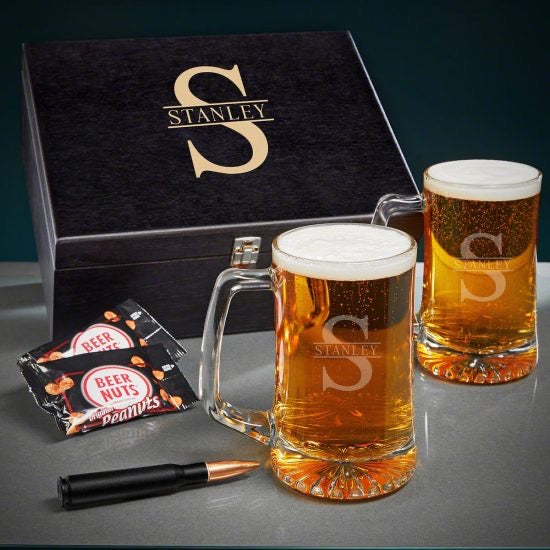 Gifts for bachelor should be slightly over the top, after all, he essentially lives in a man cave. Give him the manliest gift you have ever seen with this personalized blackout beer mug gift set! He'll feel like a king when he reaches inside to find two matching beer mugs and better still, it even comes with snacks and a badass bullet beer bottle opener. You can be sure if you include a six-pack he'll want to use this gift set right away in a toast to you for such a great bachelor gift!
An Engraved Sign for Him
Most men need a man cave sign to establish that a certain room of their house is the one space that can be truly theirs; however, with him being a bachelor, this sign is a great gift to show off that the whole home is his man cave! This rustic wooden sign is one of the best gifts for him to put up in the doorway or even his game room to show off that this whole place is set up to be enjoyed like the biggest man cave ever!
A Whiskey Gift That Rocks
Keep things simple and sweet with an awesome set of bachelor gifts, this engraved whiskey glass and whiskey stone gift set. This is the perfect birthday or promotion gift to give to the guy who likes nothing more than to kick back and enjoy a few cocktails or whiskey neats when the day is done.
653+ ROCKING WHISKEY GIFTS FOR MEN>
For the Tech Guy on the Go
Whether he is into the latest tech and needs to carry his chargers with him or has a sweet set of shades as well as some badass watches, you know that every bachelor could use this fantastic looking leather roll which is perfect for carrying all of his needs with him in safety and style. Not only does the gorgeous leather protect everything inside from the elements, but the suede interior is also a surefire way to make sure anything inside is protected too.
A Legendary Set of Bachelor Gifts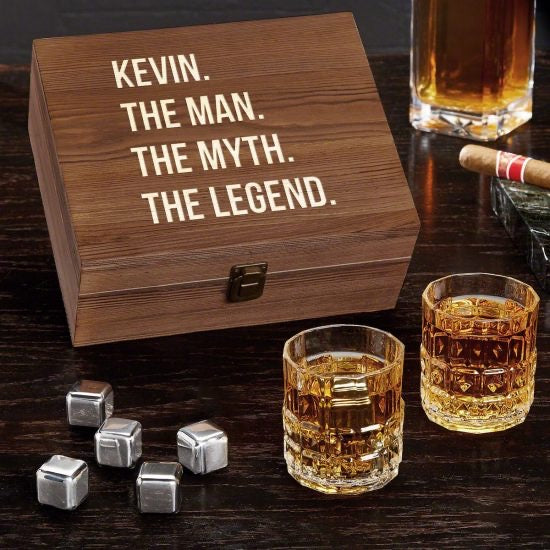 Living the bachelor life he is likely to feel like he is "the Man," since he can make anything work in his schedule, allowing him to always be there at the bar or for the pickup game of basketball. Let him know you're aware of just how awesome he is always being able to hang out with you with this legendary whiskey stone gift set. Not only is the engraving badass, but it also comes with classy crystal glasses that he'll love seeing filled with his favorite whiskey, scotch, or bourbon.
Watch How Much He Loves This Gift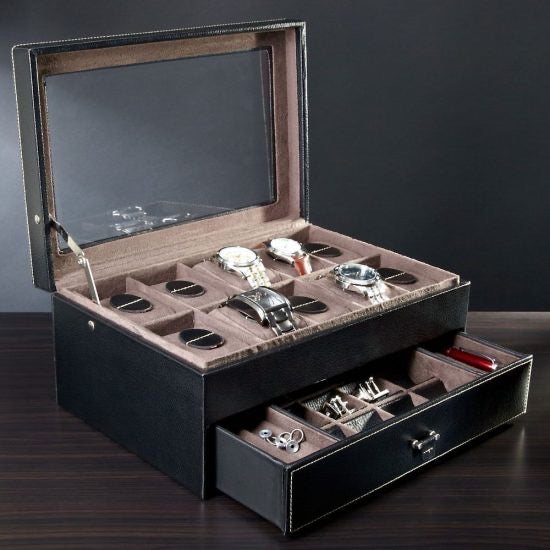 Bachelors are often known for being a little bit on the messy side, make sure he never lives up to this stereotype with a watch case and valet tray gift that will keep all of his best accessories neat, organized, and in one place. Now, when he has to get ready, he'll never be looking for his favorite watch or watching cufflinks, everything will be in one place! Never before will he have gotten such a good-looking and useful gift.
Monogrammed Box Set for Men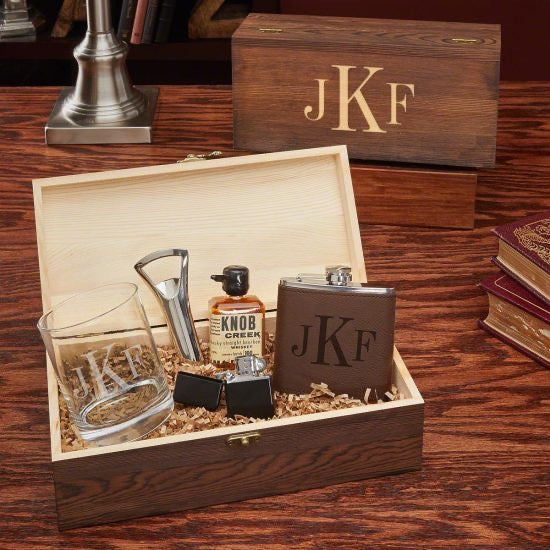 The perfect gifts for bachelor to make him feel incredibly sophisticated are always ones that have his monogram on them, and when those gifts come inside a matching wooden gift box, they're even better! Why, you may ask? Simple, guys love seeing their initials on gifts, it automatically makes them feel like the classiest people in the room, add in the flask and rocks glass and this is the perfect set of bachelor gifts! A flask for when he is out with his buddies and wants a quick nip as well as a matching glass, and since he lives on his own, he only needs the one! You can even make this gift a little bit better by adding a few small bottles of booze so he can enjoy it right away.
For the Beer Bro Bachelor
Being a bachelor, he may not always have someone to go to the brewery with him. Or, some nights, he may prefer to stay in and hang out. So, instead of missing out on his favorite beer, get him this custom growler box set that is perfect for the beer-loving bachelor! Now, he can easily bring home a gallon of his favorite brew and enjoy it from the comfort of his couch. This set even comes with matching bottle opening coasters, so if you get a sixer for him too, he can easily pop the top and enjoy a brewski right away!
A Gift to Catch All His Things
Make things easier for him when he walks in the door with this classy wooden gift box as the perfect spot for him to put his keys, wallet, money clip, or watch. Now, when he has to take off to meet the boys at the bar or for work, he can find everything he'll need to be ready to go all in one place!
Custom Grill Tools
Grill tools are simply something a bachelor cannot live without. After all, all the cooking has to be done by him. So make sure that the tools he has to use every time he wants to make a tasty burger, brat, or steak are of premium quality with this personalized rosewood grill tool gift set. Even if he already has a set, you know this unique gift will be the perfect replacement for the tools that he's been using for years. Just be ready for him to invite you over to a BBQ so he can thank you with some of his signature grilling!
Engraved Cutting Boards are Great Bachelor Gifts
Speaking of bachelors cooking, they won't get very far in the kitchen unless they have a custom cutting board to do all their slicing, dicing, mincing, and chopping. He will love seeing this unique board since not only does it have his name and initial on it but since it is made of sturdy acacia wood. This fantastic cutting board will last him for years and thousands of meals to come.
For the Toughest Wine Love
Not all bachelors are into the beer or whiskey life, some prefer to enjoy a good glass of wine, which is why these engraved stainless steel wine tumblers are some of the coolest gifts for bachelor. They're incredibly tough, classy, and are overall super cool, just like the guy you're getting them for! Now, thanks to your unique gift, he can have a super chilled glass of wine or mixed drink whenever he wants and look like a total badass while doing so!
Badass Beer Gifts for Bachelor
Make him feel tougher than Chuck Norris or Sylvester Stallone with this badass pint glass ammo can gift set. Thanks to the pint glasses and bottle opener, he'll be pouring a pint in seconds to give his new gift a try! The ammo can is even the perfect manly keepsake where he can store tools, beer accessories, or mementos!
521+ BADASS BOX SETS FOR BACHELORS>
Every Bachelor Needs a TV
The title says it all! Every bachelor absolutely needs a TV and with these Roku smart TVs, steaming his favorite shows are all at his fingertips! The TV has Netflix, Amazon Prime, HBO, and Hulu all ready to go for him to start streaming. So, whether he is binging Netflix's latest new TV series or is catching up on box office blockbusters, this is the perfect gift!
The Classiest Gift Box for Bachelors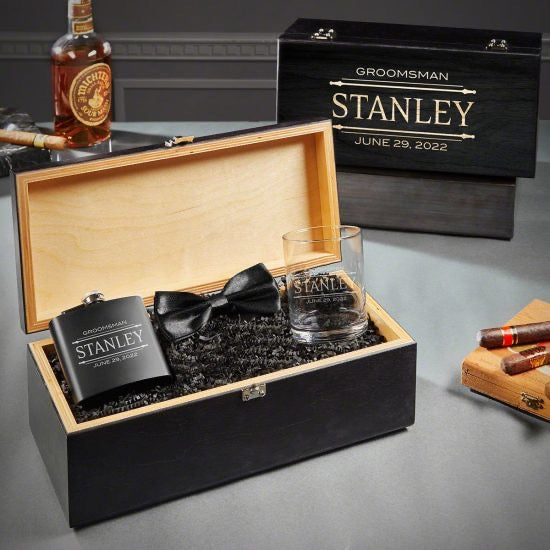 Want to make a bachelor feel extra-special on his birthday or around the holidays? Then this personalized blackout flask and rocks glass box set is just what you need! You know there are few colors in the world that will make him feel like a classy badass like black will which is what makes this such an awesome gift for the bachelor you're getting it for. Fill the box with some personal gifts or a few mini bottles of his favorite liquor and you'll have created an unforgettable gift box!
A Chill Set of Gifts for Bachelor
Never have him suffer a warm drink ever again with this engraved whiskey stone gift set that is simply a must-have for any bachelor. Thanks to the whiskey stones, he'll never have to worry about having to make ice just for a chilled bourbon or whiskey, better yet, he won't need to worry about watered-down drinks either. This gift is so good for a bachelor, he may want to break it in with you, and the two of you can have a toast using his new whiskey stone gift set!
Keep His Cigars Fresh with a Humidor
Never let his cigars spoil ever again thanks to this unique ammo can cigar humidor. This badass gift is the coolest way for him to protect his cigars against rot and drying out since the inside will have perfectly controlled humidity. It can be the coolest centerpiece in his home as well as being an awesome gift he can bring everywhere with him since ammo cans are meant to travel, after all. You can make this gift for the bachelor even better by including a few of his top choice cigars inside!
A Dapper Duffle Bag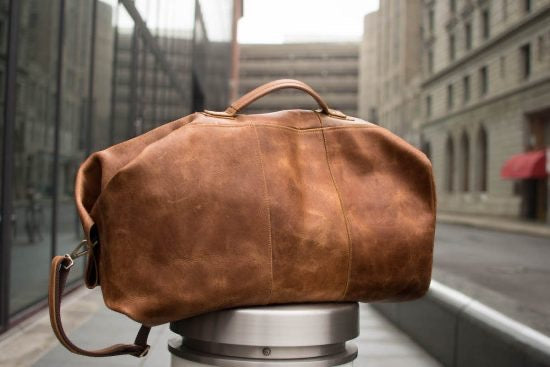 Everyone needs a duffle of some sort for when they need to bring things with them. However, they also make great bachelor gifts! Now, he'll look like one of the most sophisticated and successful guys no matter where he is going thanks to this leather, military-style duffle bag. It doesn't matter if he is bringing things to work or going to the gym, this bag is perfect for all of his needs!
Bachelor Gifts for the Refined Man
Just because he is a bachelor does not mean he isn't a refined man. For the guy who will forget more about class and sophistication than most will ever learn, get him this custom cigar and whiskey gift set! This is the perfect gift to give on any occasion for a man of the caliber that you are shipping for. He will love the matching engraving on each piece and that he can enjoy it at home as well as on the go thanks to his cigar case and the acrylic cigar holder!