If you look at Christmas like your holiday meal, the presents under the tree are the main course but your husband can't wait for dessert, which consists of his stocking stuffers! Get him sweet gifts with the best stocking stuffers for husband. These gifts are the accessories and little things that make life so much easier, and that he would never think to get himself. These stocking stuffer ideas for men will have him wondering why he never bought these gifts for himself before? So, you may be running the list of things your husband may need through your head; thinking things like: "What could he always use?" "What might he have always wanted?" Using these gifts, you won't have to think too hard! These perfect stocking stuffers for husband will be exactly what he has always needed!
A Taste of Christmas Spirit
Have him use this glass to make his Christmas spirits take on a whole new flavor profile. This crystal Glencairn glass is one of the most fantastic stocking stuffers for husband because it will unlock subtle notes of flavor from their favorite bourbon, scotch, or whiskey that they've never known were even there. With this great stocking stuffer, you'll not only have given him the glass he has always needed, but this glass will also become the only way he'll want to drink anymore.
A Stock Stuffer of Unmatched Caliber
Guys always need a way to open a beer. As an adult, he is expected to always be able to crack open a beer somehow, and what is cooler than having him do it than with his open .50 caliber bullet? This personalized gift will fit nicely in his stocking and his pocket, meaning he can open a beer anywhere he goes and look like a badass while he does so!
Great Stocking Stuffers for Husband Don't Need You to Be an Ein'Stein
He should feel like a king when he drinks a beer at home and you can make that happen with his own beer stein! This beer stein is a gift that will make him feel like royalty as he sips his favorite brand of suds from the most classic, and most impressive beer glass ever made. As an added bonus, steins look great. So, as the two of you snuggle up during the holidays, he'll love looking at his stein above the fireplace when it isn't full of beer!
A Coffee Christmas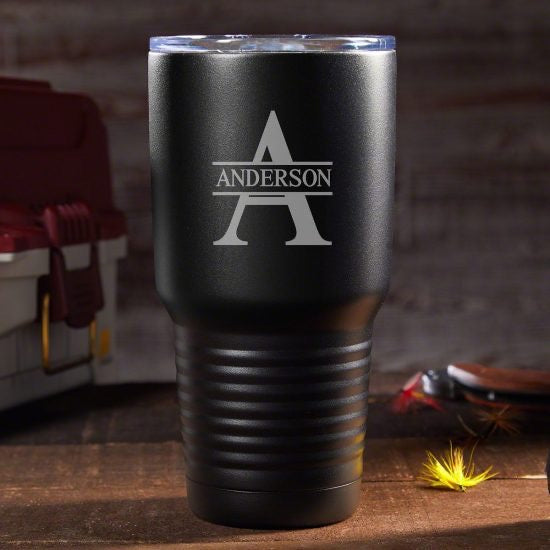 Stocking stuffer ideas for men need to be something practical for him, like this tumbler! The insulated stainless-steel design means he can be shoving the coldest driveway or be having the most epic snowball fight with his buddies, and his coffee will stay piping hot! Don't let your man turn into frosty, get him a tumbler that is sure to keep him and his drink warm in even the coldest tundra.
Whiskey Stone Gift Set as Cold as the First Snow
Use his stocking as the perfect place to surprise him with another box to open! A personalized whiskey stone set is the exact thing he needs to capitalize on the bottles of his favorite liquor he got this Christmas! Having a drink from his old-fashioned glasses, and possibly sharing one with you, will be the best way he's ever spent the holidays! He will never expect a gift set as awesome as this to come from his stocking.
463+ WINTER WONDERLAND WHISKEY GIFTS>
Throw Him Some Shade
During the winter months, snow can be blinding. Make sure he can always see where he is going with a stylish pair of sunglasses. These wooden frames are the perfect stocking stuffers for a husband who loves to rock their own classy, yet unique style. From peacoats to puffy coats, these frames will go with any fashion sense!
An Axe-hilerating Gift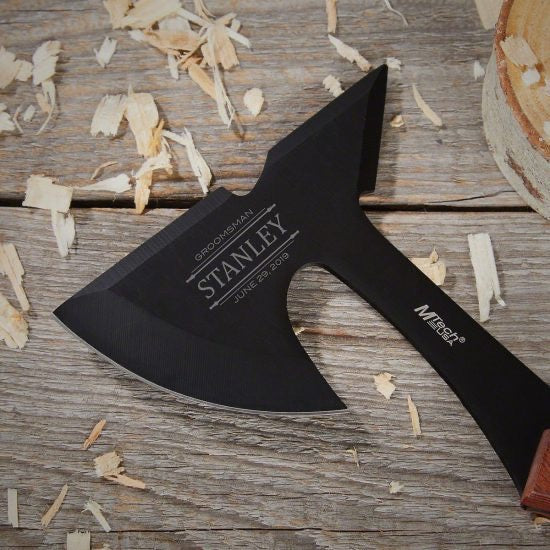 What could be cooler for a man to get for a gift than his own hatchet? This personalized gift will surely be one of the most unique and coolest things he got this year for Christmas. He will want to take this outside and start chopping firewood for the long, cold nights—even if you don't have a fireplace! As soon as he gets the handle in his hand, your man will start dreaming about all the different ways he will get to use his new custom hatchet around the house or even for camping!
Personalized Decanter Stocking Stuffer Ideas for Men
Capture this year's holiday spirit with a stocking stuffer for your husband he won't be able to resist. Every man likes to feel classy, and using a decanter to store, decant, and show off his whiskey is one of the coolest ways to feel refined. Whether he uses this for his evening nightcap or leaves it out on display and only pours drinks for special occasions, you can be sure this will be one of the most awesome gifts he's ever gotten.
More Organized than Santa's Workshop
The key to making his life easier is through organization. As he gets ready in the morning, give him a valet box to make putting on his watch, cufflinks, and other accessories a breeze. Valet boxes are ideal great stocking stuffer ideas for men because they keep everything they want and need to look sharp for their big meeting, or even date night with you, all in one place! A stylish personalized valet box isn't just a great looking present but it'll be a life-changing one, too!
For His Christmas Cocktail
Husbands love having a way to enjoy their drink that makes them feel like the coolest guy in the room. Every one of them likes to have that special glass that commands the feeling of being awesome. Give your husband two of those glasses in his stocking! These tumblers are perfect for any of his drinks, he can enjoy a bottle of wine, his favorite liquor, and there is even plenty of room for cocktails.
Socks for His Stockings
You may be thinking, "Socks? That is sort of a grandparent gift." In the old days, you'd be right. But using these specific Bombas socks, he'll know comfort on a daily basis that he never knew existed! These socks actually have no seams which means he never needs to fiddle with lining the stitching up just right with his toes otherwise risk being annoyed all day. This feature, plus the premium material, will have him feeling like he's got the most expensive socks on the market on his feet!
A Mug Bigger than Santa's Belly
Stuff his stocking to the point of breaking with a giant beer mug! Every guy needs a beer mug and there isn't a cooler beer mug out there than this giant one which is bigger than all of his friends'. This personalized mug will become his new favorite way to drink, not just because it has his name on it but he won't have to get up from his comfy chair nearly as often. This mug actually holds a liter of beer, making it one of the biggest mugs he can have!
Stocking Stuffers for Husband Who Like to Grill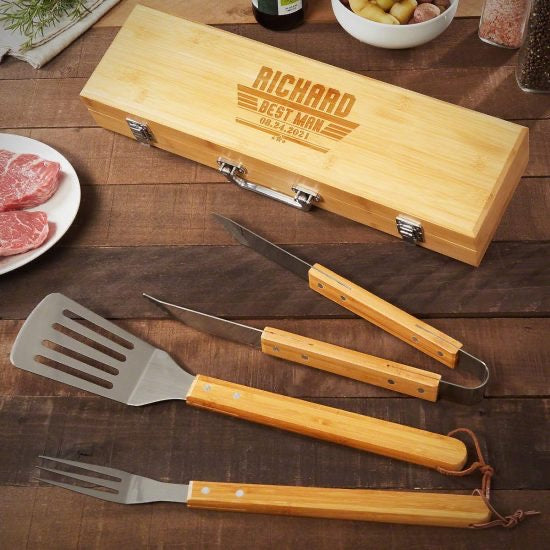 Your husband loves the taste of freshly grilled food more than Santa loves milk and cookies. Even though the weather outside may be frightful, he will absolutely love getting his own personalized grill set themed like the Top Gun logo. You'll never have seen him so excited to brave the cold, just so he can start the grill up and try out his new awesome grilling tools!
Make His Heart Grow Three Sizes
The title doesn't suggest your husband is the Grinch; however, it does suggest he is going to absolutely love his own custom whiskey glass with a set of the coolest whiskey stones. When he pulls this gift from his stocking, he'll be feeling about as cool as his whiskey is soon to be. Make each sip perfect with a whiskey glass and stone set he will love!
A Gift that Gets to the Point
Great stocking stuffer ideas for men allow him to come up with many uses for his gift. This box set that comes with a cigar box and a personalized knife does just that! Whether he uses the knife to open presents or as a tool to forge through the wild forest in winter, the choice is his! Plus, he can even use his awesome personalized gift box for any sort of collecting he likes. However, this gift is even better when you fill the box with some of his favorite cigars or other treats!
489+ GIFT BOXES AND GIFT BOXES FOR MEN>
Retro Christmas Stocking Stuffer Ideas for Men Make Great Gifts
Use this handheld gaming system as a stocking stuffer for your husband that makes him feel like Ralphie when he gets his Red Ryder BB Gun on Christmas morning. This nostalgic gift will bring back all his handheld video game love but with a modern twist! He can download his favorite games, but then he gets to plug and play on the tv, turning his favorite handhelds into a full-screen experience, what cooler way can he experience nostalgia than that?
The Perfect Gift for His Vices
Turn him into a chimney this Christmas with a set of stocking stuffers he will love! Perfect for enjoying stogies, this twist glass and cigar holder set will let him have some holiday cheer in the form of his favorite liquor and cigar, leaving his other hand free for grabbing more presents out of his stocking! This two-part gift even has him covered on the go. Using his cigar case, he'll never be without one of his treasured stogies!
A Gift for Husbands Who Love Hops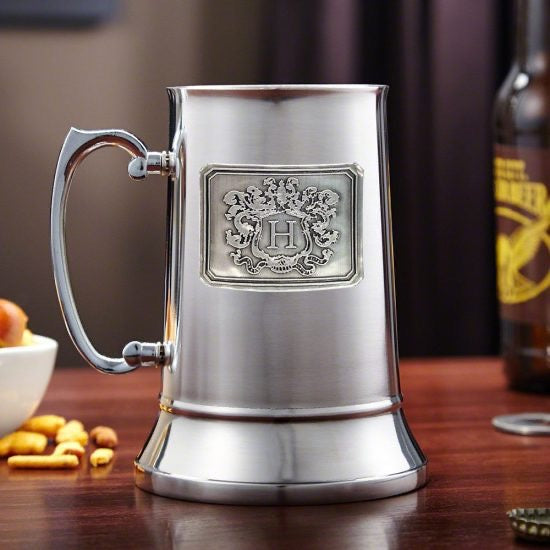 Mugs make men feel mighty, so why deny him one of the most awesome mugs out there with this stainless-steel tankard? His face will light up like a kid on Christmas morning when he notices that the crest has his initial engraved right into his new gift! Pair this with a few bottles of his favorite brew to have a stocking full of gifts he will always remember!
The Most Jam-Packed Stocking Stuffers for Husband
Stocking stuffers for your husband don't have to be just one gift. In fact, a lot of stockings have many gifts in them, right? Make yours the best stocking gift ever with one that is chock-full of everything he could ever want! Christmas morning he'll be looking to make a celebratory drink using one of his new glasses, and you know he'll want to use the knife to open the rest of his presents. Fill the keepsake with a few mini-bottles of his favorite liquors, and this stocking stuffer may have just become his favorite Christmas gift this year!
For Drinks To Go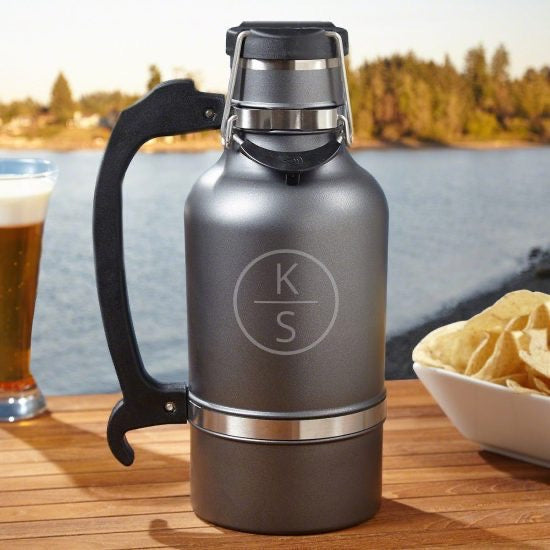 Husbands who drink deserve to have their beverage the way they want it. Ensure that his beer stays ice-cold or that his coffee is blistering hot when he takes it with him in this awesome custom growler! Although he may need a rather large stocking for this gift, he'll be more than happy to see the outline of the growler he has been dreaming of in his stretched-out sock. Bring a smile to his face this upcoming Christmas morning with a gift he won't forget!
Maintain His Santa-Like Beard
Turn his bushy Santa beard into a gnarly and badass looking Viking beard with this grooming kit. Full of oil, balm, a comb, and a brush, this beard kit will whip his face into shape faster than Santa's personal trainer on December 26th. The convenient set even rests on a wooden display that is perfect for keeping his side of the sink neat and tidy!
A Whiskey Gift as Cool as Jack Frost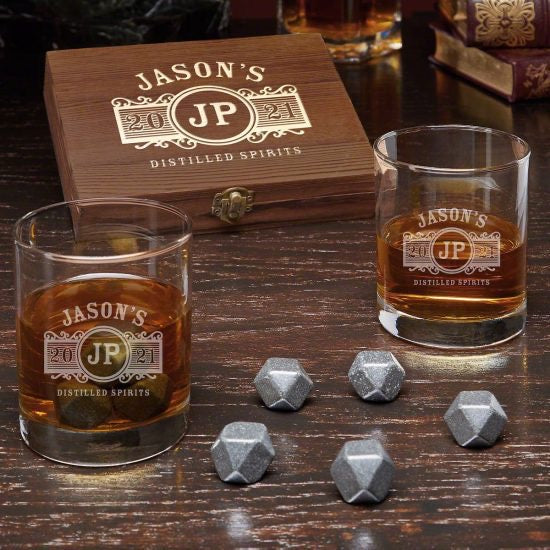 There is no doubt when he takes these awesome stocking stuffer ideas for men out on Christmas morning that he'll be thinking about just how cool he looks drinking whiskey with these whiskey stones. The weather outside might be frightfully cold, but inside he'll love to enjoy a perfectly chilled glass filled with his favorite Christmas spirits. What better way could he enjoy the holidays than with his own personalized whiskey stone set?
Bet These Stocking Stuffers for Husband Will Be a Hit
With how much he enjoys games, this is a gift that you know won't be a gamble. Whether he is a seasoned card shark or is just making his way to playing poker, he'll love getting a set of cards and dice inside his own personalized game case. Games on Christmas morning and future nights of cards with the boys will become some of his favorite memories around the holidays, thanks to this awesome gift!