Grandpa is the man who you can always look to when you need a little bit of life advice, a fun story, or even to get spoiled a bit too much. However, now that you're not a kid anymore, you want to return the favor with a gift that thanks him for all the years of being an awesome grandad. No matter the occasion you are shopping for, you know these need to be the top gifts for grandpa! To make sure he is going to love your gift you will want these gifts to be unique to an experience you and he may have had, custom-made just for him, or they may even make relaxing at the end of the day even better. So, don't just settle for a boring gift for one of the coolest guys you've known since you were a kid, get him a gift that is awesome as he is!
An Engraved Gift for the Ages
Serve up a set of splendidly stylish gifts for grandpa when you get him his own custom beer set and that even comes inside a matching box! How cool will it be to see his face when he flips the latch only to see that you've given him every beer glass he could ever want for the rest of his life! Also, you know that as a grandparent he is sentimental; so, he could even fill the keepsake box with all the beer caps from brews he has enjoyed or other cards, photos, or sentimental gifts too!
Great Gifts for Grandpa You Can Bet On
Give the salt of the Earth guy a gift that you know he'll use every time he can with a monogrammed poker set. Some grandparents play shuffleboard, but yours might as well be in Las Vegas with how much poker he plays. Now, when he's at the card table with his friends, they'll always want him to bring his set, for all types of games! Plus, he will even have the coolest glass with his matching cigar whiskey glass!
Badass Custom Grandpa Gifts
Never let a badass grandpa be without a badass set of grandpa gifts! This stainless steel wine tumbler set is the easiest way to make him feel like he is still his younger awesome self while also making enjoying his favorite bottle of Merlot or even mixed drink a breeze. He'll love having a manly take on traditional glassware for the drinks he loves, and with the engraving, this will most definitely become a memorable gift for him!
A Gift He'll Take Everywhere He Goes
Every man, no matter how old, needs a good wallet. So, why not get a custom embossed wallet that will last your grandpa a lifetime? Custom wallets are always ideal gifts for grandpa because what other gift can he take with him everywhere he goes? Add in a few pictures of yourself and the rest of his family and you've got a gift that may just bring a tear to his eye.
Knock His Gift Out of the Park
Take a swing at getting grandpa a decanter he won't be able to believe even exists with this baseball bat set! Surprise him with this right before the first game of the season or during the World Series to make this an even more memorable gift for him. There will be nothing like you and gramps sitting down to watch your favorite team while enjoying a drink while home runs are being knocked out of the park!
679+ WHISKEY GIFTS GRANDPA WILL LOVE>
Help Tend to His Bar
Whether his bar is fully stocked and ready to rock or he has recently been putting together the idea of having a home bar, no establishment can be complete without a sign! Now, when he is slinging cocktails or pouring brewskis for friends and family, he can feel like he is a true bartender at his own speakeasy or old school bar thanks to his custom rustic wood sign!
Gigantic Grandpa Gifts
Speaking of home bars, gifts for grandpa are perfect when they're not just useful but a little bit of fun too. He'll love shaking things up with this gigantic cocktail shaker. Do all his new bar patrons want Martinis? Well, this novelty decanter will never have been more useful! This is even a great way to make single drinks for him too. So don't be surprised when he unwraps this awesome gift and you see the biggest smile across his face!
This Will Get His Motor Running
Older guys are always into cool car and automobile-related stuff, so what could be a more ideal gift for grandpa's home than a coffee table that embellishes his love for cars? Sure, some gifts for grandpa that deal with cars could be smaller, but you want to give grandpa the coolest and manliest gift you know he can't live without. Whether this becomes the main table in his living room or man cave, you know he'll feel the thrill his favorite car brings him each time he sees it!
The Coolest set of Grandpa Gifts
Never have your grandpa choose between smoking a cigar, having a drink, and being able to change the channel, shake a hand, or anything else ever again with this cigar whiskey glass set! Now, he'll be able to get twice as much done while he is enjoying a stogie and scotch since he'll always have a free hand thanks to these unique glasses. That isn't to forget that this gorgeous set comes with a decanter and keepsake, which he is sure to put on display for everyone to see what a great gift his grandchild got him!
A Monogrammed Gift for Him
Surprise your grandpa with one of the classiest looking gifts he simply won't be able to get enough of with this growler gift set. You thought he was proud before when he showed everyone your picture he kept stashed in his wallet, wait until he gets this set. Now, whenever someone comes over and even has the smallest hint of thirst, he'll share his favorite beer from his growler and insist they enjoy it out of one of the pint glasses that have his monogram on it!
Golf, Grillin', and Gramps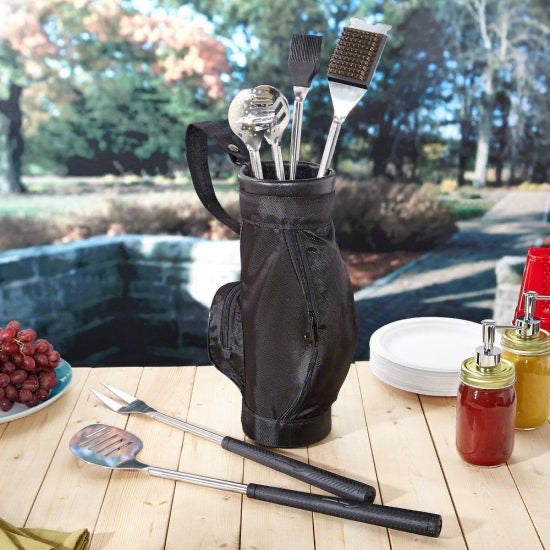 Is there anything that older guys like more than grilling? Maybe golf? Never have him choose between tasty burgers or a tee time ever again with this set of grandpa gifts that combines both of them! This is definitely a gift set that he won't feel the need to have a handicap to feel like a pro every time he steps up to the grill to go for his best grilling score yet!
For His Photos
All grandparents love showing off photos of their kids and grandkids. Instead of trying to find a frame that fits all the pictures they want, load this electric frame up with all of his favorite photos. This gift will definitely bring a tear to his eye when he gets to see all his cherished memories with loved ones scroll by on an infinite loop!
Grandpa's New Favorite Hobby
As some men get older they find new hobbies. Some may get into woodworking, cooking, or even gardening; however, you know the exact gift that will start consuming your grandfather's time, this smoke box set! Now, he can change the flavor of his favorite drinks with all types of woods and herbs. This is a great gift to keep him entertained forever with the limitless flavor combinations! Who knows, he may even share a drink with you!
For The Adventurous Older Man
Not all grandparents are old enough where they don't go on adventures anymore. If your grandfather makes Bilbo Baggins look like he never left the Shire, he will definitely love this engraved beer growler! This is the ideal way for him to bring a taste of home with him, no matter how far away he is. The best part, it doesn't even have to be beer. He can carry a local tea, Kombucha, or anything else with him!
All-in-One Wine Set
Grandfathers are notorious for always wanting to be prepared and sometimes even a bit over-prepared, that is why you're not just arming them with the tools any good wine-lover should have at home, you're also equipping him with the coolest engraved glasses he has ever seen! He'll love the unique wine barrel as his new tool kit, just pair this with a bottle of his favorite red or white and you'll have the perfect set of grandpa gifts for any occasion!
163+ SUPERB WINE GIFTS FOR SENIORS>
Give Him a Promotion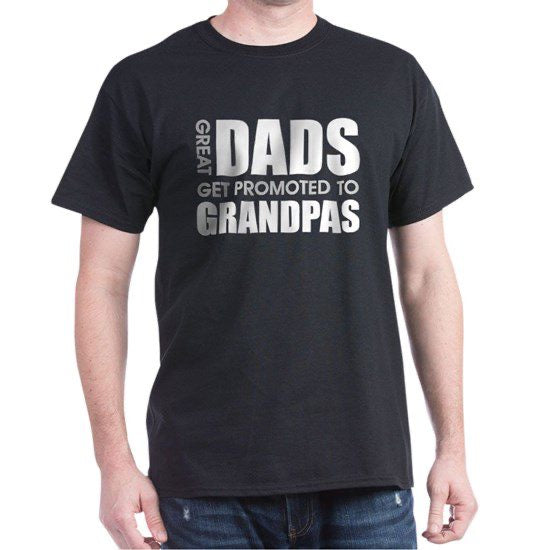 Make your grandpa laugh out loud with a fun novelty gift great for smaller occasions or even as part of a bigger gift. He'll love rubbing this gift into his kid's face, showing off that he was a great dad and that he'll be an even better grandpa! Just don't be surprised when you and your grandfather go out and he insists on wearing this shirt!
Tales, Ales, and Cocktails
Is your grandfather a bit of an eclectic guy, especially when it comes to when he has a drink at home? Then he will love sharing his next brew, cocktail, or glass of wine under his very own custom pub sign! This is the ideal way for him to enjoy his home bar or even his living room with friends and family. Even on days when he isn't having a cocktail, this is a fantastic gift that he gets to look at every day, and what is better than a gift that fills him with joy each and every day?
A Whole Set of Beer Gifts for Grandpa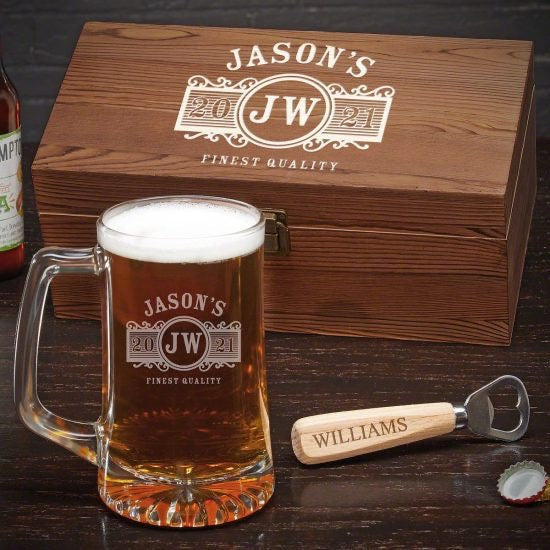 Mugs are great gifts to make guys feel manly, and even though you may have always seen him as grandpa, he is still a man. However, don't just get a single mug when you need to get him a birthday or anniversary present. When you're looking to get the perfect set of grandpa gifts make sure you get a whole box set! He'll be so thankful for the set, but he'll love it more than you could've ever imagined when he sees that his name has been engraved onto each piece!
A Gift for the Mythical Man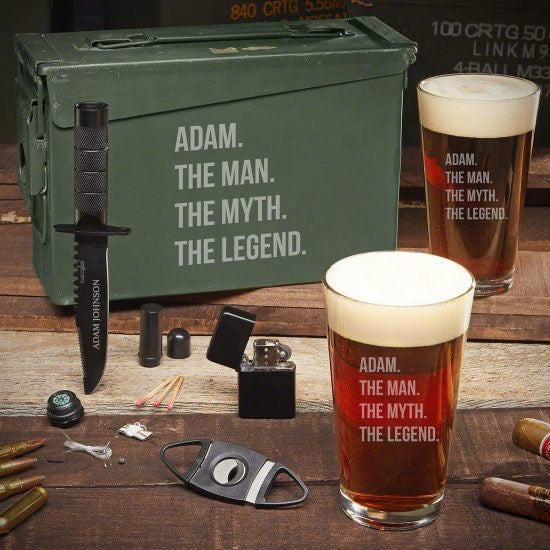 Your grandpa has always come off as a hero in life. Whether it is stories he told of your parents, of his youth, or if he has even just been an awesome guy since the first day you met him. Regardless, you find him amazing and you know he would love a gift set that makes him feel like a legend. Look no further than this awesome ammo can gift set! This is the perfect way to honor the man who has lived a legendary life!
Superb Slippers

Every man deserves to be comfortable everywhere they go. So what is an easier way of making someone feel comfortable than by starting with the feet? A comfy set of luxury slippers for when he is walking around the house or even lounging around is the perfect gift for any grandpa!
Personalized Wine Set of Grandpa Gifts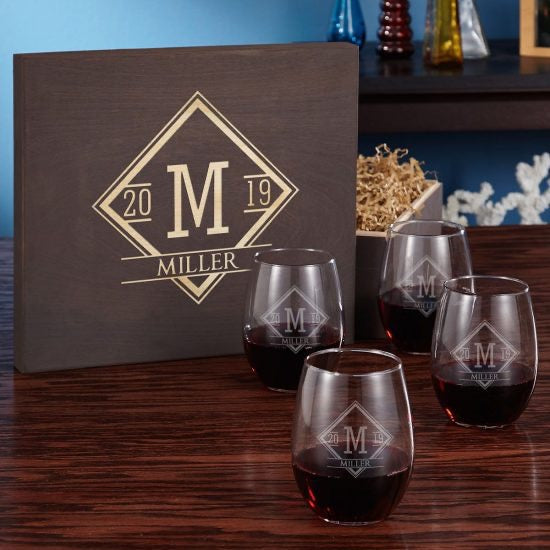 Just like grandpa, wine is timeless. Make his birthday or retirement even more awesome when he gets to have a toast with timeless glasses too! How cool will he find this matching set of stemless wine glasses that he gets to share with his friends and family? He can even collect wine corks from anniversary or date nights with his wife in the shadow box! So, move his old wine glasses over and make space for his new favorite set of gifts for grandpa!
Steins are Perfect Gifts for Grandpa
A classic gift great for anyone's gramps is their very own beer stein. Now, you may be tempted to kid and make a joke about how when they had their first beer all they had were steins, but in all seriousness steins are a fantastic way to enjoy a drink or to even decorate the house. What grandpa wouldn't love looking upon their mantle to see a personalized gift from their new favorite grandchild on display?
Coolest Cigar Humidor
Cigars are a staple item for many older guys, if your grandpa is one of those men who couldn't live without a stogie, you can make sure that each one he grabs from here on out is stored in perfect condition thanks to this custom ammo can humidor! Gifts for grandpa rarely get as good as this, not only does it look cool and unique but it's an incredibly useful gift. To really push it over the edge, add a few stogies inside as well!
Great Gourmet Gift for Grandpa
A perfect set of gifts for grandpa is always a good food basket. He and his wife have given you plenty of snacks and meals over the years so what could be a better way to return the favor than with a gourmet gift that fills their stomachs too! He'll love taking these foods to the couch while he watches his shows, sharing them as part of a meal, or even taking your grandmother on a picnic and have his basket filled with these snacks!
The Perfect Pub Sign
His home bar needs to feel like his own personalized pub and there is no better way to do that than by surprising him with his own customized sign! Hang this in the spot that he loves to have a lager or ale in each night and let him be shocked when he sees that he has officially become the owner of his own bar!
A Classy Set of Gifts for Grandpa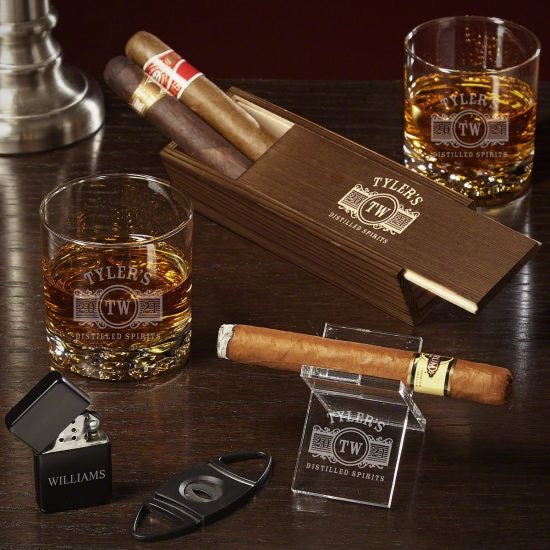 Cigars and whiskey are some of your grandfather's favorite things. Make this Christmas or birthday present one to remember with a gift set that makes enjoying the two feel like the classiest experience on Earth. He'll love setting up in his man cave or outside with his cigar stand and whiskey glass, just like he did when you were a kid. However, now the two of you can enjoy these vices together!
Display His Favorite Memories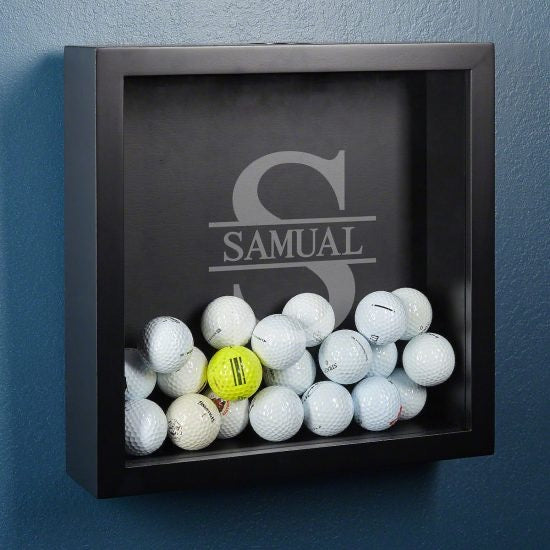 Does grandpa have a few hole-in-one golf balls or other cool mementos? Help him show them off with a personalized shadow box! This is the coolest and most unique way for him to display all his cool stuff or even the other grandpa gifts he got over the years! Any collection or memorable item can be displayed on his wall thanks to your awesome gift!
Start His Day Off Right
Great gifts for grandpa save him time and make life easier, which is exactly what this shower bundle will do for him! Instead of having to shower, shave, and brush his teeth separately, he can do them all at once now! He'll love the convenience and how much extra time it gives him in the morning!
Caddy for Grand Dad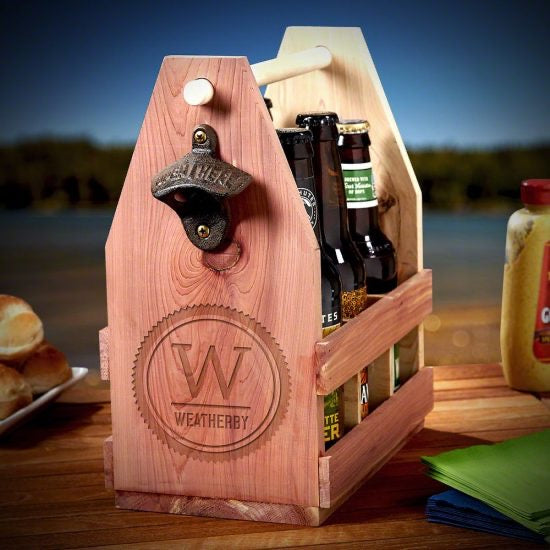 Cardboard six-pack carriers are so the first half of your life. When he has reached the title of "Grandfather," he deserves to carry his beers with a bit of class, style, and efficiency in a wooden beer caddy. This awesome gift even has him prepared (which older guys love), this way if he forgets a bottle opener at the golf course or BBQ, he can snap the top off of a bottle with the built-in opener on the side, how cool is that?