When you're giving a gift for him, you always want it to be jaw-droppingly awesome; however, it can be hard to also up the ante each and every time you give a gift. Last year you got him something great, and maybe the last occasion you got him something so cool, you don't know if you could ever top it. Well, you can! There are always bigger and better gifts out there, that's why you need to check out these mens gift ideas! From unique personalized gifts to gorgeous glassware to even the newest tech, you can be sure these are the presents that'll continue to have him pick his jaw off the floor!
Don't Let the Best Mens Gift Ideas Go Up in Smoke
Take things to a unique place when you're searching out what is the best gift for a man with this smoke box system! Never before has he gotten such a cool and unique gift. Instead of just something to put on his wall or a gift basket he can enjoy once, this cool looking set allows him to experiment with creating his own bourbon flavors time and time again! Throw in a bottle of his go-to spirit and you'll find him creating whole new flavor profiles that even the distiller never thought to do!
Toss in This Gift for Him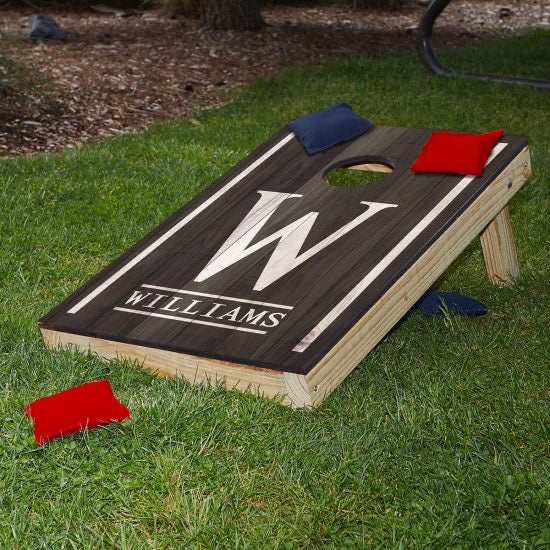 If there is one thing that men love, it is being competitive and with this personalized bean bag toss set, you can be sure that he'll be plaything bags endlessly from here on out! This is the perfect gift for him to break out at tailgating parties or on the fourth of July. However, everyone else better look out, because he has been practicing with this kick ass gift and has no intentions of losing a single game.
Gifts to Make Him Feel Classy
Mens gift ideas should also be things that make him feel like a whole new person. So, what could be better for him than a custom watch case, flask, and rocks glass gift set? Seeing his name on each piece will make him feel like the fanciest man alive each time he goes for a drink or is simply getting ready in the morning. With a gift that covers so many areas of his life, it'll be no wonder that it becomes one of his favorites of all time!
Keep Your Mens Gift Ideas Sharp
There is nothing quite like creating your own meal, and he knows that. In fact, he spends more time in the kitchen than most people would assume. So this year, ditch the worn-out kitchen knives for this amazing Damascus steel survival cooking knife! This will be equally at home in a top-tier kitchen as it is in the deep woods carving up fresh food on a stump!
A Steel of a Gift Idea for Him
Speaking of tough gifts, these personalized stainless steel wine tumblers are the ideal way for the manliest of men to enjoy a drink! Whether he is celebrating a birthday, promotion, or retirement, you can be sure he'll love getting this gift set and he'll only be happier when he fills them to the brim with his favorite drink!
491+ SUPERB GIFT BOXES FOR MEN>
For the Legendary Man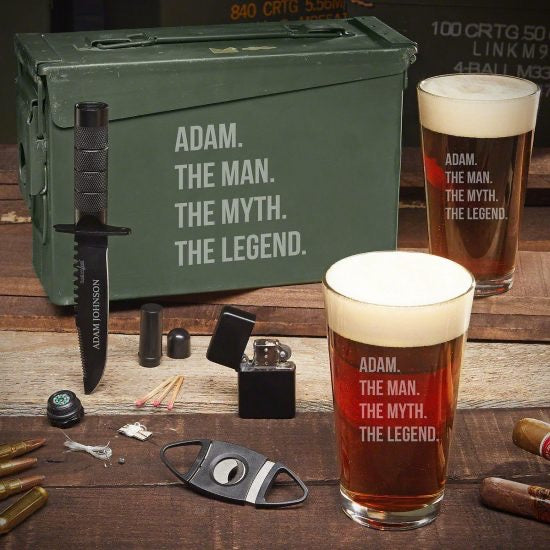 What is the best gift for a man? How about something so cool and unique, he never thought such an amazing gift set could even exist all in one! This engraved pint glass ammo can gift set is the perfect way to show him just how much of a badass you think he is. Top the ammo can off with some beer accessories or bullets so he can go to the range and you'll have created a gifting experience that will stay with him for a lifetime!
The Perfect Jacket for Men
Men's clothes need to be as tough as they are, and few fabrics are made as rugged as the ones found in this Carhartt jacket! It doesn't matter if he loves this jacket for its style or for how warm and durable it is when he is working on his ride, all you know is that he'll look good and be comfortable either way!
An Engraved Whiskey Gift Set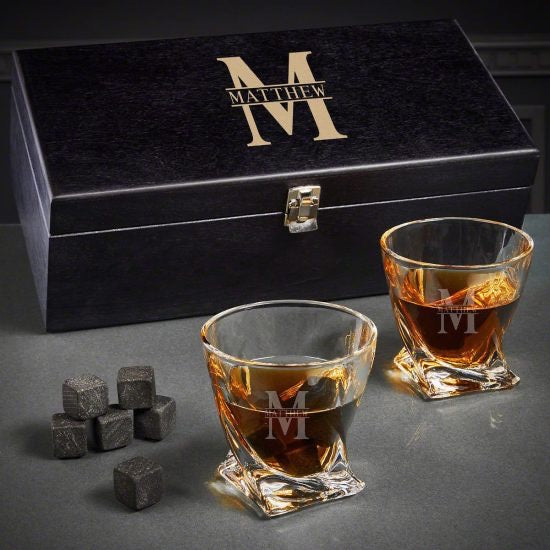 Mens gift ideas need to be unique, and what could stand out more than these twist whiskey glasses that have also been personalized with his name and initial? He will love seeing the personalized box, and he'll immediately know that this year you went out and did something special. As soon as he opens the box to reveal the glasses, you better be ready with a bottle of Buffalo Trace or Makers 46 so the two of you can have a toast to this awesome gift!
Make it Official
Got a man who has been talking about his home bar none stop? What about a guy that has always wanted to have one in his house? Give them the gift they need with their very own personalized home bar sign! Perfect as the finishing or beginning touch of a home bar, he'll sit next to this side with pride each time he decides to have a cocktail or brewski.
The Manliest Mug Set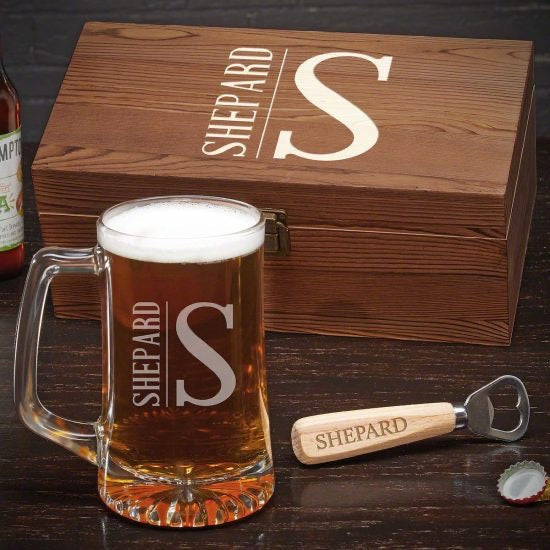 Have him feeling like he can have a toast with Odin himself with this manly set of mens gift ideas! Every man immediately feels like a Viking each time he has a mug in his hand, so why not get one in an awesome box set so he can always embrace his most manly feelings! What makes this even better than other mugs, is this one comes with his name on it, the box, and the bottle opener, how cool is that?
Keep Him Suave and Sophisticated
No man can be ready to take the world on each day if his hair is a mess. Ensure he is ready for victory by looking as suave as possible with this field kit set of three different kinds of hair products. Make sure these claymore clays, pomades, and greases face forward toward him so he can be as stylish as ever as soon as he opens it!
A Worldly Gift
Got a guy who has always wanted a home bar but just can't make it work in his current home? Give him the next best thing, a globe bar cart! These are some of the coolest mens gift ideas since they fit in every home! This cart will make him feel as classy as a James Bond villain each time he goes to make a Dirty Martini or Sidecar.
The Ideal Golf Sign Set Fore Him
Don't just settle for a single gift when you're trying to blow him away, instead, get something he can enjoy in both of his favorite places, the golf course and his house (in that order, too). Ensure he brings a bit of extra-class on the green when he shows up with a personalized bag tag as well as a matching divot tool. However, he won't stop wowing his golf buddies there, when they come back to his place for the traditional 19th hole, they'll be blown away by his customized golf sign too!
Get in Touch with What is the Best Gift for a Man
Keep him in touch with everything going on in his life with an iPad Pro as the ultimate web-surfing and work tool! Forget laptops, the iPad pro is a high-end tablet that makes it just as easy for him to scroll through social media as it is for him to create and break this high-powered tablet out for writing and editing work documents.
Personalized Whiskey Decanter Set
Show him just how much he matters to you with a gift that will immediately answer, "What is the best gift for a man?" with this amazing, custom decanter box set! This will be one of the fanciest looking gifts he has ever gotten, and he'll always feel just as fancy as he enjoys a whiskey neat or Old Fashioned from it! Better yet, if it is a bigger occasion, this set comes with four glasses, making celebrating with friends and family use the set a total breeze!
619+ WONDERFUL MENS WHISKEY GIFTS>
Go Anywhere Golf Gift
Keep the great mens gift ideas coming with one that you can definitely tell is 100% fore him! Pardon the golf pun, but if he is a fan of golf, even in the least, you know he'll get hours and hours out of this putting set that he can take with him anywhere. This way, he can work on his short game at the office, at home, or even while visiting the in-laws!
A Celebratory Stogie Gift Set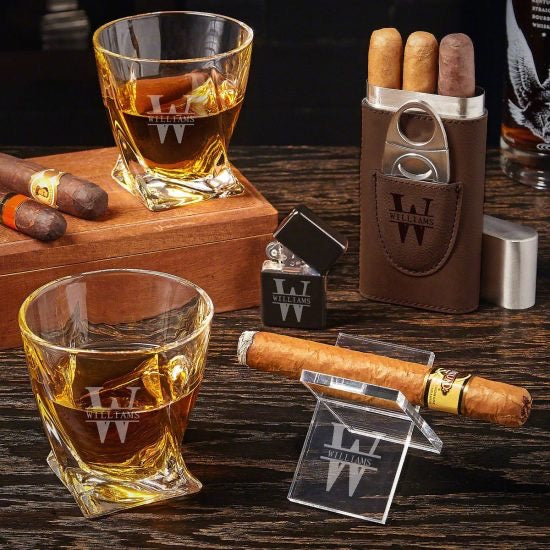 There is nothing like celebrating a special occasion with a cigar and glass of whiskey, however, he's never done it in as stylish of a manner as he has once he gets this engraved cigar and whiskey gift set! This is the perfect way to let him celebrate at home but it also easily lets him enjoy a good cigar on the move thanks to the portable and personalized cigar accessories!
The Bag He's Always Needed
Want to keep things simple while searching for some of the coolest mens gift ideas? How about a unique leather duffle that he is sure to use every single day of his life? It doesn't matter if he uses it for the gym or to take important things to and from work, you know this bag will get an incredible amount of mileage!
Keep The Gifts for Him Sharp
Is there anything else that men like to get as a gift more than a set of useful tools? Maybe something to celebrate with too? Well, you're in luck! This engraved ammo can gift set comes with everything he'll need to celebrate with! From the hatchet to the knife to the cigar flask, this has got to be one of the manliest gifts on the market! He'll love finding a few of his favorite stogies and a bottle of whiskey inside the ammo can, this way he knows he is meant to celebrate with his new gift right away!
The Ideal Travel Mens Gift Ideas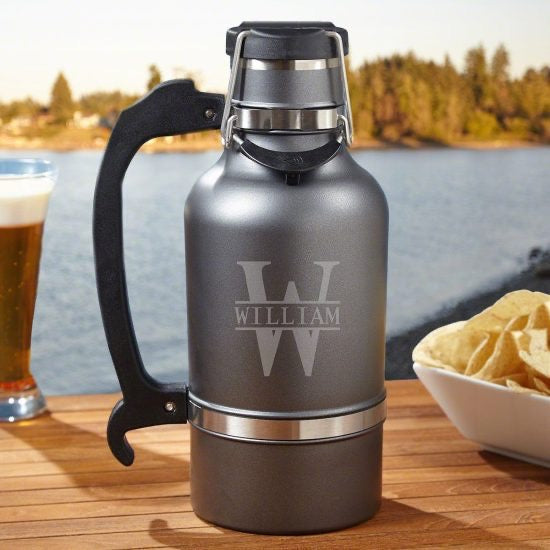 Ensure he never goes thirst again with a growler that has his name on it which will become the only way he ever takes a drink again! Perfect for the man on the move, this personalized growler can be filled with beer, coffee, tea, or even just water. However, what makes it awesome (aside from the unique personalization, of course) is the fact it will keep his coffee or tea hot for hours and his beer cold for even longer!
His Most Practical Gift
When you've found and gotten him every must-have tool for his garage, wrap things up with a leather roll for his most essential tools! This is the perfect idea when you've got a handy guy and you're stuck wondering, "What is the best gift for a man?" This leather roll of course! Now, he'll always know where his go-to tools are in the garage or he'll have an easy way to bring his most necessary tools with him on any of his trips!
Take a Shot with a Patriotic Gift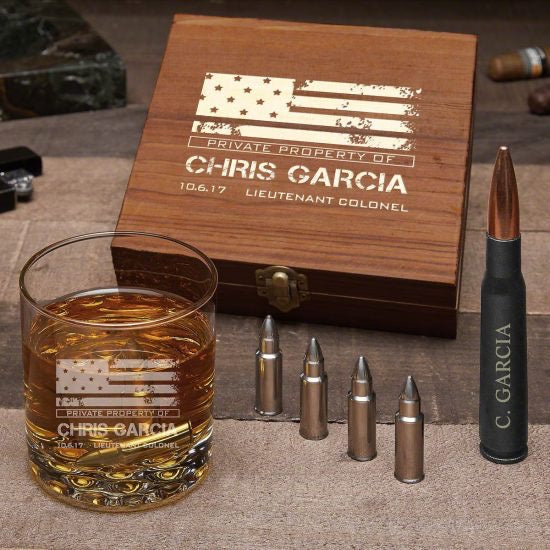 If he is extraordinarily patriotic, it can be hard to find the perfect gift when you keep asking yourself, "What is the best gift for a man?" But you don't need to search anymore! This patriotic gift set is the perfect gift for him at any time! With his name and the American flag engraved, as well as coming with a bullet bottle opener and bullet whiskey stones, is there anything that could make this gift more patriotic for him?
Let Him Travel on the Down Low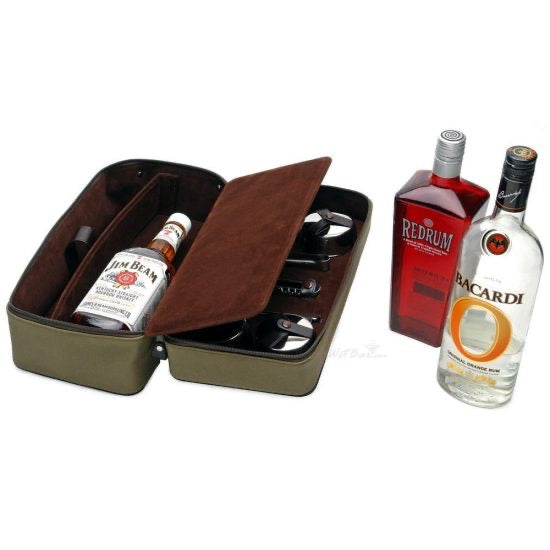 Ensure that even if he has to travel he'll always be able to bring his go-to liquor with him. This DOPP kit isn't a regular toiletry bag, instead of being set up for his razors and creams, this set is built to hold a bottle of his favorite booze and even comes with two small fold-out glasses. He'll feel like Agent 007 each time he has a drink from this undercover gift set!
A Taste of All His Favorite Beers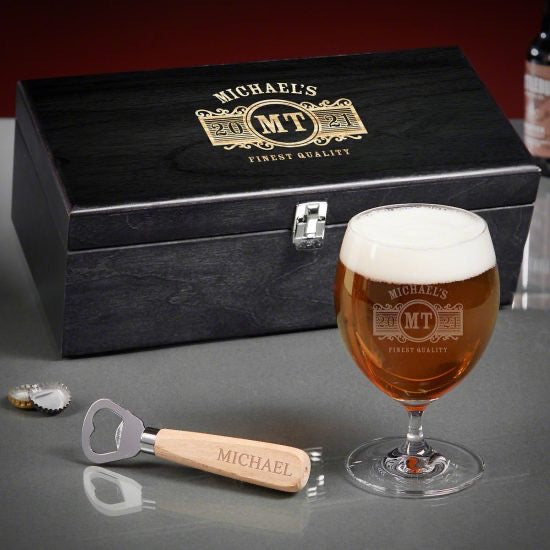 Show the beer-loving guy in your life that there is more to gifts than a six-pack from his favorite brewery with a beer tasting gift box set! Included inside the custom box set is a beer snifter that makes it so much easier for him to experience and taste all of the nuanced flavors and aromas from his favorite brews! Every IPA, pilsner, stout, and lager he has from now on will be like a whole new world of beer flavors that he never even knew existed. Now, he'll have to go back and try all those beers he experimented with before to see if he might have missed something!
Mens Gift Ideas for Staying Classy
Every man needs to shave, this warming razor shaving kit is definitely going to be on the top of the list when it comes to top-notch mens gift ideas! Shaving will never have felt as good as it does when he gets a hot shave each time thanks to the heating feature inside his new razor. With a gift like this, you can guarantee he'll want to be clean-cut every day!
Dress Up a Bottle
Is there ever a time that a bottle of wine is a bad gift? Nope? Didn't think so. However, you should take things further if you want to make your gift this time truly stand out as spectacular. Instead of only attaching a bow or a card to the bottle, dress it up with this wine bottle gift box! Not only does it look far better, but the gift box is also extremely practical! He can store the bottle in there for other big occasions when he'll really want to take it out and it also comes with all the tools he'll need to open and enjoy the bottle!
Watch Out for This Great Gift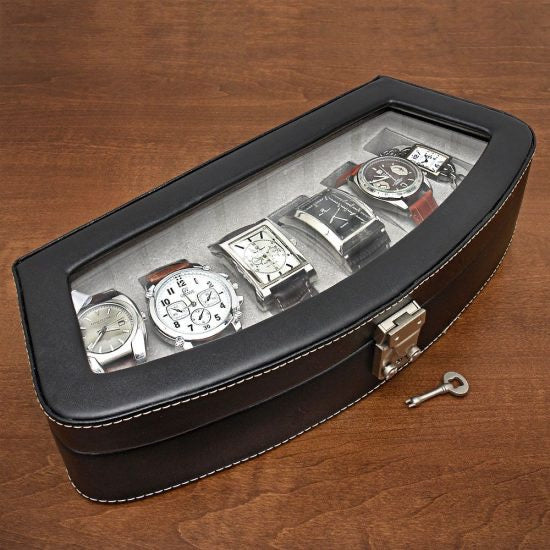 Keep him organized and ready to look his best with a leather valet box as one of the best mens gift ideas. No matter what occasion you're shopping for, you can be sure a bit of organization for his accessories will always be appreciated. Now, instead of searching for his watch or lucky set of cufflinks, he'll be ready to go in an instant since everything will be organized and right on top of his dresser.
You've Probably Heard of This Gift for Him
Everyone likes to listen to their favorite tunes when they're hanging out at home. It doesn't matter if they are outside working on the yard, inside lounging around, or even hosting a party this Marshall Bluetooth amp will be the coolest way to blast his favorite tunes ever! Not only does it have that cool and classic rocker look, but it also comes with enough sound power, his guests will think he has it turned up to 11!
The Coolest Whiskey Gift Ever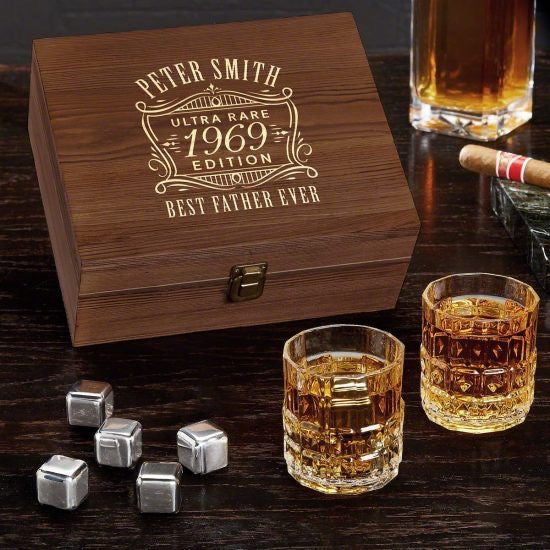 Still feeling like you need to find out just what is the best gift for a man? How about one that shows how much you appreciate him while also making him super relaxed? This engraved whiskey stone gift set is sure to show him that you care when he sees that his name has been personalized on the box and he'll absolutely love drinking from the crystal glasses. Now, with a gift this good, you know he'll be able to unwind like never before!
The Perfect Gift Box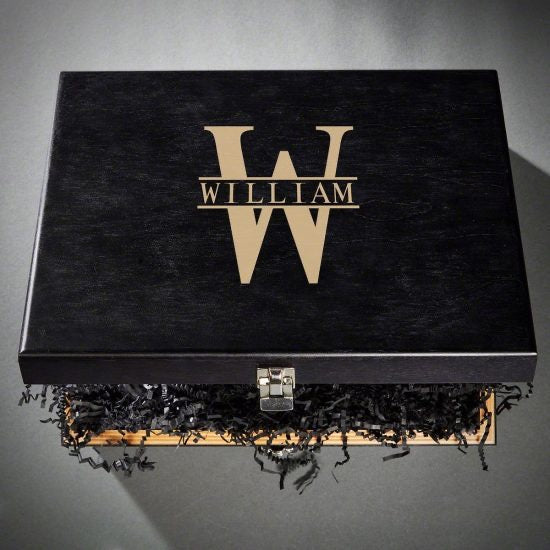 Keep things classy and unique for him with a gift box that will not only be the ultimate keepsake but is a gift that you can 100% customize! Inside the box with his name and initial on it, he'll find anything you want to put inside. This way, if you want to fill it with new parts for his gun hobby, cookware for his manly kitchen, or even photos and items from the past, you can! Make this gift spectacular by filling his custom gift box full of the most memorable items you can think of!
Personalize His Garage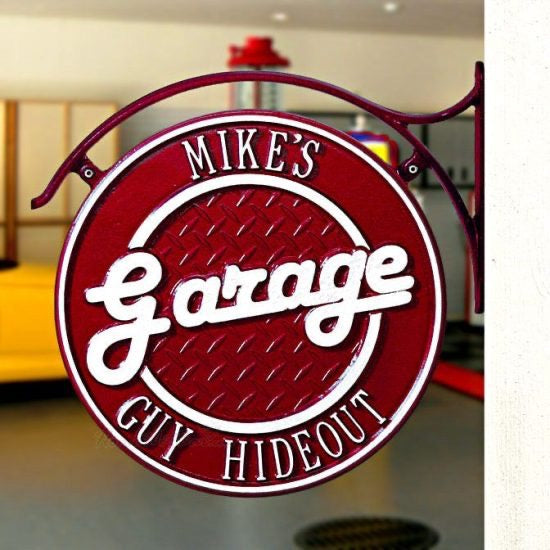 Garages are a man's sanctuary. It is the place in the house he can always escape to, where he can focus on his hobbies or projects. Make sure everyone knows without a doubt that the garage is his personal space with this awesome garage plaque! Now, when he is crafting tables from solid oak, building his next race car, or working out, everyone will know that this is the location of a working man!