The holidays are a wonderful time, but they also can bring a bit of stress when you are looking for the perfect gift for your husband. You really want to impress your man with an amazing holiday present this year, but you aren't sure where to start! All you know is that you want to get him the best gifts you can possibly think of or find. The greatest husband Christmas gifts will impress your man because of how thoughtful, personal, and one-of-a-kind they are! If it's customized for him, that's a bonus as well. We've done the work to take all your gift-finding stress away this holiday season. This way, you don't have to ask yourself "What to get my husband for Christmas?" Or, "What makes for an awesome box set of Christmas gifts for him?" Instead, sit back, relax, and get him one of these Christmas ideas for husband that will have him thinking you're secretly Santa Claus!
Number One Cigar Gift Set for Husbands on Christmas
You know your husband well enough that you know he doesn't want to go another holiday season without getting the most perfect cigar gift set in the world! It's one of the best husband Christmas gifts because he'll definitely appreciate having such high-quality, classy items to use to enjoy stogies on special occasions, like during the holidays! As he sips his favorite scotch and smokes a cigar using this custom cigar glass, he'll feel more sophisticated than he ever has in his life!
Husband Christmas Gifts for the Young at Heart
One of the things you adore about your husband is that he's a total kid at heart. Make him incredibly happy on Christmas morning with a fun game that will remind him of his childhood! This customized cornhole board and bean bags set is a fantastic Christmas present idea for him because he'll have a blast challenging you, family members, and his buddies to fun games of cornhole at the beach or in the backyard during the barbecue. He'll be really thankful for such a unique and fun-filled present!
An Ammo Can Set to Wow Him
If there's one gift that'll totally wow him on Christmas, it's this personalized ammo can gift set! He'll be blown away with this badass present, especially after you fill the ammo can with other goodies he'll love, like a bottle of his favorite whiskey or some of his favorite cigars! When he's celebrating the holidays or other special occasions, he'll love pulling out these handsome, personalized glasses and cigar accessories so he can enjoy a drink and a stogie to celebrate the right way!
The Fanciest Pub Sign
Make his home bar or bar area his new favorite room in the house with this custom pub sign! He'll be stunned when he sees this sign under the tree because of how handsome and fancy-looking it is! When it's up on the wall in your home, he'll love the English pub vibe it gives to the area. It's one of the best Christmas ideas for husband because he's never seen anything as incredible as it in anyone else's home, so he'll love having a one-of-a-kind item.
Presentation Set of Christmas Ideas for Husband
There's few things husbands appreciate more than feeling like a sophisticated manly man. With this whiskey presentation set, he'll feel that way simply by having this rest on his home bar or coffee table! Seeing his monogram on this classy glassware will make him really happy knowing it's just for him, and he'll love nothing more than to sit in his favorite chair and pour himself a glass of whiskey after a long week of work or when celebrating a holiday like Christmas.
649+ AWESOME WHISKEY GIFTS FOR HIM>
Dental Hygiene is Important
Nothing says "I love you," to your husband on Christmas more than by getting him a gift that shows you truly care about his overall health! This Waterpik dental flosser is one of the most important husband Christmas gifts he's ever been given. He'll be very grateful for this new way to floss his teeth that's both easier than using normal floss and keeps his teeth feeling cleaner than ever!
For a Grilling and Cooking Man
A man who is handy on the grill or the kitchen is a good man, and you're so thankful your husband is one of them! Get him this customized cutting board for the holidays this year to make his food-making endeavors so much better! Whether he's cutting up tough pork chops to throw on the grill or dicing some veggies to go in the dinner he's making, he'll really appreciate the tough surface that makes it so much easier to cut any food he wants. He can even serve you or any guests you have some yummy hors d'oeuvres on this handsome, custom board.
Unique, Elegant Glassware Your Husband Will Love
Get husband Christmas gifts that your man will use for every special occasion as well as at home date nights in with you for the rest of his life! This handsome twisted decanter set is incredibly classy and unique, which your man will think is incredible, especially seeing his initial on it. He'll feel so incredibly classy as he fills the decanter with his favorite spirit and enjoys a glass of it whenever he wants. He'll without a doubt treasure these cool Christmas gifts forever!
Bet on this Game Night Gift
If there's one thing you know about your amazing husband, it's that he absolutely loves to both host and attend game nights! Make that hobby of his better than ever with this poker gift set! It's one of the greatest Christmas ideas for husband because it gives him the perfect set to use for his next game night! He'll have a blast using it to play poker and other card games for hours, and he'll really enjoy being able to use the cigar glass to sip on his favorite whiskey and smoke a stogie while his cards are in his other hand!
Recliners Make Awesome Husband Christmas Gifts
Every man needs their own special chair to relax in and almost every husband has one. However, if your husband is lacking his own chair or his needs a desperate replacement, get him this awesome brown wall recliner! He'll immediately fall in love with the comfiness of his new chair and he will love how it feels having his own special spot in the living room. He'll definitely appreciate this holiday gift forever!
He's as Mighty as a Bull
Remind your husband that he's as mighty as a bull in your eyes with this bull bourbon decanter set! He'll marvel at the amazingness that is this bull decanter and won't be able to wait to fill it up with his favorite liquor and display it somewhere in his home. Enjoying a chilled glass of his favorite beverage for Christmas or any other occasion will be more enjoyable than ever using the creative decanter and classy glasses from this set.
Turn Him Into a Sentimental Aficionado
Your husband is a cigar fan, but you'll turn him into an aficionado with this personalized shadow box! It's one of the most creative Christmas ideas for husband because he can hang it wherever he wants in the house and fill it with bands from his favorite stogies, each one representing a memory. Whether that's enjoying a cigar while catching up with some friends, or enjoying a few stogies when family is in town, or any other experience, he'll love saving up the cigar bands in this box.
Every Wine Tool He Needs in One Husband Holiday Gift
There are very few things your precious husband loves more than to have a glass of wine with you. Make that experience even better by getting him this wine tool and glasses set for Christmas this year! He'll be a huge fan of the wine barrel full of tools that sits on the home bar or kitchen counter so he always has everything he needs when he wants to pop open a bottle of wine and enjoy it. It's so unique and convenient! These customized glasses are perfect for the two of you to use when enjoying your Christmas wine!
The Best Shave of His Life
A fancy beard-trimming and grooming kit will make him very happy this holiday season! The difference between shaving his beard with the same old shaving cream and old razor and then with this brand new set will be night and day! His facial hair will feel so fresh and clean after using products such as the cedar beer balm, growth vitamin spray, beard comb and more.
The Perfect Monogrammed Christmas Gift Set
There's nothing like a sophisticated whiskey gift box set to make your man insanely happy! This monogrammed decanter box set is one of the best ideas for husband Christmas gifts because he'll feel like royalty as he sips his liquor of choice from these handsome glasses that are monogrammed just for him. Using such fancy glassware is sure to make him happy every single time. The incredibly handsome box can be used to store his favorite memories from this Christmas and future holidays so he can go back through them and reminisce with you each year, making him so happy.
517+ GIFT BOX SETS HE WILL LOVE>
His Own Garage Space
His garage is one of his favorite places, and you want to make it even better! With this personalized garage wall hanging plaque, it will definitely become his favorite place to hang out and do his own thing! He'll be obsessed with this rustic metal plaque that lets everyone know who enters the garage just who the space belongs to. He'll love the new vibe in his garage!
Christmas Gift Ideas for Husband Who Loves Beer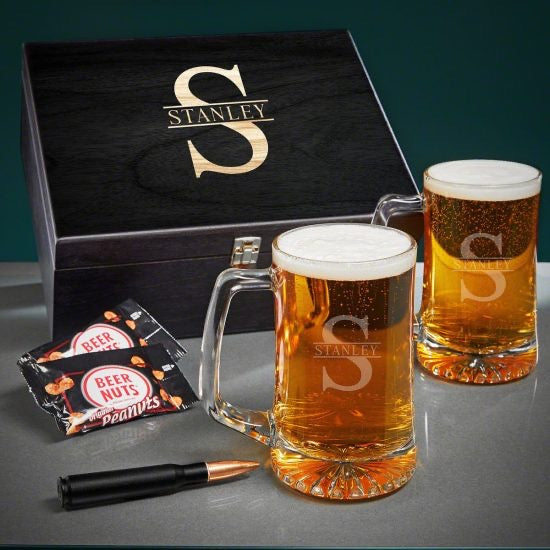 There's something about a hefty beer mug that just makes drinking beer better. Surprise your husband on Christmas by getting him this amazing personalized beer gift box set so he can experience the amazingness of drinking beer from a hefty mug whenever he wants! He'll be so excited to see the personalization on the mugs and box that make it an even cooler present. He'll be a big fan of how cool it feels to drink his favorite beer from his new favorite mug and how manly he feels doing so!
Keep Everyone Safe in the Home
You've heard the horror stories about people getting their houses broken into and their possessions being stolen, especially around the holidays when people will have their gifts stolen as well. Help your husband make the house a super-safe place this holiday season and every day beyond with a SimpliSafe home security system! It's one of the most useful husband Christmas gifts, and he'll love feeling like the brave man of the house as he protects his family!
The Classiest Gift Box Set He's Ever Seen
Make your husband's whole year by getting him the most handsome gift box set he's ever laid eyes on! This whiskey glasses gift box set is an incredible husband Christmas present that he won't be able to stop showing off to every holiday guest. The personalized twist glasses will definitely be his favorite glasses he's ever owned, and he'll love using them to enjoy a Christmas beverage or two and on any other special occasion as well. He'll love having a fantastic place to store them in between uses in this handsome black gift box!
Great Gift for the Golfer
You married a golf fanatic, so you know that you can't go wrong with a super unique golf gift. This golf sign gift set is one of the most incredible Christmas ideas for husband that will make him so excited for the next time he can hit the links! He can take full advantage of this present the next time he golfs. On the course, the custom divot tool and bag tag will look so snazzy he'll feel like he's Phil Mickelson at the PGA Tour. After he arrives home, he'll sit near this handsomely personalized 19th hole sign and enjoy a nice cold drink to celebrate his round of golf.
A Set of the Coolest Husband Christmas Gifts Ever
Cool men enjoy whiskey from time to time, and really cool men like to smoke cigars. The coolest of the cool, however, like to do both at the same time! Your husband will feel like the coolest dude when you get him this custom whiskey decanter and cigar glass set for Christmas. Not only does this gift let him enjoy both vices to the fullest extent whenever he wants, but the decanter and glasses are also personalized just for him, making him feel even more incredibly awesome!
Keep Warm and Stay in Style
Help him bundle up and look stylish for the remainder of the wintertime with this Carhartt men's jacket. It's one of the husband Christmas gifts he'll use every winter from here on out because it'll keep him nice and warm no matter if he is simply cleaning snow off the car or braving an Arctic tundra. Also, the fact that he'll look great and feel confident because of how good looking this winter coat looks won't hurt how much he will like it either!
The Best Way to Gift a Liquor Bottle
When all else fails, you know you can't go wrong with getting your husband a bottle of his most beloved spirit. Make that gift more special with this whiskey bottle gift box! It's engraved just for your man, making him feel incredibly special this holiday season. He'll love using the box to store any bottle of liquor for a special occasion to enjoy with you!