Grilling and BBQing is a unique way of cooking that a lot of people enjoy. It's best when there are people to share their delicious steaks and burgers with, and there's just something more fun about cooking outdoors on a charcoal grill that you don't quite get when you're just using the stove inside. Personalized grill gifts are all about making the fun experience of grilling even better whether they're tools or nifty gadgets that will help any grill lover become a grill master! From sets of gourmet meat rubs to unique grilling ideas, we found plenty of awesome grilling gifts that any BBQer will love.
Unique Personalized Grill Gifts
You can't spend a day on the grill without your trusty grilling tools! These unique bamboo grilling tools are must-haves for anyone who loves grilling because they're so lightweight and handy to use. The personalized carrying case makes it easy and convenient to bring their tools anywhere from their buddy's house or to their parents' house for the family reunion so that they can share their tasty BBQ with anyone.
Every Grill Lover Needs a Cutting Board
Before the food makes it to the grill, it needs to be prepared with delicious seasonings and tasty ingredients. The perfect place to prepare food is on a cutting board, and this awesome personalized butcher block is one that every grill lover needs! Made of hefty acacia that will withstand even the heaviest chopping power, this beautiful butcher block is the ideal place to prepare all kinds of BBQ. When they're not using it, the unique engraving will stand out as a beautiful decoration in the kitchen.
Unique Grilling Ideas for Decorating the Patio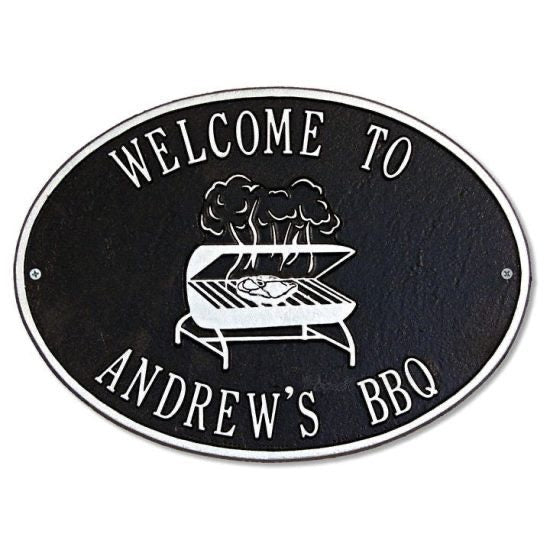 Designate their favorite place with a custom plaque that tells everyone who the grill belongs to! This cool metal plaque comes in a variety of colors and unique personalization so that you can make it a one-of-a-kind decoration for all of the grill lovers you know. They will proudly display this awesome plaque on their patio for everyone to see when they host a neighborhood cookout or family BBQ.
Tasty Meat Rubs Will Take Their BBQ to the Next Level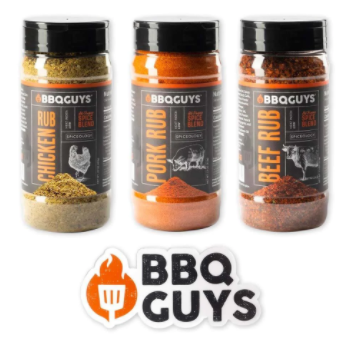 BBQ isn't BBQ without the proper seasonings, so make sure the grill lover in your life is fully prepared with this essential meat rub trio! Whether they're grilling up chicken kabobs, pork chops, or steaks, these gourmet meat rubs will ensure that their BBQ is packed with flavor. Anyone who is just starting out on the grill or a seasoned pro will appreciate such a thoughtful gift and will want to know where you got it once they run out!
Drinks Are Just as Important as the Food
There's nothing like a glass of bourbon and a stogie along with a rack of ribs or a juicy steak, so make sure the grill master in your life has everything they need for a proper BBQ with this decanter set! The stunning crystal decanter will keep their favorite bourbon fresh and full of flavor while the cigar-holding whiskey glasses allow them and their guests to enjoy a stogie and a drink at once with ease. With these personalized grill gifts, their BBQ will be better than ever!
659+ WHISKEY GIFTS THAT GO GREAT WITH GRILLING>
A Cool Sign Every Grill Master Wants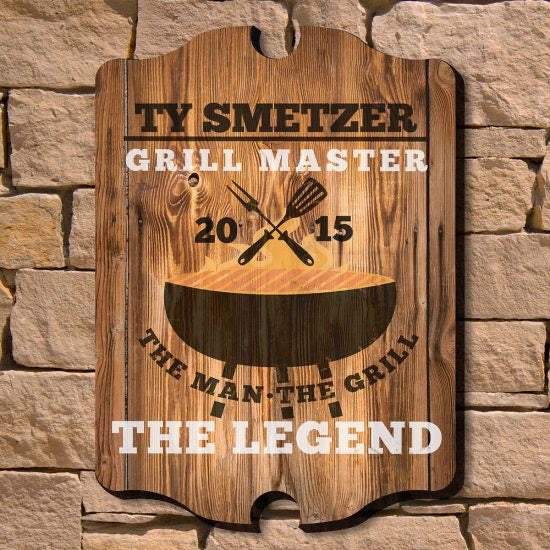 Anyone who grills dreams of being a grill master. Make the grill lover in your life's dream come true by getting them a personalized sign! They will love seeing this unique wooden sign whether they display it in their kitchen or outside on the patio, and any of their friends and family who see it will instantly know that they are in the presence of a true grilling master. Thanks to your thoughtful gift, they'll get an extra boost of confidence every time they step up to the grill which means their BBQ will be better than ever before!
Personalized Grill Gifts Every Grill Lover Needs
What do you get the grill lover that has everything? Something they already have that's personalized, like this custom spatula! Every grill fan has a spatula, but most don't have their own personalized one which makes it a fantastic gift for anyone you know who enjoys grilling. The handle of the bamboo spatula is engravable with just about any name or line of text you wish, and anyone you give it to will appreciate your creativity!
Practical and Unique Grilling Ideas
Make sure your grill lovers are fully protected at the grill with these high-quality leather gloves! Branded with their initials or name, these handsome leather gloves are as comfortable as they are protective and will ensure that any grill lover will be safe from the high heat as they BBQ. Whether they're pulling met from the smoker or tending to charcoal, these gloves will keep them comfortable, cool, and safe! These amazing gloves are must-haves for anyone who enjoys grilling!
The Ultimate Personalized Grill Gifts
One of the coolest gadgets you can have for the grill is a smoke box to make your meats infused with a delicious, smoky flavor. That is until the smoke box for drinks was invented! This incredibly awesome gadget will allow any grill lover to infuse their favorite drinks with a whole new smoky flavor just like they do with their meats, creating an eating and drinking experience unlike any other. Once they try out the smoke box on their drinks, they'll want to invite all of their friends over for a proper BBQ so that they can share this fun new experience! As far as unique grilling ideas go, this set is one of the best companions to any BBQ.
Funny Grilling Gift
Anyone you give this cutting board, whether it's your dad or even your sister who loves The Godfather, will get a kick out of this funny cutting board! Perfect for anyone who enjoys grilling as well as The Godfather, this unique bamboo cutting board is great for preparing BBQ. When they aren't using it for food prep, it looks awesome on display in the kitchen and is sure to be quite the conversation starter for guests!
A Place to Put Your Beer
Prevent the tragedy that is broken beer bottles from ever happening to the grill lovers in your life by giving them each a sturdy wooden beer tote! This handy caddy will make sure their precious beer stays secure and safe even while they're carrying it around the yard. It's perfect for tailgating or a classic BYOB party, too, and even has a built-in bottle opener so they never have to worry about bringing their own ever again.
Every Grill Master Needs an Apron
It's important to protect not only your hands, but your whole body as well when grilling! This professional leather grilling apron is a must-have for anyone you know who enjoys grilling so that they can BBQ with ease. This durable apron comes loaded with pockets and tool holders so that everything they need is conveniently within reach, and they'll love how much easier it is to grill all kinds of tasty BBW thanks to this handy apron.
Must-Have Personalized Grill Gifts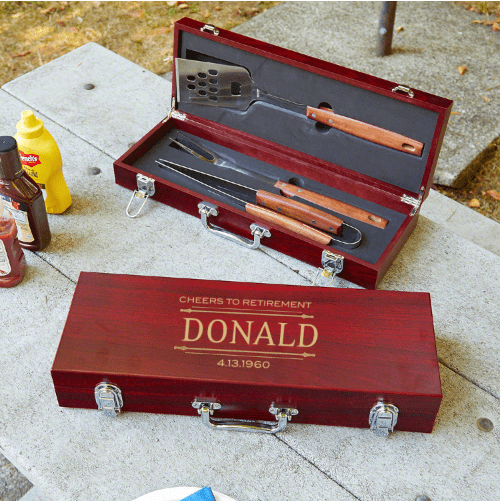 You can't get to grilling without your trusty tools, and the same goes for the grill lover in your life. Make sure they're always prepared to BBQ with these personalized grill gifts! This three-piece grilling tool set and its beautifully engraved carrying case are must-haves for anyone who loves to grill. They'll love using the entire set to cook up steaks, burgers, kabobs, and more at home or wherever they want to go. Since the set is easily portable, it's sure to come along whenever they go to the lake for the weekend or a camping trip with the whole family!
Cigars and BBQ Are Unique Grilling Ideas
Since they're smoking meats, it only makes sense to smoke cigars as well! This unique ammo can-turned-humidor is one of the coolest ways to store cigars out there and makes an impressive gift to any cigar smoker. They will love how unassuming the ammo can is at first glance, and will definitely enjoy surprising their friends when they pull out fresh stogies from it! Best of all, they can bring the whole humidor along to their friend's BBQ or to a party and share cigars with everything!
Quality Beer Glasses
You can't have a proper BBQ without beer! Make sure the grill master you know has the right beer glasses to pour their guests a couple of cold ones while they're waiting on tasty burgers or ribs with these custom pilsner glasses. Personalized grill gifts like these are ideal for a backyard BBQ with friends or family, and these glasses will ensure any tasty pilsner is perfect with every sip as they enjoy grilled meats with their beer.
Complete Grill Cleaning Kit
Proper grill care is important for anyone who grills, but it is especially vital for someone who uses their grill often! This complete grill cleaning kit will ensure that their grill is in pristine condition and is so clean that they can rub their finger along the grill and not get anything on it! Any grill lover will need this care kit in their lives so that their beloved grill lasts for many years.
The Best Way to Make Batches of Cocktails
There's nothing like having a cookout with friends and family around the grill, enjoying tasty burgers and cold drinks. However, the grill master you know struggles a bit when it comes to making cocktails. Help them become a master bartender with this giant cocktail shaker so that they can make margaritas or martinis all at once with ease! This huge shaker lets them make up ten margaritas at once, which means no one has to wait for their drink ever again and they can have an even more fun party thanks to your thoughtful gift!
55+ SMOKIN HOT PERSONALIZED GRILL GIFTS>