Ah, retirement: That wonderful time in life where you get to stop working and enjoy all of life's possibilities. You know someone who is retiring soon and you want to get them a gift, but you don't want to get them something that will make them feel old. The ideal retirement gift ideas help them relax, improve their lives, and give them opportunities to enjoy new things. They finally have plenty of time to enjoy their family, grandkids, favorite hobbies, and go through their bucket list. Your gift can help them out! Whether you're shopping for a coworker, a family member, or close friend, these are the best retirement gifts out there!
The Classiest Retirement Gift Ideas
Being retired means that you can enjoy your favorite hobbies even more, or start new ones! The greatest retirement gift ideas are those than allow you to enjoy your newfound free time, like drinking whiskey. For the retiree who loves to experience their fine liquor, a nice crystal decanter set is a must. This exquisite set is perfect for serving whiskey at a tasting party, and even for displaying in their home bar or office when not in use. The elegance of this set is perfect for showing your appreciation to the retiree's years of hard work, and they will surely treasure it for years to come.
Show Off Their Holes-in-One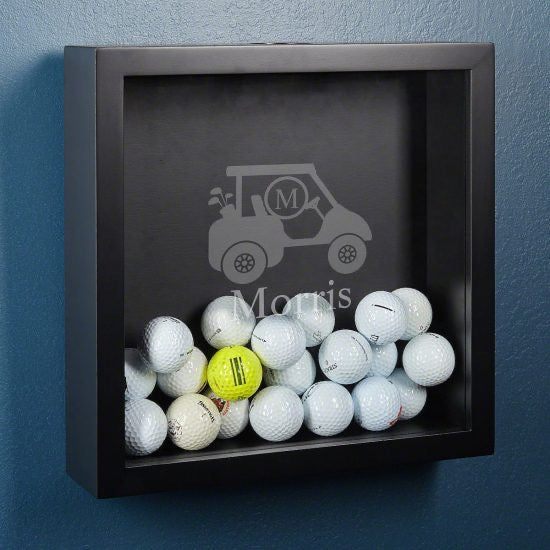 It's common knowledge that people who retire love to go golfing. They go to the course as often as they can to hone their swinging skills and compete with their fellow retired friends. One of the best retirement gifts you can give to someone who loves to golf is a cool place to show off all of the holes-in-one they're about to make! After all, their golfing is bound to get even better. This custom shadow box is a great way to show off all of their prized shots and remember each amazing game. They'll especially love showing them off to their fellow golfers when they come over to visit!
Teach The Grandkids a Fun Game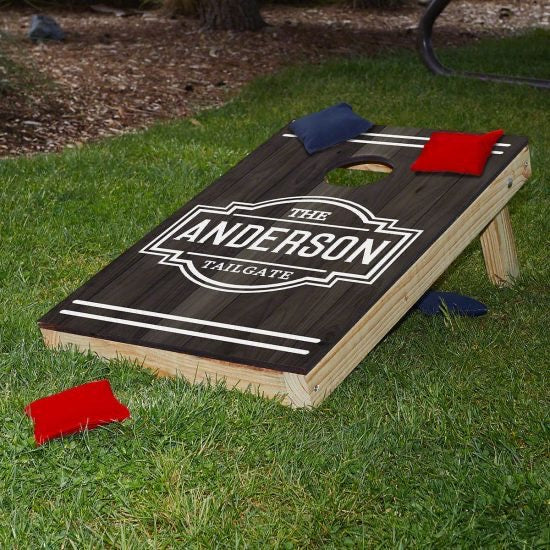 More often than not, people who are retired love to spend as much time with their family as they can. Now they can see their grandkids even more than before! Give the retiree in your life something they can share with their family, like this personalized bean bag toss game! A fun and easy game that everyone in the family will love to play at every gathering, all of the kids and adults will love competing with each other. Even the littlest grandkids can learn to play, it's that easy! Whenever they bring out this cornhole set, everyone will want to play. Thanks to your thoughtful retirement gift idea, they'll have a fun game that they can share with all of their loved ones for years to come.
A Funny Retirement Gift Idea for Whiskey Lovers
Of course, retirement typically means that they're getting older. You want to give them a great gift without making them feel old, but that doesn't mean they don't have a sense of humor about it! This hilarious whiskey stone set allows the retiree in your life to flip the bird at getting older every time they use it. He or she will want to show this off to all of their friends, and they'll certainly want to use it at every birthday too. Whenever someone asks them how old they are in the future, they'll just hold up their personalized whiskey glass and grin.
Classic Beer Mug Set
Now that they're retired, they can kick back and relax with a cold beer whenever they want. However, beer is best enjoyed with a loved one! Whether it's their spouse or a friend, they'll want to enjoy spending time with their fellow beer lovers. Make sure that they have everything they need with this personalized beer mug gift set. One of the best retirement gifts for beer lovers, they will never want to use any other glasses for their favorite brew again. These hefty glass beer mugs hold just the right amount of beer to enjoy during the first quarter of a game or a couple of rounds of poker. As soon as you give them the beer mug set at their retirement party, they'll want to fill them up right away, so make sure you give them a six pack of their favorite beer as well.
319+ BEER GIFTS RETIREES WILL LOVE>
A Sweet Way to Show Your Appreciation For Their Hard Work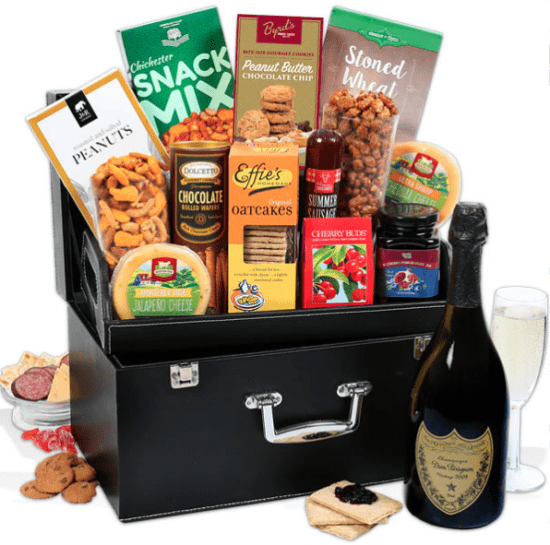 Not sure what to get your coworker or employee who's retiring? You can never go wrong with a food gift basket. This delicious set has the perfect blend of sweet, salty, and savory with plenty of unique snacks and even a bottle of champagne. This amazing gift basket will definitely show your appreciation for their many years of hard work! As soon as they get this incredible retirement gift basket, they'll want to try everything inside. When they're done, they'll have a lovely faux leather box to use for storing all kinds of things.
The Best Retirement Gifts for Retirees Who Love Card Games
Does the retiree in your life love a good old-fashioned game of Blackjack? The best retirement gifts for them is their own portable playing card set! Also included in this set is a pair of cool engraved whiskey glasses and a sturdy cigar case. They can puff sip, and deal all at once with this incredible retirement gift set. He or she will certainly enjoy the fun design that will make them feel vintage and cool rather than old. They might even invite you over for a game sometime!
Gorgeous Wine Decanter Set for the Wine Loving Retiree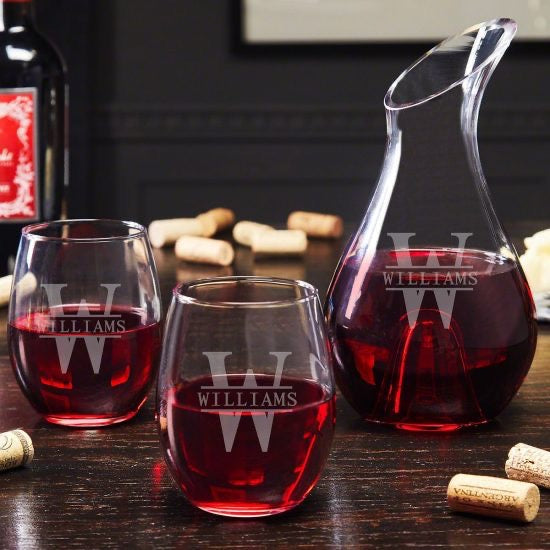 For a red wine lover, nothing is better than an engraved wine decanter set as a retirement gift idea! Thanks to the decanter and its two-step aeration process, their Pinot or Cabernet will be even more delicious! Now that they have more time to enjoy their wine, they might start doing their own wine tastings on their own or with fellow wine lovers. When this set isn't being used, it looks lovely as a display piece in the kitchen, dining room, or home bar.
Ultimate Beer Lover Retirement Gift Ideas
You want to give a really great retirement gift that will show your appreciation for their years of hard work. Naturally, it should be something nice and related to something they're into. For a beer lover, this growler gift set is one of the best retirement gifts you can possibly give! They'll be so amazed by all of the different pieces that they won't know where to start. The growler is perfect for their weekly trips to the local brewery, where they can bring home plenty of fresh beer to enjoy in the cool new personalized pint glasses. Thanks to the handy coasters with built-in bottle openers, they'll never have to search for a bottle opener ever again! Best of all, the retiree you're celebrating will have a beautiful wooden box to use to store all kinds of keepsakes from their work over the years. When you present them with this gift, they'll be positively speechless!
A Fun New Piece of Decor
It's common knowledge that men who retire often frequent cigar lounges or enjoy stogies more often. It's a cool, classy hobby for older gentlemen to enjoy in between rounds of golf. You know that the retired man in your life is into cigars, and has often expressed a desire to transform a room in his house into his very own classy cigar lounge. Whether he's yet to put it together or he has a lounge already, help him out with this unique piece of decor! The wooden sign is a handsome, suave decoration that will make his cigar lounge official. He will love the color scheme and vintage styling, which will look great no matter what theme or decor he has in there already.
Give Them The Gift of Relaxation
Retirement is all about enjoying life, having free time to do whatever you want, and relaxing. Some retirees will go on amazing vacations around the world, while some don't even know where to start! One of the best retirement gifts is something that helps them relax and unwind, like this spa package! Perfect for enjoying at home at their leisure, they will love to sink into a hot bath and read a book as the coconut milk bath soak moisturizes and soothes their skin. The natural sea sponge will exfoliate like never before, helping their skin stay young and healthy. As they enjoy their bath, the soy candle will relax them with its gentle ambiance and clean scent. Plus, they have a cute little air plant to add to their bathroom or anywhere else in the house. Once they use up the candle and coconut soak, they'll want to know where you got such an amazingly relaxing gift so they can get another!
For the Military Retiree in Your Life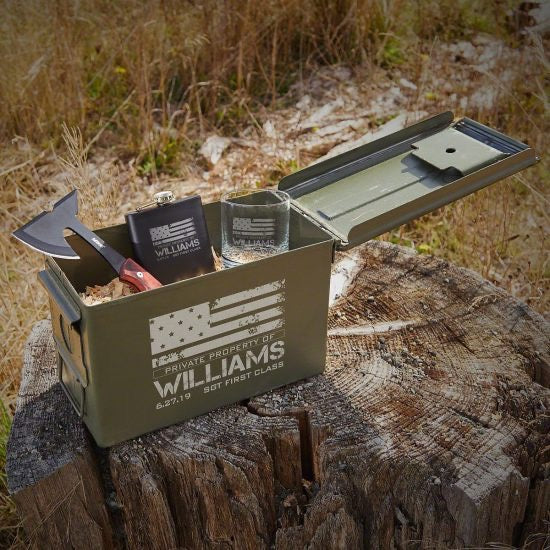 Veterans are retirees, too, and they deserve incredible gifts that celebrate their service to the country. You want to get them something really cool, like this custom ammo can set! They will love the patriotic design on the ammo can, glass, and flask. The ammo can was once used in the military, so it's a definite chance that your retiree once used it themselves! Now, it's custom engraved for them to use as a cool place to store their military coins, keepsakes, or tools. They'll get a kick out of the neat little hatchet, which is great for bringing on camping trips with their family or going hunting with their brothers-in-arms. When they feel like a drink, their custom whiskey glass or flask will be there. Everything about this set is awesome, and it's a great gift for veterans of any branch!
The Perfect Gift for a Whiskey and Cigar Lover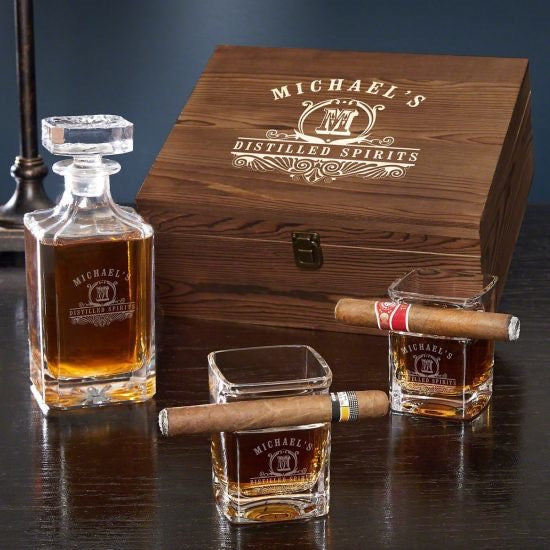 Now that the retired man in your life has plenty of free time to relax, he can enjoy his favorite two things: whiskey and cigars. Every evening, he treats himself to a stogie and a glass of scotch as he winds down for the night with a book or some television. Make his routine even better with this incredible whiskey decanter set! By far one of the coolest retirement gift ideas for men who love whiskey and cigars, this set is quite the showstopper. He will be amazed by the elegant crystal decanter, and even more impressed by the two cigar-holding whiskey glasses. With the unique glasses, he can hold both his cigar and whiskey in one hand while holding his book or the TV remote in the other! Now he can relax with all of his favorite things at once. Whether he's your boss, father, or husband, he will absolutely love this set.
Rustic Cutting Board
Is the newly retired person in your life really into cooking? They love cooking dinner every evening, experimenting with new recipes and changing their favorite dishes up with different ingredients all the time. This unique monogrammed cutting board is one of the best retirement gifts you can give for someone who loves to cook. They will love the rustic style of the cutting board, which looks like raw wood as if you'd made it yourself! Now they will have a great place to do all of their chopping, dicing, and food prep for years to come.
Give Their Drinks a Whole New Flavor
You know the retiree to be a person who loves whiskey tasting and loves to try every kind of whiskey there is. They call themselves a connoisseur of whiskey and could go on for hours about the liquor. Instead of just an expensive top-shelf bottle of the liquor, get them the coolest retirement gift idea they've ever seen: a smoke box system with Glencairn glasses! This incredible gift is a must-have for all whiskey lovers. The smoke box system is a nifty gadget that infuses the smoky flavor of their choosing into their drink! How cool is that? They can choose from a couple of different wood chips and try out different combinations to figure out which whiskeys taste best with which flavor. They will especially love the Glencairn glasses, which are specially designed to deliver the best whiskey experience every time through enhanced flavors and directed aromas. Thanks to your unbelievably amazing retirement gift, they will want to start a whiskey club just so that they can share their new experience!
A Helpful Book to Get Them Started on Their Own Bucket List
A lot of people who retire like to complete their "bucket list," which is a list of things they've always wanted to experience but never had the time until now. However, not everyone has a good idea of what they want to do after retirement! Help them out with this cool pre-made bucket list of 1000 things to do on every continent. From visiting the tropical Galapagos Islands to watching the Northern Lights, there's plenty of amazing things that they will want to do. This handy guide will help your retiree create their very own bucket list, or they might even try to do all 1000 things!
The Perfect Retirement Gift for a Golfer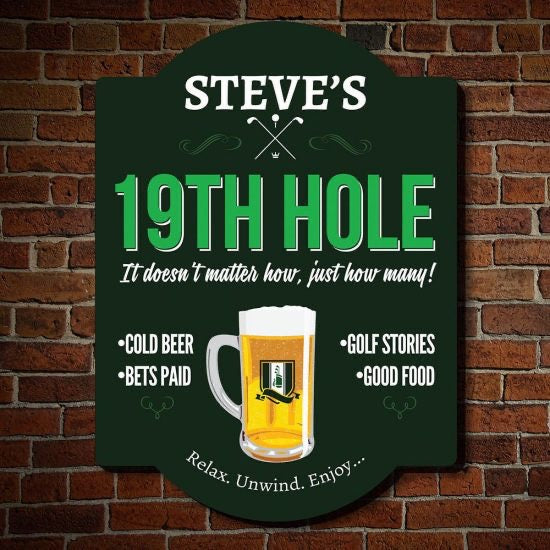 With all of this newfound free time, retirees have plenty of freedom to enjoy their favorite hobbies. One of the most popular pastimes for retirees is golfing! They and their fellow retired buddies meet up on the green for a game and then either go back to the club for a drink or gather at one of their houses. If your retiree usually hosts the group at his home bar, then one of the best retirement gifts for him is this custom golf sign! He will love the fun personalized sign, which designates his home bar as the "19th hole" of golf. Your dad, husband, grandfather, or other golf lover in your life will love this sign when he retires.
Enjoy Wine With Their Sweetheart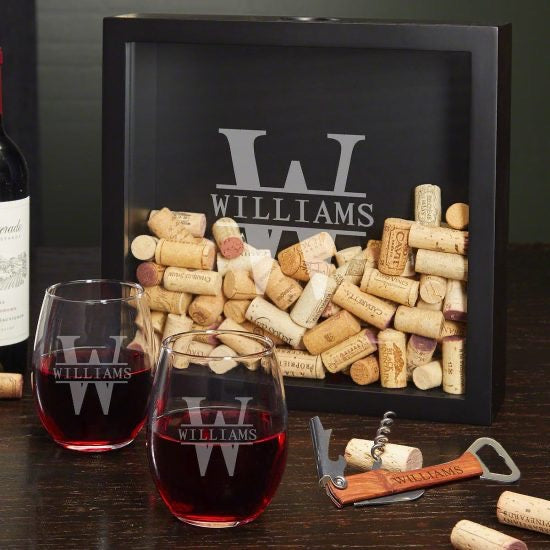 Other retirees like to take advantage of their free time by spending it with their partners. Some want to rekindle their love for each other, renew their vows, go on a romantic trip, or just spend some quality time together. If you know a retiree who is planning to do so, get them a retirement gift that will help them out! This beautiful wine gift set is perfect for a romantic evening together. They can use the handy corkscrew multi tool to open a bottle of wine, pour plenty of it into each large stemless glass, and toss the cork into the shadow box to start a collection! With every bottle of wine they share, their shadow box will slowly fill up with corks as a unique keepsake of memories together. How cute is that? They might even invite you to their vow renewal ceremony after you give them this wonderfully romantic gift.
For the Retiree Who Is Really Into Whiskey
The most impressive retirement gift ideas for a whiskey lover is not just any old bottle of liquor, but this complete whiskey tasting glass set! Each glass has a different effect on the spirit and some are designed for specific types of whiskey. For example, the glass on the far left is a Canadian Glencairn, which is ideal for trying Canadian whisky. The whiskey-loving retiree will also have a classic old-fashioned glass for the namesake cocktail or a scotch on the rocks, an original Glencairn for tasting every note and detecting every aroma, a double old-fashioned glass that's best for cocktails and slow-sipping a larger amount of whiskey, and a snifter for brandy or cognac. Plus, they'll also get a set of whiskey stones to properly enjoy every full-flavored drop.
Give Their Home a Touch of the Old West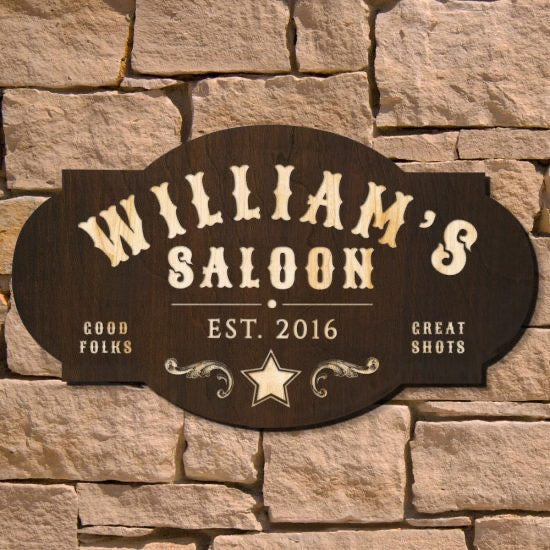 Bring a little bit of the Old West into your retiree's home with this awesome saloon sign! You've known them to be a big fan of Westerns for a while, and their whole house is decked out in cool Western decor. With their own custom saloon sign, their theme will finally be complete. The rustic style will fit in perfectly, and they'll want to display it right in their home bar. They're sure to treasure it for years to come and brag about it to all of their friends that they have an actual saloon in their home!
A New Recliner They Will Never Want to Leave
Whether you're searching for a great retirement present for your father, husband, or grandfather, one thing is for certain: they will need a new armchair. They've got their designated chair, and it's comfy, but it's pretty worn out by now. Upgrade their favorite spot with the most comfortable recliner they've ever sat in! This incredibly faux leather chair comes loaded with features: power-lift to get out of it easily, built-in massage in four areas, two cup holders, heated massage, and four storage compartments. They'll never want to get up from this amazing recliner! With this chair, they're going to start their retirement off right.
Classy Retirement Gift Idea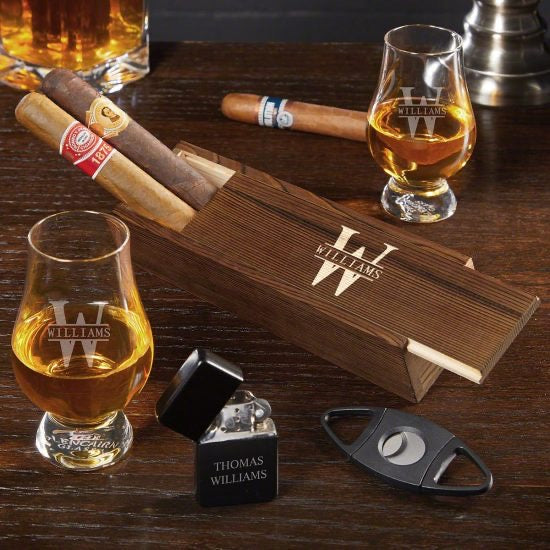 For the classy retiree who loves a glass of whiskey and a fresh cigar after dinner, this classy set is the best retirement gift for him. He will love this cool set of Glencairn glasses, which are specially designed to enhance the flavors and aromas to create the best tasting experience imaginable. The handy wooden box is great for storing a couple of stogies at a time so that they stay fresh. Plus, he could always use more cigar cutter and lighters. With this suave set, his relaxing routine will be better than ever.
Regal Sign for the Home Bar
Send off your retiree in style with a custom sign that will add a touch of luxury to their home. This regal sign will make them feel like a king or queen every time they see it. The beautiful gold touches are eye-catching and stylish, but not so much that the sign will clash with the decor. Whether their home bar is themed after an English pub or is simply classy, this unique sign will give it the finishing, personal touch they were missing.
The Best Retirement Gift for a Gun Lover
Know a gun enthusiast who is about to retire? Forget a fruit basket, they want something cool for their retirement gift like this novelty whiskey gift set! While the monogrammed whiskey glasses are awesome, the main feature of this set are the stainless steel bullet whiskey stones! These nifty stones will chill his whiskey without watering it down, and they just look cool. He'll want to freak out a friend or relative by casually dropping the stones into his drink and they'll think he's chilling his drink with actual bullets! He'll certainly get a kick out of the prank, and will love using this set for his after-dinner drinks.
419+ BOX SETS AND GIFT BASKETS>
Ultimate Wine Lover Gift Set
For the wine-loving retiree in your life, make sure she has plenty of wine tools to enjoy her favorite beverage in the best way possible. She'll never have to struggle with a corkscrew again thanks to this convenient electric corkscrew! For red wine, she will love using the unique wine decanter to smooth the tannins and improve the flavor. If you've ever heard her wish for a big enough wine glass, this giant stemless wine glass actually holds an entire bottle of wine! She'll even enjoy starting a wine cork collection with the cool custom shadow box. Everything in this amazing wine lover gift set will ensure that she has everything she needs to properly relax with her wine now that she's retired.
A Scrumptious Food Basket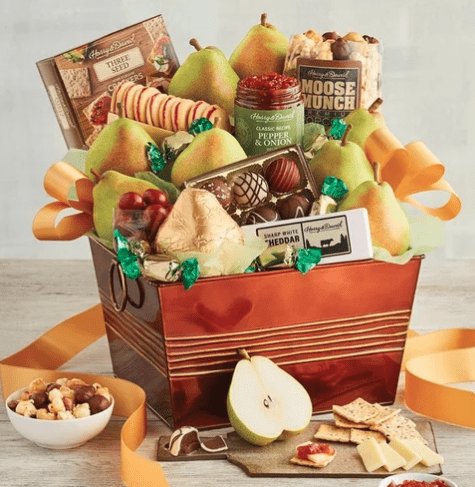 Not sure what to get for a retirement gift? You can never go wrong with a gift basket full of yummy goodies! This lovely basket comes with all kinds of fruits, nuts, chocolates, and salty treats to enjoy. Your retiree will treat themselves to these gourmet snacks throughout the first couple of days of their retirement, relaxing and grazing at their own pace. They'll love sharing with their SO, too, and they may even take some of the items on a romantic picnic in the park. Whether the retiree is your employee, friend, or coworker, they will love everything in it!
Create Their Own Whiskey Label
You might think that people who love whiskey would be overjoyed to receive a bottle of it as a gift, but you could do so much better. Unless it's a really rare bottle, they've likely tried it already and may not even like it! When it comes to whiskey lovers, even someone who's retiring and has a well-developed palate for certain types of it has always dreamt of their own whiskey label. You might not be able to give them a distillery as a retirement gift, but you can help them out with the label part. This complete decanter set is totally customizable to make their very own one-of-a-kind "official" whiskey label. Each piece is engraved with the design and it will look fantastic in their home bar. They will proudly display this amazing decanter set for all to see and admire in their home forever when they're not using it to serve guests with the awesome glasses and decanter.
The Most Incredible Patriotic Gift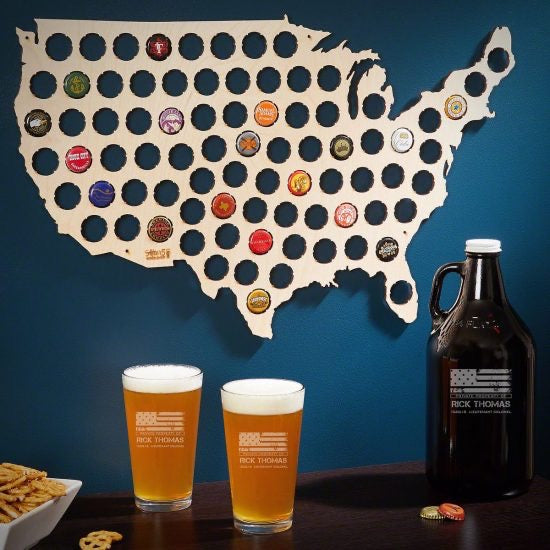 Veterans deserve only the best of the best retirement gifts. This incredibly patriotic gift set is all about beer and good old 'Murica. No matter what branch they're retiring from, they will love the cool American flag design on the beer growler and pint glasses, as well as the large beer bottle cap collector sign shaped like the United States. They will love using the growler to either store their own home brew or fill it up at their favorite brewery with their favorite beer to enjoy at home. The two pint glasses are great for sharing a drink with a fellow brother-in-arms and swapping old stories and funny moments from their military career. For every beer bottle they drink from,they can place the bottle cap on the collector map and show off their favorite kinds of beer.
Something to Remind Them of Home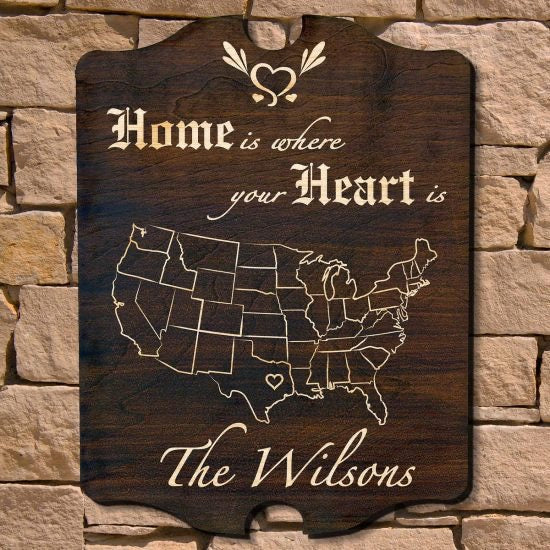 A lot of retirees move to another state to live in for the rest of their lives once they've retired, like Florida or one of the Carolinas. They want to live somewhere quiet, relaxing, and most of all, with a better climate. For the retiree you know who's moving right after their last day of work, give them this sweet personalized sign so that they always have something special to remind them of home! You get to pick the state they call home, and that's where the heart will be placed. Every time they look at this lovely piece of decor, their place will be a little homier.
A Manly Retirement Gift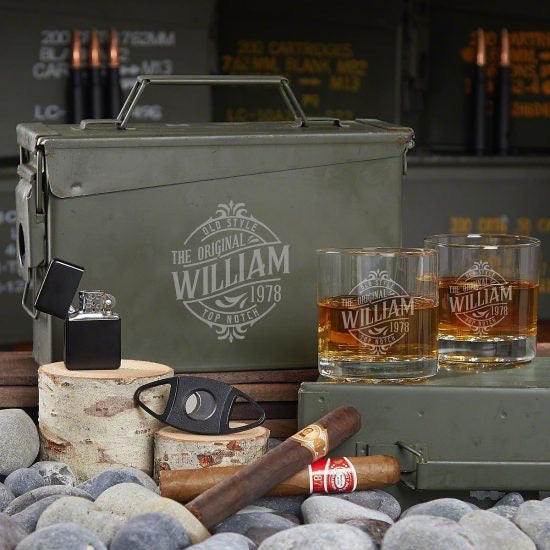 You want to give a really great retirement gift, but you don't want to make them feel old. However, if they've got a sense of humor about being over 65, you should get them something a little more fun like this ammo can set. The design pokes fun at their age in a classy vintage-inspired style, and they will love every piece in the set. The two double old-fashioned glasses are great for a classic scotch on the rocks with a good friend or loved one. They'll also love the cigar accessories, as you can never have too many lighters or cigar cutters. Best of all, the awesome ammo box was actually used in the military and has been repurposed to be a custom engraved storage container for anything your retiree wants from tools to keepsakes!
Document Their World Travels
Does the soon-to-be retired person in your life plan to travel the world soon? They've always wanted to travel and have gone on a few vacations over the years, but they haven't quite visited every continent yet. One of the most fun retirement gift ideas is a neat map that they can use to document all of their travels! The map comes with push-pins so that they can place a marker on every place they've visited, and they will love coming home from an adventure to place a new pin. Over time, the map will be full of little push-pins and they'll be a well-traveled retiree. This simple but thoughtful piece of decor is a great gift to celebrate a retiree's future adventures.
For the Retiree Who Loves to Grill
Now that they're retired, they can pursue their favorite hobby: grilling! It's always been one of their favorite things to do when the weather is good, but now they'll have even more time to enjoy it. Make sure they've got everything they need to enjoy their hobby to the fullest with these awesome grilling accessories! The novelty grilling tools shaped like golf clubs and even come in their own golf caddy are a fun way to make their favorite hobby a little more enjoyable, especially if they love golfing too. The mini steak thermometers will certainly come in handy so that they know exactly how done each steak is when cooking multiple cuts for the family. When it's wing time, the professional wing rack is the only way to cook them. Hanging the chicken wings upside down ensure that they aren't too greasy and that they cook thoroughly. To top it off, the bamboo cutting board is the perfect addition to their kitchen or outdoor grilling area so that they have a dedicated, clean place to do all of their food prep.
Make Their Evening Stogies and Whiskey Even Better
The best retirement gift ideas are those that help them relax, unwind, and enjoy their lives. For some, their favorite way to unwind is with a glass of whiskey and a cigar while watching TV most nights. You don't have to get them something crazy like a bottle of 28-year Pappy's, you can get them something a little simpler and more meaningful like an upgrade to their favorite relaxing routine! The twisted crystal whiskey glass is a gorgeous piece of glassware that is both attractive to look at and easier to hold. Your retire will love having a nice cigar case to store a couple of stogies in as it will keep them fresher than in their original packaging. Plus, they can take their cigars on the go with this handy and protective case that comes with a cigar cutter. The lighter will always be close by, too. This classy whiskey and cigar gift set will make your retiree feel special whether he's a coworker or a relative.